Analysis Topic: Commodity Markets - Metals, Softs & Oils
The analysis published under this topic are as follows.
Wednesday, April 04, 2007
There is no shortage of commentary in financial newspapers, hemming and hawing over such matters as GDP growth, or the CPI data, or even the same store sales of major retailers. The fact of the matter is that all such releases are virtually worthless since their unit of measure being reported is in a fluctuating measure that is constantly changing – the US dollar; (or any other paper currency for that matter).
It is akin to weighing yourself on a bathroom scale but allowing the amount of ounces in a pound to constantly fluctuate. What good would that kind of data be to anyone? Yet this is precisely what analysts and commentators debate with constantly in the financial press and on stock market shows such as CNBC.
Read full article...

Read full article...
---
Wednesday, April 04, 2007
Sean Brodrick writes : If you knew about an investment that, by conservative estimates, would increase in value 47% in the next 18 months, would you buy it?
Well, today I want to tell you about such an investment — uranium. Heck, just a few months ago, I said uranium would hit $100 per pound by the end of this year. It looks ready to hit that target this month !
In just the past year, the white-hot metal has surged 137% to $95 per pound. That's far beyond the expectations of most market analysts. So now they're rolling out new estimates — higher and higher.
Read full article...

Read full article...
---
Tuesday, April 03, 2007
AS THE TREND for spot gold prices to move higher rolls on, the big gold mining companies keep racing to re-stock their shrinking reserves.
Three of the larger gold miners just said they're going to spend record sums trying to find new gold-in-the-ground. Trying to pick the winners – and selecting junior miners on the brink of receiving a hot takeover bid – might just pay off handsomely.
But don't neglect the bigger picture as you chase these short-term M&A profits. "Route One" to growing proven and probable reserves in the ground is more than likely to eat up total exploration budgets in 2008 and beyond.
Read full article...

Read full article...
---
Tuesday, April 03, 2007
Volatility Index

VIX [ http://www.buythebottom.com/vix.html ]
Commercials are recent buyers of the VIX. Thus far, the setup looks more neutral than anything else. A classical COT setup to the long side would result if net-commercial position rose near or above 4,000 contracts.
Last week I mentioned that the VIX looked overextended to the downside and would probably retest its 10-day moving average (MA). Over the next several days, the VIX did indeed rally and is now trading above its 10-day MA in the 14 to 16 dollar range. With the bullish setup in the stock market right now, I would expect the VIX to decline over the next little while, and ultimately end up under $12. However, if we see the VIX rallying and closing above $16, that would tell me that volatility decided to stick around. Speaking of which, a move above $16 for the VIX would probably also translate into further weakness in the stock market.
Read full article...

Read full article...
---
Tuesday, April 03, 2007
Permitting a uranium mine requires more than a simple application to mine. And, as we discovered, the process can take between three and six years (sometimes even longer), costing several million dollars and requiring numerous scientific studies on a company's property. This could add additional pressure to uranium prices.
Few investors and analysts have a firm grasp of the length of time environmental studies and the approvals process requires. Having visited numerous investor forums, we realized many investors believe a property is drilled and then mined, after a brief permitting period. Quite the opposite is true, as explained to us by Richard Blubaugh, environmental manager for Powertech Uranium.
Read full article...

Read full article...
---
Monday, April 02, 2007
Gold had a good week rallying up $11.70 to close the week out at $669 (+1.78%). It was the highest daily close of the week and the highest weekly close in 5 weeks.
The weekly chart below clearly distinguishes the long term trend line that continues to remain above its 65 week moving average. The rising trend line has support at just under $650.00, while the 65 ema comes in at $604.50.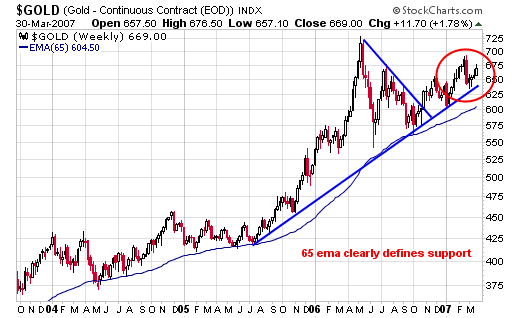 Read full article...

Read full article...
---
Sunday, April 01, 2007
The silver chart looks considerably less inspiring than the gold chart at this juncture, which is perhaps not so surprising as after outperforming gold last year, it has been underperforming it so far this year. On the 10-year chart the trading range that has followed the ramp from September 2005 through April last year does not look to be of sufficient duration to support another strong advance, and the uptrend channel drawn on this chart looks unsustainably steep and for these reasons the chances of a breakdown are considered to be quite high.
Read full article...

Read full article...
---
Sunday, April 01, 2007
An increasing number of goldbugs and traders are getting bewildered and frustrated at gold's pedestrian performance and refusal to break higher, even with a possible attack on Iran looming, especially as oil has been romping ahead, and are, of course, looking around for people to blame, which usually winds up being the poor old cartel, those dastardly faceless individuals whose job it is to suppress the price of gold and silver so that the financial world at large doesn't cotton on to the precarious state of the world financial system in general and the Fiat money system in particular, much less mortgaged-up-to-the-hilt Joe Sixpack, whose chief distinguishing feature is that he hasn't got a clue about anything, apart from the details of upcoming ball games etc.
Read full article...

Read full article...
---
Sunday, April 01, 2007

Bids are due in Corpus Christi, Texas on April 3rd for the sealed-bid auction, conducted by Mestena Uranium LLC, for another modest lot of 100 thousand pounds of U3O8. "Buyers are once again expected to compete aggressively for the material," Nuclear Market Review (NMR) editor Treva Klingbiel wrote in the monthly edition of the nuclear industry trade magazine. "Any material offered at fixed price is highly sought after by potential buyers."
Earlier this past week, Entergy Corp's (ETR) director of nuclear fuel told Dow Jones MarketWatch, "There's a period where the market is going to be very ugly from a buyer's standpoint." The New Orleans-based nuclear utility holds the second largest number of nuclear power plants behind Exelon Corp (EXC). Jim Malone, Exelon Corp's nuclear fuels vice president, expects the impact of the rising uranium price to impact utilities at some unspecified future date, but not now.
Read full article...

Read full article...
---
Sunday, April 01, 2007
" Bernanke's policies, in fact, represent a paradigm shift away from a past where every boom was expected to, and had to be followed by a bust. The wording of Greenspan's now infamous "recession" comments indicate nothing more treacherous than adherence to this older, possibly even outmoded, economic philosophy ."
~ Precious Points: Lackluster, but not Tarnished , March 17, 2007
Imagine a teeter-totter. On one end is inflation, and on the other, risk of a recession. It remains to be seen which side will grow heavy first and force the Fed's hand.
Read full article...

Read full article...
---
Sunday, April 01, 2007
Other than Monday, the week's daily gold trading activity closed either lower on the day or at the low of its daily trading range. Not activity fraught with confidence.
TECHNICAL RATING (RATE)
In my tables of technical information and ratings (at the end of these commentaries) is a column called RATE for Technical Rating. Based upon the technical information in the table I had developed a program that then took this information and tried to determine if the stock or Index is technically bullish (POS), bearish (NEG) or neutral (N).
Read full article...

Read full article...
---
Sunday, April 01, 2007
The Financial Services Authority (FSA) has today published a paper which examines the recent growth in investment in commodity markets. The paper, 'Growth in Commodity Investment: risks and challenges posed for commodity market participants', concludes that markets have changed significantly bringing new issues which need to be understood and acted upon by participants.
Read full article...

Read full article...
---
Saturday, March 31, 2007
I'd like everyone to take a look at the U.S. Treasury's most recent accounting of its gold:
Current Report
: January 31, 2007
Read full article...

Read full article...
---
Friday, March 30, 2007
The slow liberalization of the gold market is a fact of life albeit slow and not likely to see huge tonnages [like 3,000 tonnes] flow into the country quickly. But in this gold market it doesn't take huge tonnages to move the gold price.
We hear from China that 90,000 bank accounts are being opened every day. They need a bank account to qualify to buy gold [here is the control from the government and bankers over the rising gold market]. The Chinese public has indicated before that it would be happy to invest between 10 and 30% of their savings in gold, which they must now do through their bank and consequently the Central Bank. We are not even going to attempt to put a figure on what will go into gold in China, but we have to highlight one fairly dramatic likelihood:
Read full article...

Read full article...
---
Friday, March 30, 2007
Some weeks back we looked at how the HUI index of unhedged gold producers was leveraging the price of gold. As any seasoned gold investor will know, well chosen gold mining stocks offer gearing on the rising price of gold up to many times depending on the quality and timing of the stock chosen.
However, since 2004, the HUI has failed to live up to that tag as its performance against gold has increasingly diminished until recently. To this end, we present the latest on how the HUI is doing against its main product.
Read full article...

Read full article...
---
Friday, March 30, 2007
"Water, water every where, And all the boards did shrink; Water, water every where, Nor a drop to drink." --Samuel Taylor Coleridge, The Rime of the Ancient Mariner
Iran isn't an energy-independent country.

I'm well aware that Iran produces more than 4 million barrels of oil per day, the fourth-highest production in the world. And with the near-constant reporting about Iranian crude reserves during the past six months, I find it difficult to believe that anyone could be unaware that Iran has 132 billion barrels in proven reserves--or, at least, they claim to.
Read full article...

Read full article...
---
Thursday, March 29, 2007
Larry Edelson writes - Never mind why U.S. oil giant Halliburton is moving to Dubai. That's a whole separate discussion. From what I'm seeing on my four-day visit, this city is going to need more than a single U.S. oil giant to help it fill up all the new construction.
Although it's the largest city in the United Arab Emirates, Dubai would probably need to attract at least ten major corporations with 300,000 employees to occupy all the buildings going up.
I came to Dubai with an open mind, to find out first hand what all the excitement is about. In a moment, I'll tell you what I think about investing here. And I'll tell you what I learned in Dubai's gold market.
Read full article...

Read full article...
---
Wednesday, March 28, 2007
I have sold at the bottom far more times than I care to admit. However, if this is another occasion so be it - Sayonara, Au Revoir, Adios Gold stocks.
I purchased my first gold stock, Royal Gold, in May of 2002. At the time, I really didn't know much about gold or gold stocks and had no idea that it was the beginning of a bull market in gold. Royal Gold met the criteria of a screen that I was using at the time and it simply was one of many stocks that popped out. The trade didn't work as I had hoped. After a quick 20% haircut, I sold it three weeks later. This didn't discourage me. As I read more about gold, I realized that something special was in the makings.
The first part of 2003 wasn't much better. I had more losses with Glamis Gold, Agnico-Eagle Mines (AEM) and Anglogold (AU). However, around mid year my fortunes changed for the better. The winners started coming 5%, 10%, 20%, 30%, 250%. Yes, I turned a 250% profit on a trade of Golden Star Resources (GSS). Needless to say, I was hooked at that point.
Read full article...

Read full article...
---
Wednesday, March 28, 2007
Sean Broderick - The price of uranium is jumping again! This week, the white-hot metal went from $91 to $95 a pound, according to TradeTech's Nuclear Market Review . Remember, th s metal was trading at just $75 per pound in January … $55 in October … and $45 last July. That's a ferocious uptrend!
We're in undiscovered country now. Heck, my 2007 target was $100 per pound and now it looks like we might hit that by April! Where do things level off?
Sprott Asset Management analyst Kevin Bambrough has said that a sustained supply deficit could cause uranium prices to spike north of $500 per pound by 2015. To be sure, Bambrough doesn't believe $500 uranium would be sustainable.
Read full article...

Read full article...
---
Wednesday, March 28, 2007
Moneyization: The global financial phenomenon of individuals and businesses moving their funds to monies in which they have the highest confidence, or money in which they have a higher store of faith.
Or, The Vote of the Markets
To the joy of day traders, the Federal Reserve Open Market Committee, the rate setting arm of U.S. Federal Reserve, announced again their lack of commitment to sound money. For a day U.S. equity markets were filled with joy and short covering. FOMC statement, released after their meeting, suggested diligence on inflation(wink, wink), and suggested some concern for weakening U.S. economy. Easier U.S. monetary policy may require just one more indication of the collapsing U.S. housing industry and could be only one committee vote away.
Read full article...

Read full article...
---