Analysis Topic: Commodity Markets - Metals, Softs & Oils
The analysis published under this topic are as follows.
Tuesday, June 19, 2007
Last week, the Bank of Switzerland announced that they plan to sell 250 tonnes of gold bullion into the market over the next two years. This comes shortly after news that the Bank of Spain had dumped more than 100 tonnes of the metal and word of additional sales by Belgium.
With the words "global inflation" on the lips of billions of people around the world and a rising price of gold sure confirmation of such, you have to wonder what the long-term plan is for Western central banks and their gold.
Read full article...

Read full article...
---
Monday, June 18, 2007
With 93% of the "quality" stocks on the rise and only 40% of the gambling variety on the rise this was a "quality" week in the precious metals universe. Will it last?
GOLD : LONG TERM
Still no movement in the long term P&F chart so we continue in a P&F long term BULLISH trend.
As for the normal indicators, gold closed above its still slightly positive sloping moving average line. Price momentum (strength) is still in its positive zone but with a negative trigger line indicating the pressure is towards the down side. The long term volume indicator is below its trigger line and the line has turned down. Putting it all together the indicators remain just slightly better than last week so I will remain with last week's BULLISH view of the long term gold position.
Read full article...

Read full article...
---
Monday, June 18, 2007
What use is gold? Gerry Hiles raised the question, June 7, 2007. Good question indeed and all the points raised are true and thought provoking up to a point.
What follows is another interpretation of the utility of gold.
Mr. Hiles in fact answers all his questions by asking them but not following it through with the logical conclusions.
Read full article...

Read full article...
---
Sunday, June 17, 2007

Since our inception we have run this table on Central Bank gold sales under the Central Bank Gold Agreement. We have always differentiated between the sales decided upon earlier and sales about which no announcement was made.
We have done this for a reason, despite the fact that while the first "Washington Agreement" stated from the outset, that they would only sell gold from sales "already decided", the second Central Bank Gold Agreement stated differently, that gold would be sold from "sales already decided and to be decided ".
Read full article...

Read full article...
---
Sunday, June 17, 2007
When it comes to the metals, bears hibernate for years, but bulls just retest the 5- and 50-day moving averages! This week's retail sales data will be critical… New figures for CPI and PPI will also be watched closely. Given the delicate balance of forces and the high level of emotion in this market, any surprise in these numbers is likely to set off a big move… Either way, metals have still not failed the support levels consistently outlined in this update over the past several weeks and highlighted … until they do, the outlook will remain decidedly bullish, even if a sustained rally is still always just over the horizon. ~ Precious Points, Don't Go Gentle Into That Goodnight , June 10, 2007
So Goldilocks is back, but where's gold? Stocks are sailing again, how about silver?
Read full article...

Read full article...
---
Sunday, June 17, 2007
To understand why gold is "lagging" we need to compare it to other sectors of the market.
The following chart shows that gold and gold stocks are "leading indicators." This is confirmed by the fact that neither gold nor gold stocks have made a new high in 2007, while other market sectors have made new highs this year. These areas (stock market, continuous commodity index, base metals and the oil stocks) are close to topping if they already have not topped.
Read full article...

Read full article...
---
Saturday, June 16, 2007
There are two long-term cycles in silver that have historically proven significantly meaningful. The first is the 5-year cycle and the second is the 10-year cycle, with the 10 year cycle being the more dominate of the two cycles. It is important to understand that cycle analysis is nothing more than a method of quantifying market trends of similar degree. Because market cycles ebb and flow and are not rigid, we have to look at the common denominators and develop averages. We can then use these common denominators and averages as a guide for what might be expected in the future.
Read full article...

Read full article...
---
Saturday, June 16, 2007
When the Democrats took control of Congress at the beginning of 2007, many investors assumed coal would become a dirty word. After all, although the abundant fuel has many advantages, limiting pollution and carbon-dioxide emissions isn't one of them.
And Democrats have placed the global warming issue among their top priorities. The rhetoric out of Washington strongly suggests that Congress would like to pass some sort of federal carbon regulation or cap-and-trade scheme eventually.
Read full article...

Read full article...
---
Friday, June 15, 2007
In a December 1996 speech, former Federal Reserve Chairman Alan Greenspan uttered one of the most famous catch phrases in modern market history. Buried deep in a typically Greenspanian sentence of great length and grammatical complexity, the words "irrational exuberance" cut through his usual obfuscation to rise to immortality.
Greenspan was trying to gently communicate that the US stock markets might be getting a little frothy at the time, so when world stock markets slumped right after his speech the financial media looked to Greenspan's cryptic warning with awe. The notion of irrational exuberance was widely discussed and grew into something of a slogan for the great stock bull of the late 1990s.
Read full article...

Read full article...
---
Friday, June 15, 2007
If one believes the forecasts recently made by Terry Adams of UK-based Adams Metals and Albemarle Corporation's (NYSE: ALB) Chris Knight, then the escalating demand for molybdenum products could impact the stainless steel business of POSCO (NYSE: PKX). The Korean-based steelmaker, with about 6.5 percent of sales coming from stainless steel, is the world's fourth or fifth largest, depending upon production or market capitalization.
Read full article...

Read full article...
---
Friday, June 15, 2007
Charles Steen was born in Caddo, Texas in 1919. He went on to study at John Tarleton Agricultural College in Stephenville and in 1940 transferred to the Texas College of Mines and Metallurgy at El Paso, receiving a bachelor's degree in geology in 1943. Ineligible for the draft because of his poor eyesight, Steen spent World War II working as a geologist in Bolivia and Peru. Returning to the US in 1945, he married and took a job doing field work for the Standard Oil Company of Indiana .
Read full article...

Read full article...
---
Thursday, June 14, 2007
"Ye got yer good news, and ye got yer bad news"
The bad news is that some of you were influenced by the 'gold bears' who are forever looking at the 'half-full' glass and calling it 'half-empty'. You either sold during the past few days, or you allowed these bears to rob you of some good sound sleep!
Will these gold bears ever learn this simple trading rule: WHEN THE 200 DAY MOVING AVERAGE IS RISING, EVERY DIP TOWARDS, OR EVEN BELOW IT, IS AN OPPORTUNITY TO BUY!
Read full article...

Read full article...
---
Wednesday, June 13, 2007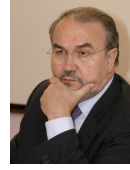 Spain's sales of gold
The Bank of Spain's recent gold sales are part of a strategy to shift its reserves into more profitable fixed-income instruments, Spanish Finance Minister Pedro Solbes said last week. Anyone with a modicum of knowledge of finance gasped at the sheer ignorance of the words.
Read full article...

Read full article...
---
Wednesday, June 13, 2007
There will be a time when gold and silver stocks shine in performance, but that time is definitely not now. After over 12 months of flat performance, investors will have to endure at lest another 6-8 weeks of weakness.
Read full article...

Read full article...
---
Wednesday, June 13, 2007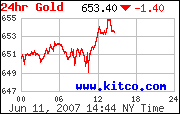 It continues to amaze me how many people still do not get it. Their eyes are merely focused on the barometer, gold, and not the real culprit, the US dollar. And what presently is occurring with the ole' dollar? "The U.S. dollar is sinking." Click
And do you witnessing gold crashing through 600? Gold may battle within these ranges for a year or so, but long term the momentum is still there and building power and steam.
Read full article...

Read full article...
---
Wednesday, June 13, 2007
Reality can truly be a shocking experience. For more than a year, paper equity markets have been deluded into thinking interest rates would decline. Suddenly, looking around the world the discovery was made that interest rates in most countries were rising or were going to rise. Decades ago, the U.S. set domestic interest rates. Today, interest rates are controlled by global investors.
Read full article...

Read full article...
---
Wednesday, June 13, 2007
We have recently seen long term bond yields climb quickly through key technical levels. On the 8th of June the U.S. 30 year bond yield climbed through 5.30% and the 10 year bond yield reached 5.24%. The 10 year yield was below 4.90% just a couple of weeks ago and today we have seen bond prices drop lower and the all-important 10 year yield shot through the 5.25% and touched 5.28%! The break of the 5% level was psychologically important and on a technical basis we have seen the 10 year yield break through the upper part of a long term downward trend channel and consequently confirming that the low yield of around 3.10% we saw in 2003 marked the top (in terms of prices) of the bond bull market that started in 1981.
Read full article...

Read full article...
---
Wednesday, June 13, 2007
Sean Brodrick writes : After hitting a nine-month high last week, oil took a shellacking. I guess that means we can all breathe easier and go out and buy HUMMER H3s, right? Not so fast!
Gasoline prices are already 27 cents per gallon higher than they were a year ago, and there is plenty of evidence that they're smoking on the launch pad.
What could be the driving force behind oil's next surge? I can't be sure. That's the challenge — we never know exactly what the oil market will throw at us.
Read full article...

Read full article...
---
Tuesday, June 12, 2007
Apparently that's what we are unfortunately destined to continue living in, the Frankenstein economy he largely created during his tenure at the Fed, and continues to influence to this day. To this, whether intentional or not, and like his most famous irrational exuberance warning from 1996, his comments have the effect of getting people to react, which in the end is to the Fed's benefit. That is to say, if more people run out over the next couple of days and short the stock markets around the world because of this most recent warning on Chinese stocks , then the Fed's mandate will be aided considerably with the floor that will put under prices, that being the maintenance of price stability. So you see, this is just Al the egomaniac extending his influence throughout the world, along with that of the Fed, and the US effectively of course.
Read full article...

Read full article...
---
Tuesday, June 12, 2007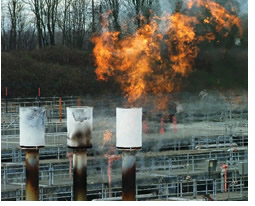 Carbon traders are utilizing the Kyoto Protocol's clause on 'certified emission reduction' credits to capitalize on China's vast coalbed methane reserves. The Asian director of Fortis' carbon trading desk calls China's methane 'easy pickings.' For every tonne of methane captured, about 20 tons of CO2 credits are obtained. CBM projects in China should indirectly benefit from foreign capital racing to exploit these credits before they expire in 2012
Read full article...

Read full article...
---