Analysis Topic: Economic Trends Analysis
The analysis published under this topic are as follows.

Tuesday, January 16, 2007
The UK inflation rate as measured by the Consumer Price Index (CPI), hit the upper limit of 3% today. The highest level in over a decade supports the Bank of England's surprise decision to raise interest rates last week to 5.25% from 5%. (Bank of England raises UK interest rates to 5.25%, catching the financial markets off guard )
Read full article...

Read full article...
---

Wednesday, January 10, 2007
The gap between the 'haves' and 'have-yachts' keeps growing with the stock market. Watch out for that iceberg!
MORE THAN 1,000 YACHTS went on display last week at the New York National Boat Show. They included the $1.1 million Cruisers Yacht 520 Express.
But that's peanuts compared with the Sunseeker Trideck, now on sale in Mayfair, London. Complete with a dining table made of American black walnut that seats twelve, it weighs more than 150 tonnes and costs $16 million.
Read full article...

Read full article...
---

Friday, January 05, 2007
You know what I think of when I look at the U.S. markets right now? The Charles Dickens' masterpiece, A Tale of Two Cities . Here's why ... For many parts of the "real" U.S. economy — America's factories, employers, shopping malls, and homeowners — it's looking like the worst of times.
Signs of an economic slowdown are everywhere:
Read full article...

Read full article...
---

Monday, December 18, 2006
I am no expert on Peak Oil, but Peak Oil is not the urgent problem that the world faces, economically, or politically. The problems of the supply-demand of oil will play out over a longer period and its effects would be spread over a longer period of time than that of the Peak Debt, which are lot more immediate. As a matter of fact, it has been the rapidly rising debt (racing towards the peak), which in turn has "fueled" a worldwide construction boom, that has resulted in the high prices for oil over the past 4 years and not the realization of the problem of Peak Oil. During the coming global depression, within this decade, the price of crude oil should fall below $25 a barrel and there will be glut due to sharply falling demand. I realize that these are not the concerns that people have today as long as the American consumer keeps borrowing. But, for how long?
Read full article...

Read full article...
---

Friday, December 15, 2006
I've spent the last 21 days traveling throughout Hong Kong, Tokyo, Shanghai, Singapore, Shekou, Bangkok, Macau, and Shenzhen. My goal: Seeking out the very best investment opportunities. It's been a long and exhausting trip. But I've found dozens of fast-growing businesses with skyrocketing profits. In fact, my biggest problem is that I have to narrow down this big platter of opportunities to just the few very best ideas.
Read full article...

Read full article...
---

Thursday, December 14, 2006
When Wall Street and Federal Reserve economists point to the current employment growth as a sign of the economy's health, over the next few quarters, i.e., a sign of "soft landing," they are lying because employment keeps growing until the economy is in a recession already. Fig. 1 says it all.
Read full article...

Read full article...
---

Thursday, December 14, 2006
Two reports released on Wednesday showed retail sales surging in November by 1%, contrary to the expectations of a hard landing for the economy. The market had been expecting a rise of just 0.1%. Bonds immediately fell and the dollar strengthened on the news as the markets reevaluate the expectations of an early cut in US interest rates.
Read full article...

Read full article...
---

Wednesday, December 06, 2006
Gordon Brown presented his last pre-budget report before he is destined to takeover from Tony Blair as the next Prime Minister of the UK.
He pledged increased expenditure on education and defense. Brown also reiterated that Britain had enjoyed the longest post-war period of continuous growth, now sustaining a record 38 quarters. Ten years ago Britain was 7th in the Group of Seven, bottom of the league for national income per head. In the last two years, Britain has been second only to the USA," he said. Brown also raised UK's growth forecast to 2.75 percent for 2006 and 3.25 percent for 2007.
Read full article...

Read full article...
---

Tuesday, December 05, 2006
Whilst most of the worlds attention is focused on the GDP growth rates of China and India, a study published by the Helsinki-based World Institute for Development Economics Research (part of the United Nations University), reveals that the worlds wealth is heavily concentrated in North America, Europe and a handful of developed Pacific rim countries. With 2% of adults owning more than 50% of the worlds wealth.
Read full article...

Read full article...
---

Thursday, November 30, 2006
The Nigerian economy is expected to grow by 7.5% during 2006. With prospects of growth exceeding 7.5% for 2007 and 2008, as Nigeria continues to enjoy dividends from the high oil price and inward investment into the oil and support industries. The Nigerian government also makes strides towards ensuring power generation to feed the growing economic activity.
Read full article...

Read full article...
---

Tuesday, November 21, 2006
Economists and many market participants continue to mistakenly point to lagging indicators in support of economic growth during 2007 i.e. a panel of 50 economists in a survey released by the National Association for Business Economics predicted that the overall economy, as measured by the GDP, would expand by 2.5 percent in 2007. Unfortunately many of the indicators such as US unemployment hitting a low of 4.7% are lagging indicators. Virtually every recession during the past 50 years was preceded by a low jobless reading.
Read full article...

Read full article...
---

Wednesday, November 15, 2006
Globalisation is a capitalist process that has taken off as a concept in the wake of the collapse of communism as a viable alternate form of economic organisation as we are increasingly been seen as living in the era of globalisation. Globalisation describes the increased mobility of goods, services, labour, technology and finance & capital throughout the world. Although globalisation is not a new development, its pace has increased with the advent of new technologies, especially in the area of telecommunications.
Examples of how globalisation effects Britain is in the current trend of UK business employing indian call centres for support & sales services, or for a clothing manufacturers to design its products in the UK, and make them in south-east Asia and then to sell them in north America.
Read full article...

Read full article...
---

Thursday, November 09, 2006
Although Bird flu is off the prime time news of late. Unfortunately the virus has not gone away and is gradually working its way around the world with ever wider outbreaks and human cases of infections continue to increase, with the ever present danger of a global pandemic.
Bird Flu Statistics - Jan 2004 to Sept 2006
| | | |
| --- | --- | --- |
| Country | Human Cases | Deaths |
| China | 21 | 14 |
| Vietnam | 93 | 43 |
| Indonesia | 67 | 51 |
| Cambodia | 6 | 6 |
| Thailand | 24 | 16 |
| Djibouti | 1 | 0 |
| Azerbaijan | 8 | 5 |
| Iraq | 3 | 2 |
| Egypt | 14 | 6 |
| Turkey | 12 | 4 |
Read full article...

Read full article...
---

Wednesday, November 08, 2006
China's currency reserves pass a record $1 trillion, and continue to grow at a rate of $20 billions per month. China's reserves have grown from 100billion in 1996 to $1 trillions today and are expected to double to $2 trillions by 2010. Now China accounts for almost 20% of the world's foreign exchange reserves, Japan being second with some $900 billions of reserves, also mostly in US dollars.
The reason for the growth in reserves is primarily due to the under valuation of the Yuan which in turn is contributing to the large trade deficit that the US is running.
Read full article...

Read full article...
---

Sunday, November 05, 2006
Last week, Government figures showed that a record 27,644 people went insolvent during the summer - more than 55% up on the same period last year and leaving the UK on target to hit 100,000 insolvencies in 2006 for the first time.
The figures sparked fears of dark times for retailers as debt ridden consumers are expected to tighten their belts in the run-up to Christmas. The seasonally adjusted personal insolvency increased 55.4 per cent on a year ago and 5.7 per on the previous quarter. Bankruptcies at 15,416, up 26.6 per cent compared with a year ago, but Individual Voluntary Arrangements soared to 12,228, up 117.9 per cent on last year and 9.8 per cent on the previous quarter. House repossessions are likely to exceed 12,000 this year and that 38 per cent of all bankrupts were now unemployed.
Read full article...

Read full article...
---

Sunday, October 22, 2006
Interest are set to to rise to 5% in November 2006, some market commentators are already seeing this as a potential peak despite REAL UK interest rates being at historic lows.
The spread between the base rate (4.75%) and RPI (3.6%), is currently at 1.3%, or marginally higher than the low set in 2003 of 1.1%, which preceded a rise in interest rates from 3.5% to 4.75%. This took the spread to 2%, since that time, RPI has risen and interest rates fell to 4.5%. This puts the UK under similar interest rate hike pressures as during the start of the rate hikes in 2003.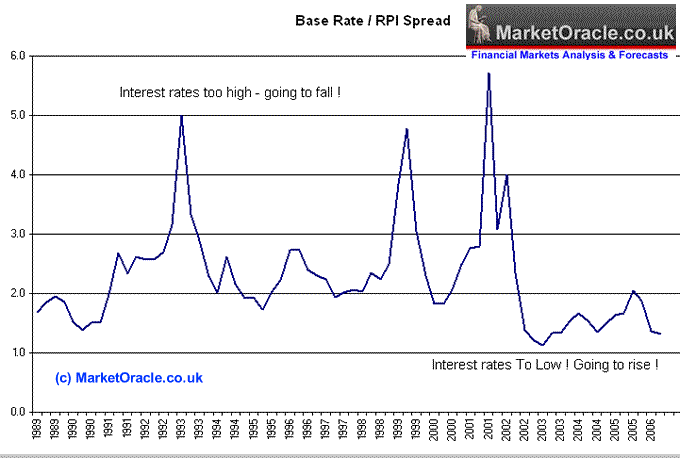 Read full article...

Read full article...
---

Tuesday, October 17, 2006
US Wholesale inflation fell by the largest amount in more than three years in September 06, as a record drop in the cost of gasoline offset rising prices in a number of other areas. The U.S. Labour Department reported that wholesale prices overall fell 1.3 per cent last month, nearly double the decline that analysts had been expecting. Gasoline prices plummeted 22.2 per cent, the biggest one-month decrease on record. But at the same time core inflation rose strongly by 0.6%.
Read full article...

Read full article...
---

Sunday, October 15, 2006
UK economic growth picks up during 2006, after the slowdown during 2005, and is expected to rise to 2.25% this year (1.9% 2005) and 2.5% in 2007 though the Treasury is forecasting higher growth at 2.5% for 2006 and 3% for 2007.
The risks are that inflation rises to 3%, which would trigger a serious of sharp rate rises. This is a possibility given that domestic inflation far exceeds imported inflation, and thus inflation is less likely to be impacted by declining oil prices.
Read full article...

Read full article...
---

Sunday, October 15, 2006
The US in the financial year ending 2006, paid over $400 billion in interest on debt ! Following the 14 consecutive Fed rate what will happen when the debt needs to be reissued at these higher interest rates ? I.e. average debt maturity is less than 60 months with total US debt stands at $8 trillions. Thus interest payments are likely rise substantially in the coming years whilst at the same time the US is running an record annual budget deficit of over $500 billion.
So what can the Federal Reserve do to extricate the US from this developing crisis ?
Read full article...

Read full article...
---

Tuesday, September 19, 2006
The violent demonstrations continue on the streets, in response to the recording of the Prime Minister Ferenc Gyurcsany admitting to lieing to the public in the run up to the last election on the dire condition of the hungarian economy.
In the 1990s Hungary was shown as a textbook example of a transition economy.
Read full article...

Read full article...
---