Analysis Topic: Economic Trends Analysis
The analysis published under this topic are as follows.

Thursday, September 11, 2008


Mr. Greenspan, you have been the individual most responsible for the current crisis; a crisis which commenced only a few years after you tried to minimize the dotcom collapse, which of course you also created. By flooding the banks with ridiculously low interest rates you thought this Ponzi scheme economy could run on worthless money forever. But when you saw the end was coming, you quietly made your exit.
Read full article...

Read full article...
---

Wednesday, September 10, 2008
Extraordinary Measures Today, a Financial Funeral Tomorrow
-
I wish I was referring to Fannie and Freddie in the title of this piece, but because those institutions are being resurrected, the funeral I am waiting for is the one for our entire fiat-based system. We are now on the brink of a collapse in confidence that brings the whole world financial system to its knees. Each market intervening action is becoming more extraordinary. The rallies which pull the suckers in following the intervening actions are becoming briefer and less powerful. I expect this one to be no different. This sequence has now become a broken record. Markets threaten to take out technical support levels and the government comes to the rescue. Armageddon is avoided until another day and a relief rally ensues on the belief that the government has fixed the problem a new bull market can begin. After all, this is how investors have been conditioned over the last three decades.
Read full article...

Read full article...
---

Tuesday, September 09, 2008
In
Hiring Intentions Lowest In 17 Years
I spoke on the Job situation in the US.
This post is about job prospects in the UK and worldwide. Please consider
UK Jobs outlook weakest for nine years
.
The outlook for the UK jobs market is the weakest for almost a decade with employers freezing new recruitment as business confidence plummets, according to worldwide research published on Tuesday.

Read full article...

Read full article...
---

Tuesday, September 09, 2008
MarketWatch, citing data from Manpower, is reporting
Glum outlook on jobs
.
Unless you work in the oil, gas or related mining industries, the job market is unlikely to look brighter in the fourth quarter, and even retailers are glum about hiring for the upcoming holiday season, according to the latest Manpower Employment Outlook Survey.

Read full article...

Read full article...
---

Tuesday, September 09, 2008
An interview with Michael Hudson, former Wall Street economist specializing in the balance of payments and real estate at the Chase Manhattan Bank (now JP Morgan Chase & Co.), Arthur Anderson, and later at the Hudson Institute (no relation).
On Friday afternoon the government announced plans to place the two mortgage giants, Fannie Mae and Freddie Mac, under "conservatorship." Shareholders will be virtually wiped out (their stock already had plunged by over 90 per cent) but the US Treasury will step in to protect the companies' debt. To some extent it also will protect their preferred shares, which Morgan-Chase have marked down only by half.
Read full article...

Read full article...
---

Monday, September 08, 2008
Treasury Secretary Henry Paulson, the man who said that subprime was contained and that the Bazooka in his pocket would never be used, now assures us that the bailout of Fannie Mae and Freddie Mac will be costless to taxpayers. Despite the near euphoria that the plan has sparked on Wall Street, the move will go down in history as the biggest policy blunder of all time, and will be credited as a pivotal point in the financial collapse of the American economy. The ultimate cost to Unites States citizens will be in the range of hundreds of billions of dollars, perhaps more.
Read full article...

Read full article...
---

Monday, September 08, 2008
What gives here? The Commerce Department reports that GDP grew at an annual rate of 3.3 per cent while unemployment rose to 6.1 per cent, giving partisan commentators enough ammunition to attack each other. Politically I'm a very conservative man who thoroughly detests the Democratic Party and who tends to think of most journalists as nothing better than leftwing cockroaches, an opinion that has been greatly strengthened by the media's disgusting attacks on Sarah Palin. Nevertheless, the one thing I will never do is bend economics for partisan reasons. To do so would be to cheat my readers.
Read full article...

Read full article...
---

Sunday, September 07, 2008
The week of September 8-12 will see a heavy week of US macro data. Inflation will be at the forefront with import prices and producer prices released on Thursday and Friday, while the advance retail sales estimate for August to close out the week figures to be the primary market moving release of the week. The week will kick off with the Tuesday publication of the July pending home sales release. The majority of the data for the week will be published on Thursday, which will also see the release of the July trade balance, weekly jobless claims and US monthly budget statement. Friday will also see the publication of the University of Michigan's preliminary estimate of consumer sentiment for September.
Read full article...

Read full article...
---

Saturday, September 06, 2008
Thoughts on the Continuing Crisis
Fool Me Once, Shame on You
Delinquencies and Foreclosures Spike UP
Unemployment Rises to 6.1%
Action Is Needed Now
We are entering the next stage of the credit crisis, and one which is potentially more troubling than what we have seen over the past year, absent some policy reactions by the central banks and governments world wide. The crisis was started by an intense run-up in leverage by financial institutions and investors world wide, investing in increasingly risky assets such as subprime mortgages and then the realization that leverage could hurt. The deleveraging process started to intensify last year about this time. The easy part of that process has been just about done. Now is the time for the really hard work. It will not be pretty. In this week's letter, we look at the process and think about its implications for the markets and the economy, and visit some data on the housing market and unemployment.
Read full article...

Read full article...
---

Saturday, September 06, 2008

The credit crisis having manifested itself most evidently during the past 12 months through the continuing tightening in the availability of credit to all sectors of the economy despite government and central bank actions of pumping hundreds of billions of dollars if not more than $1 trillion into the financial system so as to prevent a chain reaction of bank failures as the worlds big banks continue to announce ever larger bad debt provisions each and every quarter.
Read full article...

Read full article...
---

Friday, September 05, 2008

I don't usually follow the Olympics closely, but these Games were different. The 2008 Beijing Olympics were an event of great and unusual cultural, political, and economic significance to the world. Most commentary has naturally focused on the athletics, and I have not seen much serious analysis on these other topics. I decided to highlight the economic issues behind the Olympics.
Read full article...

Read full article...
---

Friday, September 05, 2008

In the 1980's, the Ford Motor Company used the slogan "Quality is Job #1". This was helpful in their campaign to compete with their Japanese counterparts who were perceived to have higher quality automobiles. It would seem, based on recent trends in the employment market that government is now Job #1. This morning's employment situation report contained some real shockers, the biggest being that the US unemployment rate is now at 6.1%, jumping from 5.7% a month ago. Out of the 7 subsectors tracked in the report, only government and education/healthcare are expanding. Since a good percentage of education and healthcare expenditures are financed either directly or indirectly by the government, it would seem that Uncle Sam is about the only one hanging out a Help Wanted sign these days.
Read full article...

Read full article...
---

Friday, September 05, 2008

In recent months, investors have been unjustly chastised for their lack of consistency. In truth, they have an unblemished record of drawing the wrong conclusions. Last week's 2nd quarter GDP report provides the freshest evidence of market cluelessness.
In its report, the Commerce Department stunned economy watchers by showing a 3.3% annualized increase in 2nd Quarter GDP. The robust growth apparently wrong-footed those expecting further recessionary signals, lent further strength to the current dollar rally, and encouraged previously cautious investors to take another look at U.S. stocks.
Read full article...

Read full article...
---

Friday, September 05, 2008
Before taking a look at the monthly jobs data, let's take a look at weekly claims. The US Department of Labor is reporting Initial Unemployment Insurance Claims continue to rise.
Seasonally Adjusted
In the week ending Aug. 30, the advance figure for seasonally adjusted initial claims was 444,000, an increase of 15,000 from the previous week's revised figure of 429,000. The 4-week moving average was 438,000, a decrease of 3,250 from the previous week's revised average of 441,250.
Read full article...

Read full article...
---

Friday, September 05, 2008

Martin Hutchinson
writes: have been much more positive about the Japanese economy than most other analysts in recent months, largely because I believed that many of the problems from the Japanese recession of 1990-2003 were finally in the country's rearview mirror. In particular, I believed that the Japanese budget deficit – which, by 2003, had become quite acute – was well on the way to being solved through public spending restraint. That, in turn, would allow Japan to pay down its excessive public debt, giving its private sector room to expand.
Read full article...

Read full article...
---

Wednesday, September 03, 2008
With U.S. home prices crashing, inflation expectations rising, and consumer confidence plummeting, you would think that the U.S. economy would be shedding jobs at a pace comparable, at minimum, to previous recessions. This hasn't been the case, at least not yet. Rather, despite posting job losses in each of the last 7-months U.S. nonfarm payrolls have held up surprisingly well this year.
Read full article...

Read full article...
---

Tuesday, September 02, 2008
Bloomberg is reporting
China's Manufacturing Contracts for Second Month
.
Manufacturing in China, the world's fastest-growing major economy, contracted for a second straight month in August, according to a survey of purchasing managers.
The Purchasing Managers' Index was a seasonally adjusted 48.4, unchanged from July, the China Federation of Logistics and Purchasing said today in an e-mailed statement.
Read full article...

Read full article...
---

Tuesday, September 02, 2008

William Patalon III writes: No wonder this economy is so hard to figure out: The economic reports are as volatile as the economy itself.
Just when the dreaded "R" word seemed to be creeping back into the daily office chatter, a few economic reports last week seemed to reaffirm that the enhanced pessimism may be a tad bit early.
Read full article...

Read full article...
---

Tuesday, September 02, 2008
"...Overcapacity – first of credit, then of real estate – drove the price of renting sharply lower, bankrupting cautious investors along with big borrowers..."
A TEXAN CUSTOMER who came to see me a few months ago told me a story which illustrates the fine mess we're in.
Read full article...

Read full article...
---

Tuesday, September 02, 2008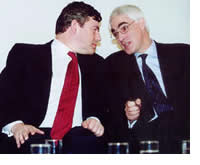 Gordon Browns Darling chancellor finally showed signs of cracking-up at the week-end as the strain of continually toeing Gordon Browns party line of ignoring the financial and economics fundamentals by painting a repetitively bright picture for the British economy and financial system finally got to him.
He commented: "Economic times are arguably the worst they've been in 60 years… I think it's going to be more profound and long-lasting than people thought".
All Gordon Brown could respond with was "Et tu brutus", as his premierships final days fast resemble a shakespearean tragedy.
Read full article...

Read full article...
---