Analysis Topic: Interest Rates and the Bond Market
The analysis published under this topic are as follows.

Wednesday, September 20, 2006
A further rise in interest rates in November 06, looks highly likely after the Bank of England again raised fears over rising inflation. Minutes from this month's meeting of the Bank's Monetary Policy Committee (MPC) showed that all eight members voted to keep the cost of borrowing on hold at 4.75%. But it also showed that the MPC thought it was right to impose the shock rise from 4.5% in August as inflation was set to stay above its 2% target "for some time". Inflation hit 2.5% in August 06, - its joint-highest level since Labour came to power and the fourth month in a row it was above 2%.
Read full article...

Read full article...
---

Thursday, September 14, 2006
High Street spending rose strongly in August, to 4.3% despite the August rate rise, which strongly increases the likelihood of another rate rise this year.
There are also signs that the china factor is coming to an end i.e. the price deflation that the high street has enjoyed for several years. Interest rates will now likely rise in November 2006 as the pressures on inflation remain in an economy running near full capacity.
Read full article...

Read full article...
---

Friday, August 11, 2006
The interest rate hike by the BOE last month has accelerated the interest rate trend, pushing the 3month rate to over 4.95% ! The trend is likely to continue upwards into the next interest rate rise, probably in October or November 2006, though unlikely to occur in December due to the holiday period.
Read full article...

Read full article...
---

Friday, August 04, 2006
An unexpected quarter point rise in interest rates from 4.5pc to 4.75pc rattled the stock market with retailers, exporters and builders bearing the brunt of investors' concerns.
The rise caught the financial markets off guard leading to a surge in interest rate futures to take into account the 0.25% rise.The FTSE 100 fell by by 93.7 points, or 1.6pc, to 5838.4, while the pound jumped a cent to $1.8885.
The rise is likely to impact the highly leveredged housing sector and lead to a slowdown in the coming months. And future rises are not out of the question, as the BOE tries to reign in inflation as it moves well beyond the Inflation target of 2%.
Read full article...

Read full article...
---

Tuesday, March 07, 2006
It is 4 months since our last analysis that suggested that the interest rate trend is likely to resume upwards, in that time interest rates have moved sideways, but now with the 3 month LIBOR rate rallying to above 4.7% that sideways trend is coming to an end and signaling a resumption of the uptrend towards our target of 5.75% ! Which would roughly equate to a base rate of at least 5.25% !, The time line for this now has to be moved forward by some 4 months and is now pointing to some time in early 2007.
Read full article...

Read full article...
---

Sunday, November 13, 2005
With talk now focusing on when the next cut in interest rates will be, its time to remind readers that the MAIN trend is still definetly still up !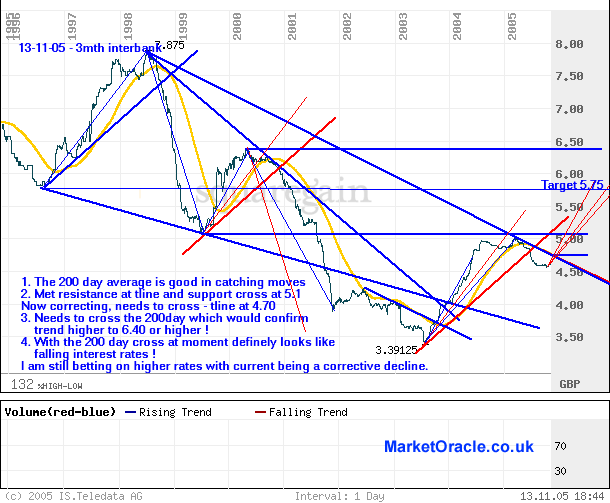 Read full article...

Read full article...
---