Analysis Topic: Currency Market Analysis
The analysis published under this topic are as follows.

Monday, November 27, 2006
The Japanese economy grew by 0.5 percent in the three months to September, with GDP at 2.0 percent, showing a seventh straight quarter of positive growth, according to the Japanese Cabinet Office, beating market expectation of just 1.2%. This supports the view of a further strengthening in Japanese stock and housing markets.
Read full article...

Read full article...
---

Friday, November 10, 2006
The statement by the Chinese central bank governor Zhou Xiaochuan on Thursday that 'China has a clear plan to diversify its $1 trillion foreign exchange reserves and is considering various options to do so', sends the dollar reeling in response.
The diversification comment made by Zhou, was in retaliation to Democratic US Senator Schumer an leading US-China trade/currency critic's celebratory comments following the Democrats election victories. Senator Schumer, has been pushing for tariffs on Chinese goods amid charges it artificially keeps an undervalued yuan to make exports cheap. Along with others, Schumer wants a 27.5 percent levy on imports from China
Read full article...

Read full article...
---

Thursday, November 02, 2006
Trading in foreign exchange is akin to judging a reverse beauty contest. The trick is to buy the "least ugly" currency at the right time. Nearly every central bank is engaging in some sort of manipulation of its currency, from outright intervention in the marketplace, such as in Brazil and China, to pumping up the money supply to inflate local stock markets, such as in Australia, China, England, the Euro zone, and India. Other central banks engage in "verbal jawboning" to keep traders in check.
Central banks are key players in the $2 trillion-a-day currency market, and traders are always on the lookout for signals that central banks are diversifying their FX reserves away from the US dollar. Global central bank reserves have more than doubled to $4.9 trillion in just three years, with particular focus on the massive US dollar stockpiles built up by Asian central banks, which could be switched into other currencies such as the Euro, Japanese yen, British pound, or Gold.
Read full article...

Read full article...
---

Sunday, October 29, 2006
The US Dollar (USD Index) has sold off strongly in recent weeks, does this signify a resumption of the long-term dollar bear market ?
After Bottoming in late 2004 at 80.39 , after which we have basically seen a correction against the downtrend that has taken the dollar to as high as 92.6 in late 2005, since which the trend has been down with recent sideways activity within the range of 87 to 84. With most recent action closing near the lower end of the range at 85.20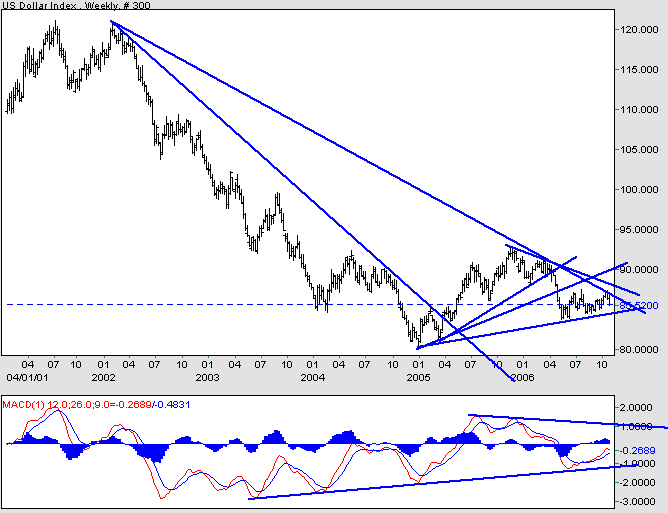 Read full article...

Read full article...
---

Saturday, September 23, 2006
The British Pound has rallied strongly from the lows earlier in the year to 190, but now has hit heavy resistance at above 190, which suggests a correction is likely.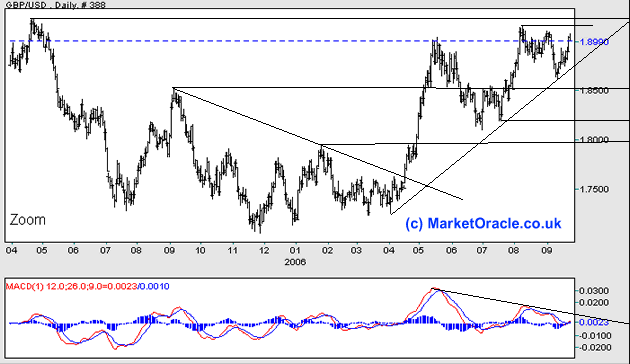 Read full article...

Read full article...
---

Tuesday, April 18, 2006
The British Pound (GBP) has spent the last 6 months building a firm support base between 170 and 178, and is now showing signs that it is ready to resume the main uptrend that began June 2001.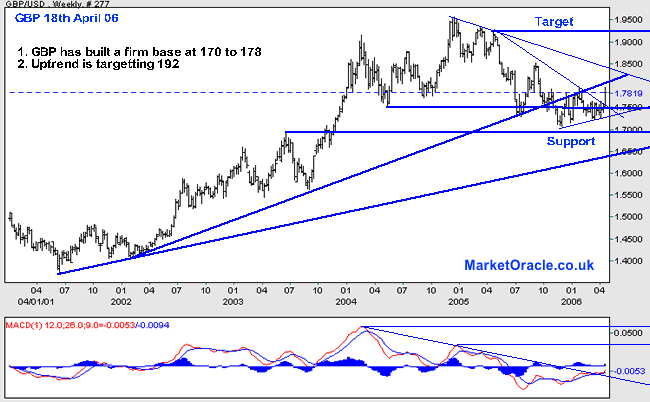 Read full article...

Read full article...
---

Thursday, January 01, 1970
Jim Martens shares key insights into trading currencies with the Wave Principle
In this brand-new video interview, EWI Senior Currency Strategist Jim Martens shows you his approach to the forex markets -- and how the "simplicity" of Elliott wave analysis has guided him through 23 years of forecasting.
Read full article...

Read full article...
---