Category: Tech Stocks
The analysis published under this category are as follows.

Monday, August 20, 2007
Although the major equity market ETFs feel like they are moving around quite a bit, actually in relation to the intense volatility during the prior two weeks, this is a pretty calm day! The pattern the Q's (Nasdaq: QQQQ) have carved out since Friday's spike high at 46.99 appears to me to be taking the form of a coil (lower highs and higher lows). As long as 45.59 contains any forthcoming weakness, the integrity of the lower side of the coil will remain intact. Conversely, I think that today's high at 46.64 is a second data point near the top side of the coil.
Read full article...

Read full article...
---

Wednesday, August 15, 2007
We can see from the big picture of the Q's (NASDAQ: QQQQ) that the price structure has just about completely traversed its 13-month price channel -- from its July 19th high at 50.66 into today's low at 46.53. The ability of the Q's to hold the 46.30 area (should the price structure press to new lows) is imperative if the lower channel support line is to maintain its integrity. Otherwise, the Q's will be heading for a confrontation with its sharply rising 200 DMA, now at 45.35.
Read full article...

Read full article...
---

Wednesday, August 08, 2007
The Semiconductor HLDRs (AMEX: SMH) briefly popped above key near-term resistance at 38.00/05, but did not sustain that level -- at least not yet. However, my near-term pattern and momentum work argue strongly that higher price will emerge in the upcoming hours that will propel the SMH towards 39.00/25. Intel (Nasdaq: INTC), Applied Materials (Nasdaq: AMAT), and Analog Devices (NYSE: ADI) will be the big drivers of the next upleg in the semiconductors.
Read full article...

Read full article...
---

Tuesday, July 31, 2007
Tony Sagami writes: Although the Dow posted its second-biggest one-day loss of the year last Thursday, one U.S. company's stock rose more than 6% by the end of trading.
I'm talking about Apple — a stock that my Elite Stock Trader subscribers have owned for some time, and a company that I've told you about before right here in Money & Markets.
Read full article...

Read full article...
---

Friday, July 20, 2007
With just over an hour remaining in today's session, I am wondering if a correction in the major equity market ETF's has ended, and if a new upleg is in its infancy. But I notice that financial powerhouse Goldman Sachs (NYSE: GS) remains down about 2.5% for the session, and more importantly, remains below its 200 DMA (208.31). I see that Google (NASDAQ: GOOG) is still down 5% for the session, having bounced off of its 50 DMA (510.81) this AM.
Read full article...

Read full article...
---

Tuesday, July 17, 2007
Tony Sagami writes : I'm here in Japan with my two sons, and I'm reminded of something my mother used to say — Ame futte ji katamaru . Translated, it means "Rained-on-ground hardens." It was her way of saying adversity builds character.
In just the last few days, the country has had to deal with both a powerful earthquake in the northwest and a gale force typhoon hitting its eastern coast.
Read full article...

Read full article...
---

Monday, July 16, 2007
Let's notice that so far today the Internet HLDRs ETF (AMEX: HHH) opened lower but has climbed into positive territory -- at new recovery rally highs, with the possibility of closing the session with a key upside reversal spike.
Read full article...

Read full article...
---

Tuesday, June 12, 2007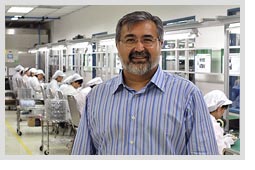 Twenty-two days — that's how long I spent racing around Asia on this last trip. I missed one of my daughter's dance recitals and a lot of my boys' baseball games. But I firmly believe there's no substitute for boots-on-the-ground research.
Reason: Every trip I've ever made has translated into big investment profits down the road.
And let me tell you, this was my most productive trip yet! I looked at several dozen companies, and I have a small handful to add to my buy list.
Read full article...

Read full article...
---