Category: Household Bills
The analysis published under this category are as follows.

Saturday, January 01, 2022
UK energy bill are set to continue to soar during 2022 as customers either come off their fixed rate deals or that their energy provider walks 'goes bust' away from their contracts with customers leaving to be dumped onto an regulator appointed supplier as was the case for us as our Gas supplier ZOG disappeared. So what do to when your fixed rate content ends? Do you go for the suggested fixes that your energy supplier will be eager to get you to move onto? Or do you go for the standard variable rate. Watch my latest video on Britain's energy crisis before you make a BIG mistake that could result in paying 2 or 3 times what you could have paid all as a consequences of falling prey to the games the energy suppliers play with customers.
Read full article...

Read full article...
---

Tuesday, December 07, 2021
The push is on to roll out smart meters across the UK so that the energy providers get at least daily if not hourly updates of customers energy usage. However customers being able to read these new meters is not straight forward as clicking a button. So in this video I show how to read your SMART Meter Day and Night rate usage so as to ensure it is actually working properly as many home owners are complaining of huge jumps in energy bills following installations.
Read full article...

Read full article...
---

Thursday, November 25, 2021
Gas and electricity prices have surged to extortionate levels and winter has yet to bite sending the fixed rate deals for ALL energy providers soaring in the stratosphere. In my latest video in my inflation mega-trend series I explain why those with expiring tariffs will be making a huge mistake if they now went ahead and fixed their tariffs as energy providers have been eager to get customers to fix ahead of warnings of price highs when the energy cap is lifted in April 2022. This video could literally save you £1000 in making a costly mistake by fixing at the worst possible time at the worst possible rates!
Read full article...

Read full article...
---

Thursday, September 23, 2021
UK Gas Market Panic! Apparently energy firms are going bust, or are they? Wh at's the odds most of these firms going bust are going to soon reappear under a slightly different name with probably the same staff and premises. We are being SCAMMED! UK Energy customers are being SCAMMED out of their Fixed rate tariffs because the greedy basket energy firms did NOT HEDGE the natural gas price that they were busy encouraging prospective customers to fix at! Now they want to cancel the contracts by offloading the customers onto the regulators who is then going to dump the customers onto other energy firms on much higher tariffs, probably TRIPLE the tariffs that the customers had been fixed at. What a CON! What a SCAM! The directors of any energy company perpetuating such as scam should be blacklisted!
Read full article...

Read full article...
---

Wednesday, May 05, 2021
With all of the major suppliers increasing their prices, consumers are becoming stressed in the United Kingdom. No one is certain what lies ahead and if the recent price increases will continue for the rest of 2021. With the average increases rising around £96 a year, people are feeling the sting to their wallets. Many are looking to experts to impart wisdom on what can be expected as the year goes on.
Read full article...

Read full article...
---

Friday, April 13, 2018
ISupply Energy is one of many small gas and electricity suppliers to UK customers at generally competitive prices. Unfortunately they are able to achieve their competitive prices through having far less overheads in terms of systems in place to manage their customer accounts. I say unfortunately for when things go wrong then communicating with the likes of Isupply energy is literally like talking to a brick wall as has been my experience over the past 18 months as an electricity customer.
So why I am not happy if their electricity prices are competitive against the likes of the bigger players such as NPower, British Gas and Scottish Energy?
Read full article...

Read full article...
---

Friday, October 18, 2013
It's that time of the year when Britain's cartel of 6 energy suppliers steps forward one by one to announce extortionate price hikes with SSE's 8.2% of a few days ago now being followed by British Gas announcing that they will hike energy prices by 9.2% (gas prices by 8.4% and electricity by 10.4%).
Read full article...

Read full article...
---

Friday, November 12, 2010

British Gas (owned by Centrica) paid propagandists have been busy making appearances on the mainstream broadcast media with misinformation to try and persuade its 9 million retail gas and electricity customers that the announced price hike of 7% from 10th December is justified, when the facts are that British Gas is ripping off its customers by making near monopoly profits as evidenced by a 98% rise in gas profits for the first half of 2010 to £585 million.
Read full article...

Read full article...
---

Friday, September 18, 2009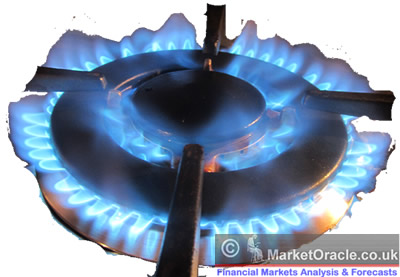 Ofgem, Britains' toothless energy regulator announced today what customers already knew that Britians' six main energy suppliers (British Gas, E.ON, Scottish Power, Scottish & Southern Energy, EDF Energy) are ripping off their customers to the tune of more than £170 each per annum. In the face of a 75% fall in the whole gas price energy suppliers have raised prices by 20% on a year earlier, this is AFTER a 35% price hike during mid 2008. The industry representatives have publically replied that they may even raise energy prices further despite the fact that average wholesale prices for power has halved over the past 12 months which is reflected in projected profits for the sector of £4 billion over the next 12 months.
Read full article...

Read full article...
---

Tuesday, July 07, 2009
Scott Byrom, utilities manager at moneysupermarket.com, said: "This price drop is a tiny step in the right direction.
Read full article...

Read full article...
---

Wednesday, July 30, 2008

A 100% rise in the wholesale gas price has resulted in retail gas suppliers in recent days pushing gas prices sharply higher. First to raise was EDF which announced a 22% rise, quickly followed by Britain's biggest gas supplier British Gas which today announced a 35% price hike.
Read full article...

Read full article...
---