Category: Subprime Mortgage Risks
The analysis published under this category are as follows.
Monday, August 27, 2007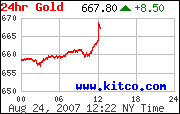 Gold is slowly moving back to its previous equilibrium. A lot of buying and selling went on in the markets last week
And why did the price of gold momentarily drop a little in price during this perilous time?
Read full article...

Read full article...
---

Friday, August 10, 2007
For years, Americans have been able to pay for enormous trade deficits by exchanging IOU's for imported consumer goods. Unfortunately for foreign creditors, a substantial percentage of those IOU's have recently taken the form of mortgaged backed securities.
Sporting higher yields than Treasury bonds, investment grade ratings from reputable agencies, and juicy commissions for the investment banks that packaged them, these structured mortgage bonds have quickly become America 's greatest export. Ironically, amid cll the recent hoopla about defective Chinese exports, America has proved that when it comes to flooding the world with shoddy merchandise, nobody beats the good old USA .
Read full article...

Read full article...
---

Friday, August 10, 2007
Mike Larson writes: If you think yesterday's 2.8% plunge in the Dow was severe, take a look at the shellacking of bank and brokerage stocks: Down 5%, 6%, even 7% across the board.
Why are things getting so hairy? Precisely because of the spreading mortgage market mayhem I've been warning about!
Read full article...

Read full article...
---

Friday, August 10, 2007
The dominos have begun to fall, look for it to cascade into the fall as markets reprice the normalization of credit conditions, and CURTAIL the most risky and foolish lending practices. Cov lite, LBO's, private equity and CDO/CMO paper is dead until the deals are priced in a manner that secures lenders interests in a RATIONAL manner, as they should be as they are just SUBPRIME on a gargantuan scale. I love it as volatility is opportunity for the prepared investor. Volatility rose from 1997 till the high in 2000 and the markets did fine. After several weeks of market turmoil it's time to look at the factors that are the catalyst to this market sell off. It's not over by a long shot but some curious things are happening and I want to inform you of them.
Read full article...

Read full article...
---

Tuesday, July 24, 2007
The market focus has begun to move from the sublime to sub-prime. Housing was to be well contained, earnings growth (although slowing) was to march inexorably higher and investors mergers and acquisitions were going to (eventually!) remove every stock from the markets. Then Friday happened. Earnings warnings from Caterpillar and a miss by internet giant Google cast doubt about the overall strength of earnings for the quarter.
Read full article...

Read full article...
---

Sunday, July 08, 2007
Mike Larson writes : The house down the street with the overgrown lawn and the cracked kitchen window …
The rowhouse stripped of its copper piping and filled with filth …
The cheap listing on your block, the one offered for thousands less than any comparable home …
Read full article...

Read full article...
---

Monday, July 02, 2007
The Bank for International Settlements issued a warning this week that the Federal Reserve's monetary policies have created an enormous equity bubble which could lead to another "Great Depression". The UK Telegraph says that, " The BIS--the ultimate bank of central bankers--pointed to a confluence a worrying signs, citing mass issuance of new-fangled credit instruments, soaring levels of household debt, extreme appetite for risk shown by investors, and entrenched imbalances in the world currency system.
The IMF and the UN have issued similar warnings, but they've all been shrugged off by the Bush administration. Neither Bush nor the Federal Reserve is interested in "course correction". They plan to stick with the same harebrained policies until the end.
Read full article...

Read full article...
---

Thursday, June 28, 2007
The meltdown in the subprime mortgage market is inexorably spreading throughout the U.S. economy. The first shoe dropped in February, when scores of mortgage originators went bust amid rising defaults and tightening lending standards. Last week, the second shoe dropped as two CDO-focused Bear Stearns hedge funds blew up. Overshadowed by the Bear Stearns drama which unfolded at the same time, California-based brokerage firm Brookstreet Securities shut its doors when unsecured customer losses from margined investments in collateralized mortgage obligations were "unrepentantly" marked down. However, as the subprime monster likely resembles a giant centipede, this will not be the last show to drop.
Read full article...

Read full article...
---

Saturday, April 21, 2007
This week I am in La Jolla for my annual Strategic Investment Conference, co-hosted by my partners Altegris Investments. This week's letter is the basis for the speech I will be giving Saturday afternoon on a few of the items in my long-term worry closet.
What? Me Worry?
It will come as no surprise to this audience that there are a few things that worry me. I often write about problems in the markets. Subprime mortgage contagion, earnings shortfalls, a slowdown in consumer spending are all on my worry list.
Read full article...

Read full article...
---

Saturday, March 31, 2007
Most of the focus among investors and non-investors alike recently has been the sub-prime mortgage "implosion" and its possible impact on the stock markets and the economy. Therefore I'm dedicating most of tonight's report to an analysis of this special situation.
Since I'm not an expert in this particular area, the best analysis I can offer other than anecdotal evidence based on personal observation is to share with you my own collection of opinions from those whose expertise and analysis of similar situations in the past has proven correct in a vast majority of cases. In other words, we're going to see what some of the best in the business have to say on this subject. Then we'll take the analysis once step further and turn to the ultimate barometer of business/economic conditions, namely the stock market, and see what Mr. Market itself has to say.


Read full article...

Read full article...
---