What Foreign Investors Will Do Next As Falling Dollar Makes US Assets Cheaper
Stock-Markets
/
Investing
Sep 25, 2007 - 10:54 AM GMT


Tony Sagami writes: Did you jump for joy when the Federal Reserve Bank lowered interest rates by half a percentage point? If you own a significant stake in the U.S. stock market, you probably did.
I say that because the Dow Jones added 417 points from last Tuesday (the day of the Fed announcement) through last Friday. For all of last week, the Dow gained 2.8% and the Nasdaq tacked on 2.7%.
U.S. stocks, however, weren't the only markets making big moves last week. Hard-asset investors did even better as the price of gold jumped to a 27-year high of $747.10 an ounce and oil futures hit an all-time intra-day high of $84.10 a barrel.
So it sounds like everyone made money, right? Well, not exactly.
Bond investors were wondering what hit them as the price of long-term Treasuries dropped more than two and a half points in the two days after the rate cut.
The dollar also got whacked, falling to a 15-year low against a basket of foreign currencies … an all-time low against the euro … and in line with the value of the Canadian dollar, something we haven't seen for more than three decades.
For some time here in Money and Markets , we've been telling you just how important the dollar's decline is. Today, I want to tell you about yet another implication of a falling greenback …
The Falling Dollar Makes U.S. Assets Cheaper for Foreign Investors
Foreign investors recognize that a weaker currency means they can scoop up prime U.S. assets at fire sale prices. And I think that's what they'll be doing over time.
Back in June, I told you about China's deal to buy a $3-billion stake in private equity company Blackstone Group . I said,
"China is laying the groundwork to go on a buying spree. Don't think for a minute that China bought into Blackstone because it hopes to make a big return on its investment. Rather, the Chinese government wants to learn the ins and outs of takeovers and private equity deals."
I still believe this is precisely what China is doing, especially in light of the falling dollar. And you know what else? I think other countries are lining up to do the same thing.
For example, the government of Abu Dhabi is now buying 7.5% of the Carlyle Group, another U.S. private equity buyout firm. In other words, they're willing to pay $1.35 billion to learn all about the buyout business.
Like China, Middle Eastern countries are flush with cash right now. And they're more than happy to scoop up U.S. businesses on the cheap. The declining dollar, and the unfolding credit crunch, are only making the deals more attractive.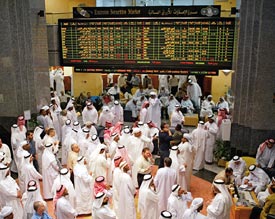 The Dubai Stock Exchange's deal with Nasdaq is just one example of the cross-border deals that are getting announced …
Just last week, two major deals went down:
First, the Dubai stock exchange, which is controlled by the Dubai government, agreed to buy a 19.9% share of the Nasdaq. This will be the first time a government-controlled stock exchange will own a significant stake in an American rival.
Second, the government of Qatar's investment arm bought 20% of the London Stock Exchange and 9.9% of OMX, the Stockholm-based stock exchange.
And this is just the continuance of a trend. For example, Dubai ruler Sheik Mohammed bin Rashid al-Maktoum bought a stake in MGM Mirage in August.
Figure Out What Foreign Buyers Are After and You Can Make a Mint
Thanks to the plunging greenback, all of our dollar-denominated assets are on sale for the rest of the world. So don't be surprised if you see a repeat of the 1980s, when Japan scooped up some of our most treasured assets like Pebble Beach and Rockefeller Center.
As an investor, the trick is finding out what they'll be buying next.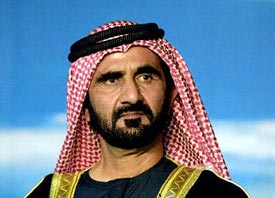 Sheik Mohammed bin Rashid al-Maktoum purchased part of MGM Mirage in August.
In the case of those Middle Eastern buyers, it's tough to say what they'll target next. We know they're looking to diversify their economies away from oil. And the recent stock exchange purchases fit with their desire to establish themselves as financial centers. But I don't claim to know what they'll buy next.
However, I can tell you what I think China and other Asian countries will be looking for: Natural resources. They need more of just about everything — oil, uranium, natural gas, copper, iron, potash, etc. — to feed their expanding economies and their exploding populations. So, in my book, you won't go wrong by digging up attractively-valued companies in those industries.
You also won't go wrong by buying Asian firms that will be scooping up U.S. assets at fire-sale prices. In fact, not only can these firms benefit from favorably-priced acquisitions, they'll also protect U.S. investors from a further decline in the dollar since their share prices are tied to foreign currencies.
Best wishes,
By Tony Sagami
This investment news is brought to you by Money and Markets . Money and Markets is a free daily investment newsletter from Martin D. Weiss and Weiss Research analysts offering the latest investing news and financial insights for the stock market, including tips and advice on investing in gold, energy and oil. Dr. Weiss is a leader in the fields of investing, interest rates, financial safety and economic forecasting. To view archives or subscribe, visit http://www.moneyandmarkets.com .
© 2005-2019 http://www.MarketOracle.co.uk - The Market Oracle is a FREE Daily Financial Markets Analysis & Forecasting online publication.

Only logged in users are allowed to post comments.
Register/ Log in