Central Banks Playing The Paper Game Bring the World Close to Hyper Inflation
Economics
/
Money Supply
Sep 24, 2007 - 12:57 PM GMT


Apparently we have arrived – arrived at the point where any and all problems encountered must now be papered over – and we've gone global in this regard. You might want to listen to Jim Sinclair's talk on why the derivatives problem will necessarily lead us into hyperinflation. I'm not sure I agree with all his assertions, however the primary message is undeniable, and the market action is backing such claims, so they must be taken seriously. In this regard, let's take a quick look at money supply now to ensure our thinking is on the right track. Wouldn't you know it, in addition to monetization efforts taking off (growing at a 14% annualized rate), which of course we already knew about, growth rates in visible measures including both Money At Zero Maturity (MZM) and M2 are also going vertical, which gold is correctly responding to then. Here, these are not quite what would be considered hyperinflationary levels, but they are damn close --- close enough to talk about mild hyperinflation.


Below is a commentary that originally appeared at Treasure Chests for the benefit of subscribers
The public needed to see horrible employment numbers to justify a rate cut at the upcoming Fed meeting, and right on cue, that's exactly what happened. I bring this issue to light because what's happening in the economy and unemployment statistics have had no correlation for years (i.e. the US economy has been in recession since last year), so make no mistake about it, the current guesstimate was massaged to say the least. It didn't need be that bad. But, the election next year is coming, and the credit market thingy might be getting away on officialdom; so again, they needed a bad number to justify printing more money, and they got one. Of course this is just all part of the game – the paper game authorities have been playing for years.
Only thing is, now these games have come home to roost. This is the message gold is telling us. It's telling us that while we may only have what could be viewed as mild hyperinflation at present, as if this isn't bad enough, any further strength in the metal of kings past this point would mean we are on our way to a more severe variety hence forth, where one would then expect to see gold going vertical as monetary authorities continue to paper over any and all problems with increasing frequencies of what are deemed emergency liquidity injections . So, it appears the market has finally woken up to this reality and is preparing for the real deal when it comes to the larger paper game – or the climax if you will. Of course this will take years to play out in its entirety, with continuing prospects for gold never better from a fundamental perspective as a sleepy population awakens.
Technically gold has so many various counts and measures people are looking at right now there is no telling where it's going --- along with just how fast it will get there. James Turk sees similarities in current circumstances compared to 1974 when gold doubled, so he is talking about an $800 handle. And then there are both vertical and horizontal counts associated with the point and figure charting attached here . But the one I like most is found in nature, where as you can see on the weekly plot found in the Chart Room, on a 'best fit' basis, the resulting Fibonacci resonance related measure is suggestive the next move of consequence for gold should involve it's first attempt to penetrate into four digits at $1,000. Here is a closer look at the break out itself showing significant diamond penetrations to the upside. (See Figure 1)
Figure 1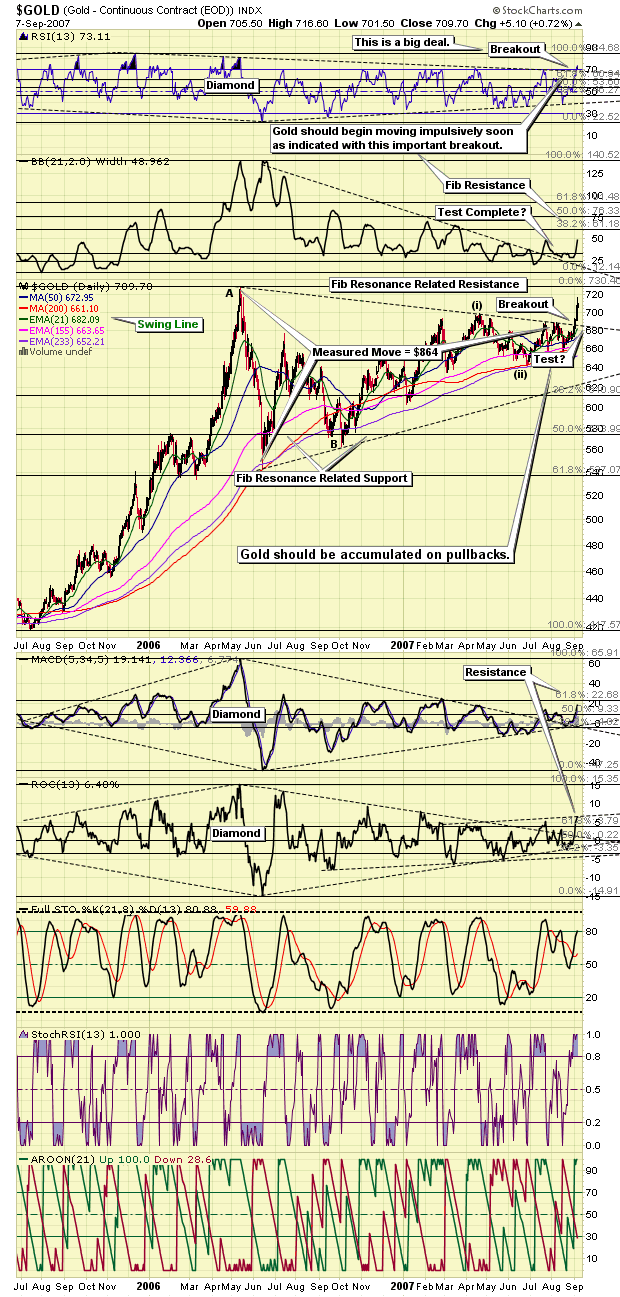 Next we need to look at precious metals shares, as measured by the Amex Gold Bugs Index (HUI). Here, the big observation is that resistance at 375 is significant not only because it would involve the new closing high break out discussed the other day ; but more, as you can see below such a feat would also involve a significant break back above recently penetrated trend line related resistance, which of course use to be support. (See Figure 2)
Figure 2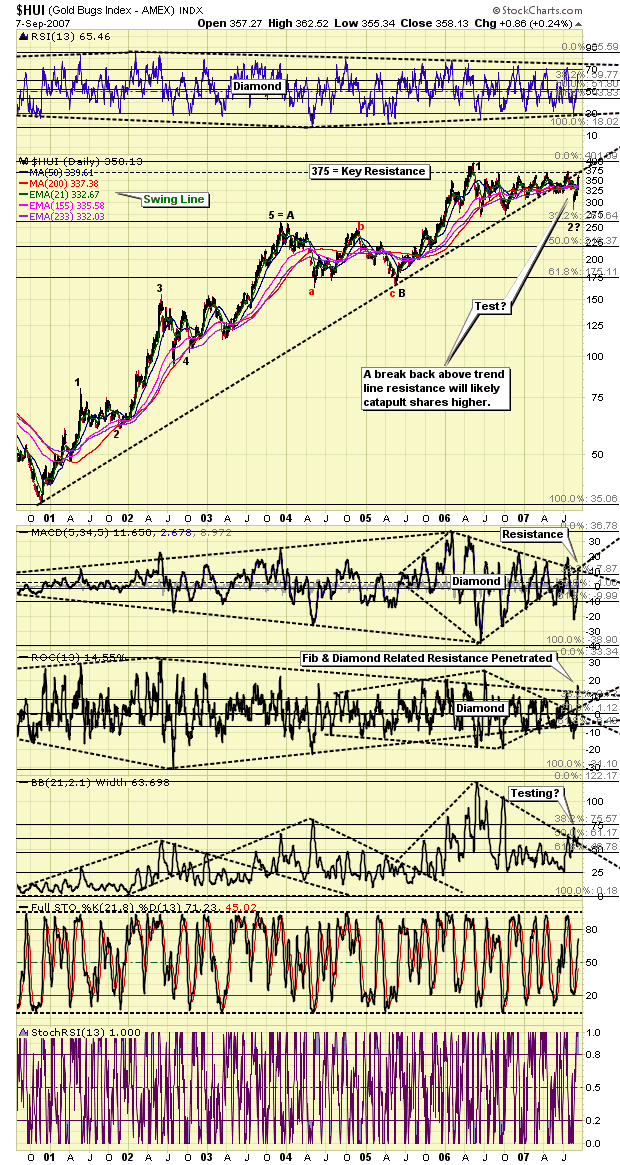 What is the likelihood of such a break higher in precious metals shares occurring from a technical perspective? Answer: Very good is the messages found in the HUI / Gold Ratio are to be trusted, where once indicated Fibonacci related resistance (at the 50% mark) indicated below is surpassed, no significant hurdles will remain with respect to this measure. Here, in addition to all important moving averages being penetrated to the upside, the 'false break' that appeared very real last month would become history in theory, where prices should begin moving higher on an increasingly impulsive basis. (See Figure 3)
Figure 3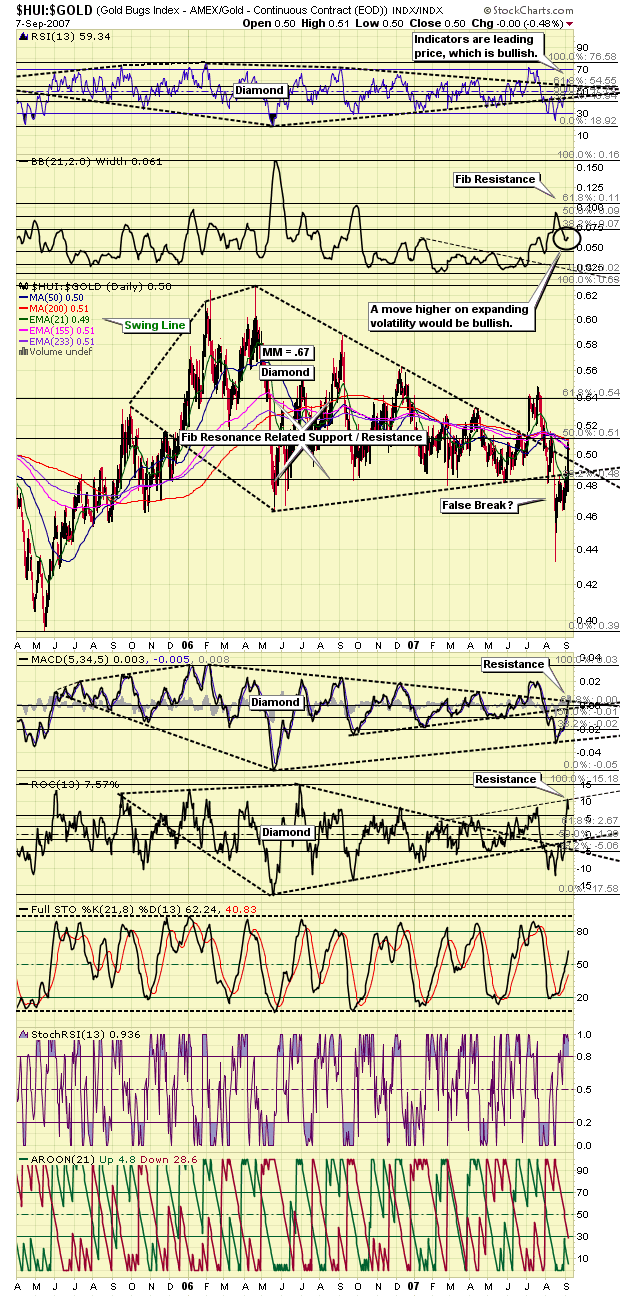 The question then arises naturally, if gold is shooting higher along with the price of just about everything else that moves, how can interest rates fall? And more specifically, how can the Fed justify cutting administered rates next week, where some pundits are talking about a half-point to get things rolling? Moving past considerations associated with market rates for the moment, the one thing you must always remember about the Fed is while it's a big part of their job to confuse the public about what they are actually up to, in the end they are the ultimate promoters of inflation. And right now with freshly groomed Employment Report statistics (thought to be the most important numbers) hot off the press pointing towards a significantly contracting economy, which of course raises the specter of deflation when combined with an unfolding credit crisis , you better believe a panic on their part is also likely unfolding, meaning they view current circumstances as justifying such policy past what gold is doing.
This means that although market rates may not necessarily head lower in response to an official rate cut, gold could continue to discount the Fed is likely behind the curve, and will need to more rapidly fill the gap. Such an understanding would be confirmed with a break higher in gold set against stable market rates, where the only way they will be able to handle all the problems associated with being behind the curve will be to monetize everything in sight. A break above current resistance in the chart below would signal all hell is breaking loose in this regard, and that gold is on it's way to $1,000 in discounting the potential for financial Armageddon. (See Figure 4)
Figure 4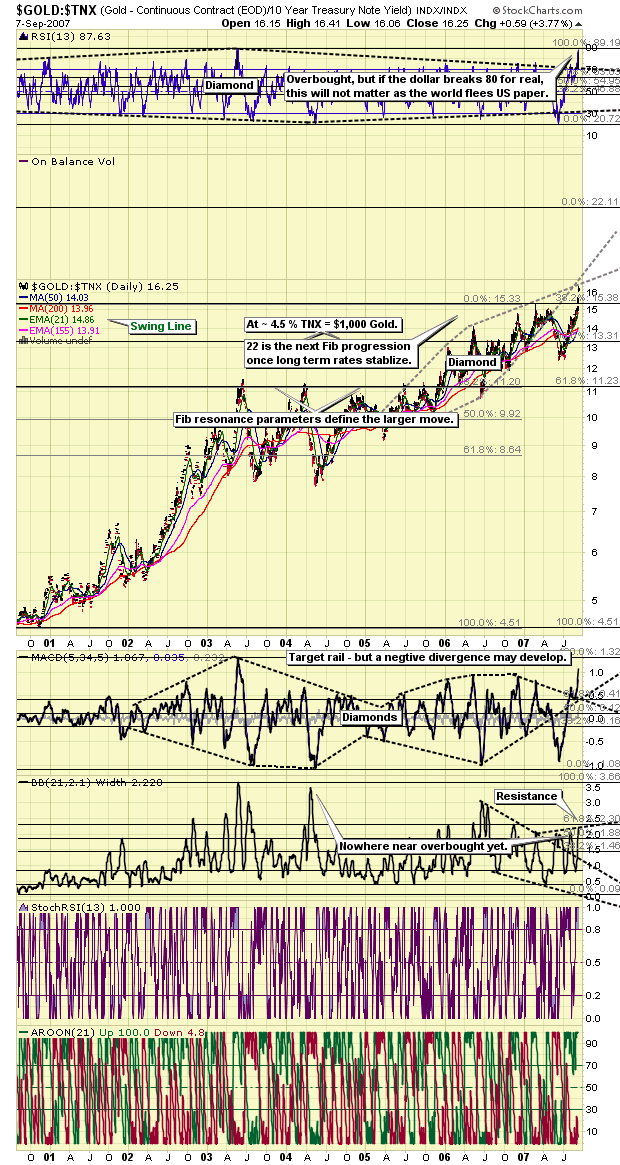 Increasingly at this point in the larger cycle, one should expect to see the bond market (paper) bypassed in favor of gold (hard assets) as more and more people see the effects of inflation. And it won't take long for prices to soar once gold fever hits the general population, not too mention governments caught out of position at the moment. Here, it is becoming increasingly evident such foreign governments are attempting to correct such conditions , if not capitalize on a return to hard money policies. Again, this is why the yield curve should begin to steepen dramatically starting very soon, where administered rates will be pressed lower by monetary officials attempting to bail out the system set against market rates being pulled higher by increasing numbers bypassing paper alternatives in exiting the system. Naturally then, such a trend must necessarily benefit gold. (See Figure 5)
Figure 5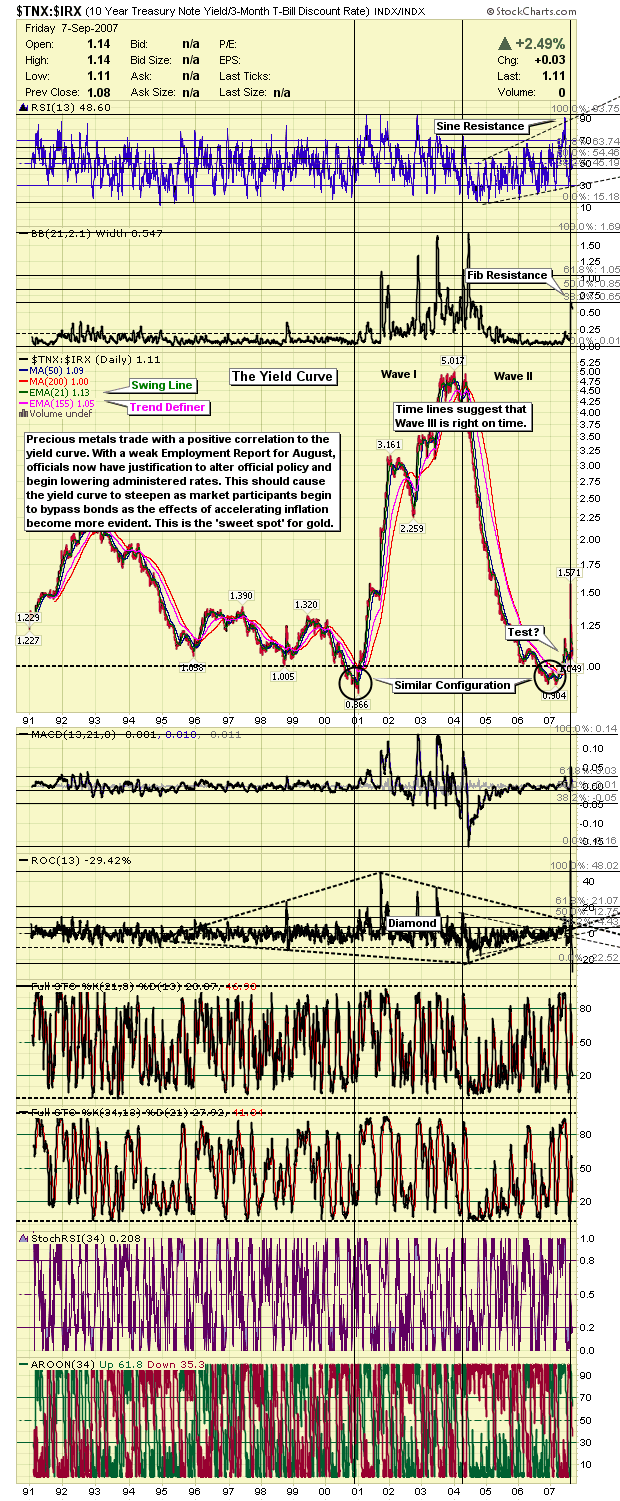 Grand Super-Cycle Tops are times of regime change (think USDollar officially loses its reserve currency status), of economic organizational change (a trend towards regionalism ignites), and of currency change . What we are talking about here is economic collapse, confusion, and panic. This is why gold can go to $1,000 plus in coming days, as individuals endeavor to escape this risk in exiting the current fiat system. What's more, and in relation to comments made in our last outing, all this can take place in a very short period of time (a month or two), as the precious metals market is very small. Just think about it for a minute. As discussed the other day , it's being bandied about the Feds (central banks around the world) might have to print tens of trillions of dollars to bail the system out, which of course is ludicrous in concept because any system cannot bail itself out entirely, but we will leave this discussion for another day.
And with that, I am afraid we will have to cut things off here for today. For those who wish to read on however, see below.
If this is the kind of analysis you are looking for, we invite you to visit our newly improved web site and discover more about how our service can help you in not only this regard, but on higher level aid you in achieving your financial goals. For your information, our newly reconstructed site includes such improvements as automated subscriptions, improvements to trend identifying / professionally annotated charts , to the more detailed quote pages exclusively designed for independent investors who like to stay on top of things. Here, in addition to improving our advisory service, our aim is to also provide a resource center, one where you have access to well presented 'key' information concerning the markets we cover.
On top of this, and in relation to identifying value based opportunities in the energy, base metals, and precious metals sectors, all of which should benefit handsomely as increasing numbers of investors recognize their present investments are not keeping pace with actual inflation, we are currently covering 62 stocks (and growing) within our portfolios . Again, this is another good reason to drop by and check us out.
And if you have any questions, comments, or criticisms regarding the above, please feel free to drop us a line . We very much enjoy hearing from you on these matters, although we may not be able to respond back directly, so please do not be disappointed if this is the case.
Captain Hook
http://www.treasurechestsinfo.com/
Treasure Chests is a market timing service specializing in value-based position trading in the precious metals and equity markets with an orientation geared to identifying intermediate-term swing trading opportunities. Specific opportunities are identified utilizing a combination of fundamental, technical, and inter-market analysis. This style of investing has proven very successful for wealthy and sophisticated investors, as it reduces risk and enhances returns when the methodology is applied effectively. Those interested in discovering more about how the strategies described above can enhance your wealth should visit our web site at Treasure Chests
Disclaimer: The above is a matter of opinion and is not intended as investment advice. Information and analysis above are derived from sources and utilizing methods believed reliable, but we cannot accept responsibility for any trading losses you may incur as a result of this analysis. Comments within the text should not be construed as specific recommendations to buy or sell securities. Individuals should consult with their broker and personal financial advisors before engaging in any trading activities, as we are not registered brokers or advisors. Certain statements included herein may constitute "forward-looking statements" with the meaning of certain securities legislative measures. Such forward-looking statements involve known and unknown risks, uncertainties and other factors that may cause the actual results, performance or achievements of the above mentioned companies, and / or industry results, to be materially different from any future results, performance or achievements expressed or implied by such forward-looking statements. Do your own due diligence.
Copyright © 2007 treasurechests.info Inc. All rights reserved.
Unless otherwise indicated, all materials on these pages are copyrighted by treasurechests.info Inc. No part of these pages, either text or image may be used for any purpose other than personal use. Therefore, reproduction, modification, storage in a retrieval system or retransmission, in any form or by any means, electronic, mechanical or otherwise, for reasons other than personal use, is strictly prohibited without prior written permission.
© 2005-2019 http://www.MarketOracle.co.uk - The Market Oracle is a FREE Daily Financial Markets Analysis & Forecasting online publication.

Only logged in users are allowed to post comments.
Register/ Log in