A Hidden Asian Investment Gem
Companies
/
Investing
Sep 11, 2007 - 10:44 AM GMT

Tony Sagami writes: I run at a pretty fast pace when I'm in Asia. Every day is packed with factory tours … meeting with company executives … pestering government and university leaders for their local knowledge.
I hit the streets to see things with my own eyes because that's the only way I can know if the zealous investor relations departments are feeding me overly optimistic projections. I'm also willing to shift my entire focus when something really makes my eyeballs pop out.
Case in point: During my last trip, I completely turned my schedule upside down after visiting one really exciting company. Today, I want to tell you about it …
How a One-Hour Meeting Turned into a Full Two Days of Tire Kicking and Fact Checking
I rescheduled my entire South China itinerary because of what should have been a brief meeting. I was so blown away by what I heard that I put everything else on hold just to dig deeper into one single company.
I'm talking about Man Sang Holdings, the largest wholesale supplier of pearls in the world. The company primarily sells to jewelry manufacturers, wholesale distributors, and mass jewelry merchandisers in the U.S., Europe, and Asia. For example, QVC — the TV shopping channel — is a customer.
All told, Man Sang accounts for half of the world's freshwater pearl sales each year!
This isn't a fly-by-night business. The company has been operating for decades … and it's been extremely profitable over the years!
After just a short time listening to my host at Man Sang, Sonny Hung, I knew that I had either found one of the cheapest, most undervalued stocks of my career or one of the best liars I've ever met.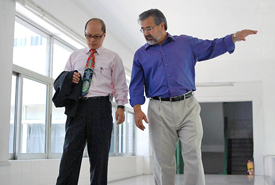 My host at Man Sang, Sonny Hung, gave me a lot of valuable insight into the company.
I just had to figure out which it was. Fortunately, the answer was the former …
Five Reasons Why This Is One of the Biggest Bargains I've Ever Seen!
Look, I've been doing this for 23 years, so I know a good bargain when I see one. And I think Man Sang Holdings (AMEX: MHJ) is an easy double from its current price.
And best of all, I don't think you'll have to wait more than 18 to 24 months to see it happen. Here's why:
Reason #1: Zhuji is the center of the pearl universe.
Most of the world's jewelry is actually made in China, but that's especially true for pearls. China produces more than 95% of the world's freshwater pearls.
The city of Zhuji alone produces over 70% of China's freshwater pearls … and it is China's largest base for cultivating, processing and grading them.
Here's the really important part: The city is the home of a monster real estate development project that is going to turn Man Sang into one of the most powerful (and profitable) jewelry companies in the world.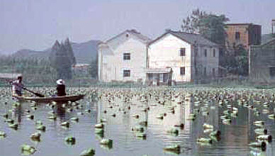 Zhuji is the pearl capital of the world!
Reason #2: A king's ransom in real estate riches.
Man Sang is sitting on two juicy pieces of real estate that are worth much more than the market realizes.
The first is Man Sang Industrial City , a 26-block industrial facility. It's got about 550,000 square feet of commercial property in the Gong Ming Zhen district of Shenzhen. It occupies roughly 20% and leases out the rest for a nice steady piece of income.
And get this — Shenzhen has grown so rapidly that this property is now smack dab in the middle of the growth path. The local government wants to acquire it so badly that it is offering to swap it for several pieces of super-prime property in other parts of the city!
The second is China Pearl and Jewelry City , which is the ambitious real estate development project I mentioned a moment ago.
Called "Pearl City" for short, this is Man Sang's massive international pearl and jewelry marketplace. It will accommodate more than 2,000 pearl wholesalers, manufacturers, and retailers, along with exhibit halls, hotels, offices, stores, and even residential apartments.
Man Sang recently purchased an additional 6% of Pearl City from one of its partners, bringing its ownership stake to 55%. Man Sang didn't buy this additional stake because the project is going poorly … sales are happening faster and at higher prices than initially projected.
I couldn't pry any hard numbers from Man Sang, but Mr. Hung told me everything I needed to know when he told me, "The profit from Pearl City will be significant. VERY, VERY significant!"
Pearl City won't open for business until the middle of 2008, but once investors see how successful the project is, the stock should rocket higher.
These real estate assets are a real sleeper! See, Man Sang carries the properties at their original cost basis and doesn't include the huge appreciation. Chinese real estate has skyrocketed in recent years so this vast value doesn't show up on Man Sang's financial statements.
It's hard to gauge the value with any certainty, but some sources say the real estate will ultimately be worth $80 million, and perhaps as much as $160 million, when Pearl City is completed. That works out to somewhere between $12 and $24 a share in value.
Reason #3: Man Sang is sitting on a mountain of cash.
The company has $40.7 million in cash. That may not sound like much money at first … but it works out to a staggering $6.37 per share! So you're getting $12 to $24 of hidden real estate and a very profitable jewelry business for a couple bucks a share. Talk about a steal!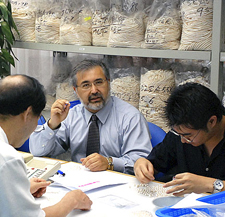 Not only is Man Sang sitting on piles of pearls, it's also got valuable real estate, and plenty of cash on its books.
The rest of the balance sheet is just as pretty, by the way. Man Sang has absolutely ZERO debt so it is prepared to ride out any short-term storm. The company even paid out a per-share cash dividend of $0.25 on August 8.
Reason #4: Small float + strong hands = big leverage.
Roughly 55% of the "float" — the public shares that are regularly traded — is owned by three large U.S. institutional investors. That leaves only 2.9 million shares left. In other words, Man Sang is just one large investor away from skyrocketing in value.
And don't worry — I don't think those other three institutional investors are going to sell anytime soon. They see the same tremendous value that I do. In fact, I know from personal conversations that they are very, very long-term investors.
How's this for a cherry on top? There isn't one stinking analyst that follows Man Sang Holding. That's right … not one!
Maybe it's too small for them to care about, or maybe they just don't know about the hidden real estate assets buried in the books. Heck, I bet very few of the suits on Wall Street could even point out Shenzhen on a map, let alone have actually visited it.
Reason #5: Don't forget about the pearl business.
It is pretty easy to get caught up in the Zhuji real estate treasure and the $6.37 per share of cash. But never forget that Man Sang also has a well-established and profitable pearl business.
Year
Sales
Net Income

2000

36.0

2.6

2001

39.9

(4.4)

2002

36.3

2.1

2003

42.4

1.1

2004

49.9

0.4

2005

52.9

3.5

2006

48.7

2.3

2007

51.2

3.6

Source: Morningstar
At current prices, Man Sang's stock is trading for just 15 times trailing earnings. Even if you exclude the other items, that's a reasonable valuation just for the pearl business.
There Are Plenty of Undiscovered Investment Gems Waiting to Shine
I hope you can now see why I dropped everything and concentrated on Man Sang once I scratched the surface of this undiscovered gem. And you can also see why I quickly recommended it to my Asia Stock Alert subscribers.
Am I guilty of "talking up my own book" by telling you about this stock today? I suppose so.
But let me be clear … I'm not suggesting that you just rush out and buy Man Sang immediately. With an average daily volume of just 36,000 shares, you have to carefully pick your entry point. And as always, you need to do your own homework before you invest.
Still, I think this company is a great example of the kind of bargains you can find in Asia. And when you find them, it pays to drop whatever else you're doing to investigate. After all, great deals don't wait around and they don't last forever!
Best wishes,
by Tony Sagami
P.S. If you're interested in learning about more of my favorite hidden Asian gems, I urge you to read this special report .
This investment news is brought to you by Money and Markets . Money and Markets is a free daily investment newsletter from Martin D. Weiss and Weiss Research analysts offering the latest investing news and financial insights for the stock market, including tips and advice on investing in gold, energy and oil. Dr. Weiss is a leader in the fields of investing, interest rates, financial safety and economic forecasting. To view archives or subscribe, visit http://www.moneyandmarkets.com .
© 2005-2019 http://www.MarketOracle.co.uk - The Market Oracle is a FREE Daily Financial Markets Analysis & Forecasting online publication.

Only logged in users are allowed to post comments.
Register/ Log in