Stock Market Investmenting - Watch What the Chinese Are Buying!
Companies
/
Investing
Sep 04, 2007 - 09:30 AM GMT
Tony Sagami writes: Do you remember the gasps when the Japanese were snapping up some of America's most-loved landmark properties during the 1980s?
Back then, the business news almost always included a segment about the Japanese buying an American icon, whether it was Pebble Beach, Columbia Pictures, or the Rockefeller Center.
And if the news wasn't about the Japanese buying something, it was about them building factories in places like Smyrna, Tennessee (Nissan).
Heck, whole movies were made about the phenomena. Remember Michael Keaton in the 1986 movie Gung Ho ?
When this was happening, I was working at Merrill Lynch. And I remember teasing my co-workers that they had better be nice to me because one of my Japanese uncles might soon become their new boss.
The Japanese buying spree was a function of the country's great prosperity. Throughout the 1970s, Japan consistently had the second-largest GDP and one of the highest per-capita incomes in the world.
These days, the Japanese are no longer the heavy hitters they used to be. However …
The Chinese Are Picking Up Where the Japanese Left Off
State-run China National Offshore Oil Company (CNOOC) tried a hostile takeover of Unocal in 2005. CNOOC eventually abandoned its $18.5 billion bid for Unocal, but that was just the first salvo …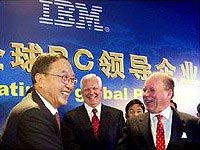 The Lenovo-IBM deal is just one of many Chinese buyouts in recent memory.
How about Lenovo's purchase of IBM's personal-computer division for $1.75 billion?
How about Haier's attempt to buy Maytag for $1.3 billion?
How about the Chinese government's $3-billion investment in the Blackstone Group?
China isn't restricting itself to just the U.S., either. Chinese companies bought 40% of the Northern Light oil sands project in Canada … 10% of an Azerbaijan oil field and pipeline … and invested billions in Venezuela to get some of the crude oil that was previously going to the U.S.
The Chinese aren't just buying businesses — they're buying skyscrapers, shopping malls, farms, forests, ski resorts, vineyards, refineries, and mineral deposits.
And they are just getting warmed up!
Another Two Significant Marriages Were Announced Just Last Week!
Taiwanese personal computer giant Acer is buying Gateway Computer for $710 million. Treated as a combined company, they would have had $15 billion in sales and sold 25 million PCs last year. The Gateway purchase will dramatically increase Acer's U.S market share to 10.8%.
Hewlett-Packard and Dell, which control about 52% of the U.S. PC market, better watch out. Between Acer and Lenovo, I foresee nothing but shrinking profit margins for the two American giants down the road.
Separately, a Chinese company announced its interest in buying Seagate Technology, one of the only two computer disk drive makers in the U.S.
IBM sold its disk drive business to Hitachi in 2002, and Fujitsu and Toshiba are the other major players. So a Seagate takeover would definitely put Asia at the top of the PC food chain.
However, the Current Chinese Buying Binge Is Very Different from the Japanese Spree
I see at least three important differences this time around:
First, the Japanese companies doing all the buying were privately owned; many of the Chinese buying are state-owned and state-run.
Second, Japan is a democracy; China is not.
Third, and most importantly, Japan was not buying strategic resources like oil and natural gas; China is.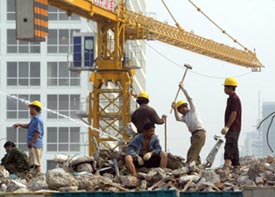 China will need plenty of natural resources to fuel its construction boom.
This has huge implications for investors smart enough to put that knowledge into action. So, how can you use this to make money?
Well, you could dig out your Ouija board and try to come up with a takeover list, but I think that's an impossible game to play.
On the other hand, I am confident that the Chinese will continue buying access to the raw materials they need to fuel and support their rapidly expanding economy.
I'm talking about:

Energy, such as oil, natural gas, and coal

Metals, like aluminum, copper, and steel

Foods, including pork, poultry, and agricultural products

Construction materials, such as cement, timber, heavy equipment
So, it won't take much homework to come up with a list of companies that are probably sitting on resources that the Chinese want. One of my friends, Larry Edelson, has nailed this trend in his Real Wealth Report .
Of course, if you're more of a mutual fund or exchange traded fund investor, you could look at the iShares S&P GSSI Natural Resources Index Fund (IGE), Energy Select Sector SPDR Fund (XLE), or U.S. Global Investors Global Resources Fund (PSPFX).
Whatever you do, make sure you pay attention to what the Chinese want. Because right now, they're a major force to be reckoned with.
Best wishes,
By Tony Sagami
This investment news is brought to you by Money and Markets . Money and Markets is a free daily investment newsletter from Martin D. Weiss and Weiss Research analysts offering the latest investing news and financial insights for the stock market, including tips and advice on investing in gold, energy and oil. Dr. Weiss is a leader in the fields of investing, interest rates, financial safety and economic forecasting. To view archives or subscribe, visit http://www.moneyandmarkets.com .
© 2005-2019 http://www.MarketOracle.co.uk - The Market Oracle is a FREE Daily Financial Markets Analysis & Forecasting online publication.

Only logged in users are allowed to post comments.
Register/ Log in