Analysis Topic: Housing Market Price trends
The analysis published under this topic are as follows.

Saturday, July 28, 2007
The Research Company that Predicted Current Real Estate Woes in 2005 Unveils New Online Course on Real Estate Trends
Elliott Wave International, the world's largest market forecasting firm, has just released it's much-anticipated online investment course on real estate trends, entitled Learn to Anticipate Real Estate Trends – For Buyers, Builders, Bankers and Brokers .
Read full article...

Read full article...
---

Saturday, July 28, 2007
We can learn a lot from the social sciences especially in analyzing the current housing bubble. Many may see very little connection between housing and social science but behavioral economics and marketing have much to do and say regarding our current environment. This is particularly relevant in analyzing the current housing market because we are in a bubble; and by definition something in a bubble does not follow conventional rules.
Read full article...

Read full article...
---

Thursday, July 26, 2007
House price growth stalled in July, bringing annual growth back down into single digits
A rise in interest rates to 6% is firmly on the horizon, but weak household income growth and mortgage payment shocks highlight the risk of monetary overkill
The Housing Green Paper is a welcome step on housing supply but, as the recent flooding shows, the challenges ahead are substantial
Read full article...

Read full article...
---

Saturday, July 21, 2007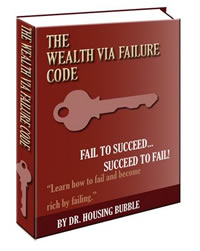 I'm sure many of you already read the article about The Real Estate Prayer Luncheon in Florida where a group of hopeful agents prayed that the housing slump will end. I actually think this is a great idea to resurrect the housing market. So in light of this, I am going to pray that my new book coming out called The Wealth via Failure Code will be a major success. I'm praying that all of you will buy it. Since we are living a surreal housing environment, I figure writing a book with Orwellian themes will tickle many of your fancies.

Read full article...

Read full article...
---

Monday, July 16, 2007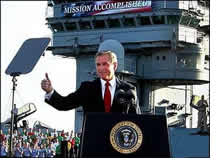 It is said that the definition of insanity is doing the same thing over and over and expecting a different result. If we adhere to this definition, housing pundits must be clinically insane because since the middle of 2006 we've been hearing rhetoric of "yes, today we've reached bottom." Amazing how these folks live on one way streets. During the past seven years, each new record high was welcomed and when asked if this was a peak most would respond that the sky was the limit. No end in their immediate future. If up to them, housing would appreciate 20% each year until the end of time.
Read full article...

Read full article...
---

Saturday, July 14, 2007
I first reported publicly on October 28, 2005 that the housing market was at risk of having completed a long-term cyclical top. At that time I posted a couple of housing indexes, gave the key levels to watch and said that any such break would be a major indication that the housing market had indeed topped. This break did in fact occur with the decline into the following intermediate-term cycle low and I know that along the Gulf Coast, housing has been dead ever since.
Read full article...

Read full article...
---

Sunday, July 08, 2007
Mike Larson writes : The house down the street with the overgrown lawn and the cracked kitchen window …
The rowhouse stripped of its copper piping and filled with filth …
The cheap listing on your block, the one offered for thousands less than any comparable home …
Read full article...

Read full article...
---

Saturday, July 07, 2007
As we are witnessing the mortgage debacle unfold in California, there are other parts of the country that felt very little impact by this seven year credit bubble. For the most part, this bubble has been isolated to coastal metro areas. Not uncommon in beach locales, housing in prime locations always yields a commanding price in the market. But to what extent? Actually to the extent the market can sustain the price, sellers will ask for Pollyanna if they have the inclination they will get it. Yet this desire for higher and riskier mortgages has added fuel to a housing craze unparalleled in history.
Read full article...

Read full article...
---

Wednesday, July 04, 2007
The Financial Services Authority (FSA) today published its latest review of the behaviour of intermediaries and lenders within the sub-prime mortgage market, which services consumers with impaired credit histories. It has found weaknesses in responsible lending practices and in firms' assessments of a consumer's ability to afford a mortgage. As a result the regulator has started enforcement action against five firms.
Read full article...

Read full article...
---

Monday, July 02, 2007
The Bank for International Settlements issued a warning this week that the Federal Reserve's monetary policies have created an enormous equity bubble which could lead to another "Great Depression". The UK Telegraph says that, " The BIS--the ultimate bank of central bankers--pointed to a confluence a worrying signs, citing mass issuance of new-fangled credit instruments, soaring levels of household debt, extreme appetite for risk shown by investors, and entrenched imbalances in the world currency system.
The IMF and the UN have issued similar warnings, but they've all been shrugged off by the Bush administration. Neither Bush nor the Federal Reserve is interested in "course correction". They plan to stick with the same harebrained policies until the end.
Read full article...

Read full article...
---

Sunday, July 01, 2007
Mike Larson writes: I'm an optimist. No, really. In "regular life," I like to look at the bright side of things. Anyone who has known me for a long time will tell you the same thing.
But when it comes to the markets, I don't mess around. Starry-eyed optimism is a recipe for disaster. You have to approach trading and investing in a cold, rational manner. I don't care if you're talking about bonds, stocks, real estate, or anything else.
Read full article...

Read full article...
---

Thursday, June 28, 2007
The meltdown in the subprime mortgage market is inexorably spreading throughout the U.S. economy. The first shoe dropped in February, when scores of mortgage originators went bust amid rising defaults and tightening lending standards. Last week, the second shoe dropped as two CDO-focused Bear Stearns hedge funds blew up. Overshadowed by the Bear Stearns drama which unfolded at the same time, California-based brokerage firm Brookstreet Securities shut its doors when unsecured customer losses from margined investments in collateralized mortgage obligations were "unrepentantly" marked down. However, as the subprime monster likely resembles a giant centipede, this will not be the last show to drop.
Read full article...

Read full article...
---

Thursday, June 28, 2007
As the Fed does an ostrich impression by sticking its head in the ground and pretending everything is okay, we are facing an economic tipping point ushered in via housing. The Fed has left the key interest rate steady once again. At this point, they are backed to a wall because lowering rates will signal that the economy is weak and needs additional help thus stunting consumer confidence. If they raise rates, they accelerate the bursting bubble because debt service on millions of American's mortgages will go higher thus taking money away from the national past time of mall shopping. We are quickly approaching a global tipping point.
Read full article...

Read full article...
---

Thursday, June 28, 2007
"We have become ninety-nine percent money mad. The method of living at home modestly and within our income, laying a little by systematically for the proverbial rainy day which is due to come, can almost be listed among the lost arts." ~ George Washington Carver
Read full article...

Read full article...
---

Monday, June 25, 2007
The update to the Greenspan/Kennedy report (.pdf) on home equity extraction was a real page-turner. Seriously, it was pretty good. Economists at the Fed have once again demonstrated why they get paid the big bucks to collect data, assemble tables, and produce fifty page reports with appendices, references, and footnotes all in the proper places.
Unfortunately, as is usually the case, they didn't come to many conclusions or provide nearly enough interesting charts.
Read full article...

Read full article...
---

Friday, June 22, 2007
Mike Larson writes : Just a couple weeks ago, I told you that the bond market had suffered a critical break. Now, we're seeing Real Estate Investment Trusts (REITs) roll over, too.
The benchmark exchange-traded fund for this sector, the iShares Dow Jones U.S. Real Estate Index Fund (IYR) , just broke through critical technical support. In other words, investors are voting with their feet and saying the bubble in commercial real estate is finito.
Read full article...

Read full article...
---

Wednesday, June 20, 2007
Markets operate under the assumption that key players act rationally in most circumstances. Their premise is such that market stability is based on people acting to a set of according rules. Much has been debated about this because economics as a science is cold and aloof; it is a matter of simply stating the facts. Yet we have learned in the recent housing mania that market psychology and behavioral economics play a large role in how people interpret risk and what constitutes an investment.
Read full article...

Read full article...
---

Tuesday, June 19, 2007
The National Association of Home Builders (NAHB) index of current sales of new single-family homes edged down a tick to 29 in the June survey, the lowest reading for this housing cycle and the lowest reading since early 1991 (see Chart 1). Why? I will let David Seiders, the NAHB's chief economist, tell you in his own words: "It's clear that the crisis in the subprime sector has prompted tighter lending standards in much of the mortgage market, and interest rates on prime-quality home mortgages have moved up considerably during the past month along with long-term Treasury rates."
Read full article...

Read full article...
---

Sunday, June 17, 2007
America has gone housing crazy. In the last six years, housing has contributed to 29% of total employee additions. How does this equate to past decades? Let us take a look:
1971-1979: 10%
1980-1989: 12%
1990-1999: 10%
2000-2006: 29%
Read full article...

Read full article...
---

Sunday, June 17, 2007
Lisa Taylor, of Moneyfacts.co.uk – the money search engine, comments:"With base rate remaining on hold, at least for the next month, we may have expected the mortgage market to have settled. However this is far from the case, especially for fixed rate deals that have been either disappearing off the shelves or increasing rapidly.
Read full article...

Read full article...
---