Analysis Topic: Stock & Financial Markets
The analysis published under this topic are as follows.

Wednesday, February 13, 2008
"I think the necessity of being ready increases."
Abraham Lincoln -
Based on recent technical breakdowns in many risk-based investments (see Graph 1), the probability of investors incurring additional losses over an extended period of time has increased. Both the technical and fundamental outlook now favors bearish outcomes over bullish outcomes. In addition to the cash we have raised in recent months, it is now prudent to prepare for the possibility of adding additional hedging vehicles to our portfolios. While favorable outcomes are still possible, they are no longer probable. As illustrated in Graph 2, a continued slow migration away from risk and toward more bearish hedging vehicles may be warranted if conditions continue to deteriorate.
Read full article...

Read full article...
---

Tuesday, February 12, 2008
Martin Weiss writes: The debt disease we've been warning you about, long subdued and dormant, is returning with a vengeance.
You can see its symptoms everywhere — in the massive losses on Wall Street ... in consumer credit turning sour ... in collapsing bond insurers ... in sinking corporate earnings ... in the recession hitting hard.
Read full article...

Read full article...
---

Tuesday, February 12, 2008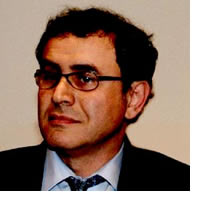 This week we look at a recent analysis from Professor Nouriel Roubini of the Stern School of Business at New York University. Nouriel has become known for his rather clear clarion calls that the housing bubble would lead to a credit crisis and possibly much worse. He has been one who has been on CNBC and was in the clear minority early last year, but now no one is laughing (I was once on the show with him, and we were not the majority view).
In this week's Outside the Box, Nouriel details for us how a worse case scenario would develop. We both hope this does not develop. It can be avoided, but realistic investors need to know what to look for to make sure we are not going there. I like Nouriel's work, as it pull's no punches. You can go to RGE Monitor at www.rgemonitor.com to see his regular work, which is geared to institutions. Like this letter, he offers Outside the Box analysis, which I think you will find useful.
Read full article...

Read full article...
---

Tuesday, February 12, 2008
Despite many conflicting signals from many different quarters, this analyst believes we have entered a Primary Bear Market for Industrial Equities.
A major source of confusion has been that the internet facilitates instantaneous dissemination of information. For that reason, the daily charts, whilst interesting, cannot be relied upon. They can be expected to give conflicting signals as the emotions ebb and flow with daily news.
Read full article...

Read full article...
---

Tuesday, February 12, 2008
The Homebuilders Select SPDR (AMEX: XHB) managed to hold support in the 19.70 area again, creating a minor double-low" with Friday afternoon, and setting up a potentially strong upside acceleration if the price structure hurdles 20.85-.90 later this afternoon. My technical work argues in favor of such a constructive move, which projects the XHB to climb towards a test of its prior rally peak at 23.60 from 2/01. Only a decline that breaks and sustains beneath 19.70 will neutralize my current outlook.
Read full article...

Read full article...
---

Monday, February 11, 2008

Current Position of the Market
SPX: Long-term trend - Election years that fall in the 8th year of the Decennial pattern call for consolidation in the early part of the year followed by a strong finish. But the 6-yr cycle which is scheduled to bottom in late Summer/early Fall could also play a restraining role, followed by an eventual bull market top in 2009-2010.
SPX: Intermediate trend - an extended intermediate-term consolidation is in process.
Read full article...

Read full article...
---

Sunday, February 10, 2008
The good news is: Although prices fell sharply last week the breadth indicators all held up well.
Short Term - Breadth has been improving.
Market breadth indicators are those derived from advancing issues and declining issues, new highs and new lows and upside and downside volume.
Read full article...

Read full article...
---

Saturday, February 09, 2008

Just as the equity markets were pushing into their anticipated turn point in late January, the Fed makes a 75 basis point cut of the Discount rate. This was the most aggressive rate cut since August of 1982. The very next week at the regularly scheduled Fed meeting they cut yet another 50 basis points. To hear the spin from the mainstream these cuts were done to save the equity markets from the woes that first began in August. I have heard many of the analysts and commentators explain why the bottom is now in and how the Fed has finally made everything alright.
Read full article...

Read full article...
---

Saturday, February 09, 2008
Greetings from the Orlando Money Show 2008, America's leading bazaar of investment opinion and products. There are many ways to make money in the markets, just as there are many ways to lose it. Not everyone is going to be interested in everything at the show. But there are few better places for individual investors to see this much at the same time.
Read full article...

Read full article...
---

Saturday, February 09, 2008
In recent months, Wall Street has taken comfort in the idea that Sovereign Wealth Funds will come riding to the rescue of banks that are up to their eyeballs in subprime sludge. First Citigroup, then Merrill Lynch and a host of other commercial banks have reported receiving "injections" of capital to help them reinvigorate their balance sheets. Some $40 to $60 billion of new capital has been promised.
After having stepped to the plate so willingly last year, the Sovereign Funds are now having second thoughts. The $8 billion loan to Citigroup made last year was more than likely made to protect their prior investments from an outright collapse. And the Chinese are becoming more sophisticated about their money as well. They are growing resentful that they are being considered the last bastion of "dumb money" for troubled banks. They may be right.
Read full article...

Read full article...
---

Saturday, February 09, 2008
I am not sure what to make of the intraday action in the major equity market ETFs, other than they are curiously quiet -- on the downside with apparently no buying interest ahead of the weekend. Is today's final hour of trading going to be similar to the last 4 out of 5 Fridays? That is, acute weakness into the closing bell? For one, it seems too obvious, and too quiet to me to argue for such a late session decline.
Read full article...

Read full article...
---

Friday, February 08, 2008
Asset Securitization - The Last Tango: What had emerged going into the new millennium after the 1999 repeal of Glass-Steagall was an awesome transformation of American credit markets into what was soon to become the world's greatest unregulated private money creation machine.
The New Finance was built on an incestuous, interlocking, if informal, cartel of players, all reading from the script written by Alan Greenspan and his friends at J.P. Morgan, Citigroup, Goldman Sachs, and the other major financial houses of New York . Securitization was going to secure a "new" American Century and its financial domination, as its creators clearly believed on the eve of the millennium.
Read full article...

Read full article...
---

Thursday, February 07, 2008
While this week's decline in the SPY has given back about 60% of the Jan-Feb advance, let's notice that the decline in the iShares MSCI Brazil ETF (NYSE: EWZ) gave back "only" about 40% of the prior advance. In addition, the form of the decline off of the November high at 87.67 into the 1/23 low at 64.00 has the look of a completed corrective leg. Although all of the action off of the January low could represent the start of a new bull phase, my sense and experience warn me that it probably represents something much less bullish?as in an intervening upleg that separates two bear phases.
Read full article...

Read full article...
---

Thursday, February 07, 2008
Shares Of Investment Risk Manager Blackrock Fall Significantly Lower
Blackrock, BLK, is one of wall street's premier risk management and financial services companies with over 1.3 trillion dollars in assets under management.
Blackrock turned much lower, in late afternoon trading, falling 2.42%.
Read full article...

Read full article...
---

Wednesday, February 06, 2008
So you thought the Ambac/MBIA bond insurers crisis was bad?
You ain't seen nothin' yet
The problem, the challenge, the scandal, is not that the bond insurers are about to be downgraded. The real scandal lies in the fact that they haven't been downgraded a long time ago - and much deeper than from "AAA" to "AA". In fact, what needs to be downgraded are the major international credit ratings agencies, Moody's, Standard & Poor, and Fitch.
Read full article...

Read full article...
---

Wednesday, February 06, 2008
For years, I have followed the government's Help Wanted Ad numbers. The Help Wanted Ads are a precursor as to what will be happening on Employment in the future. As such, it is an important indicator to watch relative to recession questions.
I created this chart on Saturday that shows the Help Wanted data going back to 2005. What is noteworthy, is that for the past 2 years, the December and January Help Wanted numbers have all shown a drop over the October/November numbers. The big event has been February, where the Help Wanted ads zoom up higher than the preceding 2 or 3 months.
Read full article...

Read full article...
---

Wednesday, February 06, 2008
In their never ending pursuit to uncover the next undervalued company, portfolio managers and investors often forget how equities, as a whole, fit into the stock market and business cycles. Though it is important to focus on the individual issues, it is never wise to forget about the surrounding environment and its positive or negative influences.
The basic pattern of the business or economic cycle has four steps. These steps, though never exactly unfold the same during each cycle, the basic structure remains firm and should be remembered.
Read full article...

Read full article...
---

Tuesday, February 05, 2008

Who's Been Goosing Goldilocks ?- The power of myth is extraordinary. Correctly applied, the ignorant will believe themselves enlightened and slaves will believe themselves free.
When credit markets began to unravel in the summer of 2007, central bankers and economists were surprised. In retrospect, they should not have been. Warnings of a speculative bubble were issued as soon as cheap credit began distorting housing prices in 2003. Denial, however, always trumps reason in the presence of profits—or ulterior motive in the case of Greenspan.
Read full article...

Read full article...
---

Tuesday, February 05, 2008

Scared? You Should Be.
I wonder if any member of the Federal Reserve almost choked on his barbecued brisket when world financial markets threatened to go into meltdown while Wall Street was closed over the Martin Luther King Holiday.
On " Black Tuesday " January 22nd, 2008 world markets crashed...Australia down 7%, Japan down 5.7%, Shanghai down 7.2%, Jakarta down 7.7%, Hang Seng down 8.7%, FTSE down 5.5%, Paris and Frankfurt down 7%. These drops were on top of earlier falls since January 1st which had Germany down 19%, London down 13%, Hong Kong down 13%, Japan down 16% and saw Emerging Markets also hit by double-digit losses. The Australian market was down a bruising 24% from its high last November.
Read full article...

Read full article...
---

Tuesday, February 05, 2008

As many of you know, I examine the technical work of the inverted ultrashort equity ETFs to see if they provide clues about the direction of the major equity averages... Let's take a look at the pattern and technical underpinnings that have developed in the UltraShort Dow Diamond ETF (AMEX: DXD).
Read full article...

Read full article...
---