China Economic Warnings Signals to Invest?
Stock-Markets
/
China Stocks
Dec 17, 2008 - 02:06 PM GMT

Tony Sagami writes: Because of its rapid economic growth over the last 30 years, it's easy to forget that China is a communist country. The Chinese, like everybody else, love money. But the Communist party is clearly in control.
One of the areas controlled with an iron communist fist is China's media. The main TV station, China Central Television or CCTV, is owned, operated, and controlled by the government.
And unlike the U.S., Chinese government officials can't spout off their own opinion. Instead, they must speak the 'company line' of the ruling Communist Party and carefully choose their words.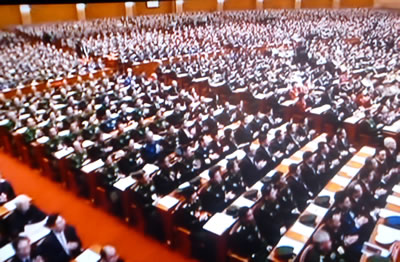 Chinese officials must speak the voice of the Communist Party. And last week, they had a lot to say.
Frankly, I don't pay too much attention to any government official, Asian or not, when they boast about how wonderful everything is. I do, however, pay very careful attention when they start talking about trouble.
You see, glowing words be can true or a complete lie. But whenever the talk turns negative, you can take those warnings to the bank. And the 'talk' coming out of China has turned very, very negative.
Just last week, five very knowledgeable insiders had some not-so-pretty things to say about the Chinese economy.
Negative Talk #1 : Li Yizhong, head of the Ministry of Information and Technology, said this:
"The international financial crisis is having a severe domestic impact.
"We don't think we've bottomed yet.
"Just about every industry has overcapacity."
Negative Talk #2: China's economic and social goals are based upon a series of Five Year Plans. The head of that planning body, Zhang Ping, described the economic outlook from his office's perspective:
"The global crisis has not bottomed out yet. The impact is spreading globally and deepening in China.
"Some domestic economic indicators point to an accelerated slowdown this month.
"Excessive bankruptcies and production cuts will bring massive unemployment, stirring social unrest. Owing to dramatic changes in the international economic and financial environment, the Chinese economy faces growing downside pressure."
Negative Talk #3: The Minister of Human Resources and Social Security, Yin Weimin, echoed the same warning:
"The current situation is grim, and the impact is still unfolding."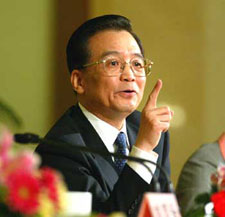 China's premier, Wen Jiabao, did not offer an optimistic outlook.
Negative Talk #4: The biggest cheese of all, Chinese Premier Wen Jiabao, said a mouthful last week, too:
"We must be crystal clear that without a certain pace of economic growth, there will be difficulties with employment, fiscal revenues and social development.
"In this coming period, we will starkly confront the effects of the sustained deepening of the international financial crisis and pressure as global economic growth clearly slows."
Negative Talk #5: This last comment wasn't from a Chinese official. It was, however, from someone who should be on top of things since his country is one of the key suppliers of natural resources to China. I'm talking about Glenn Stevens, head of the Australian central bank, who said:
"The most striking real economic fact of the past several months is not continued U.S. economic weakness, but that China's economy has slowed much more quickly than anyone had forecast.
"There is every chance that the rate of growth of China's (gross domestic product) is currently noticeably below the 8 per cent pace that is embodied in various forecasts for 2009."
Those five insiders have good reason to talk cautiously because the Chinese economy, while still growing at a healthy pace, is getting pulled down by our economy.
Consider these three pieces of economic news from last week …
Chinese exports fell by 2.2% in November, the first time in seven years …
Imports fell by eight times as much, dropping 17.9% in November, and …
Manufacturing output shrunk by a record amount
All those negative comments and sluggish numbers do mean that investors need to be very careful.
But …
Don't think for a second that there isn't opportunity in Asia and in China in particular.
China's infrastructure construction business is booming.
For example, one part of the Chinese economy that's still rocking is the infrastructure construction business. China's $586 billion stimulus plan includes a couple hundred BILLION earmarked for roads, ports, railroads, airports, utilities, and other public works.
And here are three companies that I expect will capture a big, big chunk of that multi-billion construction boom:
Construction boom opportunity #1 —
China Communications Construction (1800.HK) is one of the largest port, highway, bridge, and dam construction companies in China. Plus, the Chinese government is the largest shareholder. Think that gives them a leg up on the lucrative government contracts? I sure do.
Construction boom opportunity #2 —
Anhui Conch Cement (AHCHF.PK) is the largest cement producer in China and will certainly provide thousands upon thousands of tons of cement for the infrastructure program. It is available on the over-the-counter bulletin board (also known as Pink Sheets) market.
Construction boom opportunity #3 —
China Railway Construction (CWYCF.PK) is the largest construction company in China and specializes in railroads. China has unbelievably ambitious plans to expand its national railroad network. And CRC should get most of the building contracts.
I am not suggesting that you rush out and buy any of these stocks today. In fact, China Communications Construction is the only one that my Asia Stock Alert subscribers own.
But being cautious doesn't mean you have to sit on your hands. In fact, buying on dips and selling on rallies is the very best strategy to follow during these turbulent times.
Best wishes,
Tony
This investment news is brought to you by Money and Markets . Money and Markets is a free daily investment newsletter from Martin D. Weiss and Weiss Research analysts offering the latest investing news and financial insights for the stock market, including tips and advice on investing in gold, energy and oil. Dr. Weiss is a leader in the fields of investing, interest rates, financial safety and economic forecasting. To view archives or subscribe, visit http://www.moneyandmarkets.com .
© 2005-2019 http://www.MarketOracle.co.uk - The Market Oracle is a FREE Daily Financial Markets Analysis & Forecasting online publication.

Only logged in users are allowed to post comments.
Register/ Log in