Stocks Bear Market Rally Mixed Signals
Stock-Markets
/
Stocks Bear Market
Dec 15, 2008 - 09:21 AM GMT

Head fake after head fake after violent move after violent move. Welcome to the current bear market that's trying to stage a bear market rally up to and possibly through the 50 day moving averages but can't quite seem to get the job done. It gets close seemingly day after day and the bears are finding a way to knock things down. What looks bullish one day looks bearish the next after the bears get done knocking things down. What looks bearish one day looks bullish the next after the bulls deny the bears from killing things off for good.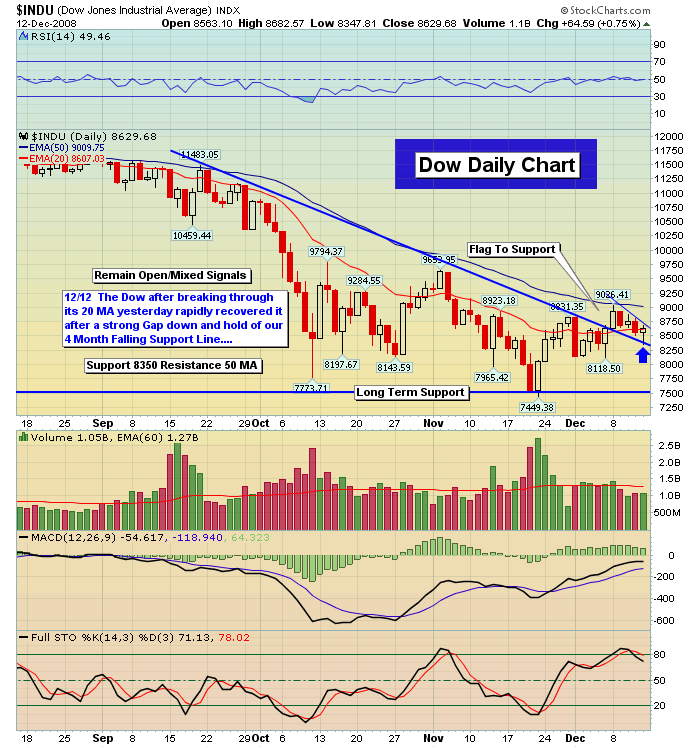 Nonsensical whipsaw on an almost daily basis with the volatility still rocking on a very high level. Up and down hundreds of points in literally minutes at certain times. Well over 1000 points of movement every day on the Dow yet we seem to go nowhere when all is said and done. One thing working in the favor of the bulls is those weekly and monthly charts which are extremely oversold and may be keeping things up here. We know oversold can stay oversold for a very long time. Longer than we'd like to think possible but the level of oversold on those weekly's and monthly's is quite extreme and thus it seems as if the bears don't have much in the tank even though the news out there is worsening daily. The daily's are now overbought thus it's a bit harder to maintain upside very short term. The push pull between the daily's versus the weekly's and monthly's has the market all over the place but ultimately going just about nowhere. No fun!
The market started to fall sharply at the end of the day yesterday. it was quite sudden and was acting as if someone knew something. No shock then when we heard over night that the Senate had voted down the auto bailout. The futures tanked hard, moving down over 40 points on the Sp and 400 points on the Dow. With thirty minutes to go before the market opened, and not by accident, news came that the President Bush said he'd try to find a way to bail the automobile industry out. The futures moved higher, preventing a blood bath. The market still gapped down but it wasn't as bad and it recovered quite rapidly. It didn't take too long before it tried green and by early afternoon it did just that. It spent the rest of the day moving back and forth between red and green. It finished higher with the Nas leading the way. A great save by the bulls as now we're back on the other side of those 20's again although just barely and certainly nothing to get excited about. Two points on the Sp does not a breakout make in this environment.
So yes it may not be anything to get excited about but let's talk about the bears inability, however, to keep the other indexes below the 20's as the Nas and Dow cleared those them a lot more easily. We lose them and then we get them back. We lose them again but get them back again. Instead of this rally just dying out at the 20's, the bears are having a very difficult time stopping the bulls. The Nas has a channel open to about 1600/1625. You can view that chart tonight. You can see the declining 50 day exponential moving average at 1646 so that 1600-1625 area makes sense. If all the indexes can get up to and maybe even through their declining 50's then those weekly and monthly charts can start to unwind which would allow for some deeper downside action down the road.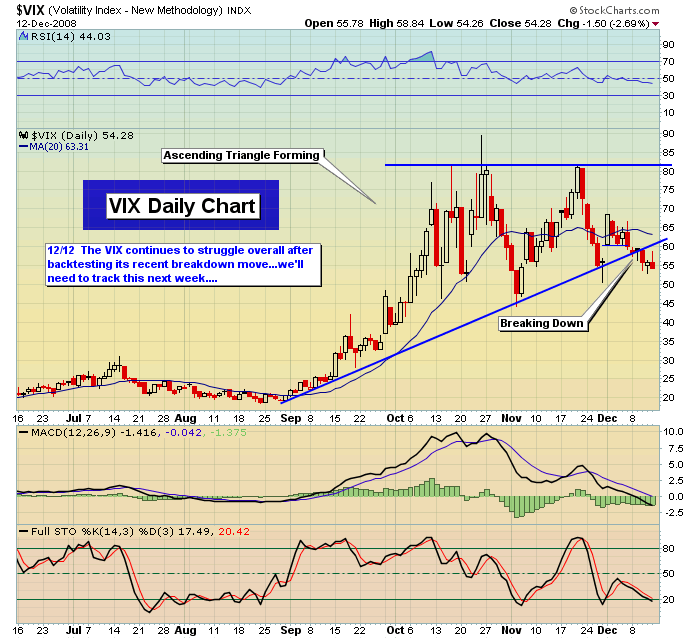 Volume on the move up today was very light. A lot lighter than the recent downside action thus add on another reason why things just aren't crystal clear. I'm trying to show you all the possibilities out there. Different indexes are saying different things. Different time frame charts something else. It is VERY mixed out there. Heavy cash is the only way with so many mixed messages. When thing align all around then it becomes easy to play. Right now we have many bearish signals and many bullish ones from every time frame we can possibly look at. It looked far more bearish at the end of the day Thursday than it does today.
Now let me throw you two other thinsg to look at. We have included both charts for your viewing. The Sox or semis are on breakout this week. Great behavior with the chart looking just great. Conversely, look at that chart of the railroads. A total breakdown this week. The transports, led by fdx, have been just awful. Markets don't often rise very much when the transports on all levels are breaking down. However, markets don't usually break down when the Semis are breaking out. Confused yet? We are too. So many mixed signals you can go crazy. Things are hanging by a thread for both the bulls and bears here. It says please don't over play your hand. Bottom line is that it's too tough here to be a big player. All cash isn't bad but no more than 2 positions at any time would be totally appropriate. There's just too much risk either way. Oh, and by the way, the vix is still on break down and that's a market positive but the daily chart is now officially oversold. Is that nuts or what!!!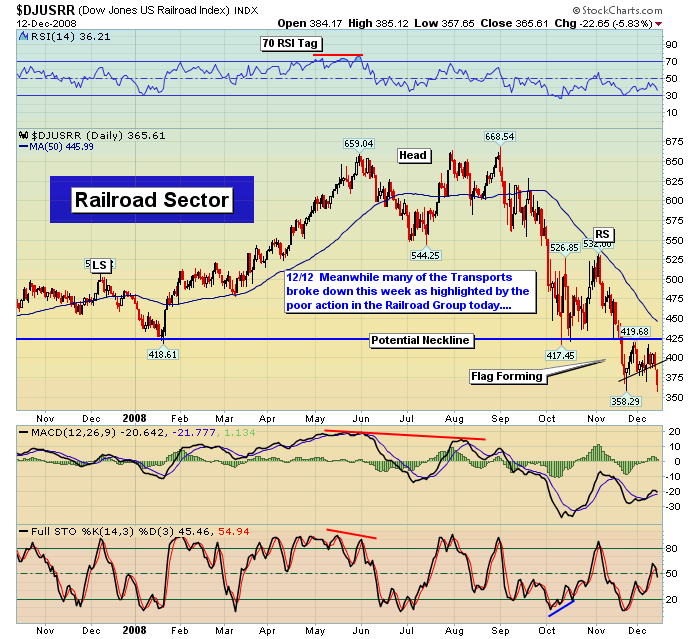 By Jack Steiman
Jack Steiman is author of SwingTradeOnline.com ( www.swingtradeonline.com ). Former columnist for TheStreet.com, Jack is renowned for calling major shifts in the market, including the market bottom in mid-2002 and the market top in October 2007.
Sign up for a Free 30-Day Trial to SwingTradeOnline.com!
© 2008 SwingTradeOnline.com
Mr. Steiman's commentaries and index analysis represent his own opinions and should not be relied upon for purposes of effecting securities transactions or other investing strategies, nor should they be construed as an offer or solicitation of an offer to sell or buy any security. You should not interpret Mr. Steiman's opinions as constituting investment advice. Trades mentioned on the site are hypothetical, not actual, positions.
© 2005-2019 http://www.MarketOracle.co.uk - The Market Oracle is a FREE Daily Financial Markets Analysis & Forecasting online publication.
Comments
Richard
16 Dec 08, 05:27
PWG/PPT


I have the fullest respect for Mr Steiman and his erudite analysis. HOWEVER, all such analysis is hopelessly flawed because of the ongiong denial of the actions of the PWG or plunge protection team (it matters not what you call it: I refer here to the covert manipulation of markets by the Fed and the Treasury or entities acting on their behalf).

Even the FT ran an article last week on the PPT stating that it made sense for agents acting on behalf of the US govt. to be buying stocks and supporting equity prices.

The interventions by the PPT this year have been so OBVIOUS that I cannot believe learned analysts continue the pretence that the stock markets are a product of free market dynamics. Wake up! Get real! The interventions this year have been so blatant and easy to spot that I cannot even be bothered to list them. I mean, the existence of this entity is not disputed by anybody and is well documented: given that it exists, if it was not supporting the market this year, just WHEN would it support the market? It exists, this is the biggest financial crisis ever, therefore it is operating!

The reason why there are so many 'conflicting' signals in the charts and the reason why "just as the bears are about to kill the market the bulls step in" (please: can't you see what you are saying? Think about it!) is because the market is RIGGED and MANIPULATED (Jim Cramer actually alluded to this last week when he stated on CNBC that "this market is rigged").

So, please let's stop pretending. The Dow would be at 5-6,000 by now without this artificial support.

Regards

Richard



John
17 Dec 08, 17:18
I agree with the above comment


I agree with Richard's comment. Everything happens in reverse this year. Bad news? Market rally. Good news? Market tank.

...




Only logged in users are allowed to post comments.
Register/ Log in