Russia - Without the Propaganda - Part 2: The Rise of Putin
Politics
/
Russia
Apr 30, 2020 - 07:21 PM GMT

Geographical and demographic description
The Russian Federation, commonly known as Russia, is the successor state from the breakup of the Soviet Union in 1991. Russia still has the largest land mass of any country with 6.6 million square miles, roughly three times that of the United States. From East to West it extends for 6,200 miles through eleven time zones, and its land mass extends from above the Arctic Circle south some 2,800 miles to the subtropical coast of the Caspian Sea. Its population of 146 million, represents just 1.9% of world population, and less than half the population of the United States. But its land mass represents 11% of the earth's land surface! Three fourths of this land mass, and just one-fifth of its population are in Siberia where its rivers drain into the Arctic Ocean.
Being this far north, its growing season is limited to four or five months, while the winters are long and harsh. Approximately 60% of its land mass is covered in a taiga, a coniferous forest rooted in acidic nutrient-poor soil, with a permafrost underlying roughly half of this terrain. This is not a hospitable environment for agriculture, being suited mostly for spring plantings of hardy early maturing crops. Given the huge distance barriers, growers are inhibited from growing and harvesting more than can be eaten or traded locally, but the nation produces sufficient harvests to feed its population.
Moscow and St. Petersburg, with their hinterland, account for 20% of Russia's population. Large industrial cities with 250,000 to 1 million inhabitants make up 30% of the population, and another 30% reside in small towns and countryside. The final 10%, ethnic minority territories, are mainly in the Northern Caucasus. In 1910 only 14% of Russians lived in towns of 5000 or more, by 1979 it was 69%. With a century of flight, escape, and emigration, a surprising twenty million Russians live in a diaspora.
Russia's vast territory contains and conceals large undiscovered natural resources. In the energy sector, Russia is neck and neck with the U.S. and Saudi Arabia in the production of oil, and first in the export of natural gas. Russia has huge mining and processing operations for aluminum, nickel, uranium, and gold. Its extensive natural resource wealth has been the likely source of confrontation from colonialists, globalists and hegemons over recent centuries.
Starting over
In the summer of 1990, an expert advisory committee to Yeltsin and Gorbachev hammered out a Five Hundred Days Program. In that timespan, most pricing was to be decontrolled, the industrial ministries scrapped, privatization started, establishment of a central bank and commodities exchange, and regulatory control farmed out to an inter-republic committee. They set up the loose Commonwealth of Independent State (CIS). Yeltsin made no claims on territories of other former Soviet republics, and all borders were to remain as they were with all union property belonging to the republic where it was located. Article 1 of Yeltsin's constitution proclaimed Russia "a democratic, federal, law-bound state with a republican form of government."
People's main concern was negative economic growth in 1990-1991, which by the fall of 1991 had become a rampant economic crisis. Soviet shops were empty and still Russia had triple digit inflation. Retail and wholesale prices were suddenly open to supply and demand, and Russians were at liberty to buy or sell anything. Retail prices spiked 2500% in 1992, wiping out peoples savings, a calamity greater than the great Depression of 1929-1932 in the United States. In addition, Brent monthly price for crude oil declined from $23.54 in 1991 to $13.56 in 1993 which drastically reduced Russia's primary generator of hard currency.
Yeltsin announced a program for voucher privatization that was quickly implemented. Vouchers were doled out to citizens with which they could buy equity in their living quarters and in fifteen thousand government owned companies. Privatization program was the largest divestiture of state resources in history. By the summer of 1994, 16,500 enterprises with more than 1,000 workers were privatized; but a year later a critical mass of 920,000 private enterprises had been built.
The new young oligarchs who had begun to exercise the power that money brought concocted a scheme how to game the voucher system. They would lend the government money, which it badly needed, and in return the government would put up as collateral blocks of stock amounting to a controlling interest in the major state-owned companies. When the government defaulted, as both the oligarchs and the government knew it would, the oligarchs would take them over. By this maneuver the Yeltsin administration privatized oil, gas, minerals, and other enterprises without parliamentary approval. Given the number of vouchers issued and their face amount, the whole Russian industrial economy had been valued by their advisors at just $12 billion – it amounted to theft on a colossal scale.
The formerly centrally managed economy needed help and advice how to transition to a market economy. No source seemed more qualified or less political than the Harvard Institute for International Development. However, the Bush administration insisted that all economic restructuring of the former Warsaw Pact countries and the Soviet Republic including Russia must be controlled by the IMF - and their highest priority was the privatization of Soviet oil and gas conglomerates. Russia bought into the program and signed up for the International Monetary Fund and the World Bank in 1992. Russia's most precious resource, export petroleum prices dropped from $23.47 in January 1997 to $11.88 in August of 1998. Following IMF demands that as part of the "market oriented" reform the Russian ruble be allowed to free float, Yeltsin floated the ruble exchange rate, with devastating results. The ruble had to be redenominated in late 1998 by lopping three zeros off, as the economic program was destroying the country. By the time it was brutally clear in Moscow that the advice rendered was designed to deceive, it was too late. The Russian industrial complex had been largely dismembered. The IMF shock treatment reduced the former superpower to a third world economy.
Putin's Initial Years
Putin has built an elaborate and consistent political and economic system, a regime based on men loyal to him. Accordingly, he constructed a system that offers him full control and great security. His first objectives were to seize media control and to restore centralized state power. His media adviser supervised the birth of Russia Today, a television channel tasked with breaking the Anglo-Saxon monopoly on the global information streams. Putin won kudos for delivering a more stable state and a more shred-proof social safety net. And he delivered geopolitical deference and awareness that Russia stood tall in world affairs. Russians related to their president through his personality, his defining element being machismo. To politics he applied the mindset of a lifelong practitioner of judo, who uses his opponent's strength to his own advantage.
Putin had learned from crises; his great formative moments were the collapse of the Soviet Union, the Russian financial crash of 1998, and Ukraine's Orange Revolution. The new Russian national values were sovereign democracy, strong economy, and military power. Putin's conservative regime rejects both liberalism and socialism, and favors a strong central power, autocracy, orthodoxy, Russian dominance in the region, and state capitalism.
The tacit political bargain promoted by Putin was that the resurgent state, if unhampered in the public domain, would stay out of people's private lives. Putin's bottom line of mutual noninterference, was that he would leave the moguls' money and firms alone on the proviso that they left his government alone and paid their taxes. Putin on the whole held up his end, and accordingly, it was a gilded age for oligarchs, except for those who chose to cross swords with him.
Yeltsin and his cronies had chosen and anointed the oligarchs, and they had promised Putin to stay out of politics. Mikhail Khodorkovsky was able to buy a 78% share ownership in Yukos by manipulating the voucher privatization program, purchasing its stake valued at $5 billion for $310 million. Khodorkovsky violated the pledge the oligarchs had made by being publically critical of Putin's policies, and preparing to run in an election against Putin. Khodorkovsky was arrested on tax evasion, and his giant Yukos was taken under state control. In an even more disloyal activity, he had begun talks with ExxonMobil and Chevron about their acquiring 40% of Yukos Oil, which would have compromised Russia's national security. Following the IMF-guided looting of Russia by a combination of Western banks and corrupt Russian oligarchs, a shrewder and more alert Putin emerged committed to rebuilding Russia. The lesson offered was clear: build your business for Russia, don't sell to foreign interests, stay out of politics, and remain loyal to the president.
Early economic policies
In 1999, when people asked whether the Russian economy could survive, the worldwide management consulting firm McKinsey Global Institute published a study. It concluded that Russia had sufficient physical and human capital for a sustained growth rate of 8% a year. The main hurdles were a distortional tax system, and dysfunctional government, the subsidization of inefficient companies, and the absence of a land market. Neither the banking system nor the legal system posed significant impediments to high growth.
Putin's subsequent tax reform was key – replacement of a progressive income tax, peaking at 30%, with a flat personal income tax of 13%, and he deflated the corporate tax rate from 35% to 24%. This tax reform reduced tax evasion and boosted tax revenues. In July 2002, the Duma legalized the sale of agricultural land to individuals and companies, which had been forbidden, and introduced the home mortgage. Other important economic reform laws were a civil code reinforcing private property rights, a pension reform introducing compulsory private pension savings, and substantial deregulation for small enterprises.
The macroeconomics of the Putin government were judicious and pro-growth. As its budget was in surplus, in 2004 Putin established a rainy-day Stabilization Fund to squirrel away savings against future recessions. The Russian Central Bank held on deposit $540 billion in hard currency and gold at the end of 2012 – a huge improvement from the $7.8 billion in its vaults in 1998. In addition, after fully paying off Russia's debt to the IMF in the summer of 2006, Russia became fully solvent and sovereign – it literally owed nothing to anyone.
The bane of Yeltsin's existence had been monthly Brent price for crude oil below $20 per barrel, and below $10 in 1998. By August 1999 when he named Putin prime minister, Brent had returned to $20 a barrel. It rose above $30 in September 2000, to $60 in March of 2006, and peaking at $133.90 in July of 2008. Even after The Great Recession of 2008 the Brent price of oil was back up over $100 a barrel by 2011. As of 2012, oil and gas constituting 16% of GDP and 70% of Russian exports, contributed 52% of federal budgetary revenues.
The years 2000-2003 encompassed Russia's most successful period of economic reform, and the economic results were stellar. In late 2003 global oil prices started rising sharply. The economy seemed to be on autopilot, delivering high growth, and a large budget surplus. Russia's finance had finally stabilized and from 1999 to 2008, the economy grew as never before, at an average of 7% a year. Russian's standard of living surged even faster as the long suffering populace was treated to a decade of plenty. Disposable income in 2008 was twice of 1999. The population living below the official poverty line dropped from 29% in 2000 to 16% in 2008. Sales of new motor vehicles went through the roof, from 903,000 in 2004, to 3.1 million by 2012.
Impact of historic global oil prices on Russia's economy
As one of the three top global oil producers, Russia's budget, economy, and currency is affected dramatically by oil prices. Because of OPEC's influence of global oil prices, Russia's production, historically, has had little or no impact on global oil price; but rather its export revenues and domestic economy has been subject to the vicissitude of oil price set by its geopolitical competitors. Development of new financial instruments called oil derivatives or futures by the late 1980s enabled yet another means of Anglo-American control of oil. It created the mechanism for controlling the price of the world's most valuable commodity at key periods without regard to the traditional laws of supply and demand.
Due to expenditures in the Vietnam War, Medicare and "Great Society " programs in the 1960s, the U.S was printing dollars in excess of its agreed ratio to gold reserves - which led sovereign nations to increasingly exchange their dollars for gold. This eventually forced the U.S. to close its dollar/gold exchange window in 1971, and general inflation rose as the oil price spiked. Demand for dollars dropped until America convinced Saudi Arabia sell its oil exclusively in dollars, which transformed the dollar overnight from the steadily weakening, now gold-unbacked currency into the world's strongest. In effect, by taking the dollar off gold in 1971 and allowing it to float freely, the way was clear in 1974 to turn the dollar from a gold backed currency into a petro-dollar currency. Record oil prices caused worldwide demand for dollars, and an economic recession by the late 1970s, required oil prices again to decline.
Since the early 1970s, the Soviet Union had allowed itself to become dependent on oil and gas exports to the West for more than 60% for its hard currency dollar earnings. In 1986, our State Department developed a policy to temporarily collapse world oil prices by convincing Saudi Arabia's King Fahd to run a "reverse oil shock" by flooding the already glutted world oil market with its abundant supplies of oil. One reason was to inject a short-term stimulus to the U.S. economy and stock market, the second goal of the oil price collapse was to bankrupt the Soviet Union. The collapse of oil prices delivered a final crippling blow to the Soviet Union's war economy, as Moscow lost the dollar revenues urgently needed to fight the war in Afghanistan. The oil price collapse played a central strategic role in wrecking the Soviet Union.
Russia is and will remain among the biggest energy exporters in the world. It produces 12.1% of world oil and 17.3% of gas and 5.6% of coal. Accordingly, Russia is the most important energy supplier to the EU with 43% of its gas, 30% of its crude and 42% of its oil products originating from Russia in 2017. The Russian oil and gas export sector accounts for more than a third of its GDP, and almost half of all foreign currency earnings. All revenues from export duties and taxation, which exceed their break-even oil price of 40 US dollars per barrel are feeding the national wealth fund. As of 2020, Russia also has become one of the oil price leaders.
The following chart shows the steady trend of global oil production over years. While there are year to year fluctuations, the trend is unmistakable, and steady.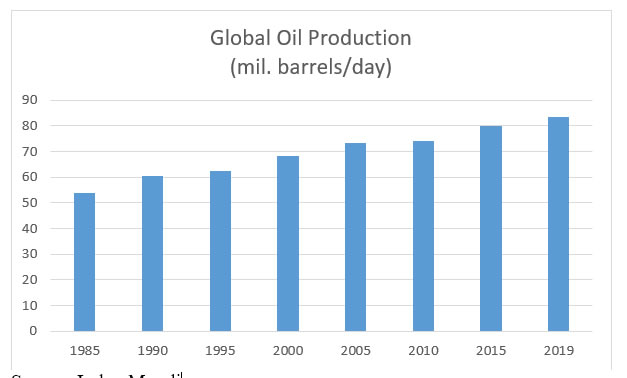 Source: Index Mundi
Historic price of oil has been much more volatile. The following historic oil price chart shows prices from the 1940s to the present.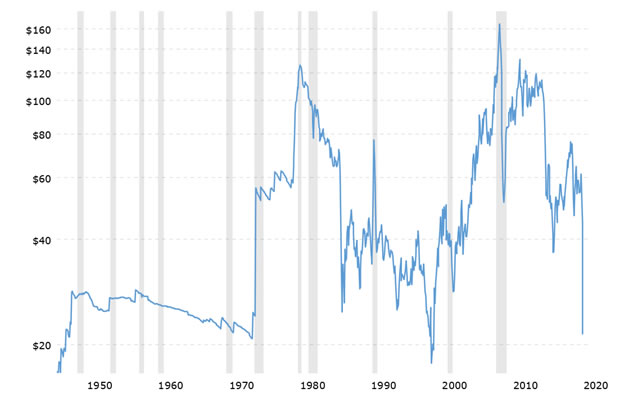 Source: Macrotrend
Strategists recognized that low oil prices would facilitate the West's battle against Soviet Communism, and magically oil prices dropped to lows in the mid-1980s. Once the Soviet Union had collapsed, the successful strategy was repeated to capture Russia's oil, and vast mineral resources by Western bankers and globalists.
The above oil price chart begs many questions to be answered; how could oil prices be so unchanging between 1950-1970, how could they rise six times in nine year period, and then decline to the levels of fifteen years ago? How could oil prices in the late 1990s decline to levels below those seen fifty years ago? How could they rise ten-fold in the next eleven years given continued growth in global oil production? And last, how those prices in 2020 decline to levels below those of the 1940s? Real market prices or geopolitical price manipulation, as a war by financial means? You decide.
Russian scientists proposed and proved the abiotic theory of oil - that oil seeps up from the mantle of the earth rather than coming from the detritus of decaying ancient forests. Conflict or war in the Middle East, Venezuela, or any other country with an abundance of oil no longer makes sense, as there is a multitude of global sources of hydrocarbons, and the control of oil globally becomes impossible as it is foolhardy. Russia, Saudi Arabia, and other countries, are now quite able to supply oil to the world at economically stimulating prices.
Putin's second term
Putin's second term, 2004-2008, also characterized by a global oil price boom, helped him build state capitalism in Russia. New private companies drove up oil production by an astounding 50% from 1999 to 2004. Putin had learned from America's example on having globally domineering companies, and he pushed the aggregation of firms into state-dominated national champions. In 2006, the United Aircraft Corporation was created, as were the United Shipbuilding Corporation and the Atomic Energy Industry Complex (Rosatom) in 2007. Some 700 armament companies were merged into the state corporation Rostec. In current US dollars, Russia's GDP had skyrocketed from a miserable $200 billion in 1999 to $1.9 trillion in 2008 to become the sixth biggest economy in the world.
At the end of this twelve-year term, Putin showed respect for the limit of two consecutive presidential terms set by the 1993 constitution. In March 2008, Medvedev was "elected" President in a tightly controlled election, and he obediently appointed Putin prime minister. At the end of Medvedev's four year term, Putin was re-elected as President.
The global financial crisis of 2008 came as a rude surprise to the Kremlin, and the country reeled from the world's Great Recession of 2008-9. Because of the banking, currency, economic crisis created, Putin had lost interest in the World Trade Organization, and he proposed a customs union among Russia, Kazakhstan, and Belarus. The Kremlin gradually expanded the customs union to Armenia and Kyrgyzstan, upgrading it to the Eurasian Economic Union (EAEU). Putin had restored order, by decreasing reliance on the West, and building trade with countries which would not, or could not create economic crisis for Russia.
The share of EAEU economies overall is very small, with Kazakhstan contributing 8.9%, Belarus 3.2%, Armenia 0.6%, and Kyrgyzstan 0.4% of the group's GDP. Moreover, the EAEU member states are generally poorly developed and/or do not offer diversified economies which would grant Russia access to technologies to strengthen its position economically and politically. Yet the vast amount of resources pooled by the member states is bound to materialize in a significant increase in combined political power. Without a doubt, access to Russia's economy is a very significant aspect to all the other EAEU members, thus corroborating the practical reality of the entire integration project.
Since the early 2000s, the United States has been promoting the placement of defensive missiles in Poland. Fearing of being totally encircled by missiles from the West, Russia was predictably against this. Such opposing views led to a decade of deterioration in relations of the two nations which have yet to improve.
The Ukrainian crisis and consequences
A suspicious series of "color revolutions" were taking place in some former Soviet Republics: the Rose Revolution in Georgia in 2003, the Ukrainians' Orange Revolution in 2004, and the Tulip Revolution in Kyrgyzstan in 2005. Mass protests on Maidan (independence Square) in Kiew overturned a presidential election of a pro-Russian candidate Viktor Yanukovych. Viktor Yushchenko, (whose wife was an American citizen and had served in the Reagan Administration) was elected in the course of the Orange Revolution of 2004, and became Ukraine's controversial new President. He pushed for NATO membership, showing that the Orange Revolution related to work of locals on the payroll of Western governments, effecting an unconstitutional coup.
Ukraine's pipelines brought Russian natural gas from Siberia to Germany and other parts of Western Europe, and political control of Ukraine could potentially give Washington control of most of Russia's Soviet-era natural gas pipelines. In addition, to lock Eastern Europe into the new US sphere of control, Washington had induced country after country to become members of NATO, bringing into the alliance not only six East European countries but the three ex-Soviet Baltic countries, and NATO agreements with Ukraine in 2005 and Georgia in 2006. One consequence of the color revolutions was action taken by Putin to restrict foreign-funded non-government organizations (NGOs) which were seen as the source of these un-stabilizing operations. Also, the US Agency for International Development was ordered out of Russia.
In Putin's view, the color revolutions were dry runs for similar operations planned by the West for/in Russia, and to separate Ukraine away from the Russian sphere. It took some time before Putin came to his final conclusion that the United States was actively hostile – engaged, along with its European allies, in subversion and covert warfare against Russia.
In his annual address to the Russian parliament in December 2012, Putin called on the Russian people to turn inward to protect the Russian state. Russians Putin commanded, should look to their own patriotism, not Westernism; to solidarity, not individualism; to spirituality, not consumerism and moral decay. In 2013, a bill set down fines for people who offended the religious feelings of believers. Antireligious propaganda was halted, scores of churches reopened, and the injunction against building new ones was lifted. Another bill proscribed the propagandizing of nontraditional sexual relationship to minors. In a televised speech in 2013 Putin took a swipe at moral "degradation and primitivism" in the EU and the United States. They are refuting moral principles and all traditional identities: national, cultural, religious, and even sexual. We consider it natural and correct and defend these values in contrast to a debauched West.
Given continuing challenges to Russia's national security, Putin appointed a civilian defense minister, and ordered him to reform the military. Troop strength was lowered from 1.2 million to nine hundred thousand. Officer training was upgraded and pay was quintupled. At the 2010 exchange rate, $725 billion were earmarked to replace 70% of the Defense Ministry's armaments with next generation systems by 2020. This was to include 2,300 Armata main battle tanks, 1,200 airplanes and helicopters, 50 surface ships and 28 submarines, and 100 spy T-14 communication satellites. The latest ICBMs and SLBMs (submarine launched ballistic missiles) have individual guided, maneuverable warheads to overcome defenses.
Russia's military spending occurs without any public control. As a result, these expenditures are sub-optimal as much of this money is lost due to the inefficient organization of the defense industry - and because secrecy in military spending breeds corruption, substantial funds are stolen. However, strengthening military power is an absolute priority for Vladimir Putin, and it is safe to assume that in the future Russia will spend more and more of its national wealth for military purposes. The equipment and military capabilities of the Russian army have been significantly improved as a result of the arms program implemented in recent years.
Due to rising supply from U.S. shale fields, crude oil on world markets cheapened from $111.87 per barrel in June 2014 to less than $50 in January of 2015 and less than $40 in December. The price drop combined with sanctions produced a run on the ruble - trading at 36 to the dollar in august 2014 the currency swooned to 56 in December 2014, and to over 80 by January 2016. The EU also imposed sanctions in September 2014 that are also targeted at Russian shale oil and deep-water Arctic off-shore oil development. Sanctions on the financial sector target Rosneft, Transneft and Gazprom Neft, which are prevented from raising long-term funds from European capital markets. As major Russian banks are also on the list, refinancing is getting more complicated for the whole energy sector
Pivot to the East
Before 2014, Moscow was primarily preoccupied with building its economic relationship with the West, supplying hydrocarbons to Europe, raising cheap financing on the western capital markets, investing the wealth of the elite in the real estate in the luxurious areas of Europe and the United States. Moscow was cautious about letting the Chinese into the strategic sectors of the Russian economy, hydrocarbon, and military industries, anxious about a possible intellectual property theft or strategic threat that China's development posed for the Russian Far Eastern regions which cover 40.6% of Russia's territory but only four percent of its GDP.
To understand the current tendencies of the Sino-Russian economic cooperation and to estimate what is coming for years to come, it is important to trace back the events in the economic relationship that took place after 2013–2014. Around this time, Xi Jinping took power in China, and Russia felt the first rounds of economic sanctions of the West induced by the Ukrainian crisis. Deprived of the cheap Western financing and long-established economic ties with European business partners, spurned by America, Moscow turned to its biggest neighbor in the East in the hope that China would substitute for the Western partners not only in geopolitical but also in the economic sphere.
After 2014, Moscow's attitude towards its eastern neighbor has undergone several shifts, which corroborate the overall economic rapprochement between China and Russia, that began in the security sphere with Russian participation in the Shanghai Cooperation Organization in 2001. What might have appeared like a Russian feint or juggling act against Europe, now looks like a change of grand strategy in geo-economics. The confirming signs are: a thirty year gas deal for $400 billion dollars in May 2014, companies to lease Siberian farmland, China's investment in railroads, seaports, and Arctic shipping; negotiations to link the Eurasian Economic Union and China's Silk Road Economic Belt, a road corridor to Europe; and agreement to produce a wide-body passenger jet together.
Russia was also active in BRICSs (Brazil, Russia, India, China, and South Africa) which promotes trade and investment within the quintet but also seeks "a fairer world order". BRICS has been transformed into a nascent non-Western concert of major powers that focuses on their priorities, not those of Washington or Brussels.
In 2015, Russia and China signed a deal on the supply of 24 Russia's most advanced jet fighters SU-35 for $ 2.5 billion. Also, that same year Russia's Rostech reached an agreement with China on the supply of its most sophisticated anti-aircraft missile system S-400 for $3 billion. While the sums of the deals were not extremely significant – the fact that Russia is selling its weapons to China underpins a strategic shift in the bilateral relationship that will continue in the years to come. There are prospects in technological cooperation between China and Russia, which includes the 5G network and electronic commerce development.
Russia as a national security threat to the U.S.
Former National Security advisor to President Carter in the 1970s, Zbigniew Brzezinski, noted that the Soviet Union was a Third World country with nuclear weapons. In the last two decades Russia has transformed significantly, and that observation is no longer valid. Just as Germany could not defeat Russia in WWII, no power could defeat Russia on its soil today. Of course no power could defeat the U.S. or China on its soil either – the boots on the ground needed is just more than any invader can provide. Acknowledging this fact means that Russia does not pose any existential threat to the United States. Simple destruction without invasion is not viable either, because nuclear retaliation would destroy both countries, and perhaps render the world uninhabitable to humans.
We must return to the question of relative size. Russia's population is only 44% of the population of the United States, and in a military conflict, Russia would likely also have to face the population and military strength of Europe and expanded NATO. Equally important is to compare the economic strength of the two economies as measured by GDP, and their liabilities.
Russia United States
GDP Debt % Debt/GDP GDP Debt %Debt/GDP
(Dollars in Trillions)
2002 $.3 $.2 66% $10.9 $6.2 57%
2007 1.3 .3 23 14.5 9.0 62
2012 2.2 .5 23 16.1 16.1 100
2017 1.6 .5 31 19.4 20.2 104
2019 1.8 .5 28 21.4 22.7 106
Source: World Bank, Statista, Trading Economics
The first observation to make is that the economy of Russia is just 8.4% of the United States. It is not realistic to presume that a much smaller economic power could make war against an economic giant. To presume otherwise is simply propaganda. The data also shows that the United States will have to pay attention to its rapidly expanding debt. In the wake of the corona virus's effect on the economy, which may reduce GDP by one quarter and increase debt by six trillion dollars, the United States debt to GDP ratio for 2020 would rise to a ratio of 200% or more, which could destroy its global reserve currency status. This suggests that neither country can be truly be disposed to confrontational military activities.
Russia's actions of the last decades can more properly be seen to develop its economy, and to insulate Russia from provocations or financial attacks from the West. Russia is building an independent, nationalistic, unified, sovereign country. It does not have an ideology, such as lay behind Soviet behavior, to transform the world. For example, its participation in the BRICS alliance is demonstrably a business enterprise to avoid confrontation with the West. Their building an independent money transfer system is defensive in trying to avoid the previously experienced actions of Western sanctions and its devastating consequences.
Russia's is building an independent internet that is not dependent on the West, one that cannot be turned off by foreign geopolitical decisions, also appears defensive. Russia's reduction in the use of dollars, and sale of U.S. Treasury securities and purchasing gold reflects previously painful lessons learned from borrowing in dollars or being exposed to interest rate or foreign currency exchange manipulations. As a response, right after a new package of sanctions hit in 2018, the Russian Central Bank transferred 15% of its reserves into RMB. Currently, the Central Bank holds 25% of the global reserves in RMB. These actions are defensive.
International trade and economic development are dependent on optimal shipping routes, and accordingly it is developing shorter routes that traverses a frozen Artic sea. Sea lanes must be kept open, which requires human intervention and abundant energy. Russia has built a floating nuclear power generation station the Akademik Lomonosov, that can supply enough energy to support a city of 50,000 people. Such a station can be routed to its desired location, far from human infrastructure, and become the energy source for building a new city. In a more southern climate it is building an underwater pipeline from Russia to Germany under the Baltic Sea. Its completion has been disrupted by new Western sanctions, but eventually it will become operative. These are current examples of innovation and investment which Russia is using to advance trade, not war.
Since Putin's order to upgrade the military, Russia has developed notable advance in military hardware, both offensive and defensive. Since Russia has GLONASS, a global satellite guidance system, it produces accurate land-attack cruise missiles. In his book, "The Real Revolution in Military Affairs" (Clarity Press 2019) author Andrei Martyanov declares that the era of sub-sonic anti-shipping missiles is over. Russia's Mach-10 Kinzai missile, with a 2000 mile range, has no existing defense. Neither is there any anti-missile defense against the hypersonic Mach 27 glide vehicle Avangard. This missile, of course, can be seen also as an offensive weapon. Last, it has upgraded its doomsday weapon, the Perimeter, which is their last line of deterrence to a crippling nuclear strike against Russia. Upon activation and determination of an ongoing nuclear strike, the system sends out command missiles with special warheads that pass encrypted launch commands to all nuclear weapon carriers of the sea, air and ground components of the Russian Strategic Nuclear Forces. It is the ultimate defense weapon
One may question Russia's ability to produce such scientifically advanced weapons. However, we need to be reminded that for decades Russians chose to study math and engineering, rather than subjects disapproved in the old Communist system. Also, they launched the first satellite Sputnik in 1957, had the first human spaceflight in 1961, the first spacewalk in 1965, the first rover on the moon in 1970, and the first space station, Mir in 1986.
In 2012 Putin committed Russia to placing five universities in the ranks of the world's top hundred by 2020. While this target was not achieved, perhaps due in part to western evaluators, it is instructive to look at some statistics of university attendees. According to the UNESCO Institute for Statistics, Russia produces the highest number of engineering graduates per year, followed by the United States. World Atlas has cited that the number of Russian engineering graduates in 2015 numbered 454,000. With a population of 145 million, this translates to a rate of 0.3%. The number of engineering graduates in the U.S. was cited as 237,000 on a population base of 325 million it translates to a rate of 0.07%. Therefore, Russia graduates engineers at over four times the rate in the U.S. If Russia's difficult to verify education statistics are true and persistent over years, in our technologically advancing world, that will become an advantage.
The preceding information sufficiently corroborates that Russia is no security threat to the United States, nor to Europe. Rather they are economic competitors on a battle field that the U.S. has dominated for over a century.
Concluding observations
WWI started with balance-of-power politics deceitfully pitting Germany against Russia by the global hegemon of the time. Repression and murder from the Communist revolution and war, which spread pestilence, want, hunger and doom for decades over the hundreds of millions of people over Europe and Russia, was the consequence of this draconian elitist action, and cognate Communist revolution. WWII turned out to be act II of the same but much larger drama. The Cold War, Middle East Wars, and current sanctions are all variations of the centuries-old principle of balance-of-power politics in action. The overriding principle is to suppress any potential challengers to the present world order, stifling the work, hopes and aspirations of people trying to improve their lives.
The grievous hoax and deceitful propaganda about fossil source and limited supply of oil in the world together with the disastrous proactive policy of balance-of-power politics forced the world to endure decades of war and its tragic consequences for naught. The wars for sourcing or controlling oil, and undermining countries' development whose interest has only been to improve the lives of their citizens have been unnecessary, immoral, and despicable.
With Russian scientists having proven the abiotic theory of oil, the world can no longer be held hostage to the scarcity of oil. Poor nations no longer need to mortgage their futures for their energy needs. Conflict or war in the Middle East or any other country with an abundance of oil no longer makes sense, as a multitude of countries are quite able to supply oil to the world at non-confiscatory rates. Global oil prices in the foreseeable future should remain low and allow both producing and non-producing economies to thrive, raising their living standards.
A glance at the periods of growth of Russia's economy will quickly confirm that they are periods of increasing oil prices. Similarly, it is seen that slowdown in economic growth, or actual decline, are periods when global oil prices declined. In addition, Russia's economic growth has been severely affected by Western sanctions – a form of war. As a result one cannot credit or criticize Putin for the health or growth of Russia's economy, since it has been overwhelmed by international intervention, the balance-of-power global politics manifested by global oil price manipulation, and sanctions.
In an attempt to revive Russian economy, in May 2018 Vladimir Putin announced a new developmental strategy for the period up to 2024, based on thirteen 'national projects' co-financed by the state budget. It focuses on the modernization of economy, infrastructure investments, creating a business-friendly climate, and improvement of the quality of public services. It appears that Putin's state capitalism is working. Whereas not a single Russian was worth one million dollars in 1991, as of 2019 Russia has ninety eight billionaires. If President Putin can remain in office to see this 2024 plan through, he will prove that a single visionary, benevolent autocrat can be more effective ruler than leaders from chaotic democracies. America's democracy in reality has been proven to be rule by a corporate oligarchy ever since the corporate bailouts from the 2008 Great Recession, and with the 2020 massive bailouts and prospective nationalization of industries this constitutional republic is transforming to the economic system used in Russia – state capitalism.
Given that Russia's economy and currency had suffered three major implosions since 1987, their recovery to the current productive levels is actually quite remarkable. Given the relatively low population compared to the huge natural resources of their huge country, the living standards for Russians, over the long term, will improve more than that of smaller resource poorer, and less educated countries. Acts of aggression against another country, no matter what the motivation, have lasting consequences. They create resentments and new grievances that persist for decades, and shape the attitudes and policies of subsequent generations. When the Soviet Union ended in the late 1980s, the world's humanity was saved by restraining action of leaders in the East and the West avoiding a nuclear war. Let us hope that balance-of-power policies will end, allowing the emergence of striving countries, and once again avoid the potential of nuclear war. Most musical operas have three acts and end in tragedy; it would be hopeful for humanity if this real world "balance-of-power war opera" ends with the second act.
Raymond Matison
Mr. Matison was an Institutional Investor magazine top ten financial analyst of the insurance industry, founded Kidder Peabody's investment banking activities in the insurance industry, and was a Director, Investment Banking in Merrill Lynch Capital Markets. He can be e-mailed at rmatison@msn.com

Copyright © 2020 Raymond Matison - All Rights Reserved

Disclaimer: The above is a matter of opinion provided for general information purposes only and is not intended as investment advice. Information and analysis above are derived from sources and utilizing methods believed to be reliable, but we cannot accept responsibility for any losses you may incur as a result of this analysis. Individuals should consult with their personal financial advisors.
© 2005-2019 http://www.MarketOracle.co.uk - The Market Oracle is a FREE Daily Financial Markets Analysis & Forecasting online publication.

Only logged in users are allowed to post comments.
Register/ Log in