The Fed and Government Have NOT Erased Investor Fears...
Stock-Markets
/
Volatility
Sep 22, 2008 - 10:52 AM GMT

As you may recall, last Friday we mentioned that, "The big problems have not been erased. We still have rising unemployment, a credit crunch, a recession, and a weak economy that many analyst expect to weaken further." ... and, "My point is that, if we do get an upside rally, it will still be an up move in a Bear Market. Before anyone gets exuberant, investors need to see if Institutions will back a rally, and that did not happen yet in yesterday's (Thursday's) short covering rally. "


Last weekend, I poured through a lot of research relative to GDP growth, and the most probable scenario at this point is for GDP to be in the plus 0.25% to minus 0.25% range during the next 12 months. That would be a progressive drop from an approximate expectation of 1% for the last two quarters of this year.
This would project economic weakness continuing into next year in spite of all the band-aids and fixes the Government and Fed are deploying. Keep in mind ... that while their fixes are aimed at patching up a deteriorating banking system, these emergency measures are doing nothing to stop a fall in GDP. And, a falling GDP would mean a fall in corporate earnings which is negative for the stock market and in effect would point to the continuation of the recession.
A key factor to watch as we face the coming months is a deepening of the credit crisis. Financial institutions must obtain enough new capital to cover their losses or we will see a further contraction in available credit that could well be in the trillions of dollars. Such a possibility would put a severe strain on our ability to come out of a recession any time soon.
Part of the reason I point this out is a conversion Cindy and I had with an old retired neighbor named Annie. She was full of confidence as she said, "I'm not worried, the Government won't let anything bad happen. They'll fix everything." Optimism is a good thing, but it is only a good trait if it is combined with, and matches the reality of the real world conditions ... otherwise it becomes a disadvantage and a blindness to the things people must aware of, and adjust for in order to make sensible decisions.
That being said, let's look at the VIX this morning, as it is representative of fear levels and conditions of uncertainty by the investment community.
In spite of all the aggressive actions by the Government and the Fed, the VIX is indicating that the market is remaining in a state of fear and concern. Concerned if the pro-active actions have really stopped a very dangerous international calamity, and concerned that there may be more "unknown shoes to drop" right around the next corner.
Observing the chart, you can see how the VIX (Volatility Index) and fear levels last week. In spite of all the interventions, the VIX still closed ABOVE 30 on Friday. This morning at 10:19 AM it was still above 31.
That's important, because all prior moves above 30 have been short term bottoms this year. This time, the rise above 30 has been unable to move back down below 30. So, as of this morning it is still signaling concern and distrust relative to the government having "fixed things" in the past few days.
Confidence has not been regained, and no short term sustainable rally will be able to happen until the VIX falls below 30 AND then trends down lower .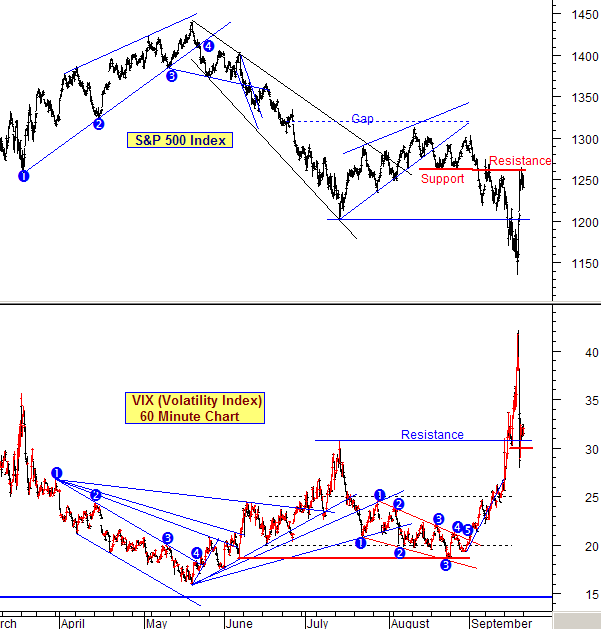 ________________________________________________________________________
*** Feel free to share this page with others by using the "Send this Page to a Friend" link below.
By Marty Chenard
http://www.stocktiming.com/
Please Note: We do not issue Buy or Sell timing recommendations on these Free daily update pages . I hope you understand, that in fairness, our Buy/Sell recommendations and advanced market Models are only available to our paid subscribers on a password required basis. Membership information
Marty Chenard is the Author and Teacher of two Seminar Courses on "Advanced Technical Analysis Investing", Mr. Chenard has been investing for over 30 years. In 2001 when the NASDAQ dropped 24.5%, his personal investment performance for the year was a gain of 57.428%. He is an Advanced Stock Market Technical Analyst that has developed his own proprietary analytical tools. As a result, he was out of the market two weeks before the 1987 Crash in the most recent Bear Market he faxed his Members in March 2000 telling them all to SELL. He is an advanced technical analyst and not an investment advisor, nor a securities broker.
© 2005-2019 http://www.MarketOracle.co.uk - The Market Oracle is a FREE Daily Financial Markets Analysis & Forecasting online publication.

Only logged in users are allowed to post comments.
Register/ Log in