The Almighty US Dollar and Gold
Currencies
/
US Dollar
Sep 08, 2008 - 02:43 PM GMT


(WWII), where to the victors go the spoils derived from conflict. In this case, and subsequent to WWII, the US essentially took control of the Japanese and German economies, and more, spreading it's influence around the globe by imposing $ pricing mechanisms that stand to this day. Therein, it's no fluke crude oil and other commodities are primarily priced in $'s you see, which keeps the demand for the 'almighty dollar' high, allowing for it's continued unmitigated manufacture. What's more, this manufacture has now spread into financial derivatives and other debt related instruments that keep the $ bubble growing at an accelerating pace.


The following is an excerpt from commentary that originally appeared at Treasure Chests for the benefit of subscribers on Tuesday, August 26 th , 2008.
In this sense then, the post WWII experience for the US has been nothing short of a dream, with Nixon closing the gold window back in 1971, meaning the States (joined by all governments in reaction) now issues rapidly depreciating fiat currency within international trade in exchange for goods and services. This is our present day reality as it were then, where it should be noted that although US $ hegemony has facilitated the most comprehensive, widespread, and lasting domination of the global economy in man's history, its days may now be numbered . Such a development would involve gold returning as the central purchasing power measure of a country's local currency, which is something all governments led by the US will resist vehemently until the bitter end.
And this is what is happening right now. A coordinated effort on the part of the banking cartel / governments / media is attempting to push the $ higher in an intervention using the guise that magically, only now Euro-zone growth is slowing / weaker than expected (while the rest of the world has been coming unglued for some time), and for this reason Euros should be sold in favor of $'s. As a result the $ has found new life at the expense of both the Euro and gold, with the latter suffering because the banking cartel says we should watch for weakness in the former (and strength in the $), and sell once observed. Furthermore, the more profound result of all this is that it's keeping people from objecting strongly enough to shut the Fed down, giving them license to continue bigger bailouts , monetizations , and renewed acceleration in currency debasement .
For investors, it's imperative one understands this, because with central banks attempting to thwart the business cycle using free-floating currencies, in order to do this they must accelerate debasement rates whenever economic weakness is encountered, in the end essentially meaning all fiat currencies are in a race to zero . Just look at how out of control things have gotten in the Euro-zone concerning monetary largesse, which of course is the real reason the Euro is weakening against the $, this and the expectation rates are set to drop. And again, all this has been used to engineer the price of gold down within the larger process / game as well, which is 'sweet' from the perspective of the international brotherhood of central bankers. Now they have all the justification they need to print increasing new currency with king $ telegraphing just the opposite is occurring – on relative basis at least.
With all this said then, it appears there is good reason to believe we are witnessing something far more profound than just a typical rally / bull market in commodities / precious metals, and that once the current mid-cycle correction is complete, a renewed decline in the $ will send the prices of tangibles / commodities / precious metals far higher. Question: If all fiat currencies are in a race to zero due to competitive devaluations , meaning tangibles / commodities / precious metals will continue to make gains against all fiat currencies, then why is it the $ must fall in order to stimulate the big gains in this regard? Answer: In circling around to our opening discussion, but to appropriately frame the reasoning to answer this question, it's because the $ is the world's reserve currency , still to this day given more respect in financial circles than gold despite the latter's considerable out performance since 2001.
You see the $ is still the king currency of the world in terms of demand because countries like China, who sell their real goods in exchange for the illusion of value in the $, still accept them because they wish to protect their economy, industries, and vast $ reserves. This is what keeps a bid in the $ despite increasing largesse. Of course when the wheels begin to more noticeably fall off the global economy (meaning monetary largesse will need to be increased further), the Chinese will begin to realize they may loose more capital in the bonds which are used to store these reserves, and things will likely change very quickly in gold's favor. But as you can see in the $'s recent revival in price, we are not quite there yet. What's more, people are very concerned about deflation with the credit cycle and asset bubbles in apparent death spirals.
Added all up then, this is why the $ is still 'almighty' today.
In knowing this then, yet another question arises. If it's all about competitive devaluations and the $'s ability to maintain reserve currency status, how long should we expect it to rally if future credit related problems are too big to handle, bringing these apparently sidelined concerns back into focus? I know there's a great many people out there that want an answer to this question because they are waiting for a clear signal in this regard to 'load-up' on precious metals. Unfortunately however, it's impossible to provide exact timing in this regard other than to point out that the current consolidation in the gold price is likely a mid-term correction of cyclical (temporary) nature that will likely cause a negative return for the calendar year to mark the halfway point of the bull market. This is because gold has been up seven-years in a row since 2001, when the bull took hold of pricing in earnest. Of course all this means is spot gold needs to finish below $838, which is where it closed on December 31st of last year, and very close current trade as well.
At least that's what I would expect in looking at the select circumstances / factors, obviously not the least of which being a likelihood the $ rally could last for some time with relative weakness in Euro-zone growth fostering a lowering of administered rates. What's more, and in spite of its continued under-valuation to currency debasement rates (bringing to mind the beach ball being held under water imagery), as pointed out above gold has been up for seven-years in a row now, which as you will see below has created profound overbought technical conditions that need further correcting. These conditions can be best seen on a long-term monthly plot armed with the appropriate indicators, as follows. (See Figure 1)
Figure 1


In turning to a $ chart employing comparable indictors to measure the long-term technical condition here as well, it should be noted breakouts appear immanent, even though due to fundamental reasons they should fail. This is because what's happening is the $ is simply testing the breakdown below long-term / neckline support that was tellingly breached last year at 80. Here it should be realized that the $ has never before breached this level on a lasting basis previously, which is why once this test is proven to be just that – a test – the mid-term correction in gold will be done, and the secular bull market in gold should resume in stellar fashion. (See Figure 2)
Figure 2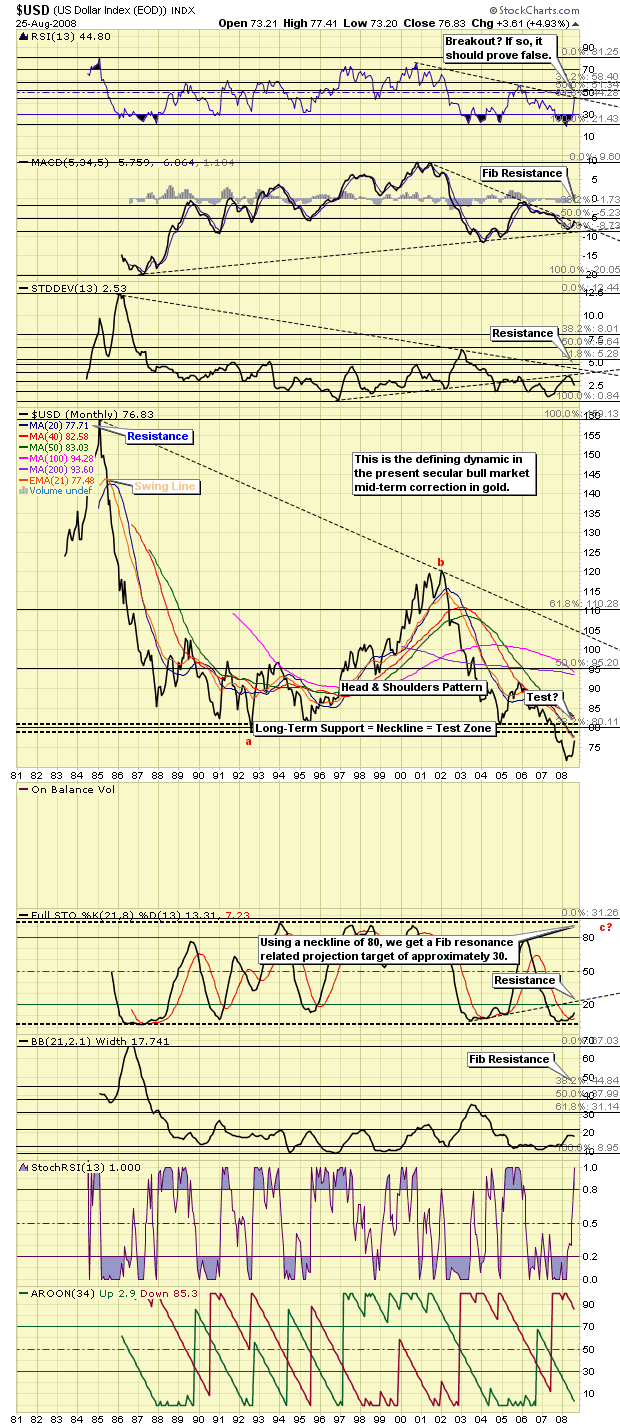 So again, at least at this point it's all about the $ concerning future prospects of gold, however past this, once the mania hits further down the road, movements in precious metals will far outstrip any signals or ratios associated with the currency, instead being more a function of excess largesse. This hypothesis is predicated on the 70's experience, where as you can see below, while a turn lower in the $ in December of 1976 marked an end to the mid-term correction, gold and silver continued to rally in mania like fashion well past the 1978 low, right up until January of 1980. (See Figure 3)
Figure 3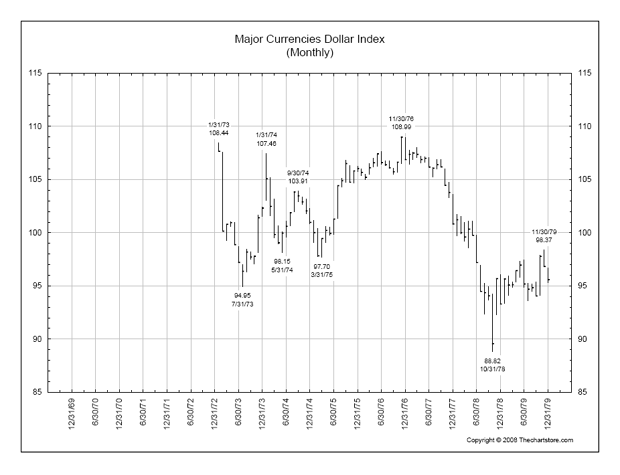 Source: The Chart Store
Unfortunately we cannot carry on past this point, as the remainder of this analysis is reserved for our subscribers. Of course if the above is the kind of analysis you are looking for this is easily remedied by visiting our continually improved web site to discover more about how our service can help you in not only this regard, but also in achieving your financial goals. For your information, our newly reconstructed site includes such improvements as automated subscriptions, improvements to trend identifying / professionally annotated charts , to the more detailed quote pages exclusively designed for independent investors who like to stay on top of things. Here, in addition to improving our advisory service, our aim is to also provide a resource center, one where you have access to well presented 'key' information concerning the markets we cover.
On top of this, and in relation to identifying value based opportunities in the energy, base metals, and precious metals sectors, all of which should benefit handsomely as increasing numbers of investors recognize their present investments are not keeping pace with actual inflation, we are currently covering 70 stocks (and growing) within our portfolios . This is yet another good reason to drop by and check us out.
As a side-note, some of you might be interested to know you can now subscribe to our service directly through Visa and Mastercard by clicking here .
And if you have any questions, comments, or criticisms regarding the above, please feel free to drop us a line . We very much enjoy hearing from you on these matters.
Good investing all.
Captain Hook
http://www.treasurechestsinfo.com/
Treasure Chests is a market timing service specializing in value-based position trading in the precious metals and equity markets with an orientation geared to identifying intermediate-term swing trading opportunities. Specific opportunities are identified utilizing a combination of fundamental, technical, and inter-market analysis. This style of investing has proven very successful for wealthy and sophisticated investors, as it reduces risk and enhances returns when the methodology is applied effectively. Those interested in discovering more about how the strategies described above can enhance your wealth should visit our web site at Treasure Chests
Disclaimer: The above is a matter of opinion and is not intended as investment advice. Information and analysis above are derived from sources and utilizing methods believed reliable, but we cannot accept responsibility for any trading losses you may incur as a result of this analysis. Comments within the text should not be construed as specific recommendations to buy or sell securities. Individuals should consult with their broker and personal financial advisors before engaging in any trading activities, as we are not registered brokers or advisors. Certain statements included herein may constitute "forward-looking statements" with the meaning of certain securities legislative measures. Such forward-looking statements involve known and unknown risks, uncertainties and other factors that may cause the actual results, performance or achievements of the above mentioned companies, and / or industry results, to be materially different from any future results, performance or achievements expressed or implied by such forward-looking statements. Do your own due diligence.
Copyright © 2008 treasurechests.info Inc. All rights reserved.
Unless otherwise indicated, all materials on these pages are copyrighted by treasurechests.info Inc. No part of these pages, either text or image may be used for any purpose other than personal use. Therefore, reproduction, modification, storage in a retrieval system or retransmission, in any form or by any means, electronic, mechanical or otherwise, for reasons other than personal use, is strictly prohibited without prior written permission.
© 2005-2019 http://www.MarketOracle.co.uk - The Market Oracle is a FREE Daily Financial Markets Analysis & Forecasting online publication.

Only logged in users are allowed to post comments.
Register/ Log in