Google is the Master Spy of the Intelligence Community
Politics
/
Google
Sep 05, 2017 - 01:00 PM GMT

Is there anyone on the planet that does not have their personal lives exposed to the data collection behemoth of the corporatist and government partnership? Google was developed with and under the intelligence funding of the deep state. The marvel of a premier digital search engine was welcomed as a tremendous achievement by everyone who longed for a definitive method to secure access to sites that reflected market or research results. Few companies names become synonymous with the product or service provided. Who does not refer to making a copy reproduction as Xerox the document? Likewise, as a pure commercial function, Google defined the designation for internet searches. Fast forward to the current state of draconian governance. What stands out is that the systematic rewriting of history and access to a free exchange of ideas and questioning has been supplanted by an approved filter with limited options.

In order to appreciate just how information seekers have been corralled into the pens of sheeple dipping now produces a "PC" alternate identity in order to be part of society. Optimally such changes should have made people's lives much better than before but in fact people's existence is really worse in many ways.
Wikileaks Julian Assange argues in Google Is Not What It Seems that "long before company founders Larry Page and Sergey Brin hired Schmidt in 2001, their initial research upon which Google was based had been partly funded by the Defense Advanced Research Projects Agency (DARPA)."
"In 2003 the US National Security Agency (NSA) had already started systematically violating the Foreign Intelligence Surveillance Act (FISA) under its director General Michael Hayden.These were the days of the "Total Information Awareness" program. Before PRISM was ever dreamed of, under orders from the Bush White House the NSA was already aiming to "collect it all, sniff it all, know it all, process it all, exploit it all." During the same period, Google—whose publicly declared corporate mission is to collect and "organize the world's information and make it universally accessible and useful"—was accepting NSA money to the tune of $2 million to provide the agency with search tools for its rapidly accreting hoard of stolen knowledge."
Nafeez Ahmed writes in Part I of the report, How the CIA made Google - Inside the secret network behind mass surveillance, endless war, and Skynet. He provides extensive documentation to substantiate his expose.
"In reality, Google is a smokescreen behind which lurks the US military-industrial complex.
The inside story of Google's rise, revealed here for the first time, opens a can of worms that goes far beyond Google, unexpectedly shining a light on the existence of a parasitical network driving the evolution of the US national security apparatus, and profiting obscenely from its operation."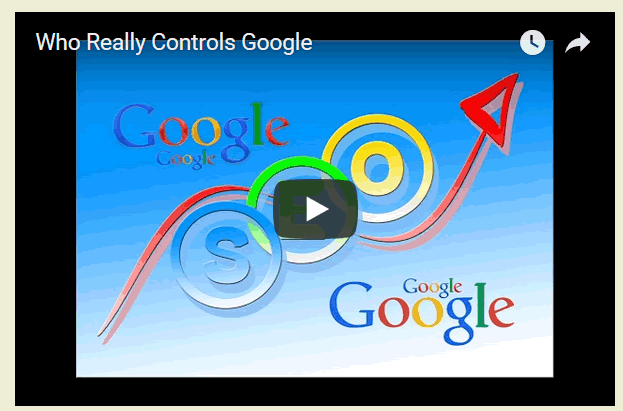 Now this connection with the elements of the omnipotent surveillance state might appear to be a conclusion of a conspiracy theorist. However, for those who still adhere to factual analysis and truthful corroboration, the disintegration of neutrality towards free speech is so well established that Google can no longer maintain that they are a trusted custodian of the unrestricted flow and ongoing stream of the first edition version for history.
Dave Hodges in GOOGLE WILL SOON BE THE PURVEYOR OF ALL INFORMATION, warns that even the Liberal Outlets are Under Attack. He lists a sample of what Google is doing to the traffic on these leftist sites.
* alternet.org fell by 63 percent
* globalresearch.ca fell by 62 percent
* consortiumnews.com fell by 47 percent
* mediamatters.org fell by 42 percent
* commondreams.org fell by 37 percent
* internationalviewpoint.org fell by 36 percent
* democracynow.org fell by 36 percent
* wikileaks.org fell by 30 percent
* truth-out.org fell by 25 percent
* counterpunch.org fell by 21 percent
* theintercept.com fell by 19 percent
Why would Google want to see the volume of such well established brands shrink in presence when their own ad revenues would suffer? Leave it the UK press to help provide an answer in DOWN THE 'TUBEYouTube accused of CENSORSHIP over their controversial new bid to 'limit' access to videos. Ask yourself, what is censorship? Submit it is an attempt to strain out the critical and only maintain the party line of the spooks who are only concerned with perfecting their control over the social order.
For those who depend upon honest ranking of their internet sites within Google searches, the alarm bells are going off in every corner of the web. Even the most powerful publishers are in danger of Google extortion as cited in "Yes, Google Uses Its Power to Quash Ideas It Doesn't Like - I Know Because It Happened To Me".
"The Google salespeople were encouraging Forbes to add Plus's "+1" social buttons to articles on the site, alongside the Facebook Like button and the Reddit share button. They said it was important to do because the Plus recommendations would be a factor in search results—a crucial source of traffic to publishers.
This sounded like a news story to me. Google's dominance in search and news give it tremendous power over publishers. By tying search results to the use of Plus, Google was using that muscle to force people to promote its social network.
I asked the Google people if I understood correctly: If a publisher didn't put a +1 button on the page, its search results would suffer? The answer was yes."
After writing a critical article about Google, "Stick Google Plus Buttons On Your Pages, Or Your Search Traffic Suffers", the shakedown stakes were raised.
"It escalated quickly from there. I was told by my higher-ups at Forbes that Google representatives called them saying that the article was problematic and had to come down. The implication was that it might have consequences for Forbes, a troubling possibility given how much traffic came through Google searches and Google News."
This illustrates how the spy technocrats at Google mirror the strong arm tactics that their intelligence masters operate under. The objective is to shape the public narrative and demand concessions from even an icon of financial reporting, like Forbes.
Another example of the protective demands for shaping an unreal image of the tech giant is found in GOOGLE-FUNDED THINK TANK FIRED GOOGLE CRITICS AFTER THEY DARED CRITICIZE GOOGLE.
"THE NEW AMERICA FOUNDATION'S Open Markets group was a rare, loud voice of protest against Google's ever-growing consolidation of economic and technological power around the world. But New America, like many of its fellow think tanks, received millions in funding from one of the targets of its anti-monopoly work, and according to a New York Times report today, pulled the plug after the company's chief executive had enough dissent."
Google thrives on forging the rules of their Terms of Service. But what they do not tell you is that the real definition of their service requires a total surrender to their snooping. Is Google a mere business who data mines oodles of information for profit or is it a mere quasi front for the CIA and NSA to benignly manage the extraction of the patterns and preferences from the public?
Patently, the partnership with the Intel Sleuths is a relationship made in Hades. Years ago Wired revealed the "Recorded Future" in Google, CIA Invest in 'Future' of Web Monitoring. So it should not be astonishing when Eric Sommer concludes.
"Google acquired Keyhole Inc. in 2004. The same base technology is currently employed by U.S. military and intelligence systems in their quest, in their own words, for "full-spectrum dominance" of the planet.
Moreover, Googles' connection with the CIA and its venture capital firm extends to sharing at least one key member of personnel. In 2004, the Director of Technology Assessment at In-Q-Tel, Rob Painter, moved from his old job directly serving the CIA to become 'Senior Federal Manager' at Google.
As Robert Steele, a former CIA case officer has put it: Google is "in bed with" the CIA."
Read what Mr. Steele reasons in The Google Conspiracy – is the search engine on the verge of becoming self-aware? " In 2012, Jon King cited evidence that Google received a huge amount of development funding from In-Q-Tel, which invests in IT and communications technologies for the CIA. Interestingly – and disconcertingly – Google Earth began life as a CIA-funded company."
The experience of the unceasing leaks coming out of the intelligence agencies since Trump was elected is a sure sign that their domestic control of an indifferent public has been threatened. The seemingly self destructive clamp down by Google on those, who do not regurgitate the orthodox reality, constructed by the shadow government makes sense when one understands that Google exists to serve the patrician interests of the supra elite operatives.
Who among us can go cold turkey and cut the cord or block the WiFi when Google provides an endless supply of free internet services? Such a dilemma can only be resolved with a total Google break from the Intelligence Community. Search for an answer on how that can be achieved and you will get an "HTTP 404 - File not found" error message.
Source: http://www.batr.org/terror/090517.html
Discuss or comment about this essay on the BATR Forum
"Many seek to become a Syndicated Columnist, while the few strive to be a Vindicated Publisher"

© 2017 Copyright BATR - All Rights Reserved

Disclaimer: The above is a matter of opinion provided for general information purposes only and is not intended as investment advice. Information and analysis above are derived from sources and utilising methods believed to be reliable, but we cannot accept responsibility for any losses you may incur as a result of this analysis. Individuals should consult with their personal financial advisors
© 2005-2019 http://www.MarketOracle.co.uk - The Market Oracle is a FREE Daily Financial Markets Analysis & Forecasting online publication.

Only logged in users are allowed to post comments.
Register/ Log in