Gold Stocks Poised to Soar Sharply Higher!
Commodities
/
Gold and Silver Stocks 2017
May 15, 2017 - 12:26 PM GMT
Breaking: The Single Best Way to Play the Coming Surge in Gold Prices is a Little-Known Junior Exploration Company Unlike Any Other Gold Stock on the Planet!
The price of gold is poised to soar sharply higher.
According to a number of respected analysts, geopolitical uncertainty across the globe will continue to push gold prices higher throughout 2017.
"Gold hits 5-month peak after Trump launches missile strike on Syria"
Continued Brexit fallout…President Trump's show of force against Syria…European elections…and ongoing conflict in the Middle East will continue to boost gold as a safe haven for investors wary of market volatility throughout all of 2017.
"Gold Glitters Amid Rising Geopolitical Tensions"
In addition, increases in gold holdings by exchange traded funds (ETFs) – which soared 34% in 2016 and are projected to increase again in 2017 – will continue pushing the yellow metal higher.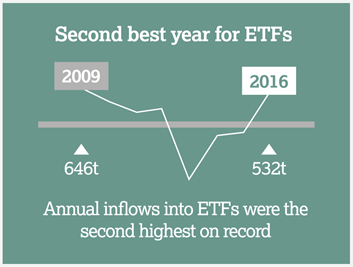 This combination of market volatility and increased demand is the perfect recipe for a surge in gold prices…and has forward-thinking investors searching for the best way to take advantage of this trend.
While many investors might consider a gold ETF or investing in physical gold, investors looking for significant upside get the most "bang for their buck" by investing in high-upside junior exploration companies.
In fact, the single best way for investors to profit from rising gold prices might come from a small company – located in a tiny Asian republic – that right now offers the high upside of a junior mining company combined with the relative safety of a "major."
Little-Known Exploration Company Offers High Upside and More
One small republic in central Asia – whose name you might not even recognize – is right now in the midst of a historic, 21st century gold rush.
The Kyrgyz Republic – just the world's 113th-largest in terms of population – is seeing investors rush in thanks to unprecedented levels of high grade gold.
"The Kyrgyz Republic is rich in gold and other minerals. And so the mining industry is one of the biggest parts of the country's economy."
According to the World Bank, over 40% of the Kyrgyz Republic's export earnings came from the mining industry last year…and that number is projected to grow.
And one company – little-known Kenadyr Mining Corp. OTC: KNDYF ; TSX: KEN – stands alone as the single best way for investors to play this gold boom.
Here's why:
Kenadyr's property in the Kyrgyz Republic is strategically located – with a potentially "world-class" gold project that actually encircles the third-largest gold mine in the country.
In fact, Kenadyr may be the only junior mining company on the planet that currently has mineralization that connects to an active, producing mine of a neighboring "Super Major."
Kenadyr Mining Corp. OTC: KNDYF ; TSX: KEN is sitting on a project with a lot of past work done and with… 900,000 ounces of historical estimates – drilled by the Soviets – with high-grade gold that could actually be significantly understated!
The company's simple share structure…its management's proven history with merger & acquisition success…and its remarkable proximity to a "Super Major" make the company an exceptionally attractive takeover candidate.
Potential Takeover Target: Could Kenadyr Mining Corp. Be The Next 6,900% "Legacy-Maker"?
Junior gold exploration companies have delivered some of the most astounding profit stories in history.
Life-altering profits are possible in those cases where a junior exploration company has success…and especially in the case of a takeover.
Take the case of Ventana Gold – a junior mining stock that was virtually unheard of back in 2009 when it was trading for just 20 cents per share.
But the company was soon found to be sitting on a significant discovery of high-grade gold in the ground…and it was in a great location.
As Ventana's drill results became public, major gold producers began jockeying for position…and the share price began to climb.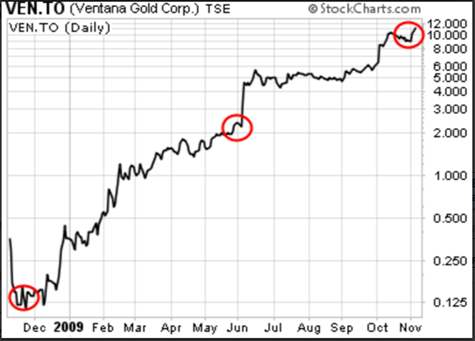 Finally, in February 2011 AUX Canada Acquisition completed a takeover of Ventana Gold…at a whopping $13.80per share!
That 20-cent stock had soared in value – in less than two years – by an astounding 6,900%!
A modest $5,000 investment in Ventana Gold at that 20-cent share price would have turned into a staggering $345,000 at the time of takeover.
That's the type of legacy-making profit potential that junior exploration companies can offer.
And right now another little-known stock – Kenadyr Mining Corp. OTC: KNDYF ; TSX: KEN– appears to be an attractive takeover candidate due to its high-grade gold deposit…its location next to a Super Major…and a unique "X Factor."
The "X Factor": Kenadyr Mining Corp's is Guided By Gold Mining Merger & Acquisition "Hall of Famers"
No question about it…the Ventana Gold story – a junior gold stock soaring from 20 cents to $13.80 per share – is one of the all-time great profit opportunities.
And one of the men who helped put the deal together – a director at Ventana Gold until its takeover – was R. Stuart (Tookie) Angus.
Here's why that's important:
Tookie Angus is right now Chairman of Kenadyr Mining Corp. (OTC: KNDYF) (TSXV: KEN)
Now…Ventana Gold isn't Tookie Angus's only success story. He was also a director of Canico Resources Corp. until its takeover by CVRD – one of the largest global metals and mining companies in the world.
He was also a director of Bema Gold…until its takeover by Kinross Gold in 2007. And he was a director of Plutonic Power until its merger with Magma Energy in 2011.
This is someone with a proven history in the mergers & acquisition field – and Kenadyr Mining Corp. OTC: KNDYF ; TSX: KEN right now looks like an ideal takeover target for one of the world's largest gold producers.
Could China's Largest Mining Company Soon Send Shares of Kenadyr Mining Corp. Climbing Sharply Higher?
One of the most important factors for a junior exploration company's success is the location of their property.
And that's critically important for Kenadyr Mining Corp. OTC: KNDYF ; TSX: KEN…because of their property's proximity to a massive gold "major."
Zijin Mining is a $11.4 billion behemoth of a company. It's is currently China's largest mining company – with operations in nine countries, including China.
And Kenadyr Mining Corp. is set up right in their kitchen.
Zijin's Taldybulak Levoberejnyi Mine (TBL Mine) is the country's third largest gold mine…a mine built for $296 million that contains 3.2 million ounces of high-grade gold in resources and reserves and is currently in production.
Kenadyr Mining Corp. OTC: KNDYF ; TSX: KEN – the small company that offers massive upside potential – is right now involved in the exploration of the historic Borubai gold project, which actually encircles Zijin's TBL mine.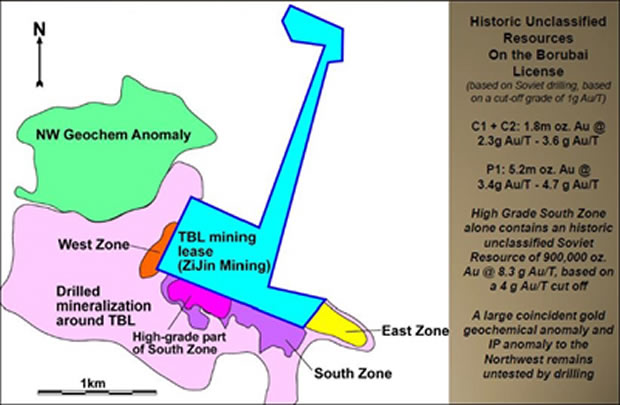 As of right now, Kenadyr Mining Corp. OTC: KNDYF ; TSX: KEN is the only junior exploration company on the planet that may have connecting mineralization to a producing mine that is owned by a "Super Major."
Pieces in Place for Potential Takeover Triggering Outsized Profits
Kenadyr owns all of the ground surrounding Zijin's TBL Mine…in fact, the mineralization of Kenadyr's 100%-owned Borubai gold project actually connect with Zijin's.
This means that as Zijin continues production at its TBL Mine…Kenadyr Mining Corp. OTC: KNDYF ; TSX: KEN may become an attractive takeover target for Zijin.
This potential takeover could mean fast, sizeable profits for early shareholders.
Zijin Mining has a history of investing heavily in high quality projects, and Kenadyr Mining's Borubai property shapes up to potentially be the next in a long list of strategic acquisitions for Zijin.
But in addition to this takeover potential, OTC: KNDYF ; TSX: KEN has a number of additional points investors should carefully consider, including:
900,000-ounce Historical Estimate Could Be Significantly Understated
The company has a historical estimate of 900,000 ounces of high-grade gold in the Borubai project's "South Zone."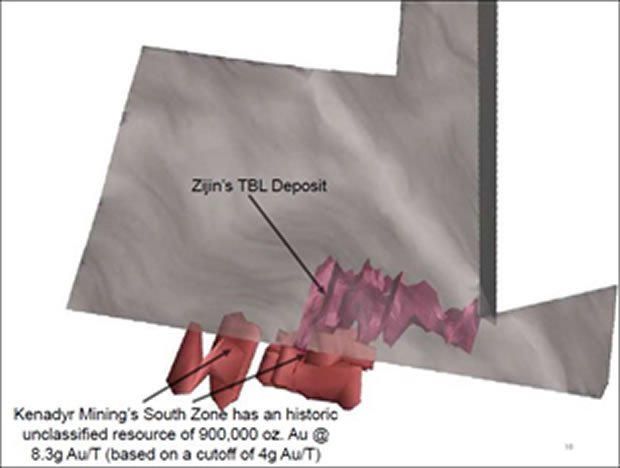 But those historical estimates were drilled years ago by the Soviets…and what industry experts have since learned is that Soviet methods of drilling and recovery may have greatly understated the resources in many gold properties. (Historical estimates should not be treated as current mineral resources nor mineral reserves as defined by NI 43-101.)
Comparisons of previous Soviet drilling results at the neighboring TBL Mine to more recent drilling results show a significant increase in average gold grades.
So it stands to reason that there is immediate production potential in the South Zone of Kenadyr's Borubai gold project.
Simply by re-drilling the exact same holes that are already known – Kenadyr's stated immediate priority – could potentially yield 2 to 5 times better results.
What this means is that the 900,000-ounce estimate – at a grade of 8.3g Au/T – could prove to be significantly understated.
In addition to the South Zone, there are additional high-grade gold targets throughout the entire Borubai gold project. The entire project has been subjected to extensive surveying – and two previously drilled-on surface prospects represent additional short-term drill targets.
Proven Management Team Stands Ready to Deliver
One of the most important things to consider for any junior exploration company is the quality of its leadership. Has the management team proven its ability to deliver in the gold mining industry previously?
In the case of Kenadyr Mining Corp. OTC: KNDYF ; TSX: KEN the answer is a resounding "yes."
Director Douglas J. Kirwin is a world-renowned independent geologist with 45 years of international exploration experience. Mr. Kirwin has held senior positions with such impressive companies as Anglo American and Ivanhoe Mines and was instrumental in significant international mineral discoveries in Mongolia, South Korea, Myanmar and Australia.
Kenadyr Mining Corp's CEO is Dr. Alexander Becker. Dr. Becker has a long and distinguished career in mining including significant experience in the Kyrgyz Republic, where Kenadyr's Borubai gold project is located. Dr. Becker helped facilitate the acquisition and targeting of the gold potential of the Chaarat deposit in the Kyrgyz Republic, with a gold resource of 6.5 million ounces – the second-largest gold deposit in the country.
Dr. Becker started his career during Soviet times as the chief geologist of the geological mapping division of North Kyrgyz Geological Expedition and he is one of the world's authorities on the geology of Central Asia.
Dr. Becker and Douglas Kirwin are the ideal leaders for a project of this scope in Central Asia – and their involvement in the project helps to confirm the explosive profit potential it brings to early shareholders.
And, of course, Kenadyr Mining Corp's Chairman is R. Stuart (Tookie) Angus.
For more than 35 years, Mr. Angus has focused on structuring and financing significant international exploration, development and mining ventures. Mr. Angus is the former chairman of the board of B.C. Sugar Refinery Ltd.; he was a director of First Quantum Minerals until June, 2005, a director of Canico Resources Corp. until its takeover by CVRD in 2005 and a director of Bema Gold until its takeover by Kinross Gold in 2007.
More recently, he was managing director of mergers and acquisitions for Endeavour Financial, a director of Ventana Gold until its takeover by AUX Canada Acquisition in 2011 and a director of Plutonic Power until its merger with Magma Energy in 2011.
Urgent: This Stock Could Move Quickly So You Should Consider Taking Action Now
Shares of Kenadyr Mining Corp. OTC: KNDYF ; TSX: KEN are currently trading for under $1.
But the company's aggressive plans to commence drilling before summer begins means that a spike in share price could happen at any time.
In addition, it's important to remember that a potential takeover target like Kenadyr Mining Corp. OTC: KNDYF ; TSX: KEN could move quickly. Investors should consider adding shares to their portfolio as soon as possible in order to get ahead of any potential acquisition from a "major" producer such as Zijin.
7 Reasons Why Smart Investors Should Consider Adding Kenadyr Mining Corp. OTC: KNDYF ; TSX: KEN To Their Portfolio Today
1.

Gold prices are heading higher in 2017 thanks to increased demand and ongoing geopolitical uncertainty.

2.

Kenadyr Mining Corp.

OTC: KNDYF

;

TSX: KEN

is likely the only junior mining company on the planet with mineralization that actually connects to a Super-Major's producing mine.

3.

The company has 900,000 high-grade ounces of gold estimates — based on historical drilling by the Soviets…and those estimates could be understated the deposit is open in every direction and because the old Soviet drilling methods have been proven to understate grade in the region.

4.

Those old holes – drilled by the Soviets – can simply be re-drilled in the same spot with modern-day drilling techniques to potentially expand the size and grade of this deposit.

5.

The company has additional high-grade gold targets – with the potential for up to 6 million ounces of historical estimates that can be improved through re-drilling old holes.

6.

Kenadyr's management team has a proven history of success in resource-rich Central Asia…and they also bring a unique expertise in the M&A field.

7.

The company's large project,…its connectivity to a Super-Major's producing mine…and its management history of M&A success make

Kenadyr Mining Corp. OTC: KNDYF ; TSX: KEN an ideal takeover target for a major gold company.
Investors looking for high upside potential should consider adding shares of junior gold exploration companies as soon as possible. Kenadyr Mining Corp. OTC: KNDYF ; TSX: KEN looks to be the single best way to play the coming spike in gold prices for maximum upside potential.
Disclaimer: This release/advertorial is a commercial advertisement and is for general information purposes only. This is a Native Advertisement, meaning it is an informational paid marketing piece. Wallstreetnation.com makes no recommendation that the securities of the companies profiled or discussed on this website should be purchased, sold or held by viewers that learn of the profiled companies through our website. Please review all investment decisions with a licensed investment advisor. Wall Street Nation gets compensated ranging from approximately $25,000 to $150,000 to publish and/or distribute of advertisements. Publisher retains any excess sums after expenses as its compensation. This Advertorial contains forward-looking statements that involve risks and uncertainties. This Advertorial contains or incorporates by reference forward-looking statements, including certain information with respect to plans and strategies of the featured Company. As such, any statements contained herein or incorporated herein by reference that are not statements of historical fact may be deemed to be forward-looking statements. Without limiting the foregoing, the words "believe(s)" "anticipate(s)", "plan(s)" "expect(s)" "project(s)" "will" "make" "told" and similar expressions are intended to identify forward-looking statements. There are a number of important factors that could cau se actual events or actual results of the Company to differ materially from these indicated by such forward-looking statements. Certain statements contained herein constitute forward-looking statements within the meaning of Section 27A of the Securities Act of 1933 and 21E of the Exchange Act of 1934. Such statements include, without limitation, statements regarding business, financing, business trends, future operating revenues and expenses. There can be no assurance that such expectations will prove to be correct. Investors are cautioned that any forward-looking statements made by the Company, or contained in this advertorial are not guarantees of future performance, and that the Issuer's actual results may differ materially from those set forth in the forward-looking statements. Difference in results can be caused by various factors including, but not limited to, the Company's ability to be able to successfully complete planned funding agreements, to successfully market its products in competitive industries or to effectively implement its business plan or strategies. To reiterate, information presented in this advertorial contains "forward-looking statements". Any statements that express or involve discussions with respect to predictions, expectations, beliefs, plans, projections, objectives, goals, assumptions, or future events or performance are not statements of historical fact and may be "forward-looking statements." Forward-looking statements are based on expectations, estimates, and projections at the time the statements are made that involve a number of risks and uncertainties which could cause actual results or events to differ materially from those presently anticipated. Forward-looking statements in this advertorial may be identified through the use of words such as "expects," "will," "anticipates," "estimates," "believes," "may," or by statements indicating certain actions "may," "could," or "might" occur. More information on the Company may be found at
www.sec.gov
readers can review all public filings by the Company at the SEC's EDGAR page. Wallstreetnation.com is not a certified financial analyst or licensed in the securities industry in any manner. The information in this Advertorial is subjective opinion and may not be complete, accurate or current and was paid for, so this could create a conflict of interest.
© 2005-2018 http://www.MarketOracle.co.uk - The Market Oracle is a FREE Daily Financial Markets Analysis & Forecasting online publication.

Only logged in users are allowed to post comments.
Register/ Log in