Gold Bull Market Correction Elliott Wave Analysis
Commodities
/
Gold & Silver
Aug 12, 2008 - 06:23 AM GMT
Captain Ron has presented his well-reasoned case for Gold for the Bulls today and whilst our long-term viewpoint is the same, I believe that this correction is not over in either TIME or PRICE yet. But correction it is, NOT the end of the Bull market.
In order to determine where we are in the short-term wave count we have to stand back and look at the long-term wave count. Last week I presented the quarterly charts on a number of commodities that to me show quite clearly where we are. Below I show the quarterly DELTA chart on Gold and this time I have put my wave counts on the chart.
The Major waves are indicated and the numbers between Major Wave 2 and Major Wave 3 are the minor waves. I have also put on the 4-quarter (1year) exponential moving average. The only time that this has been breached was in Major Wave 2 where for 3 quarters it poked below. As yet, we have not breached that moving average which currently stands at $800.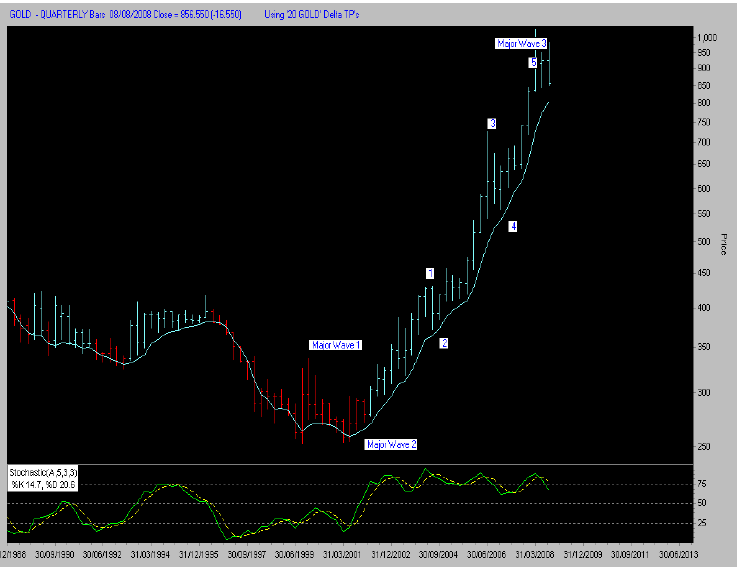 A number of readers have referred to the excellent analysis of Alf Field and he does not recognise what I have labelled as Major Waves 1 & 2, but I feel that the reference in the last Bull market is the Major Waves 1 & 2 that we had in the last Bull market in 1968 through to 1970. Whilst it represents a period when gold was coming off the Gold Standard where the Government fixed the price of Gold at $35, it is crucial in making a 5-wave count for the Bull market that ran from 1968 to 1980. The chart below shows the Major Waves 1 & 2 from 1968 to 1970. We then had Major Wave 3 which lasted five years into 1974 and ran up from $35 to $180 as can be seen from this chart and the chart on the next page.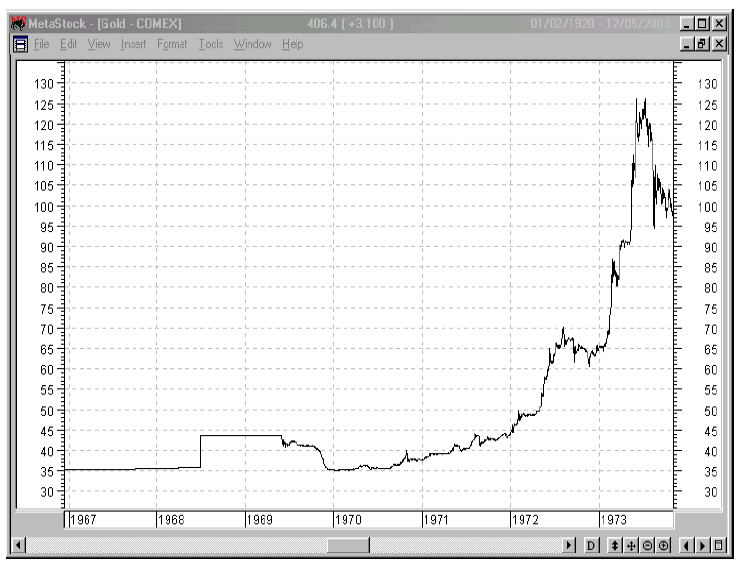 Major Wave 1 up in 1968 rose by 25.7% and Major Wave 1 up in 1999 rose by 34.7%. Major Wave 2 down in 1969 retraced 100% (most unusual because of government controls) and in 1999 to 2001 Major Wave 2 retraced a Fibonacci 97%. Major Wave 3 that ran from 1970 to 1974 inclusive rose by 514% whereas our Major Wave 3 has risen by a mere 407% into the March 2008 high.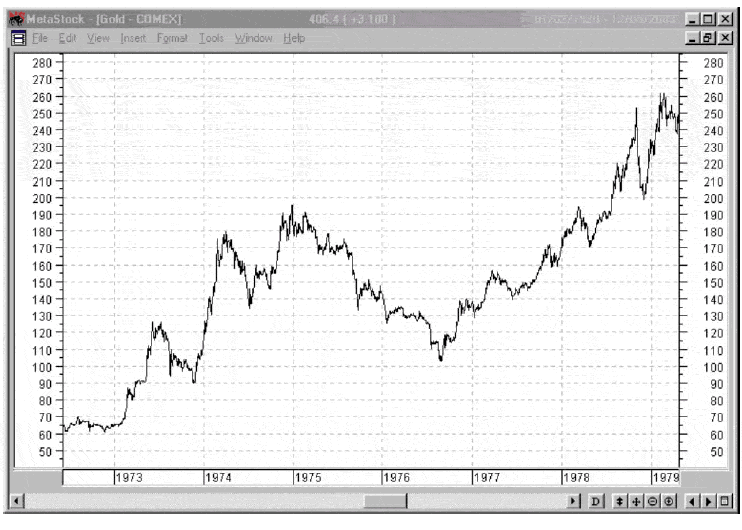 It is important to note that the last Bull market lasted 12 years and that because we are on a higher cycle that this Bull market will run a bit longer. Much of it will depend on what shape Major Wave 4 takes. As you can see in the chart above, Major Wave 4 in the last Bull market was an irregular expanded flat that topped in early '74 at $180, fell back in an "A" wave to mid '74 to about $135, shot up in a "B" wave over the next 6 months to a higher high at $194, then fell in a "C" wave over the next 20 months to a low of about $103. Major Wave 4 lasted nearly two and a half years and fell nearly 47% from the "B" wave peak.
So until we see the pattern emerging, it is difficult to project precisely. We do know that Major Wave 3 lasted 7 years and that it will need TIME to work off the rise from $253 to $1,033 and more importantly for the Bull to shake out the loose holders. It could be a rough ride but at least we know the parameters in which it should operate. A typical Wave 4 retracement is between 38.2% and 50% which means that the ultimate low will be between $735 and $643 as illustrated on the chart below. I actually believe that this time it will stop at $735 as this would be just above the minor wave 3 peak. However, in 1974-1976 it retraced just over the 50%.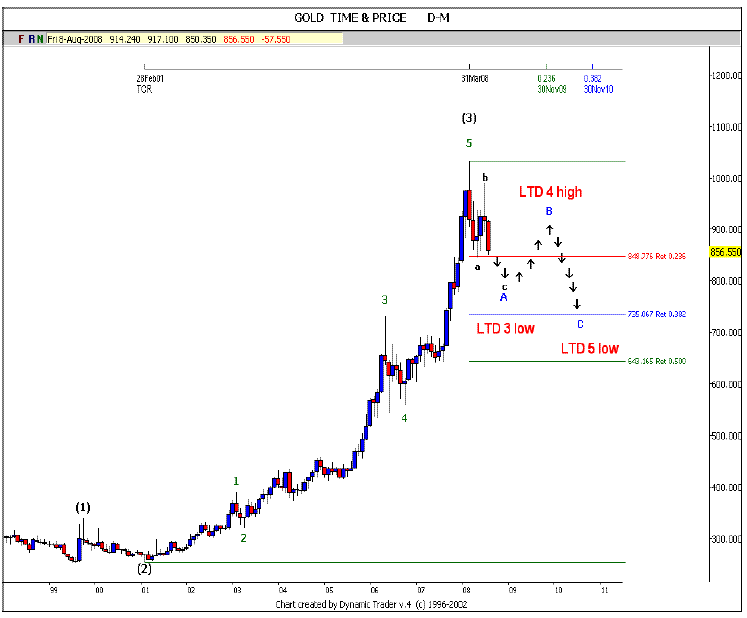 As you can see in the chart above, my TIME projection shows Major Wave 4 bottoming around November 2010.As many of you know, I do a lot of Cycle work and one Cycle that I found interesting was the 96-month Cycle shown below. This shows that an important low is due in February 2009. This would tie in with LTD 3 low which is due about that time and would be the completion of the "A" wave down.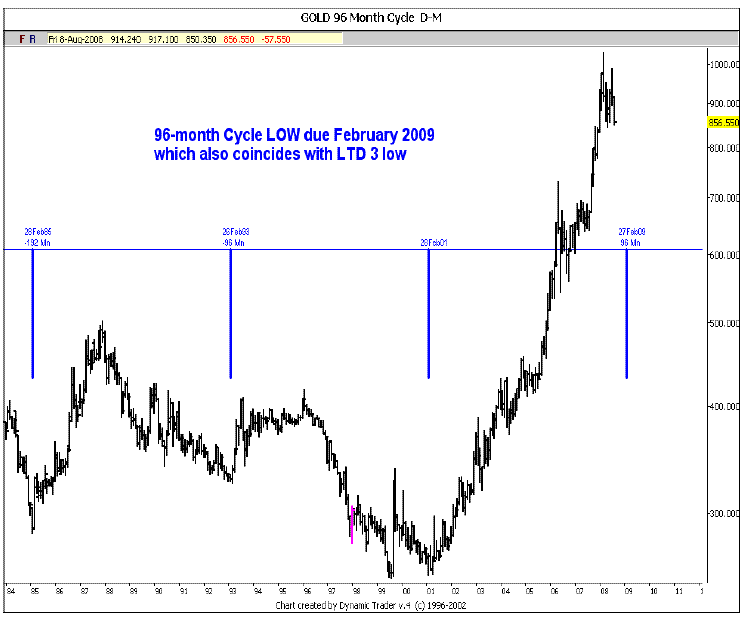 It is also worth noting that the "a" wave low in May 2008 was a Fibonacci 377 weeks from the Major Wave 2 low in February 2001. So, now that we have looked at the long term "Big Picture", lets zoom in on the medium term where we can get a feel for the scale of correction that lies ahead of us for this "c" wave and what its characteristics are. We know that a "c" wave has to be a 5-wave structure. We also know that a "c" wave is typically 61.8%, 100% or 161.8% of the "a" wave in price. I have discussed in recent weeks on the Bulletin Board a number of times that my initial target was $872 (the 61.8%) and if that was breached we are then heading to $800 as the next target. At this level, Gold will have fallen a Fibonacci 233 dollars from its March peak.
So, with the medium term projections in place, and wave 1 of "c" complete on Friday we should now zoom in on the short term to see where wave 2 of "c" may take us. Wave 1 of "c" should have finished on Friday which was a Fibonacci 144 calendar days from the March 17th high.
The wave count above points to wave 1 of "c" having completed Friday.
In a wave 2 retracement we expect a 50% - 78.6% retracement, so our initial target is $919. This has likely brought in MTD 5 and we should now have a 3-wave move into ITD 2 due in the middle of September.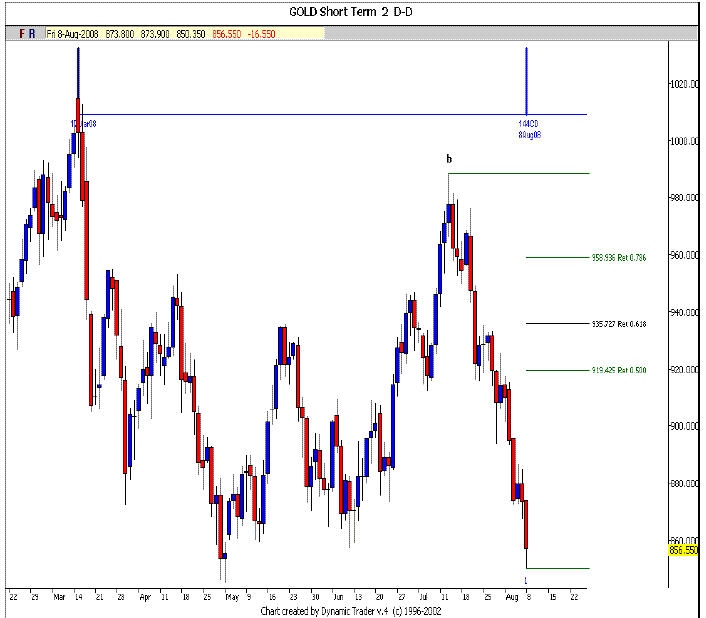 As usual, I will keep you posted via the Bulletin Board of any developments and targets as they emerge.
If you are an investor or an active trader who would like to know the price and time for turning points on gold, silver, the HUI, crude oil and stock indexes: Subscriptions are available at: www.wilder-concepts.com/rosenletter.aspx
Stay well,
Ron Rosen and Alistair Gilbert
M I G H T Y I N S P I R I T
Ronald L. Rosen served in the U.S.Navy, with two combat tours Korean War. He later graduated from New York University and became a Registered Representative, stock and commodity broker with Carl M. Loeb, Rhodes & Co. and then Carter, Berlind and Weill. He retired to become private investor and is a director of the Delta Society International
Disclaimer: The contents of this letter represent the opinions of Ronald L. Rosen and Alistair Gilbert Nothing contained herein is intended as investment advice or recommendations for specific investment decisions, and you should not rely on it as such. Ronald L. Rosen and Alistair Gilbert are not registered investment advisors. Information and analysis above are derived from sources and using methods believed to be reliable, but Ronald L. Rosen and Alistair Gilbert cannot accept responsibility for any trading losses you may incur as a result of your reliance on this analysis and will not be held liable for the consequence of reliance upon any opinion or statement contained herein or any omission. Individuals should consult with their broker and personal financial advisors before engaging in any trading activities. Do your own due diligence regarding personal investment decisions.
© 2005-2019 http://www.MarketOracle.co.uk - The Market Oracle is a FREE Daily Financial Markets Analysis & Forecasting online publication.

Only logged in users are allowed to post comments.
Register/ Log in