Stock Market Rally At the End of the Road?
Stock-Markets
/
Stock Markets 2016
May 20, 2016 - 02:44 PM GMT

In May of 2008, there was a very similar stock market 'rally' as compared to today's 'rally'. Investors believed that the 'turmoil' during the latter part of 2007 and the early part of 2008 was permanently over and that we were headed towards a strong economic growth!
In actuality, it merely masked the 'declining economic collapse'. The same situation is happening, all over again, even as you are reading this article. There are numerous flashing red lights, currently while the stock markets is 'collapsing' once again, just as it did during the beginning of the spring of 2008!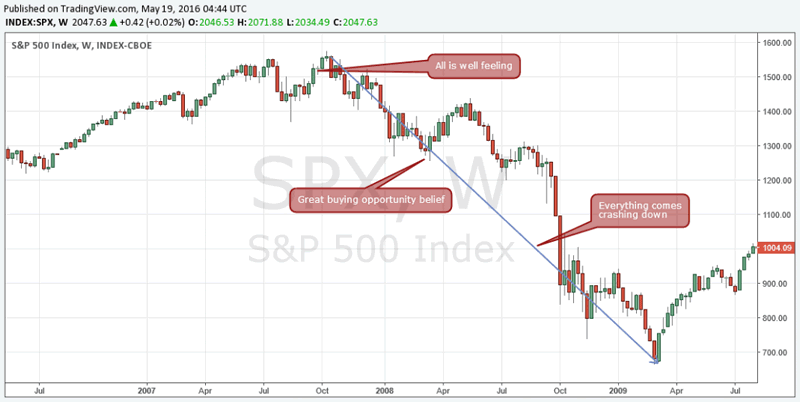 There have now been four consecutive quarters in which corporate earnings have declined. The profits from the SPX were down over 7.1 percent during the first quarter of this year.
The U.S. markets have now entered the next phase – a stock market downturn. The global financial system is now starting to 'unravel' which will have far reaching implications!
In fact, the real truth of the matter, is now about to worsen, from this point of time and onwards!
While this country has 100 million American people, who are unemployed and searching for work, and yet are unable to find any, I say this is a major RED WARNING ALERT that must now need be heard loud and clearly!
According to the FED, forty-seven percent of all Americans are not able to come up with $400.00 in case of an actual emergency situation, that they may incur. They would either need to sell personal belongings or borrow the money, somehow!
The majority of Americans are now living from paycheck to paycheck: (http://wwwtheatlantic.com/magazine/archive/2016/05/my-secret-shame/476415/).
In December of 2015, when the FED raised their interest rates, for the first time, in almost a decade, they had projected a one percent 'hike' in 2016. I was apprehensive of their prediction and had forecasted that the FED would not "materially" hike rates!
The FED later backtracked their estimates to half of a percentage point 'hike', in 2016 during their March meeting.
The chances of a June 2016 'hike' are low to nil as the "Brexit" referendum is being held only one week after that FED meeting. If the U.K. votes for a "Brexit" from the European Union, then the financial implications may wreak havoc on the already fragile global economies. Hence, the FED will not chance raising it especially before such a significant and important event.
Similarly, post July 2016, the U.S. Presidential race will 'heat up' and the FED will not want to raise interest rates prior to knowing what the next Presidents' 'economic policy' will be. However, if the world economy falters, the FED will have to follow the other Central Banks and 'restart' QE.
The timing of a stock market 'crash' is presently within our reach. All signs are pointing towards a higher price for gold; both in the near-term and the long-term. Enforced negative interest rates which are more of the FEDs' Quantitative Easing (QE) and the race to devalue the U.S. dollar. This proves to be quite bullish for gold. The timing of all of these concurrent events are affecting the gold market!
The rise of the stock market is widely viewed today as the result of 'Quantitative Easing'(QE). A bandage was placed on that financial crisis which was never structurally repaired. Today, I believe that investors have long since given up on the FEDs' bond buying as a means of repairing the economy. There is so much skepticism, at this point, as to what direction the equity-market is trending – Up or Down?
SP500 Weekly Chart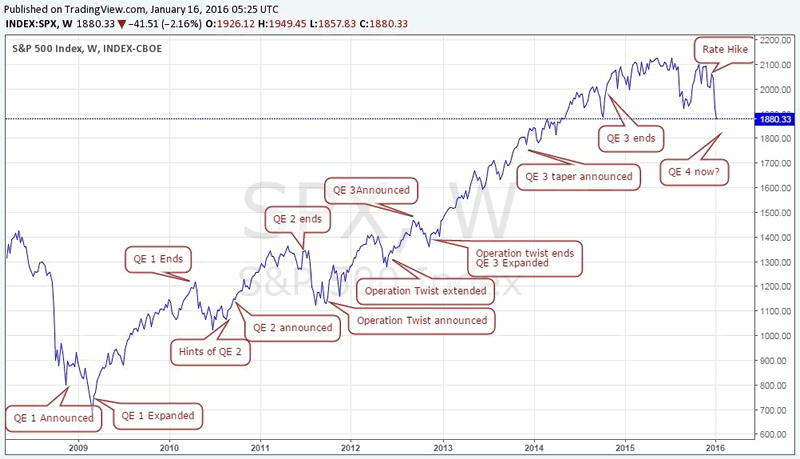 The response from the FED was to 'debase' the U.S. dollar as reflected in its' decline of 4.7% thus far in 2016. Treasury bond yields have dropped well below 2%. Something has truly gone horribly wrong within the economy! However, the FED is trying to put up a brave front. They have asserted that they are considering a 'hike' in their June 2016 meeting, but this is very misleading as there will be no "material" short-term interest rate hike in my opinion.
Monthly US Dollar Index: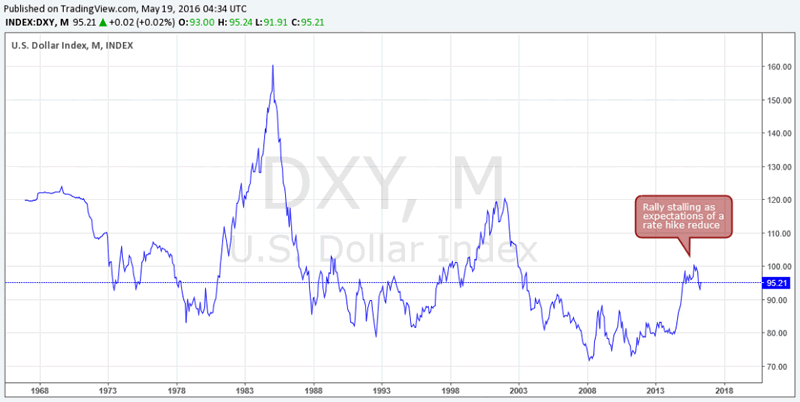 Weekly SP500 Stock Index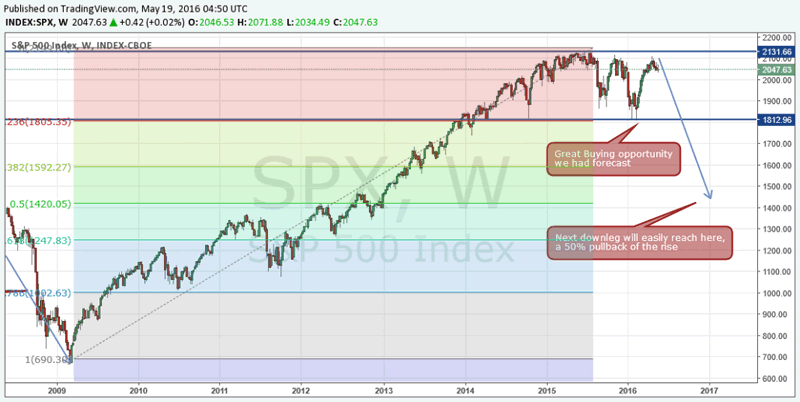 Daily Gold Chart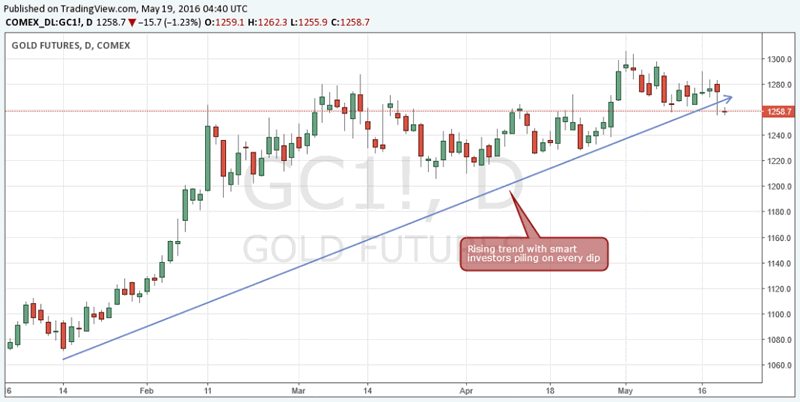 These problems that exist within all of these markets are that of the global Central Banks, which are sending their mixed messages. They are actually driving the dollar higher for the time being.
Two weeks ago, the Bank of Japan did not provide more monetary accommodation, as was expected, at that time; whereas last week, BOJ announced they would do so. Therefore, the dollar rose up whereas other currencies, including the Euro and the Yen, fell rather hard. This reaction resulted in both metals and stocks going down.
The three Central Banks have now reversed their prior announcements regarding monetary policy, within the last month. First, the ECB and then the FED and now the BOJ.
The FED is currently working on a different scenario in which they are stress testing negative Treasury bills. This scenario, in which the interest rate on the three-month U.S. Treasury bill becomes negative, in the second quarter of 2016 and then declines to -0.5% remaining at that level until the first quarter of 2019.
The Fed stated, "The severely adverse scenario is characterized by a severe global recession, accompanied by a period of heightened corporate financial stress and negative yields for short-term U.S. Treasury securities." (http://www.bloomberg.com/news/articles/2016-02-02/rates-less-than-zero-is-bank-stress-fed-wants-to-test-in-2016 ).
Gold prices are surging this year and that has 'the smart money' flocking towards the yellow metal.
During this global contraction, it is only a matter of a very short period of time before the stock market reflects this reality.
Truly, this is the beginning of 'The Great Reset'!
CONCLUSION:
In short, big things have slowly been unfolding that will be not only life changing but will change the entire financial situation of the world.
The good news is that there are many ways to profit and prosper from these events. A few simple and well time positions can yield huge results for the savvy trader and investor.
Follow my lead as we place special ETF trades to prosper during the pending market collapse: www.TheGoldAndOilGuy.com
Chris Vermeulen
Join my email list FREE and get my next article which I will show you about a major opportunity in bonds and a rate spike – www.GoldAndOilGuy.com
Chris Vermeulen is Founder of the popular trading site TheGoldAndOilGuy.com. There he shares his highly successful, low-risk trading method. For 7 years Chris has been a leader in teaching others to skillfully trade in gold, oil, and silver in both bull and bear markets. Subscribers to his service depend on Chris' uniquely consistent investment opportunities that carry exceptionally low risk and high return.
Disclaimer: Nothing in this report should be construed as a solicitation to buy or sell any securities mentioned. Technical Traders Ltd., its owners and the author of this report are not registered broker-dealers or financial advisors. Before investing in any securities, you should consult with your financial advisor and a registered broker-dealer. Never make an investment based solely on what you read in an online or printed report, including this report, especially if the investment involves a small, thinly-traded company that isn't well known. Technical Traders Ltd. and the author of this report has been paid by Cardiff Energy Corp. In addition, the author owns shares of Cardiff Energy Corp. and would also benefit from volume and price appreciation of its stock. The information provided here within should not be construed as a financial analysis but rather as an advertisement. The author's views and opinions regarding the companies featured in reports are his own views and are based on information that he has researched independently and has received, which the author assumes to be reliable. Technical Traders Ltd. and the author of this report do not guarantee the accuracy, completeness, or usefulness of any content of this report, nor its fitness for any particular purpose. Lastly, the author does not guarantee that any of the companies mentioned in the reports will perform as expected, and any comparisons made to other companies may not be valid or come into effect.
© 2005-2019 http://www.MarketOracle.co.uk - The Market Oracle is a FREE Daily Financial Markets Analysis & Forecasting online publication.

Only logged in users are allowed to post comments.
Register/ Log in