Traders Only– Prepare to SELL GOLD
Commodities
/
Gold & Silver
Jul 17, 2008 - 10:27 AM GMT
As many of you know, I use many different methods to achieve my trading signals but one of the most important is the measurement of TIME. We have always had the quote from W.D. Gann as the banner on this newsletter, "Time is more important than price; when time is up price will reverse."
As I have pointed out before, TIME can be measured in many ways. Sometimes I measure in trading days and sometimes it is in calendar days whilst other times I am measuring Fibonacci ratios of previous waves in time to give us projections for possible dates for change of direction.
16th July is one of those dates . Sometimes you get one hit, better still to have two hits, but tomorrow I have no less than FIVE hits. Three of those are shown on the chart below. Today is a Fibonacci 89 Calendar Days from the 17 th April high.
(1)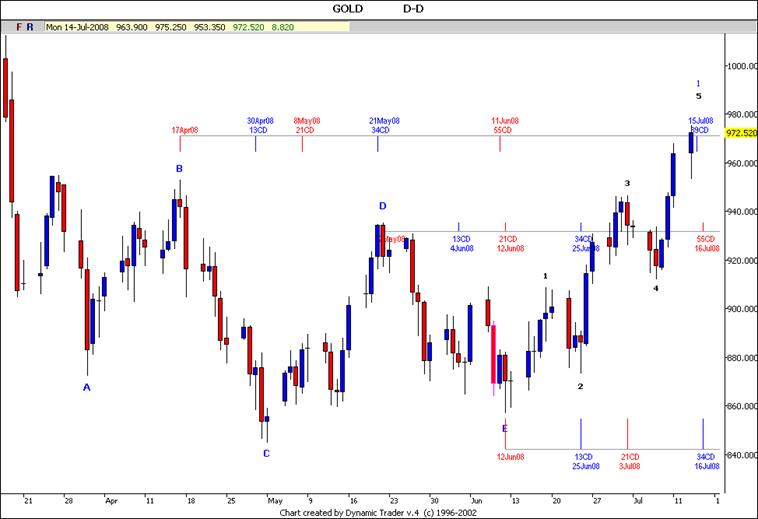 16th July is a Fibonacci 55 Calendar Days from the 22 nd May high as well as a Fibonacci 34 Calendar Days from the Wave E low on 12 th June.
Looking further out, tomorrow is also a Fibonacci 233 Calendar Days from the Wave 4 "B" wave high on 26 th November 2007 as well as 730 Calendar Days from the Wave 4 "B" wave high of 17 th July 2006 . Could this mean that we are topping in the Wave 4 "B" wave now? Unlikely, but possible.
(2)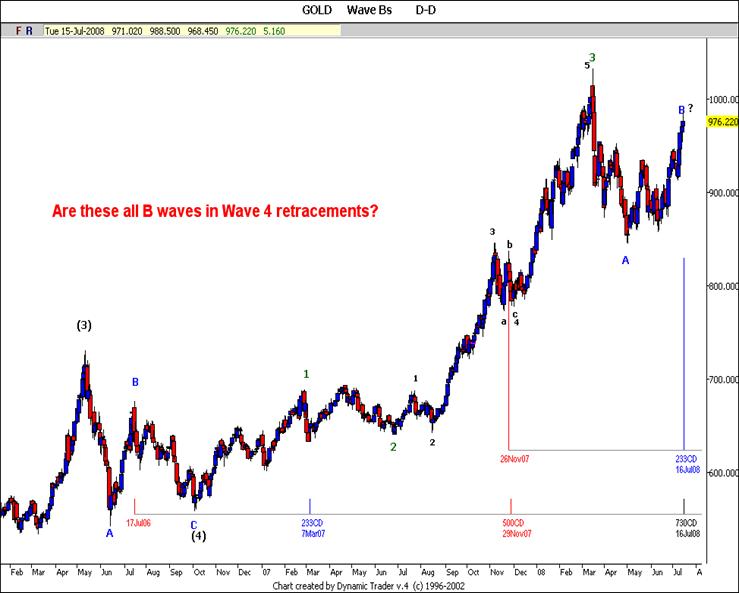 It is interesting to note that both of these counts originate from "B" wave highs of Wave 4s.
So, so far we have a TIME hit for today and four TIME hits for tomorrow all using calendar days. I also have examined the TIME
counts in Trading Days and come up with another very interesting cluster which also performs the Golden Triangle. This Friday, 18 th July, is 55 Trading Days up from the 2 nd May low and that 2 nd May low was 34 Trading Days from the March 17 th high giving us a total of a Fibonacci 89 Trading Days from the March 17 th high.
(3)
So, did we top today at $988.50, or will we top Friday? Today's high fits the bill as today wave 5 exceeded the length of wave 3 but if we are to climb to a higher high on Friday then I would be targeting $1,002.50.
It is also worth bearing in mind that we either have today or will on Friday bring in both the DELTA MTD 4 and the LTD 4 on the Metals rotation.
(4)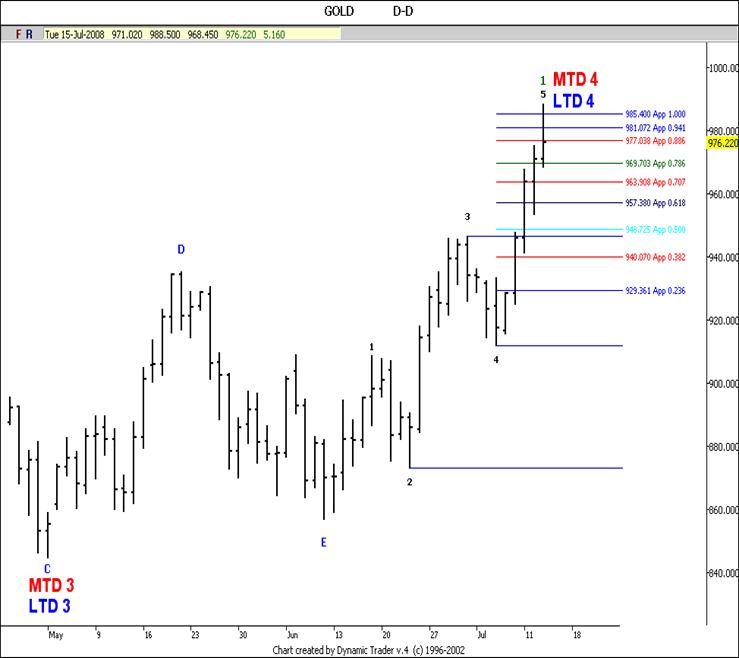 This means that we should have a wave 2 correction of between 50% and 78.6% which means that we are targeting a minimum retracement to $922.75 assuming that we have topped today.
(5)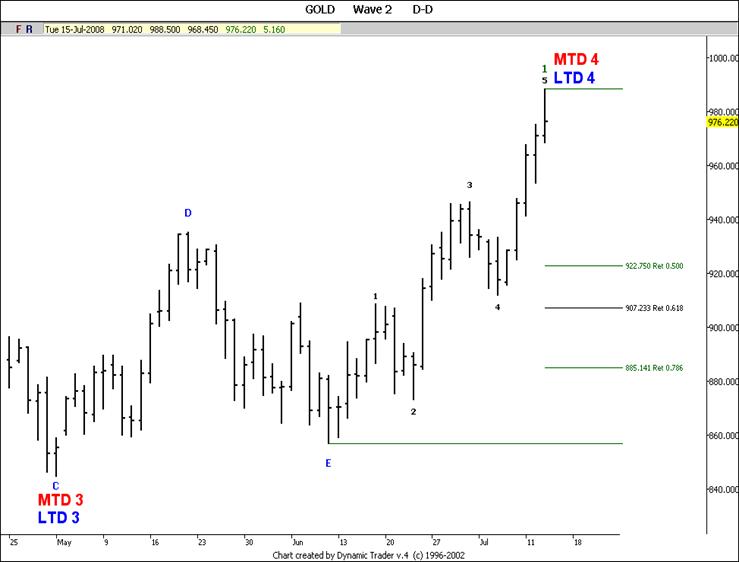 If we go higher over the next few days and exceed today's high I shall recalculate the retracement targets. To those of you stargazers, it is worth noting that Friday is also the Full Moon which often coincides with big shifts in the markets. I shall be trading this for the Trading Portfolio sometime between now and Friday and will post on the Bulletin Board when the trade is executed. As usual, I will keep you posted via the Bulletin Board of any developments and targets as they emerge.
If you are an investor or an active trader who would like to know the price and time for turning points on gold, silver, the HUI, crude oil and stock indexes: Subscriptions are available at: www.wilder-concepts.com/rosenletter.aspx
Stay well,
Ron Rosen and Alistair Gilbert
M I G H T Y I N S P I R I T
Ronald L. Rosen served in the U.S.Navy, with two combat tours Korean War. He later graduated from New York University and became a Registered Representative, stock and commodity broker with Carl M. Loeb, Rhodes & Co. and then Carter, Berlind and Weill. He retired to become private investor and is a director of the Delta Society International
Disclaimer: The contents of this letter represent the opinions of Ronald L. Rosen and Alistair Gilbert Nothing contained herein is intended as investment advice or recommendations for specific investment decisions, and you should not rely on it as such. Ronald L. Rosen and Alistair Gilbert are not registered investment advisors. Information and analysis above are derived from sources and using methods believed to be reliable, but Ronald L. Rosen and Alistair Gilbert cannot accept responsibility for any trading losses you may incur as a result of your reliance on this analysis and will not be held liable for the consequence of reliance upon any opinion or statement contained herein or any omission. Individuals should consult with their broker and personal financial advisors before engaging in any trading activities. Do your own due diligence regarding personal investment decisions.
© 2005-2019 http://www.MarketOracle.co.uk - The Market Oracle is a FREE Daily Financial Markets Analysis & Forecasting online publication.
Comments
James Maynard
05 Sep 08, 09:23
Selling Gold Jewelry
It's a great time to consider selling your unwanted gold jewelry. The other day the London gold price was over $900 US per ounce. Pawn shops pay reltively low prices for gold jewelry, only because they treat it as a loan where they are doing you a favor temporarily lending you cash and holding your gold as collateral. Ebay or consignment will probably yeild the highest return, but they will definately take the longest. A few companies have emerged who are online gold buyers . Some companies require that you request that a package be sent to you which you'll use to ship the gold back to them. If time is of the essence you may have a hard time waiting for that package to arrive and then be sent back. Most companies recieve your gold, evaluate it and pay you, not giving you the option to accept the settlement or not. GoldFellow(tm) (Welcome to GoldFellow.com) is a unique online gold buyer. They make it easy for you to print a pre-paid and insured shipping label; no waiting for you shipping pack to arrive. GoldFellow(tm) also publishes their pay-out prices on their website for all weights of gold. Others only tell you their highest teir payments. When GoldFellow(tm) receives your package they weigh and price each piece individually, while recording the weight via video camera. You can then log-in to GoldView(tm) and decide wich pieces you want to sell at the prices offered and GoldFellow(tm) will send your jewelry back to you, no questions asked, should you change your mind. GoldFellow(tm) is exceptionally transparent in compairson to their competitors. They have come into the market with a very reputable background. Michael Gusky, the founder of GoldFellow(tm) built the largest gold jewelry manufacturing and distibution company in the United States. Manufacturing and distributing over 300 tons of gold jewelry to the biggest department stores around; Michael Gusky's company caught the attention of world famous investor Warren Buffet, who later bought Mr. Gusky's company as an addition to Berkshire-Hathaway in 2007. If you would like to be paid top dollar for you gold, platinum and silver jewelry GoldFellow(tm) is a reputable partner that's here to serve you with integrity. Welcome to GoldFellow.com


Only logged in users are allowed to post comments.
Register/ Log in