Why is Gold Price up Nearly $60 this Morning?
Commodities
/
Gold and Silver 2016
Feb 12, 2016 - 10:48 AM GMT
It has something to do with Yellen's not dovish enough Congressional testimony. It has something to do with global financial system problems associated with low interest rates. It also has something to do with emerging countries at the doorstep of penury. And last but not least, it has something to do with disinflationary pressures that threaten the financial system and world economy as a whole. However, these things, albeit good reasons to own gold, would normally play out in the price over an extended period of time.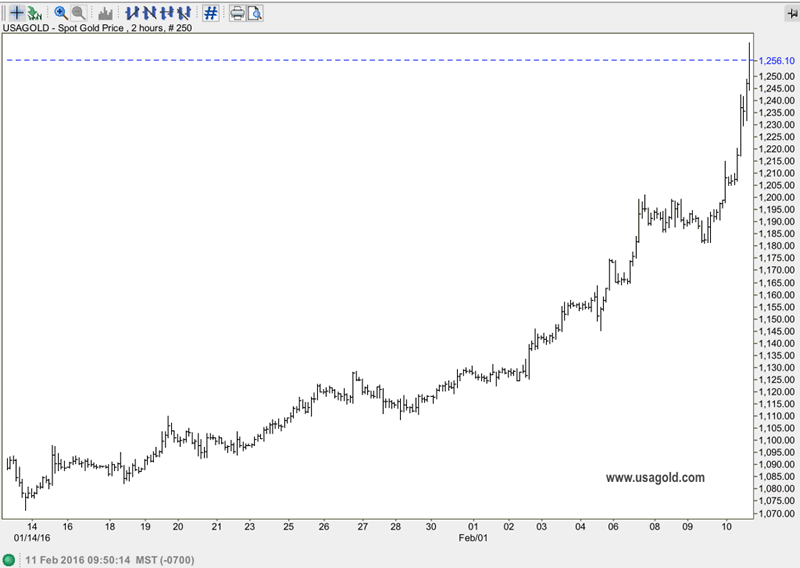 Let's dig a little deeper – beneath the popular generalities being bandied about the past several days – to discover the reasons why gold would move so forcefully over such a short period of time.
I find three:
In this quirky zirpy, nirpy world, gold offers a return, like cash, even if the price stays put. Gold looks the most rational choice in this lop-sided, anti-savings investment environment. As it is, gold, at this writing, is up 17.5% on the year – a bonanza in this economy and a magnet for smart money around the world.
Knowing that gold would likely become a safe-haven getaway for weary, burnt out investment capital, the shorts decided that covering their positions might be in their best interest. As this is written, the proverbial mad dash for the exit has already begun.
Capital flight. At the beginning of 2016, financial authorities in Europe signaled that investors could be called upon in the form of bail-ins to take losses in the event of bank failures, not just as stockholders, but as bondholders and depositors as well. Policy-makers, then, should not be surprised if such renderings cause a little angst panic among investors, and a general flight in the direction of gold.
I won't paint the bigger picture on the immediate effects of these developments at this time with respect to gold, in the interest of getting some analysis out there for our clientele to consider. There are probably other factors driving gold at the moment, but I see the combination of those three as the chief determinant. They offer some explanation as to why gold has moved so quickly and with such determination since the beginning of the year.
Do I think gold is too high now? No. Owning gold has become a matter of practicality. We will get the standard pull-backs and we should consider those healthy events, but given the circumstances I do not expect the demand to abate. Gold began the year considerably oversold and, in my view, it still has some catching up to do. Let me put it this way: Given the current situation with the major currencies, do you think present prices will dissuade China (for example) from further adding to its reserves or put a damper on the various repatriation efforts underway?
By Michael J. Kosares
Michael J. Kosares , founder and president
USAGOLD - Centennial Precious Metals, Denver
Michael J. Kosares is the founder of USAGOLD and the author of "The ABCs of Gold Investing - How To Protect and Build Your Wealth With Gold." He has over forty years experience in the physical gold business. He is also the editor of Review & Outlook, the firm's newsletter which is offered free of charge and specializes in issues and opinion of importance to owners of gold coins and bullion. If you would like to register for an e-mail alert when the next issue is published, please visit this link.
Disclaimer: Opinions expressed in commentary e do not constitute an offer to buy or sell, or the solicitation of an offer to buy or sell any precious metals product, nor should they be viewed in any way as investment advice or advice to buy, sell or hold. Centennial Precious Metals, Inc. recommends the purchase of physical precious metals for asset preservation purposes, not speculation. Utilization of these opinions for speculative purposes is neither suggested nor advised. Commentary is strictly for educational purposes, and as such USAGOLD - Centennial Precious Metals does not warrant or guarantee the accuracy, timeliness or completeness of the information found here.
© 2005-2019 http://www.MarketOracle.co.uk - The Market Oracle is a FREE Daily Financial Markets Analysis & Forecasting online publication.

Only logged in users are allowed to post comments.
Register/ Log in