Gold vs. the World Chart
Commodities
/
Gold & Silver
Jul 04, 2008 - 12:27 PM GMT

Olivia & Tatiana Van Vredenburch write: "...Take a look at this Global Gold Index, showing the price of gold against the world's top 10 largest currencies..."
BACK IN 1969 the International Monetary Fund (IMF) created a new kind of money – the ultimate form of international money, it believed – called the Special Drawing Right.
You can't shop with an SDR, nor trade it or even touch it. Unless you crunch numbers for an international organization like the IMF, Andes Reserve Fund, the Arab Monetary Fund, or the Bank for International Settlements (BIS) in Basel, t he only time you're likely to come anywhere near an SDR is i f an airline loses your luggage.
The Montreal Convention states that if your bags have not reached you within 21 days of expected arrival, you can claim 1,000 Special Drawing Rights as compensation from the airline.
At today's valuation, that would mean you receive around $1,500...or £770...or €955...or ¥159,000. Because you can't be paid in SDRs. In reality they don't exist. Only a government-issued paper money can bring the SDR's value into existence.
"Monetary Gold and SDRs issued by the IMF are financial assets for which there are no corresponding financial liabilities," explains the Monetary Fund. But while Gold holds value for people earning all kinds of currency across the world, the SDR is simply an intangible monetary unit. It exists as an accounting tool only, used by the world's central banks and cross-border monetary organizations.
The value of each Special Drawing Right is calculated as a blend of the Euro, Yen and British Pound's value against the other member of the four-currency basket – the Dollar. Each SDR equalled precisely $1 when the new units were created in 1969. In terms of the world's previous international currency – Gold Bullion – it equalled 0.89 grams.
Given how the US Dollar has fared against the other major world currencies over the last five years, it's worth asking how it has performed against the SDR.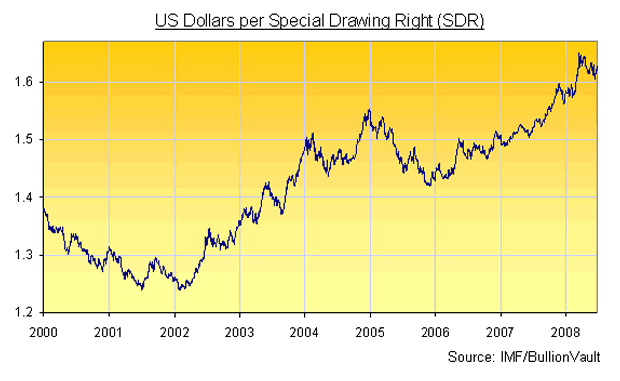 As this chart shows, while the Dollar lost almost half of its value against the Euro since 2002, it has lost "only" one-third against the unreal, intangible SDR.
Most of the difference comes thanks to the Japanese Yen also losing favor against the Pound and the Euro – the other two members of the SDR basket. But they in turn keep losing value against the goods and services people actually use them to buy.
So wouldn't a different yardstick prove more useful for the IMF and other international bodies? The IMF itself has called the SDR "paper gold". And if we looked instead to that truly international unit of money – a unit which does in fact exist – what might gold say about the world's currencies today?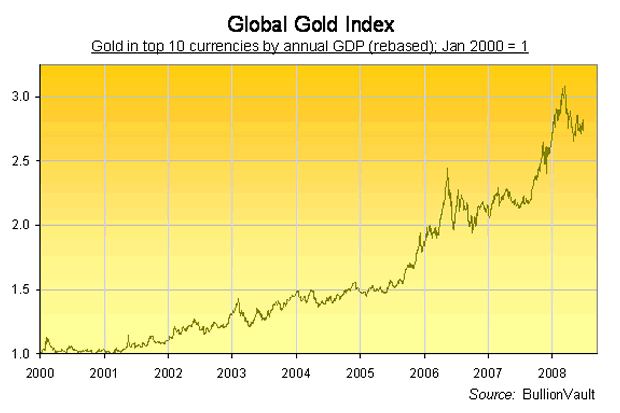 This chart shows the price of gold in terms of the world's 10 largest currencies over the last eight years.
Weighted by size of economy (GDP) and rebased each year as different economies change positions inside the top ten, this Global Gold Index now shows the value of Gold for well over half of the world's population. And its composition has changed dramatically over the last eight years.
In the year 2000, the US economy accounted for 40% of world GDP. By 2007 that had fallen to barely 30%. The tiger economies of India and China , on the other hand, have moved higher up the list as their aggregate demand has increased.
China has increased its GDP more than five times over between 2000 and 2008. Its share of this Global Gold Index has gone from 5% to almost 16%, while Canada has gone from sixth place to 10th and the United Kingdom has slipped from fourth to 6th.
"Monetary gold and SDRs issued by the IMF are financial assets for which there are no corresponding financial liabilities," as the Monetary Fund says. But while the SDR is an intangible monetary unit that only holds value when turned into Dollars, Euros, Yen or Pounds Sterling, Gold remains a tangible and highly liquid asset across the world – qualities that the SDR so obviously lacks.
The only time most people will, if ever, come into contact with SDRs is if an airline loses their luggage. But how many people across the world continue to demand gold as a "financial asset for which there is no corresponding liability"...?
By Olivia & Tatiana Van Vredenburch
Gold price chart, no delay | Free Report: 5 Myths of the Gold Market
City correspondent for The Daily Reckoning in London and a regular contributor to MoneyWeek magazine, Adrian Ash is the editor of Gold News and head of research at www.BullionVault.com , giving you direct access to investment gold, vaulted in Zurich , on $3 spreads and 0.8% dealing fees.
(c) BullionVault 2008
Please Note: This article is to inform your thinking, not lead it. Only you can decide the best place for your money, and any decision you make will put your money at risk. Information or data included here may have already been overtaken by events – and must be verified elsewhere – should you choose to act on it.
© 2005-2019 http://www.MarketOracle.co.uk - The Market Oracle is a FREE Daily Financial Markets Analysis & Forecasting online publication.

Only logged in users are allowed to post comments.
Register/ Log in