Plunging EUR & JPY Could Trigger Regional Currency Wars
Currencies
/
Currency War
Nov 14, 2014 - 02:39 PM GMT


The good news about a soaring USD is that it eases global trade tensions as it is the world's main currency. But systematic devaluations of EUR and JPY are another matter and will force neighbouring countries to respond by pushing down the value of their currencies.
Japan and the Eurozone have become like black holes in the global economy desperate to suck in growth from where ever they can find it. Both struggle to grow domestically, suffer deflationary pressures and also want to tap into the greater economic vitality of their neighbours via exports.
As a result of neighbouring European and Asian countries trying to defend their export markets from EUR and JPY devaluations, USD could be pushed up even further – almost making it the only major currency with any appreciation potential.
South Korea has promised to respond to Japan's devaluation efforts and there's growing speculation that Taiwan and Singapore will also seek to weaken their currencies. In the Eurozone, the UK, Switzerland and Sweden are all placed in the firing line of the EUR's devaluation with European Central Bank governor, Mario Draghi, not missing any opportunity to talk the currency down.
The Bank of England is likely to increasingly talk GBP down in the light of a falling EUR and a weakening Eurozone economy, despite the UK's good economic performance. The Swiss central bank will vigorously defend the EUR/CHF peg if necessary and the Swedish central bank has even talked about unconventional monetary policy, though admittedly more in light of potential deflation. Nonetheless, it too is concerned about events in the Eurozone.
JPY hammered by USD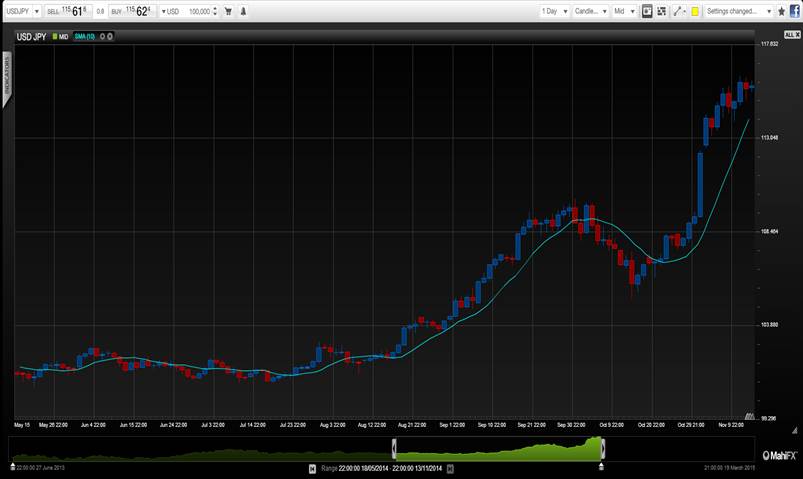 Testing US patience
The big question of course is will US policy makers simply stand back while all these central banks slug it out in the forex markets? The US is far less dependent on international trade than many other countries and is experiencing robust domestic growth.
It appears the US 'understands' that the Eurozone and Japan are trying to stave off deflation and rekindle their economies (partly through devaluations), which is in US interests. Also, the ECB and BoJ are merely cribbing from the famous 2002 speech made by Ben Bernanke, who later headed up the US Federal Reserve, called Deflation: Making sure "it" doesn't happen here.
This paragraph is particularly pertinent to the BoJ: "If we do fall into deflation, however, we can take comfort that the logic of the printing press example must assert itself, and sufficient injections of money will ultimately always reverse a deflation."
Nonetheless, the US is only likely to tolerate deliberate currency devaluations by other countries for so long, even if it is framed as a fight against deflation. A soaring USD will erode US competitiveness and could see the US current account deficit balloon, despite the country's newly created energy bonanza. Also, central bankers tend not to like sharp currency moves.
A galloping USD is likely to eventually draw some strong vocal response from US policy makers, such as promising to keep interest rates low indefinitely in the context of currency appreciation and deflation risks, rather than just supporting jobs, for example.
So although the fundamentals continue to support a strengthening USD expect to see some sharp pull-backs (there are also a huge number of EUR shorts), most likely triggered by rhetoric from the Fed and possibly US government officials.
By Justin Pugsley, Markets Analyst MahiFX
Follow MahiFX on twitter
For media enquiries contact: Michele McDermott-Fox, The Top Floor Agency.
T: +44(0)1625 502 545 |M: +44 (0)7729 501 369 | E: michele@thetopflooragency.com
About MahiFX
MahiFX is headed by David Cooney, former global co-head of currency options and e-FX trading at Barclays Capital and responsible for the award winning e-commerce platform BARX and Susan Cooney, former head of e-FX Institutional Sales in Europe for Barclays Capital. Operating as a market maker, MahiFX provides traders direct access to institutional level execution speeds and spreads through its proprietary-built fully automated pricing and risk management technology, lowering the cost of retail forex trading.
MahiFX global operations are headquartered in Christchurch, New Zealand with offices in London, UK with development and support teams in both locations for 24 hour service. The company is regulated by The Australian Securities and Investments Commission (ASIC), Australia's corporate, markets and financial services regulator.
© 2014 Copyright MahiFX - All Rights Reserved

Disclaimer: This material is considered a public relations communication for general information purposes and does not contain, and should not be construed as containing, investment advice or an investment recommendation, or an offer of or solicitation for any transactions in financial instruments. MahiFX makes no representation and assumes no liability as to the accuracy or completeness of the information provided.
The use of MahiFX's services must be based on your own research and advice, and no reliance should be placed on any information provided or comment made by any director, officer or employee of MahiFX. Any opinions expressed may be personal to the author, and may not reflect the opinions of MahiFX, and are subject to change without notice
© 2005-2019 http://www.MarketOracle.co.uk - The Market Oracle is a FREE Daily Financial Markets Analysis & Forecasting online publication.

Only logged in users are allowed to post comments.
Register/ Log in