Ebola Has Nothing To Do With The Stock Market
Stock-Markets
/
Stock Markets 2014
Oct 25, 2014 - 03:39 PM GMT

The stock market recently experienced a big fall and a lot of this was attributed to the Ebola virus entering the United States for the first time. This is nonsense. Absolute nonsense! Ebola has nothing to do with the market. It is moves in the market that require a reason. Whatever reason we attribute to a market move is just something to make us feel all warm and fuzzy inside. This time it was Ebola's turn.
Perhaps this sounds absurd so let's look at the facts.
DOW Daily Chart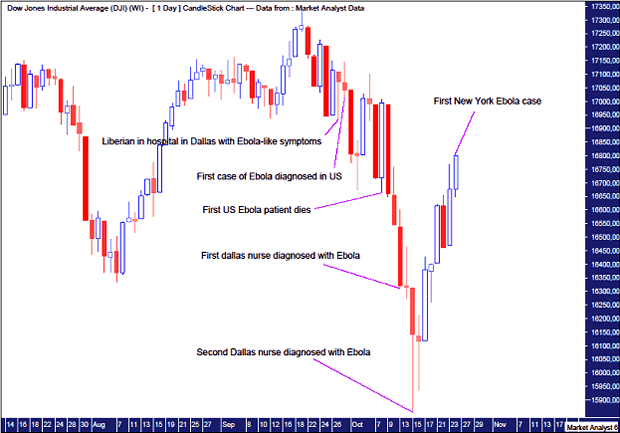 We can see price made an all time high in mid September before starting to trend down. Then the first case of Ebola was diagnosed in the US which was one of the reasons attributed to a big move down in price the following day. By the time the death of first Ebola patient was announced price was pretty much back to where it started before all the Ebola brouhaha.
Now that the Ebola patient is dead perhaps the coast is clear, so to speak. The market starts to drop hard anyway. Then the first Dallas nurse is diagnosed with Ebola. How did that happen??!!! The market continues to drop. Then the second Dallas nurse is diagnosed with Ebola on the 15th October and the market ploughs lower before putting in a low and staging a big reversal higher.
Well, that was a wild ride on the stock market but the month of October is notorious for that. So was Ebola the reason for the big drop or did Ebola just happen to occur at a time when the stock market was in need of a correction?
I think we can answer that question after the trading on Friday 24th October. Why?
After the market had closed on Thursday 23rd October, it was announced that New York had diagnosed its first Ebola case. Before admitting himself to hospital, this patient had ridden the subway, played some bowls and had close contact with four other people that had to be quarantined.
So a city with a population of over 8 million, many of whom ride the subway and enjoy a game of bowls no less, has the incredibly deadly Ebola virus potentially lurking in nooks and crannies around town. And this town is the heart of the financial world.
And how does the stock market react to this massive news?
The Dow charges up over 125 points. Yeehaaa! Take that Ebola!!!
This is proof that Ebola really has nothing to do with the stock market.
The stock market runs in cycles. The recent Ebola news events just happened to occur during a down cycle in prices. Bad news like this only helps to exacerbate the downward pressure on prices.
There is now an up cycle in prices which is evident on the chart. The news of the New York Ebola case was brushed aside by the market. If this news event had occurred a week or so ago then it would have been attributed to the stock market slide.
Now quite frankly I have a hard time believing any advice being given on Ebola by a politician or a politicised medical officer. "Don't worry" they say. When someone says that, and especially if that person is a politician, I worry!
President Obama said you can't get Ebola on the bus after a woman was seen vomiting on one. The bus was quarantined nonetheless! The head of the CDC, Dr. Frieden, even said in effect you can't contract Ebola riding on the bus but if you do have Ebola then you could probably give it to someone riding on the bus. Huh? Come again.
Let's bring things back to the stock market. I showed the following chart in a recent article and it involves what I call the No Mercy cycle which is based on the 7 year cycle. Just as the short term cycles on the daily chart show a recent down cycle followed by an up cycle which is currently in play, the longer term cycles also have up and down cycles. It is a down cycle that is expected to hit next year in 2015.
Let's examine the yearly chart and the No Mercy cycle.
DOW Yearly Chart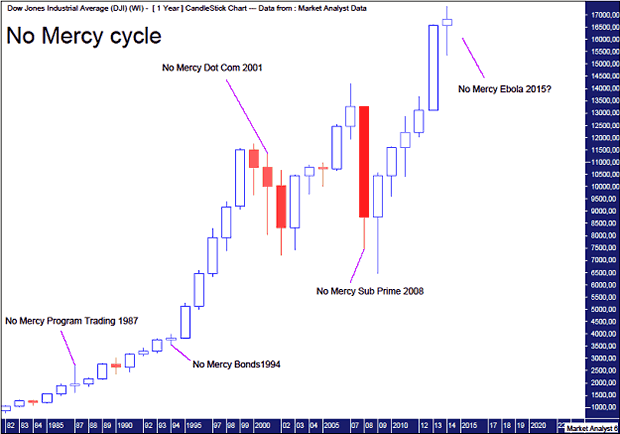 We can see the No Mercy cycle years in the past included the years 2008, 2001, 1994 and 1987. Many humans feel the need to put labels on things and find reasons for things happening. This helps us to rationalise whatever it is we need to explain. Because we think we are super beings possessed with incredible intelligence we surely must have a reason to explain everything.
And so let's run through the No Mercy cycle years and see what reasons were attributed to their poor performances.
2008 - sub prime. Didn't we already know about the sub prime real estate problems as early as 2006? The real estate market topped out in early 2007 after a massive run up. This was old news by the time 2008 was in full swing.
2001 - this was coming after the dot-com bubble peaked in 2000. Ahh, and what do speculative technology stocks have to do with the Dow anyway?
1994 - the reason this year was lacklustre in the middle of a big bull market was attributed to bond prices crashing and yields spiking. Rightio.
1987 - the experts are still debating the reasons for the crash that occurred in this No Mercy cycle year. Popular consensus seems to be program trading or computer trading employed by the big institutions. As an aside, the media regurgitated this excuse for the May 2010 flash crash. Another reason given was the use of derivatives. Hang on. Didn't they rehash that excuse too for the most recent crash in 2008? Oh, that's right. They called them swaps this time.
And so another No Mercy cycle year is set to hit in 2015. I suspect one of the reasons given for the stock market being shown no mercy next year will be an Ebola pandemic. I certainly hope I'm wrong...about the reason that is.
But remember Ebola has nothing to do with the stock market.
By Austin Galt
Austin Galt is The Voodoo Analyst. I have studied charts for over 20 years and am currently a private trader. Several years ago I worked as a licensed advisor with a well known Australian stock broker. While there was an abundance of fundamental analysts, there seemed to be a dearth of technical analysts. My aim here is to provide my view of technical analysis that is both intriguing and misunderstood by many. I like to refer to it as the black magic of stock market analysis.
© 2014 Copyright The Voodoo Analyst - All Rights Reserved
Disclaimer: The above is a matter of opinion provided for general information purposes only and is not intended as investment advice. Information and analysis above are derived from sources and utilising methods believed to be reliable, but we cannot accept responsibility for any losses you may incur as a result of this analysis. Individuals should consult with their personal financial advisors.
© 2005-2019 http://www.MarketOracle.co.uk - The Market Oracle is a FREE Daily Financial Markets Analysis & Forecasting online publication.

Only logged in users are allowed to post comments.
Register/ Log in