The Trend Every Nation on Earth Is Pouring Money Into
Companies
/
Sector Analysis
Oct 25, 2014 - 12:15 PM GMT

Keith Fitz-Gerald writes: When we began our time together here at Total Wealth, I promised you a deep look at each of the primary trillion-dollar trends. I told you that every dime made in the markets for the next 10 years would be on this list of trends.
We jumped right in with Technology and our Human Augmentation target – the most inspirational tech company I've ever visited.
Today, I want to keep that promise and focus in on our second unstoppable global trend.
Sadly, given the state of the world these days, it could easily be the most unstoppable and profitable of all the trends we're following.
I say "sadly" because I'm talking about War, Terrorism, & Ugliness.
Warfare… terrorism… disease… They're all growth industries. It's a natural effect of having more and more billions of people on this planet, greater interconnectedness, and greater access to travel, technology, weapons, and bad ideas.
Just look at the tragic shootings in Ottawa, Canada, earlier this week. The rapid spread of Ebola across continents. More abductions in Nigeria. ISIS terrorism in the Middle East. It's a scary world out there. It's my sincere hope that everybody who's reading this is safe – and your families and friends are too.
Yet we're not powerless.
Many of the best investment opportunities – including the one I'm sharing with you today – are geared towards STOPPING these things and mitigating the pain, suffering, and loss of life. In fact, this $7/share, off-the-radar company is working to keep soldiers and civilians out of harm's way as part of the most promising technological advancement in warfare I've seen in my lifetime.
Whatever your feelings about war, there's great satisfaction in making an investment that promotes the safety of the brave men and women who serve this country selflessly. I bet you'd agree.
Here's everything you need to know about the War, Terrorism, & Ugliness trend…

Invest in This Trend for Peace and Prosperity
Given today's subject matter, we've got to set some boundaries before we dive in.
War, Terrorism, & Ugliness are hardly happy-go-lucky subjects, so I don't want to convey the impression that I'm taking the misfortune that comes with them lightly.
In fact, many of my choices in this sector are ultimately aimed at peace, health, and prosperity. In that sense, they are truly game changers. They can help us figure out how to keep the very things driving this unstoppable trend – War, Terrorism, & Ugliness – from happening more often.
This is a mind-bender. It took me years to get to the point where I could make the connection between war and peace.
Most investors – I'd even go so far as to say 99% of all investors – can't make the jump. They get bound up by personal biases or emotion , so they miss enormous profit potential right in front of them. The biggest oversight is one we're going to discuss today.
Warfare.
It's just one element of the unstoppable War, Terrorism, & Ugliness trend. It's not a popular topic for reasons that are self-evident, but boy, can it be profitable.
Part of that is the sheer size and momentum of this trend…

Every Nation on Earth Is Pouring Money into Defense Spending
Military spending is a nearly $2 trillion industry worldwide each year.
To put that into context, that's nearly $250 for every person alive on the planet today, or roughly 2.5% of global GDP.
According to the Stockholm International Peace Research Institute's 2013 Yearbook on military expenditures, just 15 countries account for 81% of the total military spending worldwide. So there's a tremendous concentration of resources – something I talk about a lot because it's key when it comes to identifying opportunity. Forget diversification. This is where the real money is made, for reasons I'll share with you in a minute.
The U.S. leads the pack, with 39% of global expenditures, followed by China at 9.5%. So, right away you can tell this is a numbers game. The question is which numbers. I'll explain that in a minute as well.
And, finally, the world's top five arms suppliers are also the five permanent members of the United Nations Security Council – the U.S., the U.K., France, China, and Russia. So there truly is an "old boys" club, even if some of those members dislike or distrust the others.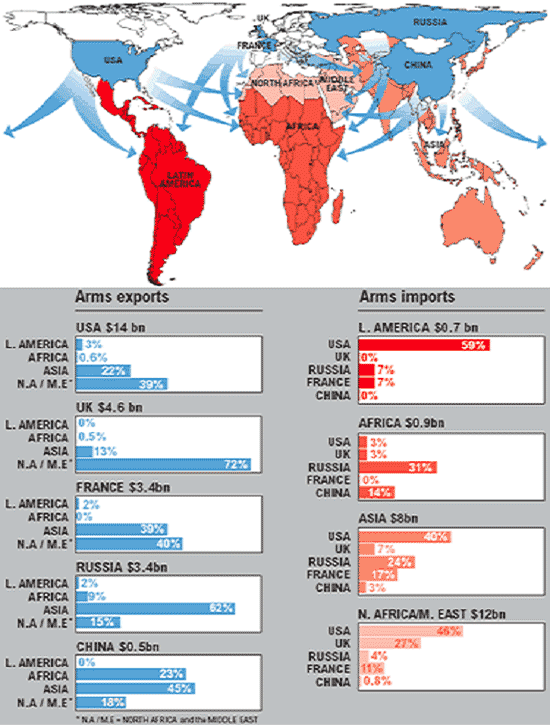 Nothing can slow war down. Not central bankers, not Ebola, not another financial crisis… not even peace.
Now here's where it gets interesting…
When you peel away the personal moral objections that stop people from really thinking about this trend with the cold logic that big profit potential requires, you are left with four things:
First, war is a function of military expenditures, which are, in turn, a function of natural resources. This means that Scarcity and Allocation (another trend) become key drivers in your quest to find lucrative investments.
Second, war itself is a function of foreign policy objectives and the very unpalatable combination of real and perceived threats. Military prowess delivers supremacy, but peace delivers prosperity. They're symbiotic, and have been since the dawn of humanity.
And third, rapid technological development means the nature of war changes in a way that's commensurate with the rate of economic growth. This means that traditional military threats are no longer conventional military threats.

But here's what everybody is missing…

… the nature of warfare changes as the risk of conflict rises and the need to preserve life increases.
That's why there are trillions of dollars flowing to corporations engaged in defense technology, development, and services.
In that sense War, Terrorism, & Ugliness are about a never-ending race to maintain "technologically advanced industrial capacity," as noted by Stephen Stables in remarks delivered at The Hague on May 12, 1999.
It's technology that gets turned into trillions of dollars of sales and earnings that, in turn, translate to higher stock prices over time.
Here's the most promising technological advancement in warfare I've seen in my lifetime.
The New Age of "Standoff Warfare"
I spend a lot of time around our military, and one of the things I've learned is that our war-fighting doctrine has become one of precision and highly targeted engagement.
The future of this is Standoff Warfare.
What this means in plain English is that our military is transitioning to hyper-accurate weapons that can target enemies from miles away, keeping our service members out of harm's way until they absolutely have to personally engage. That way, they can limit resources and exposure while still achieving maximum effectiveness on target.
This differs dramatically from the large "boots-on-the-ground" programs that traditional defense contractors still favor, and which are facing congressional headwinds as warfare becomes more sophisticated and money ever tighter.
Don't get me wrong, I still believe well-trained, well-equipped troops represent a vital part of U.S. defense – but our military is increasingly shifting its focus to unmanned, drone-style standoff warfare wherever and whenever possible.
It's all very high tech (so an investment here taps into the Technology trend at the same time), and almost entirely focused on current security demands, the vast majority of which are "standoff," or remote in nature.
The benefits are obvious.
Traditionally, our military would call in some helicopters, load them with troops, fly them into a dangerous area, and deploy the troops to conduct missions at hand, only to pick them up later.
But now, with the advent of high-tech surveillance, reconnaissance, and combat drones, our military can actually execute missions from thousands of miles away. Operators remain in secure locations, risking only the hardware being deployed. Many of the drones flying Afghanistan are piloted from Creech Air Force Base in Nevada, for example.
With the rise in Standoff Warfare, it's clear that a company with devices to perfect the new form of combat will do extremely well in this new era as will companies providing the secure communications and critical infrastructure security needed to pull it off.
And that brings me to my favorite way to play this development.
It's actually got a lot in common with our Ekso Bionics Holdings Inc. (OTC:EKSO) recommendation that targeted the Human Augmentation trend. But here we're talking about a $1.7 trillion trend that is already 10 times larger and which may have 100 times the profit potential – perhaps more.

My $7/Share Recommendation
Based in San Diego, Calif., Kratos Defense & Security Solutions Inc. (NasdaqGS:KTOS) operates in two related segments:
the production of mission critical command, control, and communications gear for the U.S. government and its allies, and
the provision of public safety and security services for the national security priorities of the United States and her allies.
Think of them as "professional services" for the war-fighting community. KTOS and its roughly 3,900 employees provide engineering, manufacturing, and systems work for everything "standoff," from satellite communication to missile systems, electronic warfare, and infrastructure.
What really sets Kratos apart is how they procure business.
Realizing that the mega contracts of the past are, in fact, liabilities, the company has focused almost exclusively on much smaller $1.4 million to $15 million deals in a wide variety of areas including drone and targeting systems, flight instrumentation, full fidelity simulators, and avionics and satellite communications and control. It's a "sole-source" provider in many cases.
If that sounds specialized, you are right – it is. Kratos concentrates on dominating markets where there are very few qualified providers. The company's EPOCH Command and Control System, for example, is used by more than 75% of commercial satellite operators, the Department of Defense, and other agencies.
I like that. It means management has a clear vision of what they do and where they want to take the company. I'm also particularly keen on the fact that management goes to great lengths to diversify its business mix and wants to compete only where they have a distinct advantage.
To be fair, most of the traditional defense contracting firms such as General Dynamics, Lockheed Martin, and Honeywell have high-tech "standoff" offerings as well. However, most of them are still huge old-school programs increasingly facing the chopping block. All it takes is a rumor that one of those legacy programs may be on the verge of being defunded, and traders will punish the stock.
On the other hand, KTOS's products and programs have two things going for them:
First, they're almost all high-tech or in support of high-tech mission profiles, which means they represent a critical need rather than a pork program that politicians want to keep alive so they can get re-elected.
Second, the contracts are small (by defense contract standards), typically ranging from $1 million to $15 million each. That makes them very easy to approve in a budget, especially when compared to the multi-billion budget items that come under intense scrutiny.
There's something else I like, too. Just like a trader who limits a given trade to 2% of overall capital (one of the tactics we'll talk about in the coming weeks), Kratos has deliberately diversified its contract base so that no single contract accounted for more than 6% of fiscal 2013 revenues. At the same time, they're not solely reliant on the DoD despite the fact that it is a defense contractor per se.
According to management, approximately 35% of revenues come from outside the DoD and from clients spread around the world. This strategy has delivered a powerful upside to Kratos, which benefits from the security of not having all its contracts placed in one basket. Since 2009, revenue has grown from $334.5 million to a projected $980 million by the end of 2014. That would represent a stunning 192.97% if the 2014 forecasts are accurate.
Not bad for a company that is trading for under $7/share at the moment.
Here's how I expect this to play out.

Prepare for More Triple-Digit Returns in the Defense Sector
This same kind of growth was also in store for Raytheon Co. (NYSE:RTN) when I recommended it in August 2011.
Most investors look at the company as a classic defense contractor, so they sold hard when budget cuts hit in 2011 and 2013. What a mistake!
I reasoned that companies like RTN that are engaged in standoff warfare would not suffer from budget cuts but would actually grow because they help soldiers carry the day with minimal loss of life.
At the same time, I believed that technological development would extend from conventional munitions to include communications, logistics, and intelligence, so there was plenty of potential at a time when the company's stock price did not reflect the upside.
Raytheon has not disappointed in either regard. The company's missile systems, for example, are used by the United States, Israel, and 28 other countries, and translate into more than $ 6.6 billion a year in revenue.
The company's new Excalibur howitzer system is a revolutionary precision projectile that's already held up in 750 rounds of precision testing to date. With a radial miss distance of less than two meters from its target, it's expected to be used by the U.S. Army and Marine Corps artillery. The company is also developing a laser-guided Excalibur S missile that will excel in hitting moving targets – yet another product that helped the company secure more than $500 million worth of contracts in the past month alone.
I'm recommending KTOS today in part because it has so much in common with the position RTN was in during the fall of 2011. Undervalued by the markets and doubted by many, KTOS is now poised to see explosive growth just as RTN did, by tapping the same trend, as recent history repeats itself.
Here's what to do:
Action to Take: Buy Kratos Defense & Security Solutions Inc. (NasdaqGS:KTOS) at market and set a 25% trailing stop to protect your capital and harvest gains along the way.
All of this brings me to the main point I want to leave you with today.
There are a lot of investors who are making the devastating mistake of not investing because the headlines are scary. What you really want to do is invest because of the transition that will inevitably happen when the headlines are benign.
It's important to remember that as a company grows, earnings mount. And as earnings mount, share prices, which are a reflection of those earnings, inevitably rise as well.
There is nothing more important than finding companies with strong earnings growth when it comes to building Total Wealth. Studies like the one I'm going to share with you in an upcoming column show that companies with the strongest earnings growth gained more than eight times that of their peers with the weakest growth.
Keep that in mind, follow our unstoppable trends, and your wealth-building potential will be unstoppable too.
Best regards for great investing,
Keith
Source : http://totalwealthresearch.com/2014/10/trend-every-nation-earth-pouring-money/
Money Morning/The Money Map Report
©2014 Monument Street Publishing. All Rights Reserved. Protected by copyright laws of the United States and international treaties. Any reproduction, copying, or redistribution (electronic or otherwise, including on the world wide web), of content from this website, in whole or in part, is strictly prohibited without the express written permission of Monument Street Publishing. 105 West Monument Street, Baltimore MD 21201, Email: customerservice@moneymorning.com
Disclaimer: Nothing published by Money Morning should be considered personalized investment advice. Although our employees may answer your general customer service questions, they are not licensed under securities laws to address your particular investment situation. No communication by our employees to you should be deemed as personalized investent advice. We expressly forbid our writers from having a financial interest in any security recommended to our readers. All of our employees and agents must wait 24 hours after on-line publication, or after the mailing of printed-only publication prior to following an initial recommendation. Any investments recommended by Money Morning should be made only after consulting with your investment advisor and only after reviewing the prospectus or financial statements of the company.
© 2005-2019 http://www.MarketOracle.co.uk - The Market Oracle is a FREE Daily Financial Markets Analysis & Forecasting online publication.

Only logged in users are allowed to post comments.
Register/ Log in