Gold Price - Ah, the Power of Mean Reversion
Commodities
/
Gold and Silver 2014
Jun 23, 2014 - 04:20 PM GMT
The chatter last week was gold. The precious metal flew up $45 an ounce on Thursday, surprising investors, the media and markets alike.

If we look back just six months ago, gold was sitting at record lows, signaling that it was in extremely oversold territory. This was the time that many investors let fear take over and dismissed the fundamental reasons for owning gold: as a portfolio diversifier and store of value.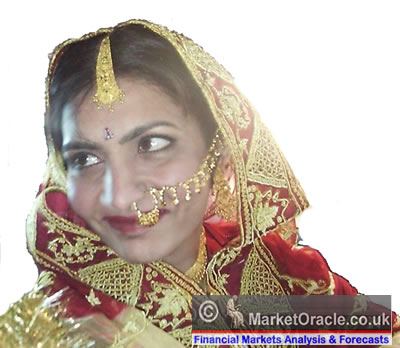 With the price spike, however, some of the perpetual gold naysayers suggested the metal had shifted to overbought status. Spot gold was up nearly 3 percent for the week, while gold stocks were up around 7 percent. So is gold overbought?
Some see gloom and doom. We see the bounce
we said was coming.
Based on our historical observations and the math of the markets, gold is not overbought, in our opinion, but is simply reverting to its mean. This mean reversion has shown that eventually, both gold stocks and gold bullion will move back to their historical averages.
Right now, as you can see from the chart below, gold stocks have seen a reversal to the long-term mean, but we are still waiting for gold bullion to do so as shown in the second chart.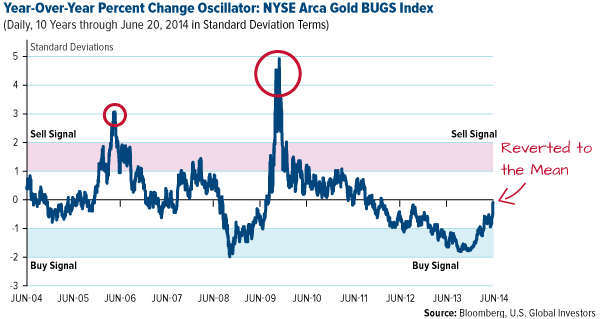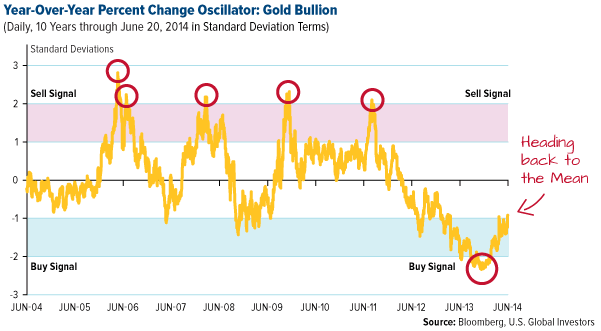 Similarly, for gold bullion to reach overbought territory it would need another 20 percent move, and for gold stocks to be overbought they would need another 30 percent move.

There is always an emotional bias against gold, whether it is soaring high or dipping low, and that is why it's important to manage these emotions when positioning a portfolio. At U.S. Global Investors we look objectively at the action of both gold stocks and gold bullion by monitoring these long-term data points and paying attention to buy and sell signals based on the trend of mean reversion.

Additionally, I remind investors that moderation is key when it comes to gold. Your exposure should be 5 percent to gold stocks, 5 percent to gold bullion, while rebalancing annually.

Another reason that gold is moving is it's beginning its seasonal cycle, driven by cultural gold buying. The demand of gold reflected over the next several months and characterized by the purchase of the metal for cultural celebrations and religious holidays, I refer to as the Love Trade.

If you look at the chart below, you will see that July marks the beginning of the Love Trade with the celebration of Ramadan.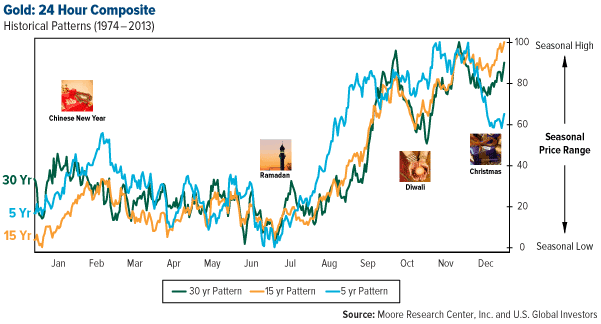 The Indian Festival of Lights comes after, followed by wedding season and, of course, Christmas.

This seasonal pattern is one of the most powerful drivers for gold demand. Monitoring this pattern, while remaining aware of other fundamentals to gold, such as mean reversion and a prudent 10-percent portfolio weighting (5 percent in gold stocks and 5 percent in gold bullion, while rebalancing annually), are imperative to understand when investing in gold. These trends allow us to manage short-term swings, small or large, that usually cause more concern than they are truly worth in the long term.

If you're curious to learn more about the trends in resources, I will be speaking July 22-25, at the Sprott Vancouver Natural Resource Symposium. You'll be able to take a front row seat to learn why experts in the field believe next year will be one of the most opportune times in history to invest in natural resources.
Want to receive more commentaries like this one? Sign up to receive email updates from Frank Holmes and the rest of the U.S. Global Investors team, follow us on Twitter or like us on Facebook.
By Frank Holmes

CEO and Chief Investment Officer

U.S. Global Investors
U.S. Global Investors, Inc. is an investment management firm specializing in gold, natural resources, emerging markets and global infrastructure opportunities around the world. The company, headquartered in San Antonio, Texas, manages 13 no-load mutual funds in the U.S. Global Investors fund family, as well as funds for international clients.
All opinions expressed and data provided are subject to change without notice. Some of these opinions may not be appropriate to every investor.Standard deviation is a measure of the dispersion of a set of data from its mean. The more spread apart the data, the higher the deviation. Standard deviation is also known as historical volatility. All opinions expressed and data provided are subject to change without notice. Some of these opinions may not be appropriate to every investor. The S&P 500 Stock Index is a widely recognized capitalization-weighted index of 500 common stock prices in U.S. companies. The NYSE Arca Gold BUGS (Basket of Unhedged Gold Stocks) Index (HUI) is a modified equal dollar weighted index of companies involved in gold mining. The HUI Index was designed to provide significant exposure to near term movements in gold prices by including companies that do not hedge their gold production beyond 1.5 years. The MSCI Emerging Markets Index is a free float-adjusted market capitalization index that is designed to measure equity market performance in the global emerging markets. The U.S. Trade Weighted Dollar Index provides a general indication of the international value of the U.S. dollar.
© 2005-2019 http://www.MarketOracle.co.uk - The Market Oracle is a FREE Daily Financial Markets Analysis & Forecasting online publication.

Only logged in users are allowed to post comments.
Register/ Log in