New Cold War - U.S. Meat Made in China?
Politics
/
New Cold War
Jun 14, 2013 - 01:33 PM GMT

Frank Marchant and Garrett Baldwin write: The New Cold War won't be fought with missiles and submarines; it will be fought with oil companies, natural resources...and pigs.
The controversial sale of American meatpacking icon Smithfield Foods (NYSE: SFD) to Chinese hopeful Shuanghui International has become a polarizing issue among investors and citizens alike.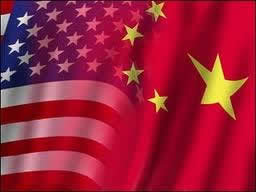 Today we debate the issue of whether it's a good or bad thing to sell this leading U.S. pork producer to a Chinese company.
Check out the fray and don't forget to pick the winner and tell us what you think.
Let's get ready to rumble...
Garrett Baldwin: The Chinese Purchase is Good... For Everyone.
Since its announcement, the multibillion-dollar purchase of Smithfield Foods by Shuanghui International has created a lot of backlash. But it seems that my friend in the blue sweater now has the wool traveling up the back of his neck and covering his eyes.
The Shuanghui purchase is full of positives for the American landscape in more than one way.
Yes, the most obvious beneficiaries are the stockholders and bond holders of the company. Shuanghui International will be paying $4.72 billion in cash and assuming $2.38 billion in debt.
But there are five other reasons to support this acquisition, despite the multitude of objections.
1. American Farmers Are Poised to Profit
The Shuanghui-Smithfield deal is a strong example of global fundamentals at work.
Pork demand from China is at a record high, and Shuanghui has effectively cut out the middle man in pursuit of accessing high-quality pork, something Chinese farming operations struggle to maintain. With hundreds of millions of Chinese poised to join the country's middle class, increased salaries has fueled a dietary transition from a starch-based diet to one that includes pork, chicken, and beef.
But dietary transition goes both ways. Believe it or not, U.S. pork demand is on the decline, as an emphasis on health and wellness, in addition to rising food costs, have influenced consumer behavior.
Based on the corporate structure and agreements with U.S. pork farmers, this agreement allows China to grow its own pork supply chain and service an international marketplace that will provide steady to increasing demand over time.
For U.S. farmers, this will also increase an already-booming pork export market. This sale will keep American farm operations booming.
American corn producers, feed producers, animal health and nutrition providers, infrastructure firms, and anyone who provides directly to the Chinese companies will benefit. And anyone who doesn't want to take part in Chinese growth has the ability to partner with a number of other American pork producers.
2. The United States will Regulate China For Once
For all the concerns about the days when "China will take over the United States," we still have the fairest legal system and the most developed regulatory system in the world.
And while many people have concerns about expanding government in the 21st century, the Food and Drug Administration and U.S. Department of Agriculture remain two of the few bright spots in the global regulatory game.
China has noted that it wishes to adopt Smithfield's vertical pork supply chain structure into its domestic operations. But the operations and rules within the U.S. farming regulatory regime helped shape Smithfield's processes.
From animal health to sanitation, regulation has helped companies in the United States establish best practices, many of which will transfer over to China's international operations.
But the Shuanghui purchase will allow the United States to regulate a Chinese company not only on its food supply, but also through the Security Exchange Commission. For years, concerns about shell companies on the stock exchanges and ADRs with virtually no accountability have cost investors billions of dollars.
This purchase really will allow regulation where regulation is needed: In the Chinese board room.
And while it's easy to dismiss China's lack of regulatory oversight in the past, time has caught up with them on environmental, health, and financial oversight. These are increasingly important matters to the Chinese people and are continually entering the minds of the body politic across the country.
3. This Shines a Greater Light on Commercial Pig Farming
As I've noted before, this isn't a strategic takeover of a major industry in the United States. But vertical pork farming is one of the leanest (no pun intended) production processes of a major commodity category.
But commercial pig farming is a relatively inhumane (in my opinion at least) process that has continued to grow. China's acquisition is specifically tailored to generate increased insight into how U.S. pork producers generate high-quality pork at low prices, through a highly effective distribution network. This acquisition will draw attention to the trends and conditions of international farming operations. And that will create an entirely new set of industry best practices.
But not only is this good for the U.S., but American best practices will expand over to China. Particularly as companies discover ways to be more cost effective and still provide higher-quality foods. And any poor quality meats produced in Chinese commercial farms will only hinder its domestic industry, not help it.
4. It's a Reminder of U.S. Superiority in the Global Business World
This is also yet another reminder of how successful the United States continues to be when it comes to business innovation. Smithfield's vertical farming model is the envy of a country with half of the world's pigs in its backyard.
And as much as it will try to adopt this model, China will struggle without the human resources.
China, like the United States, is struggling to replenish its population of farmers. But the United States has something that no Chinese company does: Access to a world-class education system.
China will not be able to accomplish its goal of producing higher-quality food without American engineers and industry scientists.
This is evident in a number of commodity categories around the world. The Russians, for example, continue to struggle to drill in the Arctic on their own. For these reasons, they have been forced to partner with U.S. engineers. The same goes for China in domestic pork production. It will rely on American ingenuity and experience to build its operations.
5. Capitalism Solves Resource Problems
For decades, we've heard how China and the United States were going to engage in a resource war for food, water, and oil. Capitalism, however, has a funny way of preventing both when properly allocated to resource development.
China's adoption of U.S. pork production will lead to greater cooperation and development of the markets. As animal health and nutrition expands as an international industry, pork quality and yields will increase, farming operations will expand to focus on better ways to produce these products and promote animal health, and the U.S. and China will engage in a bi-lateral relationship that solves problems for both sides.
The U.S. remains the strongest agricultural sector in the world despite this acquisition. China will have to learn the hard way how to compete against American companies and could experience backlash. But in the near-term, this is a good deal for American producers, its rivals, and international markets.
Frank Marchant: China and Smithfield! No Sale!
No, I don't think China should be allowed to buy Smithfield.
Had you asked if the UK, France, Germany or Japan should be allowed to buy Smithfield I would probably have said, "fine."
The reason I feel this way is because I have seen what China is doing globally. I have seen their bullying in the South China Sea. I have seen their expansion efforts reach around the world.
China is at odds with every country in the South China Sea. ,including Taiwan, Vietnam, the Philippines and Japan. China claims they own all of the islands in the South China Sea.
They also seem to have come to another interesting conclusion. The Chinese figured out it is more cost effective to buy the world with gold than it is to conquer the world with bullets.
To that end, the Chinese government has told its business community to "go out and buy" -- and buy they have: A few of the businesses China has purchased include:
$2.9 billion to buy Australia's Felix Resources.
$17 billion to buy Argentina's Repsol YPF.
$1.7 billion to buy 60% of Athabasca Oil Sands Corp.
$7.2 billion for Addax, a Swiss oil company
$2.2 billion for Singapore Petroleum
$3.3 billion for Kazakh Oil
$1.3 billion for a 20% interest in Angolan oil from Marathon Oil.
$877 million for UK-based Emerald Energy
China is also planning to build an alternative to the Panama Canal.
Nicaragua has awarded a Chinese company a 100-year concession to build an alternative to the Panama Canal in a step that will have profound geopolitical ramifications.
As China reaches around the globe, what it can't bully away from property owners it buys. So now Shuanghui International has offered $4.7 billion for the world's largest pig factory!
The track record for Shuanghui International is anything but stellar.
Extreme food safety violations have been alarming and deadly: One of Shuanghui's plants was shut down after it was discovered pigs were fed a chemical that sickens humans while creating leanness in pork.
Noted Chinese food disasters include bacteria-infused pork, rat meat sold as mutton and cadmium-laced rice.
In 2011, growth-enhancing drugs banned in both the U.S. and Europe were used without concern in China.
The Chinese are fully aware that our understaffed U.S. Food and Drug Administration's regulators depend on voluntary compliance, not just enforcement. How safe do you feel knowing our pork supply will be watched over by Shuanghui International?
But more than simply buying Smithfield, the Chinese are demanding that along with its purchase they receive Smithfield's animal-gene technology for use in China, thereby slowing, if not replacing, U.S. pork exports to China.
One of the only areas of trade with which the U.S. has a surplus with the Chinese is in the sale of pork. And contrary to what my colleague asserts, the demand for U.S. pork is up 155% in the past five years.
It makes sense that Shuanghui is willing to pay a 30% premium for the world's largest producer of pork. It's frightening to think what price American citizens will pay for the profitable sale of our largest pork producer.
It is not an accident that both New Zealand and Brazil have taken the lead and blocked Chinese purchases of farming commodity businesses in their countries. We should do the same before it is too late!
Source :http://moneymorning.com/2013/06/14/fight-club-u-s-meat-made-in-china/

Money Morning/The Money Map Report
©2013 Monument Street Publishing. All Rights Reserved. Protected by copyright laws of the United States and international treaties. Any reproduction, copying, or redistribution (electronic or otherwise, including on the world wide web), of content from this website, in whole or in part, is strictly prohibited without the express written permission of Monument Street Publishing. 105 West Monument Street, Baltimore MD 21201, Email: customerservice@moneymorning.com
Disclaimer: Nothing published by Money Morning should be considered personalized investment advice. Although our employees may answer your general customer service questions, they are not licensed under securities laws to address your particular investment situation. No communication by our employees to you should be deemed as personalized investent advice. We expressly forbid our writers from having a financial interest in any security recommended to our readers. All of our employees and agents must wait 24 hours after on-line publication, or after the mailing of printed-only publication prior to following an initial recommendation. Any investments recommended by Money Morning should be made only after consulting with your investment advisor and only after reviewing the prospectus or financial statements of the company.
© 2005-2019 http://www.MarketOracle.co.uk - The Market Oracle is a FREE Daily Financial Markets Analysis & Forecasting online publication.

Only logged in users are allowed to post comments.
Register/ Log in