Gold Rules for a Decade
Commodities
/
Gold & Silver
Mar 12, 2008 - 12:43 PM GMT
Well, gold continues to hover around 1,000 an ounce. It won't be long before it crashes the 1,000 dollar level. Our world is in a bigger mess than most folks care to acknowledge.
Boris Sobolev – "Instead of trying to guess tops and bottoms, the best strategy is to continue to accumulate bullion as well as shares of junior producers, exploration and development companies on weakness. Gold price is going much higher in the coming years and the prices of undervalued junior stocks are going to explode as they become targets for acquisition. A few short years down the road, the trepidations experienced today by investors in small cap gold stocks will look quite silly." Boris Sobolev, 3-6-2008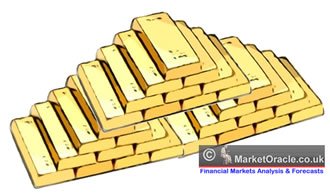 It's funny that gold is still being ignored by the masses. It sure wasn't ignored when gold was struggling to climb above 300 though. Where has it been since then? Well, it crossed 400, 500, 600, 800, 900 and now is hovering around 1,000.
"GOLD comes into its own in a crisis - and this is one. In fact, the 2008 business crisis may turn out to be the worst since the 1930s. We don't know how bad it is going to get but, with every week bringing further disclosures of ill-advised investments now mounting into the hundreds of billions of dollars - if not trillions - we can assume that it is going to get a lot worse.""The great appeal of gold is that you can't suddenly create any more of it. In fact, gold can't keep up with the demand." The Australian Business
But who really cares, right?
The following fundamental data is from Mineweb.
"Five fundamentals will drive gold price higher in 2008" "Gold has experienced a shift in fundamentals when compared to 1980's speculative highs, and today there are five factors that will drive prices higher - supply and demand, dollar weakness, institutional buying, the price relationship between gold and oil, and global economic uncertainty," says Donald W. Doyle, Jr. Chairman and CEO of Blanchard. "Expect some price consolidations, which are healthy for the market, and view them as buying opportunities because we see the price ultimately going significantly higher than current levels in the long-term." Mineweb
Looks like Hillary is really giving Obama a run for his money. The economy is really unfolding just as it was predicted to 5 and 10 years ago. But no one cared then to listen and now it is a little too late to fix. Is the economy improving? You tell me. Where are all the new jobs the government keeps touting about.
"Jobs plunge by 63,000, worse since 2003;Fed steps in. "The Fed has already cut its target for short-term interest rates, which influences borrowing costs across the economy, to 3% from 5.25%, where it stood in September. Fed Chairman Ben Bernanke and his colleagues are widely expected to cut rates again when they meet March 18, if not before." "The cut could be dramatic, according to a futures market in which participants bet on future Fed moves. Bear Stearns said the Fed could cut another three-quarters of a percentage point this month, in part based on the latest jobs data." "Job cuts were seen in a wide variety of industries in February, suggesting the weakness is spreading far beyond the hard-hit housing sector:"
•Manufacturing firms cut 52,000 workers.
•Retailers cut 34,100 workers.
•Construction companies cut 39,000 workers.
•Financial firms, which include insurance and real estate companies, cut 12,000 workers.
. USA Today, 3-7-2008
Yes, gold climbs and climbs and is ignored by the general mainstream.
Gold topples back and forth but invariably it continues to climb forward. For five years the bears have predicted its demise but it continues its higher march. The gold price is kind of like a growing oak tree growing ever higher and reaching the sky. It becomes stronger every day but the gold bears believe that every moment is just a millisecond from a major crash back down to 250 an ounce.
"Wall Street is experiencing financial distress amid the worst housing market since the Great Depression and a drastic drying up of credit." USA Today, 3-7-2008
Think long term, always longer term. The price of gold in the short term will move in extremes in every direction but gold will be overall strong for the rest of this decade and beyond. It's not too late to invest in gold related equities to take advantage of their wealth generating attributes. We are living in the last days of cheap resources and cheap commodities. Gold Letter, Inc. reviews undervalued gold stocks poised to rise in this time of increasing demand.
Click here to order Gold Letter
Don't forget to email.
By David Vaughn
Gold Letter, Inc.
David4054@charter.net
© Copyright 2008, Gold Letter Inc.
"The Worldwatch Institute, an organization that focuses on environmental, social and economic trends, says the current rate of global demand for resources is unsustainable."
The publisher and its affiliates, officers, directors and owner may actively trade in investments discussed in this newsletter. They may have positions in the securities recommended and may increase or decrease such positions without notice. The publisher is not a registered investment advisor. Subscribers should not view this publication as offering personalized legal, tax, accounting or investment-related advice. The news and editorial viewpoints, and other information on the investments discussed herein are obtained from sources deemed reliable, but their accuracy is not guaranteed. © Copyright 2008, Gold Letter Inc.
© 2005-2019 http://www.MarketOracle.co.uk - The Market Oracle is a FREE Daily Financial Markets Analysis & Forecasting online publication.

Only logged in users are allowed to post comments.
Register/ Log in