Bush Stimulus Plan - $500 Tax Rebate for Everyone!
Economics
/
Money Supply
Jan 19, 2008 - 12:19 AM GMT


I couldn't believe it. I was sitting in the airport the other day waiting on my flight and CNN mentioned that the government is seriously considering helping our economy make it through this credit crunch by giving each of us a check for $500!
Here is a quote from The Associated Press about it.
WASHINGTON (AP) — United for urgent action, the White House and Congress raced toward emergency steps Thursday to rescue the national economy from a possible recession, including tax rebates of at least $300 a person — and maybe as much as $800. Federal Reserve Chairman Ben Bernanke endorsed the idea of putting money into the hands of those who would spend it quickly and boost the flagging economy.
and
Aides to lawmakers involved in the talks said the White House is pressing for tax rebates of $800 for individuals and $1,600 for married couples. Lawmakers were likely to settle on a $500 rebate for individuals, said an aide involved in the talks, with details for couples and people with children still being negotiated.
Full Link: http://ap.google.com/article/ALeqM5h19_YeGzwzlmJhx42iIA7nJF0_UAD8U80C3O1
They are calling this proposal a "tax rebate" but it doesn't really matter what it is called, the fact is that realistically this currency will have to be created out of thin air and given to the citizens to spend. This is currency abuse and one of the reasons precious metals should continue to soar.
For anyone that has seen Mike Maloney's presentation "Silver, High How?- The Moon" this was like déjà vu. This is straight out of the play book that Mike said would be used to try to reflate the economy. "Once the massive debt load starts to pull our economy down toward deflation the government will resort to emergency measures, including giving tax rebate checks to people to spend. If small rebates don't work they will resort to giving you back your taxes for an entire year, or whatever it takes". He has been saying this would happen for years…it sounded extreme at the time…but it is happening right now!
Think about it. The Federal Government giving away currency just for fun? Don't they usually make a big deal out of making sure they are the ones on the receiving end of tax transactions?
Make no mistake this is an emergency measure the White House and the Democrats are proposing. They will be doing more damage to the US dollar if this actually goes through. A currency is only of value if it is in relative short supply and people actually want it. Why will our foreign trade partners continue to be willing to exchange us their real products (cars, TV's etc) for a currency we are flooding the world with and is being devalued?
This is exactly the kind of environment where the precious metals absolutely shine since they are a true store of value.
True to history silver came back, touched the triangle pattern and headed up. Silver is finally taking a "pause to refresh" allowing for another entry point after the run from $14 to $16.25 (16% in less than 30 days).
Short term potential to the down side is probably around the triangle area ($15) and to the upside ($30).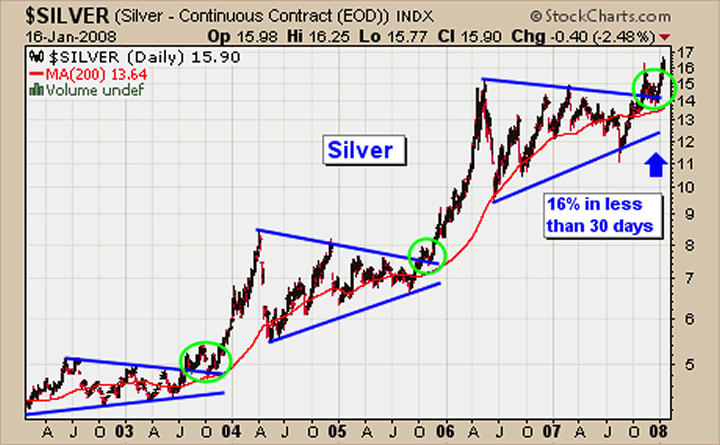 By Brent Harmes
Subscribe or Manage Your Newsletter Subscription Here | Buy Gold and Silver Online
Copyright © 2008 Brent Harmes
GoldSilver.com offers vault storage accounts at Brinks Security in Salt Lake City, Utah. The minimum investment required for vault storage account is 20 ounces of gold or 1,000 ounces of silver. For more information call us at: 702-799-9000
Disclaimer : All claims made by GoldSilver.com should be verified by the reader. Investing is not suitable for everyone and readers are urged to consult with their own independent financial advisors before making a decision. Past performance is not necessarily indicative of future results. GoldSilver.com will not be liable for any loss or damage caused by a reader's reliance on information obtained in any of our newsletters, special reports, email correspondence, or on our website. Our readers are solely responsible for their own investment decisions.
© 2005-2019 http://www.MarketOracle.co.uk - The Market Oracle is a FREE Daily Financial Markets Analysis & Forecasting online publication.

Only logged in users are allowed to post comments.
Register/ Log in