The Crazy World Of Smart Grids And Carbon Capture
Politics
/
Electricity
Mar 22, 2012 - 01:14 AM GMT

While the oil-intensive but deindustrialized countries of the West show mounting signs of stress at the prospect of more and further oil price rises, and China moves ever onward on its oil-intensive industrial path racking up huge trade surpluses while paying for all the oil it wants, the twin sideshow of smart grids and carbon capture still has some headroom, in some countries. The main problem, however, is that CCS is almost certainly impossible, and smart grids will be fantastically expensive.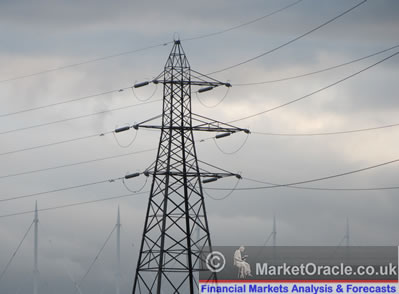 This problem especially concerns Europe, increasingly alone and apart in the world and operating what its major trade partners - the US, China, India, Russia, Brazil and others - call an attempt by Europe to use climate change fear as a trade weapon and tool for shutting out competitors from Europe's markets.
The latest spark point has concerned European plans to levy new greenhouse gas taxes and charges on airlines flying into or over Europe.
The reasons why Europe has taken a hardline, even a strident line on climate change are complex and range across European cultural history, its energy resource endowment and historical energy development, political change in Europe since the 1970s, its world trading power, and Europe's energy industries with their need for new markets. Other reasons also exist for this hardline, including social change in Europe, and others.
The net result however is simple: big government spending on will-o'-the-wisp projects. One recent example brings together UK network operator National Grid and oil services company Petrofac with US power project developer Summit Power as lead candidates in a competition to win a £1 billion government contract to build a carbon capture and storage (CCS) project in the UK. The actual amount of CO2 to be captured relative to UK totals, and even more extremely when related to global emissions (the UK emits 0.75% of the global total of about 35 bn tons a year) are vanishingly small. The maximum possible impact this project, if it was built and if it captured CO2 as hoped, would in no conceivable way reduce or mitigate global warming and climate change.
http://www.guardian.co.uk/news/datablog/2011/jan/31/world-carbon-dioxide-emissions-country-data-co2#zoomed-picture
This is known. The question is: why is CCS still touted by some governments and some coporations as a vital future need ? Linked with another extreme high cost solution or alternative to current electric power systems - smart grids to transport electricity from renewable sources - the combined effect is a further loss of credibility for any and all energy projects and policies, in a wide range of countries.
SMART POWER AND DUMB POLITICS
The aims and objectives of smart grids are already the spiraling focus of thousands of Internet sites, business conferences and meetings, even PhD research programs in universities. They can seem good on paper, they can seem an interesting area for business development - if somebody else pays.
That somebody else is inevitably electricity consumers either direct, through their power payments, or through governments by way of state taxes and borrowing to pay for CCS and smart grids. There is no secret or alternative ! Current projects Europe, the US and Asia are sometimes massive and also look good on paper, but actual action on the ground is fantastically small scale.
The two - CCS and smart grids - are very often rolled together, for example due to both being entirely dependent on the upstream policy concept that global warming is a crisis, massive spending is needed to mitigate it, and this spending will above all and almost exclusively feature the electric power sector. This will be radically shifted to renewable energy ro generate power and, being intermittent, will need smart grids to handle constantly varying power supplies.
This can seem simple, but on the ground in the real world is another kettle of fish. Taking only the 2012-2020 period, spending in Europe to achieve the goals of the Dec 2008 EU climate-energy package of policies and programmes featuring a radical energy shift is estimated at anywhere from about 450 to 650 billion euro - if it is possible to achieve the goals of these policies.
The upstream politics of global warming is also now a complex subject - with a rearview mirror edge. Gone are the days when Al Gore could stride the global conference circuit, picking up $100 000 for a 40-minute talkshow. The December 2009 Copenhagen climate summit was a tragic event - for global warming free riders and the corporate lobby pushing CCS and alternate energy as urgent and critical to Humanity's future. Loss of credibility and public support to the basic idea that CO2 emissions cause climate change is the rule in all countries, and with it there is mounting political opposition.
WHAT WOULD SMART GRIDS DO ?
The favoured explanation is maximising flexible responsive demand to varying supplies of electricity in order to maximise supply from renewable based generation, and from decentralised generation that could or might be integrated in national programmes for achieving clean energy goals. Above all, to make demand "flexible" this would need the leveraging of smart metering from a technological curiosity to massive widespread use: in South Korea, current power system planning seeks total coverage of the country with smart metering by 2020, and 50% by 2016. Several European countries have goals almost as high as this, but the impact on power prices and average power bills - or on electric power and distribution company earnings - will be high.
Responding to the always present threat of oil shock and the failure of energy plans in most OECD countries to address the issue of oil saving and substitution, the smart metering lobby includes the target of accommodating the growth of electric vehicle fleets as another major reason why smart meters must become a way of life.
Anybody who has followed my MO articles on electric cars can quickly understand this so-called alternative to oil is a dead duck on arrival:
http://www.marketoracle.co.uk/Article31636.html
The basic role of smart metering is to ration electricity, by price, to when it can be generated. How this relates to car owners needing to charge their electric cars every weekday night, to travel to work the next day, is hard to see. To be sure, inventive corporate minds can imagine stand-alone car recharging centres, similar to the Better Place business model, but these centres will need power supplies. Going further up the fantasy scale, mass scale electric car fleets can be claimed as offering a future National Battery Pack, with millions of car batteries becoming a sort-of utility scale power storage system.
FINANCING CCS AND SMART GRIDS
The most elusive part of any PPT from promoters of either is how they can be financed, with the CCS part of the duo first needing extreme high research and development spending to produce a technologically viable process or method of CCS. Cost outlines for CCS achieving a rate of capture of say 5% of present emissions of CO2 in major emitter countries can be found, but firstly assume the process can be made technologically possible. No figures on "how much would it all cost?" have any credibility, due to this first hurdle.
For smart grids there are much harder-edged cost figures, even utility and power distribution company spending plans, in most EU27 countries and in several non-European OECD countries. More complex however, smart grids only concern local or final power distribution and do not concern wide-area power transport - which is also an inevitable need if renewable electricity is going to dominate power production. While local and final user smart grids can be relatively "cheap", especially if this only concerns smart metering of final users, wide-area super grids able to transport huge amounts of power with minimum losses only exist in the mind, because their costs will be astronomic.
For Europe and according to the high level electric power transport consulting oranization ENTSO E, the EU27 countries would need to construct about 42 000 kilometres of super grids by about 2030, if the present climate-energy package and membe state REAPs (Renewable Energy Action Plans) continued as presently defined. Where these super grids (typically high volt DC lines, HVDC) are buried, or undersea, typical costs are around 10 million euro-per-kilometre. This helps explain the current near-zero construction of super grids in Europe or anywhere else.
Financing CCS and smart grids (or super grids) is an issue that also relates, and will increasingly relate to much more basic energy issues, especially how they will be regulated and the security of energy supply. Neither of these issues are in fact addressed by current "free market corporate" initiatives in CCS and smart grids, initiatives for grappling government aid and subsidies fed by taxes and borrowing, of course.
The time at which technologies have to be selected, in a context of rapid technological change, and the smart grids that are built must be adapted to existing power infrastructures (and vice versa), is now approaching - but with no clear financing. Other issues, such as creating transport protocols, such as the European "Open smart grid protocol" (OSGP) - the most widely used system in Europe's current tiny scale projects - are more easily solved, because these are Desktop Issues, unrelated to the heavy industrial engineering and civil works programs that must follow - if they can be financed.
POLITICAL CHANGE
Already today and in Europe, Poland has vetoed new and higher CO2 emissions reductions targets proposed by the European Commission, and a wide number of EU27 states, especially in eastern Europe and in the PIIGS group have no concrete financial plan for achieving their REAPs.
This is in March 2012 - noting that by 2020 or in 7 years and 8 months time current European energy plans mandate that at least 20% of all European energy will be renewable source (perhaps 35% for Germany), and that CO2 emissions will by at least 20% below 2005 levels (40% for Germany). If these targets remain mandatory, both CCS and smart grids/super grids will necessarily have to radically grow - immediately returning us to how it will be financed - if it is technologically feasible.
We can be certain CCS is almost totally unlikely to become a direct goal and part of European clean energy plans, but smart and super grids are likely to become so, if these plans continue. When they do, we will hit the smart grid financing hurdle, with sure and certain political blowback.
This already exists, because of EU windpower and solar power targets, feed-in tariffs, rising final user prices of electricity and the direct result: fuel poverty. We can then in turn expect the national renewable action plans to be much more sharply criticized, along with unworkable de luxe vanity tech notions such as rapidly developing all-electric car transport.
At that time which will likely be soon, the real issue of how we define and create energy-economic efficient systems, not just energy-efficient systems will rise to the foreground. Speaking as an energy economist with long experience, that will be a pleasure for me.
By Andrew McKillop
Contact: xtran9@gmail.com
Former chief policy analyst, Division A Policy, DG XVII Energy, European Commission. Andrew McKillop Biographic Highlights
Andrew McKillop has more than 30 years experience in the energy, economic and finance domains. Trained at London UK's University College, he has had specially long experience of energy policy, project administration and the development and financing of alternate energy. This included his role of in-house Expert on Policy and Programming at the DG XVII-Energy of the European Commission, Director of Information of the OAPEC technology transfer subsidiary, AREC and researcher for UN agencies including the ILO.
© 2012 Copyright Andrew McKillop - All Rights Reserved Disclaimer: The above is a matter of opinion provided for general information purposes only and is not intended as investment advice. Information and analysis above are derived from sources and utilising methods believed to be reliable, but we cannot accept responsibility for any losses you may incur as a result of this analysis. Individuals should consult with their personal financial advisors.
© 2005-2019 http://www.MarketOracle.co.uk - The Market Oracle is a FREE Daily Financial Markets Analysis & Forecasting online publication.

Only logged in users are allowed to post comments.
Register/ Log in