Gold Investments - Time to take Profits?
Commodities
/
Gold & Silver
Jan 12, 2008 - 01:32 PM GMT
"...Go on - choose where you'll keep your profits. Then sell your gold if you dare..."
IMAGINE YOU'D been smart and put some cash into gold.
You didn't need to buy before the Gold Market took off. Buying gold at the start of last month will do fine.
Six weeks on, your imaginary self now shows a profit of 14% in terms of the Dollar. Measured in Euros you stand some 13% higher. Versus the Canadian you're 16% up. Your return in terms of the British Pound comes a shade under one-fifth in less than a month and a half...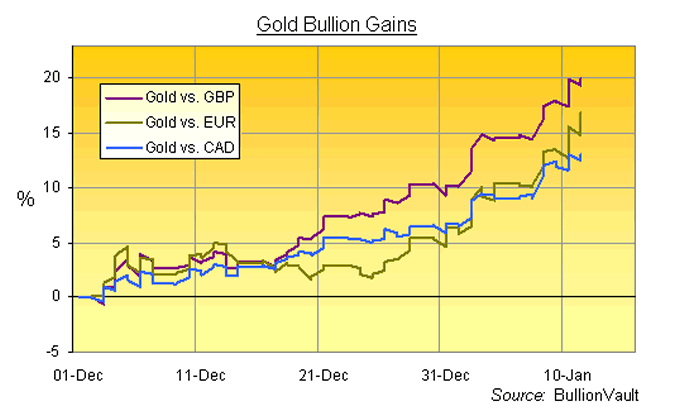 Too hot, too fast? You were smart in December; now it's time to get smart again.
So you look at the charts...and you decide to take a profit in gold.
I mean, it might all be over below $900 per ounce. The loss of confidence in central bankers could suddenly reverse this weekend. Sentiment in the credit markets could return like sub-prime never happened.
Oil quadrupling...grain prices at record highs...surging demand for copper from China...all the reasons for today's rising Gold Price might evaporate with a few choice words from, umm, well from Ben Bernanke or Hank Paulson.
Hell, even bond prices might come down - driving yields above the inflation rate and putting a stop to the destruction of wealth in your mutual and pension funds.
So you choose to get out of gold. It's time to take profits
Question: Where will you now put your money?
Hmmm...maybe you should switch into stocks? Yes, so the S&P now stands more than 10% off its top of the summer. The slump took a while, too...ticking first lower then higher, but never quite high enough to prevent a grinding loss for investors.
Kind of sounds like the Tech Crash, but with finance stocks leading. Things change though. Or rather, they might do...even if Bernanke's fresh promise of cheap money failed to stem the slide this week.
What about bonds? Sure, yields are now below inflation. But everyone loves a regular income - the bond bull-market proves that, especially if you count the gains in the shrinking Dollar.
Or you could hold your wealth in real estate. Prices turn when no one expects it, remember! And no one expects Florida, California or even London house prices to turn higher any time soon. Least of all potential home-buyers waiting for prices to fall further before they dare to get in.
No? Well okay...simply keep your gold profits in cash then. You know, cash like the Dollar, or the Euro, or Loonies, or Pounds.
Just decide first which currency you trust to hold value. Go on - make your choice and then sell your gold.
By Adrian Ash
BullionVault.com
Gold price chart, no delay | Free Report: 5 Myths of the Gold Market
City correspondent for The Daily Reckoning in London and a regular contributor to MoneyWeek magazine, Adrian Ash is the editor of Gold News and head of research at www.BullionVault.com , giving you direct access to investment gold, vaulted in Zurich , on $3 spreads and 0.8% dealing fees.
(c) BullionVault 2008
Please Note: This article is to inform your thinking, not lead it. Only you can decide the best place for your money, and any decision you make will put your money at risk. Information or data included here may have already been overtaken by events – and must be verified elsewhere – should you choose to act on it.
© 2005-2019 http://www.MarketOracle.co.uk - The Market Oracle is a FREE Daily Financial Markets Analysis & Forecasting online publication.

Only logged in users are allowed to post comments.
Register/ Log in