A Case for Free-Market Bank Regulation
Economics
/
Economic Theory
Nov 23, 2011 - 12:36 PM GMT


America (BAC) has rescinded its plan to charge customers a $5 monthly debit-card fee. Shall we praise bank regulators for their swift action in preventing the exorbitant charge? Well, no. Then we'll credit politicians for legislating against greedy, big-bank profiteering, right? Wrong again. The free market drove BAC to drop the debit-card fee.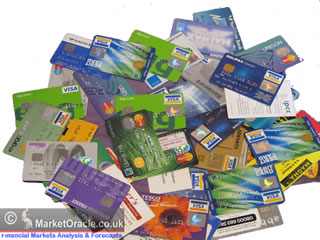 Several banks have floated similar debit-card fees — some already assess the monthly charge — and each met the same fate as BAC. Customers informed their financial institutions that they would rather pull their assets than pay the fee. Banks responded in predictable fashion. Banks need customers in order to remain solvent; therefore they heed their customers' complaints and outrage, whether or not they are reasonable. That's the free market in action. Unpopular fees and programs are abandoned just as surely as profits are taken. Everything depends on what the market will bear.
The $5 debit-card charge was never a product of free-market capitalism. It was the result of political machinations, most notably on the part of Senator Dick Durbin. Durbin's amendment to the Dodd-Frank bank reform legislation placed an arbitrary cap on debit-card interchange fees, which banks impose on retailers for each swipe of a customer's card.
Banks collect this fee to maintain their electronic networks, retailers distribute the fee among their customers, and customers enjoy the convenience of cashless transactions. Such business-customer relationships aren't invariably perfect, but they are at least agreeable between the involved parties. Once politicians meddle in that relationship, as Durbin did, unintended consequences become the norm. Enter the debit-card fee. Yet the fact that Durbin made matters worse didn't stop him from telling BAC customers to "vote with their feet."
Well, bank customers have voted with their feet — or have threatened to do so. I'll wager that not a single disgruntled customer walked into their bank and said to the teller, "Dick Durbin told me to withdraw my money." Blowhard politicians aren't necessary for customers to decide what fees they should or shouldn't accept. Customers needn't occupy public parks for banks to hear their complaints. The only thing necessary to kill the monthly debit-card fee was for customers to exercise their free choice in an open marketplace.
Markets compel businesses to please their customers or risk losing them to more amenable competitors. Banks couldn't collude on behalf of debit-card fees, even if they so wanted, because they're more interested in retaining current customers and attracting new ones from institutions that assess unpopular charges. The mere threat of losing customers was enough to render debit-card fees a poor business decision. When market forces reign there's no need for protests, tents, and signs; nor is there a need for pandering politicians with superhero complexes to deliver customers from corporate evil.
However, markets move both directions. Just as the market wouldn't tolerate debit-card fees, which are noticeable, the market may tolerate other fees that aren't as noticeable, just as it once tolerated the higher interchange fees. No one considered the interchange fees retailers paid on debit-card transactions until government placed price controls on them. The banks then looked to other areas to recoup the lost revenue, which led to the debit-card fee. Since the market has rejected the debit-card fee, banks will look for another way to boost revenue.
Frankly, a $5 debit-card charge is benign in and of itself. If a customer uses their card 50 times per month, the average cost per transaction is a paltry 10 cents, a rather innocuous expense for the convenience of using a debit-card system. And make no mistake: customers aren't paying the banks for the privilege of using their own money, as the populist argument holds. Customers pay for the use of the bank's computer and network systems, all of which cost money to purchase, operate, and maintain.
There's little purpose in defending or criticizing the banks, their customers, or the debit-card fee. The marketplace spoke and a verdict was rendered. Customers preferred to seek new institutions rather than pay their banks a monthly debit-card stipend. Banks would rather have more customers paying smaller, less recognizable fees than have fewer customers paying larger, high-profile charges. Both entities weighed their options and arrived at a conclusion with which they could live. Markets may not always react as swiftly as they did in this case. But they will always react, and they will produce the best compromise in any given situation.
All businesses attempt to maximize profits while all customers seek the best value for their money. These interests combine in a free market, making astute businesses profitable while rewarding prudent customers with quality services, all at an agreeable price. Government interference upsets that balance, imposing undesirable results on everyone.
Anthony W. Hager has authored more than 300 articles for various newspapers, periodicals, and websites. Contact him via his website, TheRightSlant.com. See Anthony W. Hager's article archives.
© 2011 Copyright Ludwig von Mises - All Rights Reserved Disclaimer: The above is a matter of opinion provided for general information purposes only and is not intended as investment advice. Information and analysis above are derived from sources and utilising methods believed to be reliable, but we cannot accept responsibility for any losses you may incur as a result of this analysis. Individuals should consult with their personal financial advisors.
© 2005-2019 http://www.MarketOracle.co.uk - The Market Oracle is a FREE Daily Financial Markets Analysis & Forecasting online publication.
Comments
EndTheIllusion
23 Nov 11, 16:01
free market regulation....we already tried that


We tried free market regulation of the financial industry after the Gramm–Leach–Bliley Act Which repealed part of the Glass–Steagall Act of 1933. This eliminated the firewall that protected depositers money from the speculative activity at these casinos.

We then tried the Commodity Futures Modernization Act that officially ensured the deregulation of financial products known as over-the-counter derivatives.

Look where it got us!!!

Our financial collapse did not happen because there was too much regulation, but it happened because there was too little.




Only logged in users are allowed to post comments.
Register/ Log in