Junior Miners Heading into US Tax Selling Period Presents Potential Buying Point
Commodities
/
Gold & Silver Stocks
Nov 28, 2007 - 03:45 AM GMT
First you're an unknown, then you write one book and you move up to obscurity. - Martin Myers
I recently returned from Europe speaking on the merits of precious metals and in particular silver. About a month before I left for the three-city tour, which started in Munich Germany, my friends at http://www.silberinfo.com/ began
diligently working on translating my book, Get the Skinny on Silver Investing into the German language.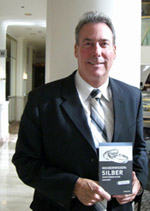 Norman Schwarze worked with a passion to accomplish the task of translation and for this I want to state fantastic job and the sincerest thank you Norman. Once I settled into the Hotel in Munich I was interviewed by the main German Financial newspaper about the world economy, the precious metals markets and this new book. This again was due to the efforts of Silberinfo.de .
As the quote states going from unknown to obscurity may apply to the world at large but it certainly does not apply in Germany. Of the three speaking engagements Munich, London, and Paris the silver story was best received in Germany. In fact having traveled and participated in many natural resource conferences for several years the Munich conference was not only one of the largest but I witnessed something that is not common at most of the conferences that I have attended. There were several coin/bullion dealers doing business at the show. I studied the participation at these places of business and it was brisk. Many attendees were buying silver and gold right over the counter at the Munich show.
However, it is important to point out that the silver investment market, as a whole is still obscure. The market is misunderstood and participation is much better than two to three years ago, still mild relative to almost every other asset class. This of course presents opportunities for those wise enough to see them and take action. Both gold and to a lesser degree silver have held up well this year and continue to show strength. As of this writing gold is up nearly 30% from the beginning of the year and silver is up only 15%. The two main precious metals indexes are up about the same as gold, specifically the HUI is up 27% and the XAU is up 24%.
Many have asked why are the metals doing so well and the mining equities in particular the junior mining issues doing poorly? The answer is one I have stressed many times, gold is the most negatively correlated asset to the general stock market - NOT Gold Stocks. Mining stocks are STOCKS and actas equity investments most of the time. Alas, I will do my best to remain consistent; generally the mining issues lead in a bull market.
This means that as the precious metals market gains strength the underlying mining stocks generally outperform. Obviously this has not been the case this year with gold giving a greater gain than the indexes mentioned. Is this cause for concern? Perhaps but each day that the precious metals complex is sold-off they bounce right back up in defiance as if to say - we (gold and silver) know about the mess in the credit markets, and refuse to yield to selling pressure. Since gold and silver are the real thing they are carrying a premium over almost any mining share. As I am often fond of stating get real, buy real - implying that nothing is as solid an investment as the metals themselves.
I must point out, when the secular bull market is nearing its final climax the mining shares do stall out and the metals continue to rise. In my view we are a long time from the final climax in the price of the precious metals or the mining equities. This is not something to be concerned with presently but I wish to go on record now as having stated this information.
The mining equities seem to be hinting that they are less powerful because they can be sold quickly and easily which is exactly what took place this past August. Could this happen again? Certainly it could but at this point no one knows. If the bull market is still intact and it is, then opportunity exists in this sector. Look no further than the BHP/Rio Tinto situation where two giants in the sector are vying for position. There is even rumors flying that the Chinese may take a run at Rio Tinto. The age of changing paper assets into real things is alive and well.
Being a market student for over three decades, and admitting that I am still learning, one very important lesson is to take what the market gives you. Right now we are approaching tax loss season in North America and many of the junior mining companies will be sold. This opportunity will not last long because the metals right now appear to be leading the mining stocks higher. Although, we have to observe carefully how the market is performing. At this point buying undervalued juniors; especially those that have been beaten down beyond reason could provide a very bright New Year for those willing to take the risk.
Right now gold has huge forces betting against it in the form of professional futures traders. In fact the open interest in gold is as large as I have ever seen. This is a warning that the price of gold (silver will react with the gold price) may get hit sometime soon. However, the market does appear to be acting differently this time, meaning that any sell-off is quickly met with new buying and the short sellers are not able to escape many of their positions. Even if the precious metals do sell-off it does not change my view that the best place to look at this point is in the mining equity sector and of course the metals themselves.
For those readers interested The Morgan Report is going to be translated into German soon and we will provide you with further details later.
By David Morgan,
Silver-Investor.com
Mr. Morgan has been published in The Herald Tribune , Futures magazine, The Gold Newsletter , Resource Consultants , Resource World , Investment Rarities , The Idaho Observer , Barron's , and The Wall Street Journal . Mr. Morgan does weekly Money, Metals and Mining Review for Kitco. He is hosted monthly on Financial Sense with Jim Puplava. Mr. Morgan was published in the Global Investor regarding Ten Rules of Silver Investing , which you can receive for free. His book Get the Skinny on Silver Investing is available on Amazon or the link provided. His private Internet-only newsletter, The Morgan Report , is $129.99 annually.
Contact information: silverguru22@hotmail.com , http://silver-investor.com
Disclaimer: The opinions expressed above are not intended to be taken as investment advice. It is to be taken as opinion only and I encourage you to complete your own due diligence when making an investment decision.
© 2005-2019 http://www.MarketOracle.co.uk - The Market Oracle is a FREE Daily Financial Markets Analysis & Forecasting online publication.

Only logged in users are allowed to post comments.
Register/ Log in