Precious Metals Bull Market - Why Silver Is About To Take Over For Gold
Commodities
/
Gold & Silver
Nov 26, 2007 - 11:13 AM GMT

The US Dollar ($) is losing its global reserve currency status, and the rate at which this is occurring is accelerating in direct proportion to easy money policy of the Fed. As with the $'s reaction to the Fed's policy decision, any further administered rate cuts will be met with an accelerating decline in the $, along with unfavorable and opposite reactions in market rates. This is why gold was able to slice through $800 easily Friday, because the commercial shorts (banks) are the same people who are exposed to trillions of Structured Investment Vehicles (SIV's), Collateralized Debt Obligations (CDO's), and various other forms of toxic waste; and they are discovering a direct bailout may not be forthcoming. This in turn cranks up the need for even easier money policies of course, which is why neither gold nor the $ ever correct much on trend, and is a condition that will be with us for some time considering the banks have only come clean with approximately 5-percent of their true exposures to toxic debt. This is why gold could vault to $1,000 and beyond by Christmas.


The following is an excerpt from commentary that originally appeared at Treasure Chests for the benefit of subscribers.
Increasing numbers of market participants (even Supermodels ) are shunning the $, but no other consideration is more important in this respect than the loss of $ dominance in oil transactions around the world. Here, in bypassing the $ in crude related transactions, the single most important source of demand for US currency is evaporating just when the need for stable consumption is critically important because of an accelerating banking crisis in the States. Because of this many US banks may become insolvent faster than people are considering at the moment, with the majority of the population still oblivious to the true implications of what is occurring. You see the US population has been 'dumbed down' and desensitized to economic catastrophe for so long by all problems being papered over, even if they are aware of the situation it's assumed the same will happen again. It might come as quite a shock to these people then if the opposite were to occur.
Again then, this reality is becoming painfully aware to the gold shorts who are now trapped in a short squeeze of their own making in printing increasing $'s. This is of course is irony at its best considering the 'holier than thou' attitude American Bourgeoirs have purveyed on the rest of the world since the elimination of any kind of gold standard in 1971. The takeaway message here is 'no – your $'s are not good here anymore', a slap in the face for even a Banana Republic . Such might be a well-suited fate for a bloated US financial system however, with the unfortunate part of the equation being a now debt addicted global monetary system being dismantled in the process as well. Under such circumstances, a return to more localized currencies is sure to be the reaction in process, where gold will once again be required to settle international transactions. This will cause governments around the world to cease prior dishoarding practices in favor of accumulation for national solvency and international trade requirements. Gold could go far higher than current technical projections are calling for based on this understanding.
Just what are the current technical projections? Let's take a look. To start, let's take a gander at the daily plot below spaced over a six-month interval to get an idea of how close-up technicals stack up at this time. As you can see, if the count presented in blue is correct, we are due for a correction presently, but such an occurrence should be short lived in the big scheme of things, several weeks at worst. Such an appraisal would not be surprising to anyone who follows Market Vane , with the current market consensus in excess of 90-percent for the first time since the intermediate degree top seen last year in May. What would be surprising of course is if precious metals just keep powering higher here in spite of what appears to be excessive froth with respect to gold. In this respect it should not be forgotten bullish consensus essentially remained over 90-percent for months last year up until the top in May was put in. So yes – such an outcome might be surprising to many, especially those who traded out of their positions. (See Figure 1)
Figure 1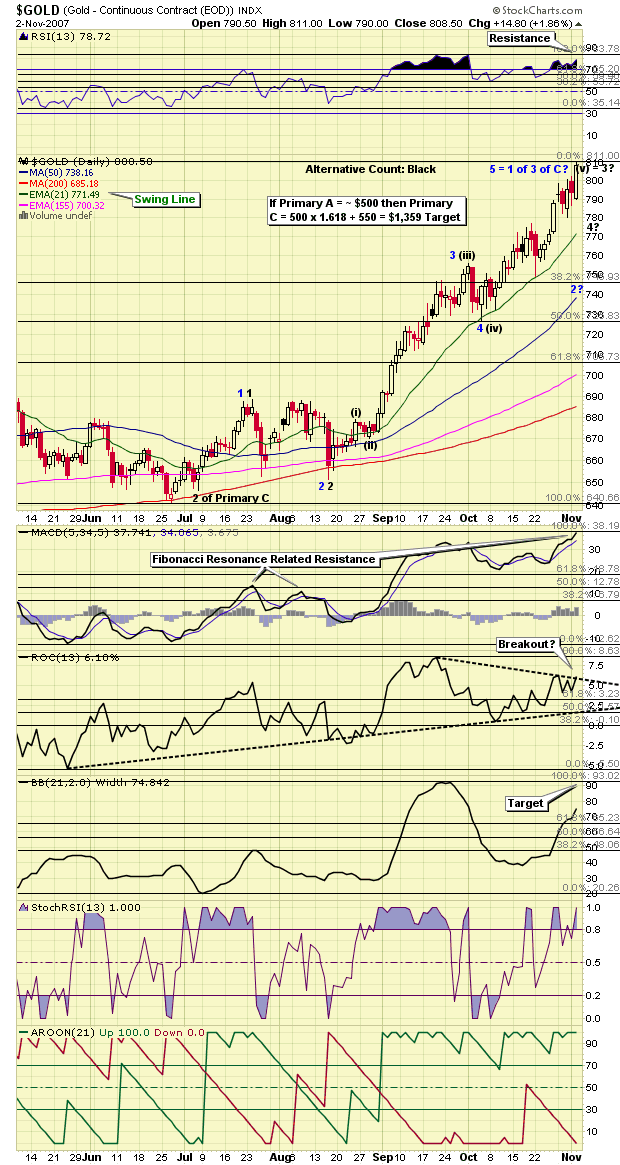 Returning to the chase now, and as you might very well know in being an investor at the time, the correction that followed last May's top was approximately 20-percent, which was more than other instances throughout the current bull cycle when Market Vane's 'bullish consensus' has exceeded 90-percent in the past. Part of the reason for this is likely found in the fact summer months are characteristically seasonally weak , allowing for a deeper and more pronounced correction to mark the turn off what now appears to be the first Primary Degree top of the larger Degree affair. In knowing of this tendency then, and in also knowing we are in a seasonally strong period for gold at present, one night conclude any correction now might be more shallow then, even though a high in November would be a bit un-nerving considering significant tops have occurred here in the past as well. (i.e. December of 2003.)
We do have an unfolding international banking crisis on our hands however, with the US center stage in this respect, so there is little doubt increasing amounts of monetary largesse will be applied to the equation in attempting to keep the global economy's skids greased. And in adding to this, such thinking may now become even more important if last week's turn lower in the Baltic Freight Index (BDI) is an indication of the health in global economies, which makes the Fibonacci based projection for the current Primary Degree (C) wave higher to almost $1400 appear quite realistic in spite of the fact picture based Fibonacci resonance related projections are only taking us up to $1000 at present, as can be seen below. This is because if the global economy is faltering, the need for speed in monetary debasement rates around the world will be heightened, which of course strengthens our hypothesis a global hyperinflation sequence is unfolding before our very eyes at present. (See Figure 2)
Figure 2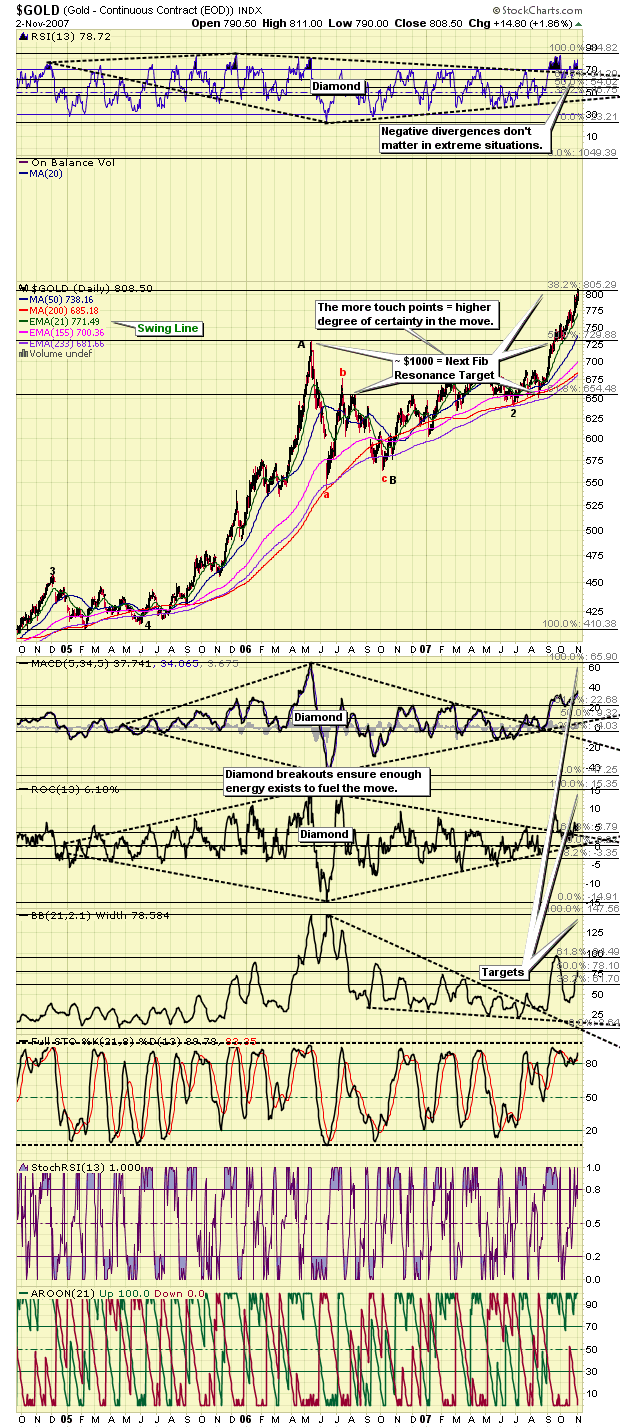 So, a correction – what correction? As I look at the gold price overnight it continues to streak past the large round number at $800, which as you know from previous undertakings (see Figure 5 ) is suggestive a move right up to the larger (four-digit) round number at $1000 is now a statistical probability based on the next most probable measure in nature. So, as hard as this thought process might be for most concerned in this adventure, because gold was suppressed for so many years, which as mentioned above in itself implies bullion banks are very short gold right now (see COT ), it might just keep chugging along on its way up to our next target area at $1000, believe it or not. In this respect below is yet another snapshot of gold that shows while a correction can occur at any time given overbought conditions, at the same time there is nothing but 'blue skies' between here (not including 1980 intra-month highs) and our next Fibonacci resonance related target at $1000. (See Figure 3)
Figure 3


And there's more to suggest this move in the larger group still has a ways to go because if the charts do not deceive us it appears silver is about to pick up the leadership ball for gold. How can this be if the BDI is turning lower, the move higher in stocks appears tired, and economies are increasingly faltering? As mentioned last week , and what most will find surprising in a short while considering all the negative talk associated with the unfolding banking crisis, is the currently bouncing bank (financial) shares will create in the larger scheme of things as Christmas approaches, which as you might know would send silver flying because it performs well when it's perceived the economy is strong. Of course the real reason silver will outperform here is because gold is overbought and capital is just looking for better value, but don't tell anyone that because it could ruin a good thing for those who like to rotate within the larger sector at opportune times. Here is a weekly picture of the Silver / Gold Ratio that shows any relative strength past this point will put silver back in play by breaking back above important Fibonacci resonance related resistance after basing in lower trajectories for several months. (See Figure 4)
Figure 4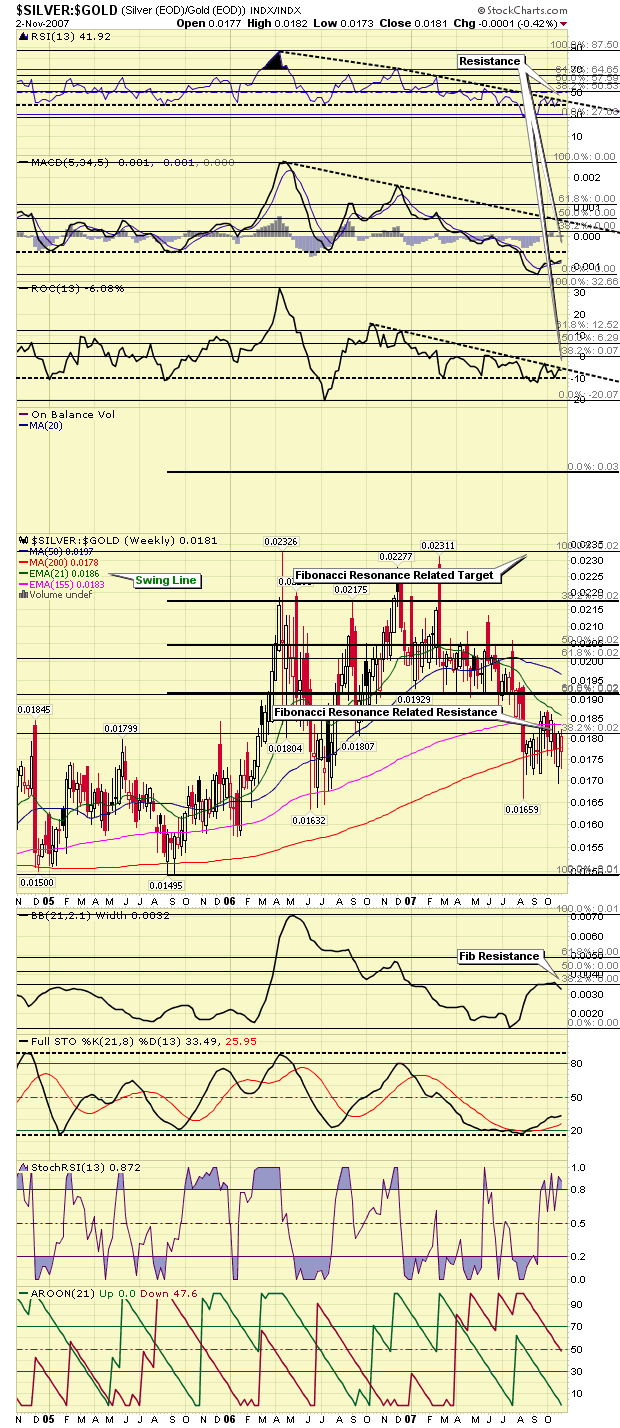 Many have written silver off here because they see both stock markets and economies imploding any day now. And while they may be correct as we move into next year, which will surely be cause for concern at the time, in the meantime in attempting to avoid such a fate, monetary authorities will do everything in their collective power to stave off deflation, which means keeping those printing presses working overtime. And this understanding will be confirmed in short order (maybe today) when silver breaks above indicated resistance seen in the chart provided below. That is to say the breakout already occurred yesterday, which takes care of the triangle, but to get past what some are viewing as triple top resistance, it will need to take out last year's highs at $15.21. (See Figure 5)
Figure 5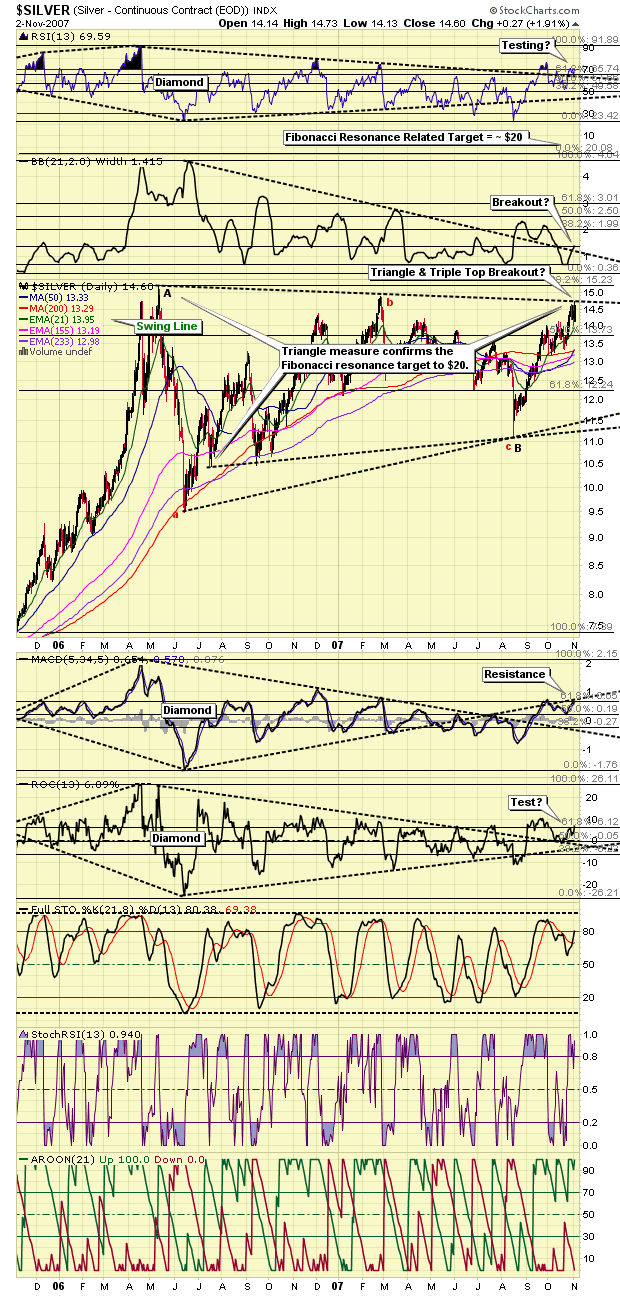 Of course out-performance on the part of silver does characteristically tend to mark an end of a larger bullish sequence in the sector, but at the same time, if our observations regarding bank shares below hold water not only is this move just getting underway, but it could last until Christmas, which as with gold is also the time of year for a seasonal high . With bank shares (and financials) down for 8-months now, and just bottoming yesterday in all likelihood, it then becomes a statistical probability that they should trend higher in coming weeks, where on a ratio related basis, again, a recovery into Christmas appears a natural at this point. And as mentioned last week, with banks and financials still comprising approximately one-quarter of the aggregate market capitalization of the S&P 500 (SPX), needless to say with the broad measures of stocks getting a lift here it will appear the economy is healthy to the naïve, which should bolster silver's fortune's.
Fast forward to today, and things appear somewhat different than outlined above with recent strength in bank shares and financials having only a negligible impact on the broad averages so far, however it should be recognized this picture could improve in coming days as the correction(s) higher should have more legs after an eight-month pounding. And if you wish to discover more about what our current views on the subject are, you know what to do in visiting our site , with more on what we are all about attached for your convenience below.
If this is the kind of analysis you are looking for, we invite you to visit our newly improved web site and discover more about how our service can help you in not only this regard, but on higher level aid you in achieving your financial goals. For your information, our newly reconstructed site includes such improvements as automated subscriptions, improvements to trend identifying / professionally annotated charts , to the more detailed quote pages exclusively designed for independent investors who like to stay on top of things. Here, in addition to improving our advisory service, our aim is to also provide a resource center, one where you have access to well presented 'key' information concerning the markets we cover.
On top of this, and in relation to identifying value based opportunities in the energy, base metals, and precious metals sectors, all of which should benefit handsomely as increasing numbers of investors recognize their present investments are not keeping pace with actual inflation, we are currently covering 71 stocks (and growing) within our portfolios . Again, this is another good reason to drop by and check us out.
And if you have any questions, comments, or criticisms regarding the above, please feel free to drop us a line . We very much enjoy hearing from you on these matters, although we may not be able to respond back directly, so please do not be disappointed if this is the case.
Good investing all.
Captain Hook
http://www.treasurechestsinfo.com/
Treasure Chests is a market timing service specializing in value-based position trading in the precious metals and equity markets with an orientation geared to identifying intermediate-term swing trading opportunities. Specific opportunities are identified utilizing a combination of fundamental, technical, and inter-market analysis. This style of investing has proven very successful for wealthy and sophisticated investors, as it reduces risk and enhances returns when the methodology is applied effectively. Those interested in discovering more about how the strategies described above can enhance your wealth should visit our web site at Treasure Chests
Disclaimer: The above is a matter of opinion and is not intended as investment advice. Information and analysis above are derived from sources and utilizing methods believed reliable, but we cannot accept responsibility for any trading losses you may incur as a result of this analysis. Comments within the text should not be construed as specific recommendations to buy or sell securities. Individuals should consult with their broker and personal financial advisors before engaging in any trading activities, as we are not registered brokers or advisors. Certain statements included herein may constitute "forward-looking statements" with the meaning of certain securities legislative measures. Such forward-looking statements involve known and unknown risks, uncertainties and other factors that may cause the actual results, performance or achievements of the above mentioned companies, and / or industry results, to be materially different from any future results, performance or achievements expressed or implied by such forward-looking statements. Do your own due diligence.
Copyright © 2007 treasurechests.info Inc. All rights reserved.
Unless otherwise indicated, all materials on these pages are copyrighted by treasurechests.info Inc. No part of these pages, either text or image may be used for any purpose other than personal use. Therefore, reproduction, modification, storage in a retrieval system or retransmission, in any form or by any means, electronic, mechanical or otherwise, for reasons other than personal use, is strictly prohibited without prior written permission.
© 2005-2019 http://www.MarketOracle.co.uk - The Market Oracle is a FREE Daily Financial Markets Analysis & Forecasting online publication.
Comments
Aaron
05 Jun 08, 12:27
Investing In General


Its sad that 90% of The U.S are not even informed about investing at all. I will try my best to inform as many people as possible to benefit from this amazing occurance in silver.




Only logged in users are allowed to post comments.
Register/ Log in