The Burden of Portugal is Not Debt but Education?
Politics
/
Global Debt Crisis
Mar 25, 2011 - 03:07 AM GMT

Portugal is the poorest country in Western Europe. It is also the least educated, and that has emerged as a painful liability in its gathering economic crisis. Wednesday night, the economic crisis became a political crisis as Portugal's parliament rejected Prime Minister José Sócrates's plan for spending cuts and tax increases. Mr. Sócrates handed in his resignation even though he will hang on as a caretaker until a new government is formed.
Without the budget cuts and the austerity measures, Portugal is almost certain to need an international bailout. It needs to find ways to payback 14 billion euros in debt in April 2011. It will run out of money this year without fresh cash, and markets are charging punitive rates for borrowing. Moody and Fitch have already downgraded Portugal's credit rating Thursday. Downgrades act viciously making further debt raising almost impossible which then worsens the economy even further bringing on more downgrades. Portugal is the third country in the euro zone to require a bailout, after Greece and Ireland.
Why has Portugal landed in such a situation?
A lot has to do with the way Portugal has prospered. It is country that does not focus nor encourages higher education. It is the least educated country in Western Europe. Given the state of its education system, it is enough to give jitters to any long term investor concerning how will Portugal ever generate enough growth to payback it debt with Europe largest Unskilled Labor force.
Given the severe debt condition under which the government finds itself, it has been forced to cut down on education as the education budget declined 11% this year
Faced with the cuts, students and parents organized. In December, 4,000 people held hands in a big ring around the Penafirme campus. The pictures hit television. A Facebook group sprang up. In January, students walked out of dozens of the privately run schools for three days. To dramatize a claim the cuts would mean the death of their schools, students and parents from 55 schools ferried mock coffins to Lisbon and put them on the median strip outside Ms. Alçada's ministry.
Cheap rate labor that once sustained Portugal's textile industry has vanished to Asia. The former Eastern Bloc countries that joined the European Union en masse in 2004 offer lower wages and workers with more schooling. They have sucked skilled jobs away.
Just 28% of the Portuguese population between 25 and 64 has completed high school. The figure is 85% in Germany, 91% in the Czech Republic and 89% in the U.S.


And that is the crux of the problem with Portugal. While austerity measures may be immediate first step to put the fiscal house into order, a larger and more difficult step still remains. Education reforms and easy access to education credit. Better schooling in Portugal won't come quickly. Sharp cuts in its education spending make the task harder. And even if there are improvements, reaping their benefits could take years.
While Greece and Irish debt problems were fueled by greedy bankers, Portugal's crisis, by contrast, has come to a boil slowly and fueled by its vastly uncompetitive labor force. For a decade, Portugal's growth trailed the euro-zone average. Traditional industries like cork harvesting and shoe stitching couldn't energize the entire country. The tech boom of the mid-2000s largely passed Portugal by. The Portuguese spent nonetheless. The economy—government and private sector together—has run cumulative deficits with the rest of the world of more than €130 billion over the past decade.
Before his resignation, Prime Minister Sócrates had made clear that investment in education was a priority, despite the costs. There is substantial evidence from elsewhere that education confers broad economic benefits.
For a live example of a country that flourished on education policies, one only needs to look as far as Ireland. Ireland was one of the EU's poorest countries a generation ago. But it threw EU subsidy money into technical education and remade itself as a destination for high-tech labor, made doubly attractive by low corporate taxes. Ireland is now, even after a brutal banking crisis, among the richest nations in Europe. It is another matter that Banks pummeled in uncontrollable debt unto an unwilling and unaware public, which ultimately required the people to be slaves to IMF/EU bailout measures.
WSJ reports
Prof. Hanushek and a professor from the University of Munich have linked GDP growth with population-wide performance on standardized tests. They calculate that Portugal's long-term rate of economic growth would be 1.5 percentage points higher if the country had the same test scores as super-educated Finland.
Education long was an afterthought here. "The southern countries like Portugal and Spain and the south of France and Italy, we have always had some problems related with education," says António Nóvoa, a historian who is rector of the University of Lisbon. "That's been like that since the 16th century."
Portugal has a history of repression. The dictatorship that ruled Portugal from 1926 to 1974 had the idea "that people should not have ambition to be something different than what they were," Mr. Nóvoa says. The result was widespread illiteracy and little formal schooling; just three years were compulsory. Huge leaps have been made since the 1970s, he says, but "it is not easy to change a history of five centuries."
Portugal has just begun phasing in 12 years of required schooling; now, Portuguese can leave school after ninth grade. Many do. The government says it is racing ahead with reforms. Mr. Sócrates points to an initiative that gives students laptops and to a far-reaching project to rebuild dilapidated schoolhouses. Results last year show students improving on standardized tests.
Even with education system that is now broken down, Portugal has one of the more powerful Teacher union who continue to wield a strong hand in government policies. They decide who will be the education minister. They decide their salaries. And yet when it comes imparting basic education to the poor, Portugal remains the last among the EU. A push to evaluate teachers triggered searing strikes and demonstrations in 2008, souring relations between powerful teachers' unions and the government. The political life of education ministers is measured in months: since the dictatorship ended in 1974, there have been 27.
Portugal students have consistently been blow the OECD average as measured by the reading scores below.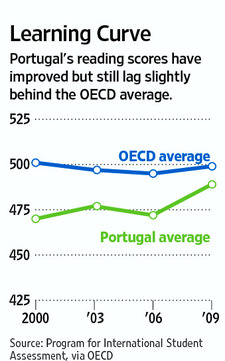 But there are green shoots as Private schools have started to take advantage of the situation looking at the massive demand. To their advocates, the privately run schools inject a needed dose of new thinking. "We have to keep a diversified system," says Eduardo Marçal Grilo, a former education minister. If there's a public and a private school in the same place, he says, "let's see what is the best, and if the best is private, the state can close the public and support the private."
This is the greatest challenge for Portugal in the long term. They need to come out with ways to increase skill among the people. They need to stand up to the EU powerhouses. A study in the rise of Ireland and Poland will greatly help. We did a study of the rise of Poland here. The country needs to break ways with its reprisal past and begin a new face of learning and prosperity.
Charts and idea from WSJ report

Source: http://dawnwires.com/investment-news/...

By Justin John
Justin John writes for DawnWires.com and is a Director at a European Hedge Fund.
© 2011 Copyright Justin John - All Rights Reserved Disclaimer: The above is a matter of opinion provided for general information purposes only and is not intended as investment advice. Information and analysis above are derived from sources and utilising methods believed to be reliable, but we cannot accept responsibility for any losses you may incur as a result of this analysis. Individuals should consult with their personal financial advisors.
© 2005-2019 http://www.MarketOracle.co.uk - The Market Oracle is a FREE Daily Financial Markets Analysis & Forecasting online publication.

Only logged in users are allowed to post comments.
Register/ Log in