Libya Food Aid and the Global Food Crisis
Politics
/
Food Crisis
Mar 11, 2011 - 09:35 AM GMT

The Libyan food and refugee crisis is a dramatic reminder, and part of the world food crisis that is specially powerful and deep-rooted in the Arab world. Simply because of this, events are driven further and faster than many persons appreciate at first glance, and underline that world attention to the fundamental importance of food shortage must and will grow.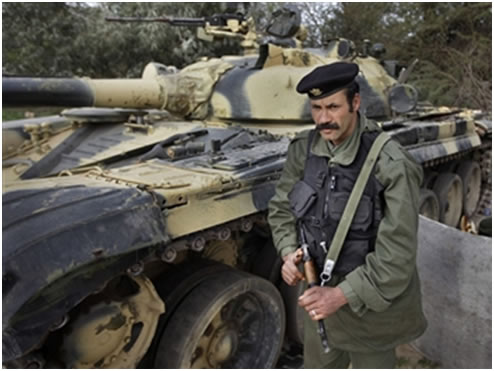 A soldier from the Libyan military's elite Khamis Brigade, led by Muammar Gaddafi's youngest
son Khamis, takes position in Harshan, Libya, Feb. 28. (AP)
On 8 March the UN announced that its flash aid appeal for funds to feed Libyans and refugees already exposed to severe shortage had started receiving donations, and the UN's food aid programme had swung into action, with first emergency food aid deliveries expected in Benghazi that day.
The United Nations has received approximately $22 million so far for the flash aid appeal it launched for people affected by the ongoing crisis in Libya, according to the latest U.N. figures.

The U.N. is appealing for a total of $160 million, which it says will fund efforts of 17 U.N. agencies and aid organizations to support up to 400,000 people affected by the crisis in Libya over the next three months.

The World Food Programme was expected to reach Libya's rebel-held port of Benghazi on Tuesday March 8 to distribute the first food aid in the Arab nation since the revolts broke out three weeks ago, Reuters reports.

To be sure, supporting an estimated 400 000 persons for around 3 months will need the combined effort of several UN technical agencies and specialist NGOs, not only the World Food Programme, due to the special intensity of Libyan breakdown in civil society, the economy, and infrastructures relied on in normal life. The ripple effect across North African Maghreb countries, and Europe from the refugee exodus and civil society breakdown is now building, fast, with Italy's foreign minister Franco Frattini announcing 23 February that Italy alone could be the first target country for up to 300 000 refugees from Libya and Tunisia. Other European countries including Spain, Greece, France and Germany are constantly raising their own estimates on the potential flood of refugees that could hit them.

This underscores a neglected factor in the flash mob revolution: its knock-on impact in countries that are totally dependent on food imports will be devastating unless civil society is rebuilt very fast.

The warning is clear and simple, but the cumulative impacts from heavy handed ideologically driven "hands-off" market liberal policies and notions, over decades, will not be turned around overnight. As we are now seeing, the food and refugee crisis is able to rapidly build from nothing to massive proportions in a few weeks, but solutions will be long-haul and will affect all sectors of the economy and society - especially in the Arab world.
SHORT FUZE CRISIS

Vast groups of stressed refugees fleeing into Tunisia are now a haunting image for Western leaderships and government friendly media who floated the comforting hope this was a crisis where "muddling through" can work. In the European case, the rarely reported collusion with Gaddafi's tyranny, to build and operate dozens of repressive Black migrant detention camps with systematic violation of human right was an example of the morality underlying Europe's market liberal leaderships. This was perhaps bolstered by the cozy idea that an oil-rich country, Libya, and its neighbor Tunisia with a world class luxury holiday resort industry could muddle through, even when their strong arm, repressive regimes were exposed for what they were. Egypt's distress is worse: up to 1.2 million Egyptians were likely resident in Libya, the vast majority of them low wage migrants forced out of their own country by joblessness and high food prices.

Real action is needed and, always slowly and trailing the events, the reaction and response is now building. The key roles of creating jobs and solving the region-wide food security crisis are now emerging and will be impossible to ignore, whatever the dominant ideology of economic deciders and government leaders.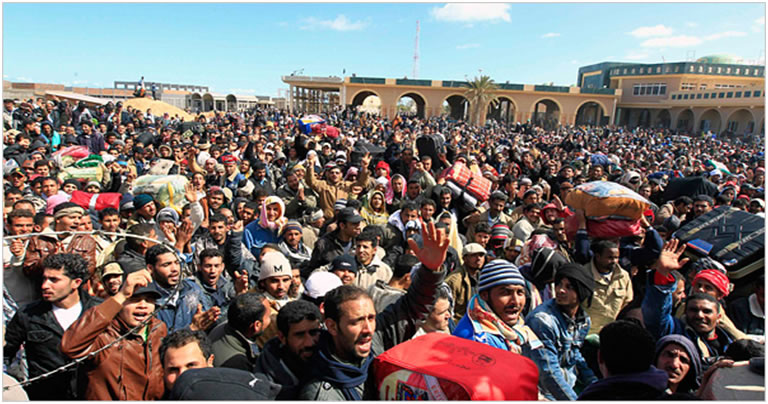 Egyptians fleeing Libya at the Tunisian border crossing of Ras Jdir. Tunisian border guards fired in the air and used clubs to control the crowds of refugees. NY Times 1 March
The massive scale and speed of the almost instant refugee crisis is clear. On stretches of litter-strewn pavement and sleeping in makeshift tents, migrants from sub-Saharan Africa, Bangladesh, Pakistan, Thailand and the Philippines as well as neighboring Maghreb countries shroud themselves in blankets and curl up on the pavement amid their belongings in the cold. Taken by surprise by the spiraling conflict in Libya, international aid workers have not caught up with the enormous logistic challenge of transporting the tens of thousands of migrant workers who are leaving Libya every day. Underlining the surprise impact of the sudden collapse of civil society in Libya, most of them have no transit visas, no money to pay for boat, bus or plane tickets – and no food.

Underlining the basic shortage of food and its massive threat to continuing acceptance of refugees by already hard pressed Tunisia, with its provisional revolutionary government under severe financial hardship to cope with the strain, the UN World Food Programme's director Josette Sheeran stressed the basic shortage of food. On visit to the Libyan-Tunisian border, she said the local Red Crescent organisations and the revolutionary committees set up during the Tunisian uprising had been doing an "excellent" job providing both food and shelter, but also said "the system is now under severe stress". (Guardian UK, 1 March).
FORGOTTEN FOOD

The UN FAO's director Jacques Diouf, almost weekly and throughout his tenure as FAO chief has underlined and attacked the "strange idea" of the rich, developed and supposedly mature democratic countries regarding food and farming investment and development aid – as almost a luxury or inessential item. For example when presenting the 2008 edition of FAO's annual hunger report, the "State of Food Insecurity in the World" which estimated that 963 million persons worldwide – that is 1 person in 7 worldwide – face either chronic or acute hunger, the FAO's assistant director general made it clear this is a structural problem that is not going away until and unless real action is taken:

"For millions of people in developing countries, eating the minimum amount of food every day to live an active and healthy life is a distant dream," said FAO assistant director general, Hafez Ghanem. "The structural problems of hunger, like the lack of access to land, credit and employment, combined with high food prices remain a dire reality."

"This sad reality should not be acceptable at the dawn of the 21st century," the FAO's director general, Jacques Diouf, said in his speech launching the report. "Not enough has been done to reduce hunger and not enough is being done to prevent more people becoming hungry."

Making it clear that investing in agriculture is a non-priority for the so-called mature democracies, Diouf and all concerned persons note the constant shrinkage of investment and aid flows to food and farming in the lower income countries, from the OECD countries. Although OECD governments can tweak the data – for example by counting investment in fastfood chains as "agriculture" - the real amount of funding to food and farming development in lower income countries is around one percent of total investment flows from the North. The data is heavily researched, carefully compiled and fully available http://www.fao.org/docrep/meeting/003/Y0006E/Y0006e01.htm

To be sure, this cynical disinterest in starvation and food shortage destroying the lives of hundreds of millions of people also destroys world food security and exposes the global economy to fast negative blowback whenever food prices rise – due to food shortage. World Bank president Robert Zoellick on 15 February estimated that food price rises through the 8 months since July 2010 had forced about 44 million additional persons into absolute poverty, but this only underlines the ideology context.

The facts are clear. For at least 15 years Northern investors far prefer a quick profit from developing cellphone nets, luxury hotels, retirement homes for Northern retirees, and designer T-shirt factories to exploit local cheap labour and business friendly environment laws contemptuous of anything that does not turn a buck. These and other so-called good things are what no alternative economics decides the world really needs – but not food.
FOOD IMPORT DEPENDENCE AND REVOLUTION

The results of this cynical disinterest in human needs are now coming home to roost with the Libyan crisis and the collapse of the Arab world's tyrannies and autocratic regimes. Dependence on food imports, both in the Arab region and worldwide has grown much faster than the global economy, also for more than 15 years, resulting in food prices now closely reflecting the commoditized role of food and its related resources – that is food producing assets, for speculators and traders. Due to this, food prices are becoming more uniform from country to country, exactly like oil, fuel and electricity prices, and like them they are rising.

In the present Libyan and Maghreb country crisis, where the impacts are strongest, chronic food shortage rapidly generates xenophobia and rejection of any non-national immigrant. Lack of food quickly sorts out who can stay, and who will be thrown out. To be sure, for the well-fed apologists of tradable and commoditized food as the only way ahead and a net progress for Humanity, this is only a minor danger, able to be overcome by the use of riot police, or failing that by armed forces.

As we see today, the ripple effect of long-delayed and overdue political change, economic collapse and oversized foreign migrant workforces, essentially present for the simple reason they need to eat, is able to rapidly spread across the region. Dependence on commoditized food, food trading, and domination of an economic ideology that is both anti-human and anti-environment carries huge and dangerous risks whenever the inherently fragile, greed-based speculative system is destabilized. Food stocks are low, but the trading ideology claims this is the only way to go – applying just in time supply notions to food like they are applied to any manufacturing activity. In Libya we are seeing the results of this No Alternative system when it faces real world opposition to its basic and permanent social injustice.

To be sure, this so-called no alternative is also rationalized as being most favourable for economic growth – based on the throughput of non-renewable natural resources that are casually thrown away. As even the highest income oil exporters of the Arab world show, in the GCC countries where local autocratic and repressive rulers are now also under strong challenge from the flash mob, economic growth does not generate and provide sustainable jobs for the nation's youth, especially when the economy is controlled by the corrupt and the incompetent blindly applying a pernicious economic ideology imported from Western countries.
FAST FORWARD – SLOW FORWARD

The flash mob youth revolution in the Arab world was partly driven by food shortage and high prices, and this trigger will remain in action. Total dependence on food imports of all the present, and potential countries for this revolt makes it certain that tomorrow will not be like today. Until the revolt started, the figures on food import dependence of Arab countries were sombre. Taking only Morocco, Algeria, Libya, Egypt and Saudi Arabia these 5 countries take about 45 percent of world total wheat exports. Egypt is the world's biggest importer, followed by Algeria and Saudi Arabia. This only concerns one admittedly critical food grain, wheat, but import dependence on a string of other basic food staples and necessities is also extreme.

Massive refugee outflows will likely trim this dependence but without, in any sustainable way, solving the basic problem of food insecurity. In fact, depending on the economic loss and damage from the collapse of autocratic and tyrannical regimes, food prices may stay high or very high relative to average earnings in these countries, including the oil exporter countries, due to decades of not addressing the always growing food and farming underinvestment crisis.

The long-term nature of the food crisis will make it less likely that incoming and emerging political powers will try only to restore the previous and failed economic model and its structures. The end of the line for so-called liberal economics in the Arab world may well be in view – along with the corrupt elites who siphoned the wealth of these countries for decades, with the plaintive and false defence of this mismanagement by claiming there is no alternative.

The basic reason is that simple policy goals like attaining food security do not have simple, fast or cheap answers. Post-revolutionary Arab states will be faced with a long struggle to solve their food and farming crisis and reduce their food import dependence – one of the key triggers for the revolt. Needs-oriented, ground-up and people-focused development will therefore tend to win, which is anathema for remaining and still loud defenders of the so-called neoliberal no alternative solution. What is also likely, the hearth countries of this degenerate ideology, notably the USA and European countries, suffering similar crises of youth unemployment and rank social injustice, will also enjoy the same spontaneous uprising by the huge numbers of their own people whose lives are ruined, every day, by this degenerate ideology.
By Andrew McKillop
Contact: xtran9@gmail.com
Former chief policy analyst, Division A Policy, DG XVII Energy, European Commission. Andrew McKillop Biographic Highlights
Andrew McKillop has more than 30 years experience in the energy, economic and finance domains. Trained at London UK's University College, he has had specially long experience of energy policy, project administration and the development and financing of alternate energy. This included his role of in-house Expert on Policy and Programming at the DG XVII-Energy of the European Commission, Director of Information of the OAPEC technology transfer subsidiary, AREC and researcher for UN agencies including the ILO.
© 2011 Copyright Andrew McKillop - All Rights Reserved Disclaimer: The above is a matter of opinion provided for general information purposes only and is not intended as investment advice. Information and analysis above are derived from sources and utilising methods believed to be reliable, but we cannot accept responsibility for any losses you may incur as a result of this analysis. Individuals should consult with their personal financial advisors.
© 2005-2019 http://www.MarketOracle.co.uk - The Market Oracle is a FREE Daily Financial Markets Analysis & Forecasting online publication.
Comments
Diner
11 Mar 11, 13:17
Libya


Diner

Libya is in a terrible situation. Gaddafi just started using chemical weapons, and al-Jazzera has captured it on their site:

I mean people's skin is just melted off! These are innocent civilians!




Only logged in users are allowed to post comments.
Register/ Log in