Central Banks Lying About Everything, Global Economy Scam Goes Critical
Politics
/
Credit Crisis 2011
Mar 10, 2011 - 01:54 AM GMT

Quote: The US Federal Reserve tells us we need inflation to overcome the overhang created by debt and inflation. This inflation does not create jobs – it just distorts prices upward. We are told by the head of the Fed, Mr. Bernanke, that he can end inflation whenever he thinks it is necessary. That is not true, because if inflation ends deflation takes command and the economy collapses. There is no finely honed instrument for turning these two opposite effects on and off (March 5, Bob Chapman's International Forecaster Weekly)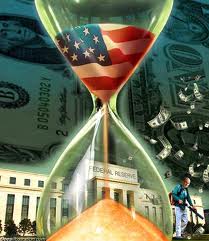 In other words and as anybody who has to buy something to eat or fill their car knows really well and every day, inflation hits real resource prices a lot more and a lot faster than wages, salaries and revenues. That is at least for the vast majority of people who are outside the market player throng of traders and speculators, jokingly called investors. But the real proof that we are the patsies of a one-way scam of unselective pauperization comes when we remove the real number for global inflation, not the price of low range flat screen TVs, cellphones from distressed producers, low cost generic PCs, or a few apparently strange real things – like alcohol.
One thing is for sure: you can't eat cellphones or drive a car and fly a plane burning their dioxin-rich plastic casings like Richard Branson can run at least 1 engine on 1 of his Virgin 747s for a whole 10 minutes on bio-kerosene, whose oil dependence for production is as total as the oil dependence of the other 3 engines. This only tells us something we knew already: the all-new Global Economy was above all a confidence trick.
Looking at the numbers only makes the scam's real size and real threat a lot bigger and scarier.
LURCHING FROM SCAM TO SCAM
The fake dawn of the post-oil epoch was a massive media event. Apart from side-plates like fighting global warming and protecting polar bears, the main thrust was that green and nuclear energy, recycling, not printing emails, riding a bicycle and other fun things nicely dovetailed with the fake promise of Universal Prosperity.
The storyline went: We now have nearly everything, a little more patience and a lot of muddling through will get us all to Heaven's Gate.
The psy-ops used to get mass acceptance of the Globalized Growth Economy spiraled, reaching periodic paroxysms of hysteria – like the 2007-2008 subprime meltdown – but above all with such low inflation we didnt even need to say the word. This is a great place to let the numbers talk. Taking the US subprime crash and its snowball impacts on the economies of a whole swath of countries, from Iceland to Thailand, and all the EU27 countries, IMF and World Bank official estimates of the net losses and net increase of national debts in all affected countries now extend into the USD 3500 to 4500 billion range, but this is only a first cut. Adding the lost growth due to recession and economic stagnation following the crash in many countries, until today in some, we can add at least another USD 5000 bn of lost and foregone economic output.
In total maybe 15 percent of a year's world total global economic output.
To be sure, we might not be too impressed by lost output but more than concerned about losing our jobs, our houses, our retirement pension, paying a lot more for food and energy, and other real world things like that. We will be and are concerned by the biggest direct impacts of this massive compression and loss of world economic activity – because they feature and start with the inflation of real assets. The simple words for that are food, energy, minerals, metals, water, bioresources and anything at all that is real.
We dont hear the bottom line from our masters and minders, but it is simple: the price of real resources will only increase, for sure and certain, until the next global economic meltdown and unless we have another global economic recession..
EMERGENCY SURGERY
One key founding ideology of the Global Economy Scam is that markets will decide and we (human beings that is) dont have any role or place in messing around with free-flowing, easy going, right every time and first time markets running on the sure-fire human resource called greed. Or maybe the Holy Grail, tea leaves and a crystal ball, in any case don't touch it because its infallible and omniscient.
So we can imagine the culture shock of having to print enough new paper money to cover the abyssal black hole of missing wealth that was generated and caused by the most recent Global Economy meltdown – which in fact is only a periodic, cyclic, recurring scam within a scam. Making up for that lost and missing wealth or output, even if it was cellphone sales and fastfood or Lady Gaga DVDs, is only possible one way: inflation. The emergency treatment applied to Save The Economy, since 2008, has to be inflationary because our nicely panicked finance and economic leaders and their gang of experts had only one answer: print money and give it most and first to the least deserving and needy. This was in strict application of two basic principles of the Global Economy: injustice and waste, that goes without saying, but the sequels are cast in stone.
With no surprise at all and with deadly certainty the one-only result trickles and floods down to ground zero: economic rout.
BETTER THAN FRACTALS AND BLACK SWANS
All kinds of fancy theory can be wheeled on stage to explain away the scam. The scary instant meltdown of the economy around 2007-2008 could have been due to multiple event horizons in a nested and folded set of different economic dimensions, or simply due to plain old oil prices getting out of hand like they have been doing since 1973 – more than 37 years ago. Above all we didn't know, which everybody from the head of the IMF to a string of instantly bankrupted, instantly bailed out high street banks will hammer out to rousing applause in front of their carefully selected audience.
Maybe astrophysics theory can help ? For starters the only theory in town is Big Bang crowding out also rans the way that Global Growth Economics sidelines any other ideas on how the economy should run. One thing about Big Bang also goes with the Global Economy scam like gloves fit hands: it can turn itself on and off, in nanoseconds.
Like Mr Ben Bernanke and his global economy lookalikes think and say, using their special brand of non intervention in free flowing global markets, they really can turn inflation on and off. This is just like the Universe (if you believe Big Bang theory) can shrink itself smaller than a pinhead able to take 40 dancing angels and not even one central banker, in the Time of Planck, which is real short.
http://en.wikipedia.org/wiki/Planck_time
If the Universe doesnt keep on growing really fast, in fact at the boundary with a speed almost the speed of light, then it will instantaneously collapse to nothing – to be sure if you still believe in Big Bang theory, but this isnt obligatory. The Global Big Bang Economy therefore still has a nice fit with that only theory in town: If it doesnt keep growing real fast at its boundary, called the Emerging Economies, or China and India to ordinary humans, then it could and should collapse overnight.
If you maybe thought that was far-fetched think again: it happened in 2008-2009.
WHY WE DIDNT KNOW
Normally this is just a cop-out from the smiling throng of if my my mouth moves I'm lying Global Economy apologists and profiteers, but the scariest thing is neither them, or anybody else knows or will know. They will only know – using some more astrophysics jargon – after we went through the event horizon. And after that, guess what ? It really doesnt matter.
To be sure we can do seriously effective things to change this death sentence staring us in the face. For starters we have to stop the Global Economy dead in its tracks, before it explodes (or rather implodes) like a well-made nuclear weapon trigger – which is an implosive device - giving us another reason to be really scared about where the Global Economy can go.
The small nuclear trigger implosion sets the vast explosion which follows a few nanoseconds later. At that point in time, which to be sure is longer than Planck Time but not much on our scale of things, neither you, me nor Ben Bernanke (bless his heart) are going to do a lot to change the outcome. When we did know, it was already too late.
The only way out is to get rid of the "we people", first. After that we can get around to making the economy work on a long-term reliable basis. We can surely say time is short but in this case we are talking about a Planck Time short-fuze on the weapon of mass economic destruction that has been thrown together over the last 20 – 30 years.
The warning is crystal clear.
By Andrew McKillop
Contact: xtran9@gmail.com
Former chief policy analyst, Division A Policy, DG XVII Energy, European Commission. Andrew McKillop Biographic Highlights
Andrew McKillop has more than 30 years experience in the energy, economic and finance domains. Trained at London UK's University College, he has had specially long experience of energy policy, project administration and the development and financing of alternate energy. This included his role of in-house Expert on Policy and Programming at the DG XVII-Energy of the European Commission, Director of Information of the OAPEC technology transfer subsidiary, AREC and researcher for UN agencies including the ILO.
© 2011 Copyright Andrew McKillop - All Rights Reserved Disclaimer: The above is a matter of opinion provided for general information purposes only and is not intended as investment advice. Information and analysis above are derived from sources and utilising methods believed to be reliable, but we cannot accept responsibility for any losses you may incur as a result of this analysis. Individuals should consult with their personal financial advisors.
© 2005-2019 http://www.MarketOracle.co.uk - The Market Oracle is a FREE Daily Financial Markets Analysis & Forecasting online publication.

Only logged in users are allowed to post comments.
Register/ Log in