Canada Oil Tar Sands - My next great investment trip!
Companies
/
Canadian Stock Market
Oct 24, 2007 - 01:38 AM GMT

Tony Sagami writes: In a few days, I will again head out in search of the next great hidden investment gem. As is often the case, I will be traveling well off the beaten path, to a place completely unsuitable for Gucci loafers or Armani suits.


But you might be surprised to learn that I'm not headed east across the Pacific this time. Instead, I'll be venturing north … way, way north.
My destination? Alberta, Canada.
My mission? Investigating what Time magazine called the "greatest buried energy treasure," something that "could satisfy the world's demand for petroleum for the next century."
There is an Asian connection, which I'll talk about in a moment. But first, let me give you some background …
Northern Alberta Is Sitting on the Biggest Petroleum Deposit in the World!
There are 685 million barrels of proven oil reserves in the Middle East.
Meanwhile, there are 300 billion barrels of proven reserves up north … and another TRILLION barrels that are just waiting for recovery technology to improve.
That's eight times the oil in all of Saudi Arabia!
This isn't the type of gushing oil that made Jed Clampett rich, mind you. It's in the form of tar sands, which resemble gooey coffee grounds.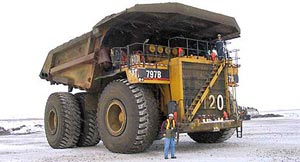 These two-story-high trucks can haul as much as 400 tons of oil sand!
For centuries, Native Americans used the material to seal their canoes. But the technology to extract the valuable oil has now made tar sands not only economically important but wildly profitable.
Tar sands are a combination of clay, sand, water, and bitumen, an extremely heavy form of crude oil. So instead of being pumped from the ground, the bituminous sands are mined. Next, they're run through a separation process that uses steam and solvents to extract the oil. The process currently recovers roughly 75% of the bitumen at an average cost of $10 a barrel.
How Tar Sands Become Usable Oil
1. Giant shovels excavate thousands of tons of soil and clay.
2. Oil sand is piled high into monster Caterpillar trucks, capable of carrying 400 tons at a time.
3. The trucks dump their payload into crushers, which grind it down to fine oil-coated grains.
4. The sand is transferred via conveyor to a cyclofeeder, where it's mixed with hot water to produce a slurry.
5. The slurry flows to the extraction facility, where large centrifuges separate out the oil-rich bitumen.
6. Bitumen flows to a giant oven where it's heated to remove impurities such as sulfur and nitrogen, leaving only usable crude oil.
7. The crude is sold to offsite refineries, which produce gasoline.
Better yet, the petroleum industry is spending billions on research to find new technology to make it even cheaper. I expect the $10-a-barrel cost to rapidly fall closer to the $3 average that OPEC spends to pump a barrel of oil.
There's no doubt that this is already becoming a huge business. More than one million barrels of oil are produced from Canadian tar sands each day, making up 40% of Canada's total oil production.
And Canada is now the largest single supplier of oil and refined products to the United States.
So you see, these tar sands could free the rest us from our dependence on Middle East oil. Think about that … absolute and complete energy independence!
With oil pushing $90 a barrel, Canadian tar sands can also make investors a pile of profits. You can see why I'm headed to Alberta to figure out the best way to invest and profit from these massive oil deposits!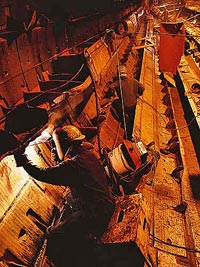 Right now, they can get oil out of sand for $10 a barrel. Soon, that might drop to $3 a barrel!
When It Comes to Finding Great Companies, I'm in Good Company!
I'm not alone in my interest in tar sands. Two of the smartest investors in the world are pouring billions into these projects.
The first is oil expert T. Boone Pickens, who is staking his sizeable fortune on tar sands. As Pickens told CBS News, "We're managing $5 billion here. And, about 10% of it is in the oil sands. So, it's the largest single investment we have."
The second person is a man that very few Americans have heard of. This man is Chinese, lives in Hong Kong, and is frequently called the "Warren Buffet of Asia."
He controls a vast telecommunications empire … a massive construction company … even the Panama Canal! And just like T. Boone Pickens, he has invested billions in tar sands, too.
T. Boone Pickens realizes how much potential Canadian oil sands have.
Look, if these two legendary investors are pouring billions of their own money into Alberta's tar sands, you can bet they aren't doing it for fun and games.
I think it's the right time to follow their lead, and that's why I'm heading north.
There are dozens of companies in the tar sands business, and I suspect many will make a bundle up there. However, I want to find the one company that is going to really knock the cover off the ball.
It may be the company with the richest reserves. It might be the one developing a key technology that will make it even cheaper to convert bitumen to oil. I already have a short list in my mind, but the only way to know for certain is to go up there and see things for myself.
Stay tuned!
Best wishes,
Tony
P.S. I can't say which tar sands company is the best investment yet, but I'll know when I return from Alberta next week.
It's only fair that my Asia Stock Alert subscribers find out first. So if you're not yet a subscriber and you want to jump on the tar sands recommendation right away, sign up for Asia Stock Alert today .
P.P.S. Larry and Martin also recognize the huge profit potential of natural resource investments, and that's why they're holding a FREE online briefing this week. To reserve your spot at this historic event, just click here .
This investment news is brought to you by Money and Markets . Money and Markets is a free daily investment newsletter from Martin D. Weiss and Weiss Research analysts offering the latest investing news and financial insights for the stock market, including tips and advice on investing in gold, energy and oil. Dr. Weiss is a leader in the fields of investing, interest rates, financial safety and economic forecasting. To view archives or subscribe, visit http://www.moneyandmarkets.com .
© 2005-2019 http://www.MarketOracle.co.uk - The Market Oracle is a FREE Daily Financial Markets Analysis & Forecasting online publication.
Comments
Matt Osbourn
24 Oct 07, 19:43
A company you should look at while in Canada


PBG:TSX is a company that has resources and THAI technolgy . The market cap of this company has gone from $50 Million to almost $3 Billion. The next three yearsd it should on a worst case basis make $10 Billion. They have the best Tech for recovering In- Situ Tar sands.



Rob. M
13 Feb 10, 05:44
Would'nt a green investment be a safer bet?


Given the growing consensus that anthropomorphic climate change is very very real... i'm concerned that an investment in such a dirty resource (5x the CO2 equivalent of regular crude) is a mistake.

Wouldn't a punt in an area of 'green' technology be a smarter move?



Andrew McKillop
15 Feb 10, 13:03
tarsand oil


Maybe you published this as a joke, to provide comment, or something like that ?

This sales pitch for tarsand oil is stuffed with unreal numbers, impossible, crazy, laughable figures.

I wont waste your time with a list of what Tony Sagami and his pals would call "counter claims", but just say that in 1975-1978 for 3 years I was an in-house researcher on energy at the Canadian Science Council, many times visiting Alberta. More recent visits were in 2007.

The basic problem and methods used are still the same: how to get the goddam stuff out of the ground ? In any case, production costs as low as USD 10 a barrel are impossible unless natural gas and water are completely free, zero price, as simple as that.

--

Andrew McKillop




Only logged in users are allowed to post comments.
Register/ Log in