China Mobile Should Rake in 4G Cell Phone Profits
Companies
/
China Stocks
Jan 06, 2011 - 09:08 AM GMT

The term "Time Division-Long Term Evolution" may sound like something out of Star Wars or The Matrix, but it is just a nerdy name for a new technology that is going to dramatically change wireless technology.
Time Division-Long Term Evolution, or TD-LTE, is the technological name for the next generation of wireless transmission protocol. The simple name that you're going to hear a LOT about is 4G or fourth generation.
The cell phone world has changed a lot since the early days when cell phones were used for nothing but talking. That was the first generation, or 1G network.
The second generation, or 2G, was a big deal because it allowed cell phones to go from analog to digital, which ushered in text messaging. Third Generation, or 3G mobile phones, improved transmission speed to the point that we could start to stream video, audio, and connect to the internet.
Most of the world has just recently adopted/installed 3G networks, but 4G promises to increase transmission speed to more than 150 megabytes a second, which is up to 10 TIMES FASTER than 3G technology.
That increase in speed is going to revolutionize the mobile world. The new 4G system is expected to provide mobile broadband solutions to smartphones, laptops, and other handheld wireless devices such as iPads, Kindles, and Nintendo DS systems.
You'll soon be able to enjoy ultra-broadband internet access, IP (free) telephony, gaming, and blazing fast streamed multimedia, including TV, concerts, and movies.
4G is going to expand the function of cell phones. Soon people will be watching full-length movies, concerts, YouTube videos, or their favorite TV shows with near-instantaneous downloading. No more buffering, delays or interruptions.
The Hand Machine and The Money Machine
4G is going to be a big deal all over the world, but it is going to be an especially big hit in Asia. The reason is that mobile phones are much more than telephones to Asians. If you travel around Asia, you'll notice most Asians walking down the street have mobile phones glued to their ears. Mobile phones have become almost inseparable electronic organs.
In China, mobile phones are called a "shouji," which roughly translates into "hand-machine." That's an accurate characterization of how mobile phones are used in China.
FACT: Only 13% of Chinese households own a computer, but approximately 50% own mobile phones. The reason for the disparity is simple; mobile phones are quickly replacing computers as the primary Internet connection tool in China.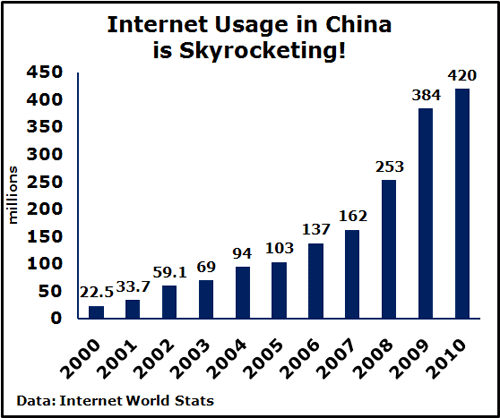 The mobile phone — not the PC — is the new computer in China. If you understand that simple yet crucial concept, it will help you make a bundle of money.
One company in particular stands to be the BIG winner in the 4G revolution and yes, it is an Asian company. That company is China Mobile (CHL), the largest wireless phone company in the world with close to 600 million users. Yup, 600 million.
Heck, China Mobile has more phone customers than the United States has people!
Sure, mobile phones are used to talk in China, but it would be a big mistake to think of China Mobile as simply a mobile phone provider. In addition to traditional calling services, China Mobile offers value-added services such as caller ID, call waiting, call forwarding, voice mail, conference calling, instant messaging, and yes, text messaging.
Those additional services have grown to a very significant mountain of money. China Mobile's non-voice revenue accounts for about 20% of the total revenues and about half of that — 10% of total revenue — is from text messaging.
That non-voice revenue is going to get even bigger as China Mobile rolls out its new 4G services sometime in 2012 and sends its profits to the moon.
Example: In two months, China Mobile sold 10 million downloads of the popular Chinese pop music song, The Mouse Loves Rice. Each download cost two yuan (about 25 cents) and amounted to 10 million yuan ($1.25 million) in sales for just for one song.
Other countries are ready to jump on China Mobile's 4G bandwagon. "Many international operators have contacted China Mobile and expressed a willingness to adopt TD-LTE networks," said Chen Jinqiao, deputy chief engineer at the China Academy of Telecommunication Research.
Many African and Latin American, countries have a good relationship with China both economically and politically. "They are more likely to accept China's technology, and TD-LTE may even help them make a leap forward directly from the 2G era to the 4G stage," Chen said.
All told, 15 wireless carriers, including Ericsson and Alcatel Lucent, are already testing TD-LTE. Aero2 of Poland is already satisfied and recently announced it will build the world's first TD-LTE network as early as this year.
Plus, China Mobile expects that another nine mobile phone providers will start testing TD-LTE in 2011.
China Mobile is going to rake it in from both their 600 million Chinese customers as well as royalties from other counties that adopt TD-LTE technology. There's no way to tell how high China Mobile's profits will soar, but I suspect that the answer is somewhere between the moon and Mars.
China Mobile, by the way, is listed here in the United States You can buy ADR (American Depositary Receipts) shares of China Mobile on the New York Stock Exchange under the ticker CHL.
Now, I am not suggesting that you rush out and buy China Mobile tomorrow. As always, timing is everything, so I suggest that you first do your own investment homework and decide if China Mobile is right for you. If the answer is yes, I suggest you wait until it goes on sale.
Long-term, however, China Mobile should be a big winner.
Best wishes,
Tony
This investment news is brought to you by Uncommon Wisdom. Uncommon Wisdom is a free daily investment newsletter from Weiss Research analysts offering the latest investing news and financial insights for the stock market, precious metals, natural resources, Asian and South American markets. From time to time, the authors of Uncommon Wisdom also cover other topics they feel can contribute to making you healthy, wealthy and wise. To view archives or subscribe, visit http://www.uncommonwisdomdaily.com.
© 2005-2019 http://www.MarketOracle.co.uk - The Market Oracle is a FREE Daily Financial Markets Analysis & Forecasting online publication.

Only logged in users are allowed to post comments.
Register/ Log in