Gold Warning - Gold's Credit Crunch Dilemma
Commodities
/
Gold & Silver
Sep 13, 2007 - 10:41 AM GMT
The following two charts (both 3% X 3 box reversal charts speak louder than words.
The first chart is that of the $XAU. It has given a low pole reversal (bullish) signal, but is still, technically, in a bear trend.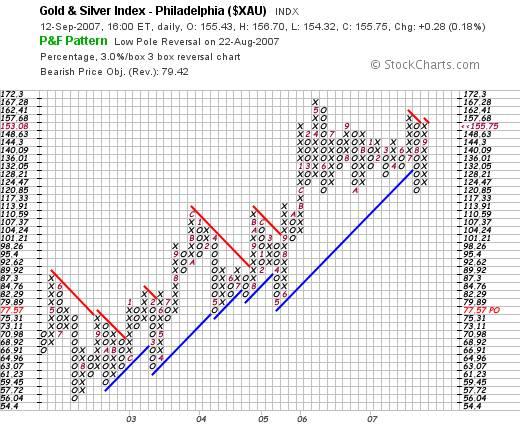 (Courtesy stockcharts.com)
The second chart is of gold bullion. It is, still technically, in a bull trend having given a buy signal on February 23 rd (6 months ago)
It is currently at a double top. This will be very bullish if there is a break up. Conversely, it will be bearish if gold fails to break up.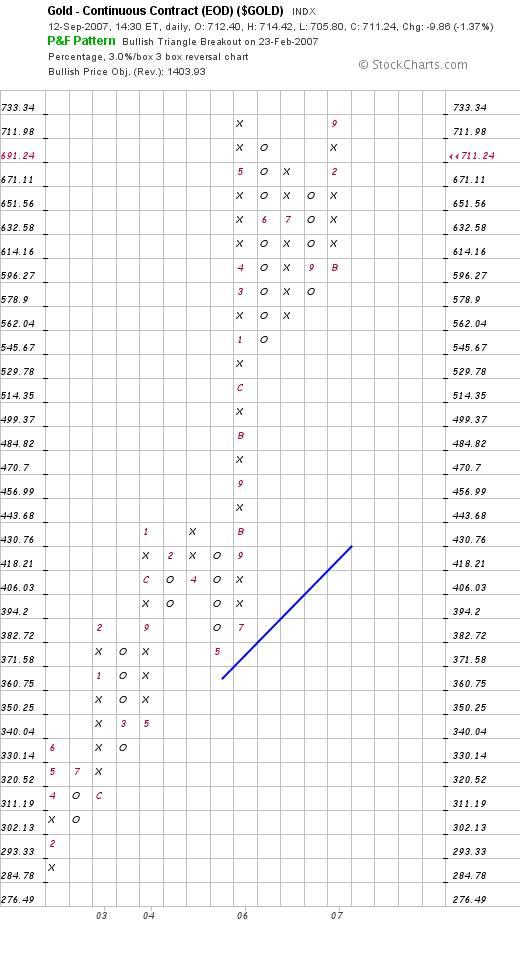 In a gold bull market, gold shares should outperform gold bullion – because of the leverage. But the fact is that the shares are not (yet) doing so.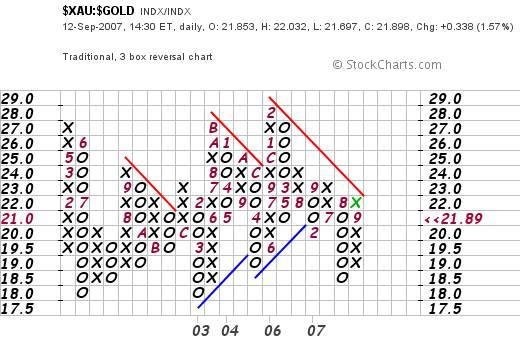 Last night I had a dinner conversation with two international bankers. In asking them how the sub-prime market is playing, the answer was: "LIBOR rates have spiked and interbank lending has come to a standstill. It's been like this for three weeks".
There is a lot of talk about how wheat prices have doubled and how the oil price is spiking and how copper is tearing ahead.
Well, if all that is true, then why is the $CRB struggling to break up?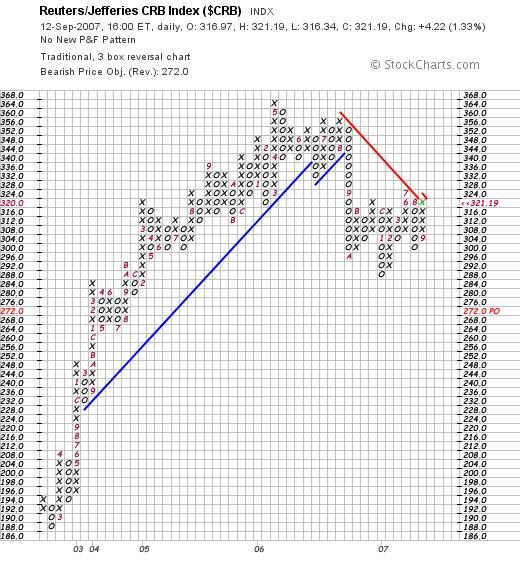 Perhaps, it's because the internet is a two-edged sword. On one hand it can be used as a powerful tool for education and learning; and communication amongst like minded individuals. On the other, it can spread darkness at the speed of light – as evidenced by the chart below. Gold is still in a bull trend relative to commodities – but today's experience is either pointing to an imminent pull back in gold, or an imminent break-up by commodities. Note the MACD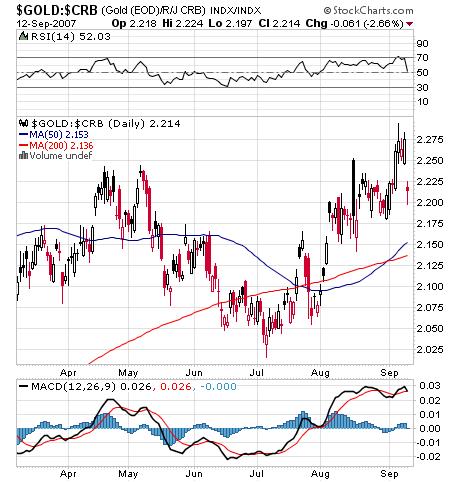 Question: If inter bank lending is at a standstill, why would commodities break up? Hoarding? Technically, the gap needs to be covered. Either gold needs to rocket up relative to commodities, or commodities need to experience a pull back relative to gold – but we should not get ahead of ourselves. The MACD sell signal still has to play itself out.
Conclusion
It seems to this analyst that all of the above is pointing to a coming credit crunch – where cash will be king. Things are not always what they seem to be.
By Brian Bloom
www.beyondneanderthal.com
Since 1987, when Brian Bloom became involved in the Venture Capital Industry, he has been constantly on the lookout for alternative energy technologies to replace fossil fuels. He has recently completed the manuscript of a novel entitled Beyond Neanderthal which he is targeting to publish within six to nine months.
The novel has been drafted on three levels: As a vehicle for communication it tells the light hearted, romantic story of four heroes in search of alternative energy technologies which can fully replace Neanderthal Fire. On that level, its storyline and language have been crafted to be understood and enjoyed by everyone with a high school education. The second level of the novel explores the intricacies of the processes involved and stimulates thinking about their development. None of the three new energy technologies which it introduces is yet on commercial radar. Gold, the element , (Au) will power one of them. On the third level, it examines why these technologies have not yet been commercialized. The answer: We've got our priorities wrong.
Beyond Neanderthal also provides a roughly quantified strategic plan to commercialise at least two of these technologies within a decade – across the planet. In context of our incorrect priorities, this cannot be achieved by Private Enterprise. Tragically, Governments will not act unless there is pressure from voters. It is therefore necessary to generate a juggernaut tidal wave of that pressure. The cost will be 'peppercorn' relative to what is being currently considered by some Governments. Together, these three technologies have the power to lift humanity to a new level of evolution. Within a decade, Carbon emissions will plummet but, as you will discover, they are an irrelevancy. Please register your interest to acquire a copy of this novel at www.beyondneanderthal.com . Please also inform all your friends and associates. The more people who read the novel, the greater will be the pressure for Governments to act.
© 2005-2019 http://www.MarketOracle.co.uk - The Market Oracle is a FREE Daily Financial Markets Analysis & Forecasting online publication.

Only logged in users are allowed to post comments.
Register/ Log in