The Federal Reserve: Putting out a fire with Gasoline
Stock-Markets
/
Money Supply
Sep 09, 2007 - 06:05 PM GMT

The Federal Reserves answer to the problem caused by too much money in the system is to print more money. Further dilution of the once almighty dollar continues with it dropping two cents over the last three weeks for a loss of 2.4%.
On the other hand gold has gained $40.00 over the same period for a gain of 6%.
Take a look at the chart comparing the progress of both over the last few years and you can see the divergence growing ever wider. Gold has been telling us that all is not well for some time now, the only question that remains is just how sick is the dollar.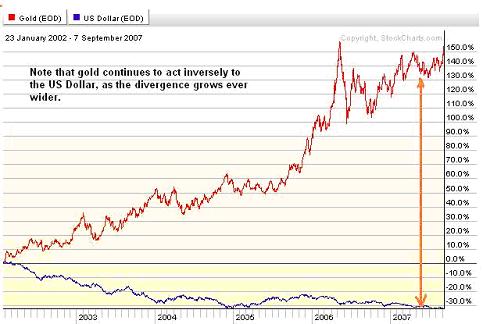 So long as the Feds believe that liquidity is the answer and are prepared to pump more money into the financial system then we can only see further weakening of the Dollar and further strengthening of gold. As investors begin to realize that gold not only offers a safe haven for their wealth it is also offering attractive returns as demonstrated by Fridays close of $700.10/oz. Many believe that gold will go on to challenge its historic high of $840/oz thereby attracting the interest of those yet to discover this sector of the market. Our belief is much more bullish, as regular readers will know. We think that gold is now entering a period of acceleration, which will be boosted when the blindfold wearing Federal Reserve goes into overdrive with a rate cut.
Look at this chart of the US Dollar trying to cling on to the much watched '80' level. Now remember that for every tick downwards the holders of the massive amounts of dollars get hurt. As we write we can imagine urgent meetings are been convened to devise a strategy that will protect their wealth. Some will remain holders of the dollar, some will instigate a stop loss position at a lower level and some will be hitting the sell button next week. Ask yourself the question: You have just lost 2.4% in three weeks in an asset class that is in a severe downward trend do you reduce your exposure or not?
Well I guess that you know our answer.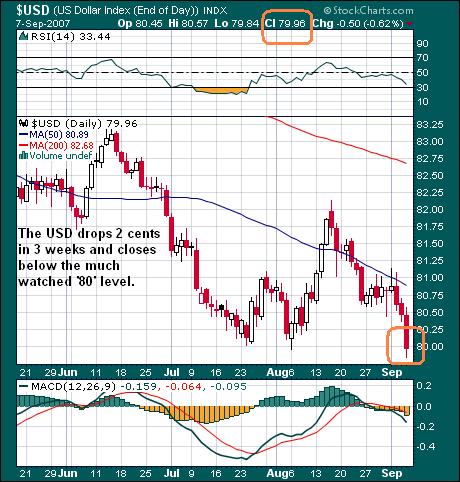 Now look at the chart for gold. We can see that gold is making steady progress against the dollar and has been for some years now. The trend is your friend! The sooner you moved some of your wealth into precious metals and their associated stocks the better off you would have been.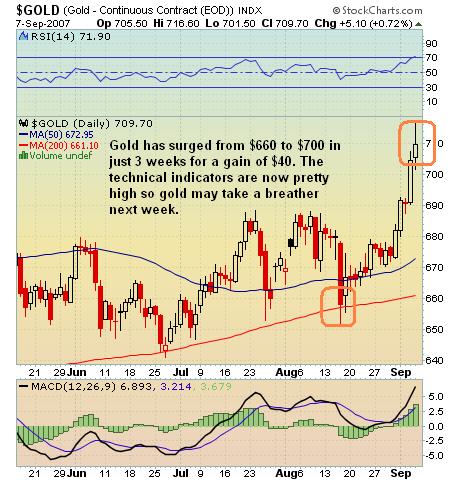 Is it too late you ask? In our humble opinion the cracks in the financial system are only just appearing, but they are a precursor to crumbling and possibly a collapse of the financial system, as we know it today. With every crack comes another convert to precious metals as they will march relentlessly back to where they belong, the only true store of wealth. Gold and Silver cannot be devalued by a printing press or a rate cut. The performance of gold and silver is earning the respect of investors while more and more the words of politicians fall on deaf ears.
Next week could see a slight rise in the dollar but come the 18th September, which is when we anticipate a rate cut, the dollar will continue to depreciate rapidly. Investors will look elsewhere to invest and some of that wealth will be placed into this sector of the market. This is a small, thinly traded sector, which is about to be turbo charged by a flight to safety.
For ideas on which silver stocks to invest in, subscribe to the Silver Prices newsletter at Silver-Prices.net completely free of charge.
By Bob Kirtley
www.silver-prices.net
Bob Kirtley spent many years working on Oil projects including some in Alberta, such as the tar sands installations in Fort McMurray. He lived and worked in many different countries, as that is the nature of the construction business. Planning and cost control are key to a projects success and he tries to apply those disciplines on a daily basis when dealing with investments. His training in such areas as SWOT and Risk analysis can be applied from time to time. His qualifications include being chartered in the United Kingdom, which is similar to that of a Professional Engineer in Canada, along with a Masters Degree in Project Management from South Bank University, London, England.
He has been working for a number of years on a full time basis representing a group of investors in England.
DISCLAIMER : Silver Prices makes no guarantee or warranty on the accuracy or completeness of the data provided on this site. Nothing contained herein is intended or shall be deemed to be investment advice, implied or otherwise. This website represents our views and nothing more than that. Always consult your registered advisor to assist you with your investments. We accept no liability for any loss arising from the use of the data contained on this website. We may or may not hold a position in these securities at any given time and reserve the right to buy and sell as we think fit.
© 2005-2019 http://www.MarketOracle.co.uk - The Market Oracle is a FREE Daily Financial Markets Analysis & Forecasting online publication.
Comments
Julissa
11 Nov 08, 03:49
Re:The Federal Reserve: Putting out a fire with Gasoline


I do agree with the suggestion..

Investors would feel that gold will be the safer side of investment that shows steady growth,whereas dollar rate seems to be in the declining rate.

Hence,gold and silver remains the best investment!

----------------

Julissa




Only logged in users are allowed to post comments.
Register/ Log in