China's Earth-Shattering Growth News
Stock-Markets
/
China Stocks
Jul 24, 2007 - 09:48 AM GMT

Tony Sagami writes: Last week, I told you how typhoon Man-yi, which forced more than 30,000 people from their homes in southwestern Japan, completely disrupted our travel plans.
Then, once we arrived in Nagano, an earthquake shook our room at the Saihokukan Hotel! The tremors were so powerful that they damaged the tracks on the Nagano-Dentetsu train line.
My sons — Kenji and Ryan — were disappointed that we had to cancel our visit to Nagano's Jigokudani Monkey Park. They were hoping to see the famous Japanese snow monkeys soaking in natural hot springs. But at least the whole affair gave them an interesting story to tell to their friends back in Montana.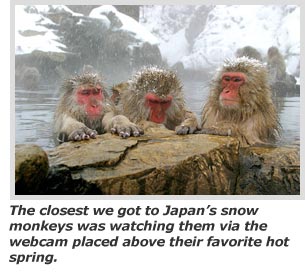 While our hotel room was wobbling, China was rocking the rest of the world with some spectacular news — the National Bureau of Statistics of China announced that the Chinese economy grew by a staggering 11.9% in the second quarter of this year.
China has been growing like mad, but that 11.9% increase is the fastest pace of growth since the last quarter of 1995 , when the Chinese economy grew by 12.5%. China is now on the verge of overtaking Germany as the world's third-largest economy (behind the United States and Japan).
Most important of all, this news proves that China's red-hot economic growth is accelerating … not contracting like almost all of Wall Street has been predicting.
I've said it plenty of times before, but …
The China Growth Miracle Is Only in the Second or Third Inning of a Very Long And Very Prosperous Ball Game
The engine behind China's explosive growth is threefold: (1) a huge trade surplus, (2) booming retail sales from big-spending Chinese yuppies, and (3) immense investments in roads, bridges, office buildings, condominiums, and factories.
Let's talk about that first force a little more. China's trade surplus for the first six months of 2007 ballooned to $112 billion, up 85% from the previous year.
This is where the Wall Street crowd is completely missing the point. See, all the so-called experts think those billions of dollars are just entries on some sort of global accounting ledger.
Wrong! That $112 billion is real money that goes into real people's pockets. It's collected by business owners who turn around and buy equipment, raw materials, and supplies. It's used to pay rent, taxes, and wages. It's put into circulation, and it's the fuel behind China's massive growth.
FACT: In the first six months of 2007, urban incomes in China are up 14.2%, and rural incomes have risen 13.3%.
The key to economic growth is an expanding and prosperous middle class, and that is exactly what China's trade surplus is producing. According to Li Xiaochao, spokesman for National Bureau of Statistics,
"This kind of change is what we had hoped for. It shows that consumption is making a stronger contribution to economic growth."
Do yourself a favor: Grab a copy of Peter Schiff's book , Crash-Proof: How to Profit from the Coming Economic Collapse , and carefully read Chapter Eight. It will help you understand this key issue. Heck, you'll know more about the China economic miracle than all the Wall Street hot shots combined!
And if you're not already holding some Asian investments, consider adding some to your portfolio. Remember, investing in foreign markets is easy these days.
There are hundreds and hundreds of foreign stocks listed on U.S. exchanges, including more than 80 from China and plenty more from Japan, South Korea, Hong Kong, Singapore, and the Philippines.
Heck, more than 90% of the stocks that I've recommend in my Asia Stock Alert are listed right here in the U.S.!
You don't have to open a new account … get a special broker … or pay high commission rates to get started. And given the earth-shattering growth happening in places like China, I can't think of a better time to begin.
Best wishes,
By Tony Sagami
P.S. On my trip, I found what I consider to be the absolute #1 best stock to own in all of Japan. It's traded on the New York Stock Exchange, and I expect it to double within 18 to 24 months. If you sign up for Asia Stock Alert right now , I'll send you my audio Flash Alert with all the details and specific order instructions.
This investment news is brought to you by Money and Markets . Money and Markets is a free daily investment newsletter from Martin D. Weiss and Weiss Research analysts offering the latest investing news and financial insights for the stock market, including tips and advice on investing in gold, energy and oil. Dr. Weiss is a leader in the fields of investing, interest rates, financial safety and economic forecasting. To view archives or subscribe, visit http://www.moneyandmarkets.com .
© 2005-2019 http://www.MarketOracle.co.uk - The Market Oracle is a FREE Daily Financial Markets Analysis & Forecasting online publication.

Only logged in users are allowed to post comments.
Register/ Log in