Yen Carry Trade Alert - Gold And Financial Markets
Stock-Markets
/
Yen Carry Trade
Jun 26, 2007 - 02:03 PM GMT

For the past several weeks, I have been telling subscribers of my concern about the Yen again being at a low level. This present level has led to upsurges in the Yen, as traders unwind Yen carry trades. World stock markets and gold have sold off when this happens, as in late February of this year. The Yen hit a 5 year low days ago.


Japanese Finance Minister Omi stated Monday that people should not be making 'one way bets on the Yen' – the same terminology that the ECB used just before the Yen strengthened a great deal in late February, and led to world stock crashes. The BIS also stated this week that the present low level of the Yen is 'anomalous'.
"Over the weekend, the Bank for International Settlements warned in its annual report about the risks of carry trades and said there was "clearly something anomalous" about the yen's weakness...A drop in Japanese shares also kept the market on edge for any potential rush out of risky positions such as carry trades." Reuters
Take a look at this chart of the Yen, gold, and Dow Jones world stock index.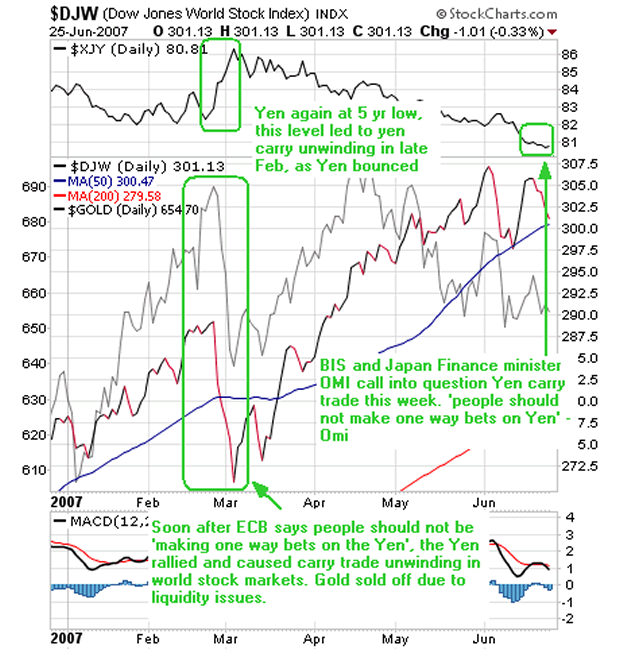 US markets
Gold is languishing. There are concerns about the US banking situation after huge losses in two Bear Stearns hedge funds that made billion dollar bets on US subprime mortgages. The Dow has reacted quite negatively to revelations on the Bear Stearns hedge fund mess Friday, and now Monday. I believe gold has been anticipating this kind of trouble for weeks, due to rising interest rates. Gold has also been concerned about the prospect of another Yen carry trade stock market sell off.
Chinese markets
With the Chinese stock markets looking shaky, the last thing world stocks need is pressure on the Yen carry trade to unwind again, as it did late February, and the Yen strengthened 6% in roughly a week, causing waves of world stock sell offs. The US Dow had one horrible 500 point drop during that episode, but appeared to shake off the weeks long Asian selling then. That helped to quiet the situation.
It is always possible the Asians markets will rally again, but the prospect of new Yen carry unwinding is quite high right now.
Gold in this situation
I have been concerned that Gold does not like rising world interest rates, which puts a lot of pressure on the housing market, stock markets, and subprime derivatives which are extremely sensitive to small changes in interest rates. See the present Bear Stearns hedge fund disaster. I believe that gold had been telegraphing these concerns before last week. Gold has not reacted in a bullish way to the USD falling again to the low 82 range, nor has gold reacted bullishly to rises in oil recently – indicators of negative gold sentiment. My subscribers have been informed of these concerns for two weeks.
Leverage concerns
Gold is presently reacting to financial deleveraging concerns overall. If I was to choose one concern over all others, it is the amount of leverage in all markets. Rising interest rates threaten this leverage, and will lead to serious deleveraging at some point this year.
Changing interest rates are very dangerous to carry trades, first the Yen carry, but also involving the Swiss Franc. Carry trades are again poised to unwind.
Also, gold does not like the competition of rising world interest rates, as conservative investors are attracted by higher bond yields.
All things considered, the world is again poised for some serious stock sell offs, and in many respects the same ingredients are present that led to the last wave of Asian sell offs in late February – again, see the chart above.
The Prudent Squirrel newsletter is Chris Laird's macro economic gold newsletter. It is 44 issues a year, published Sundays. Subscribers get mid week email market alerts. Subscribers are already aware of the concerns in this article.
Stop by and have a look.
By Christopher Laird
PrudentSquirrel.com
Chris Laird has been an Oracle systems engineer, database administrator, and math teacher. He has a BS in mathematics from UCLA and is a certified Oracle database administrator. He has been an avid follower of financial news since childhood. His father is Jere Laird, former business editor of KNX news AM 1070, Los Angeles (ret). He has grown up immersed in financial news. His Grandmother was Alice Widener, publisher of USA magazine in the 60's to 80's, a newsletter that covered many of the topics you find today at the preeminent gold sites. Chris is the publisher of the Prudent Squirrel newsletter, an economic and gold commentary.
© 2005-2019 http://www.MarketOracle.co.uk - The Market Oracle is a FREE Daily Financial Markets Analysis & Forecasting online publication.

Only logged in users are allowed to post comments.
Register/ Log in