Interest Rate Rises - Damned If You Do...
Interest-Rates
/
Money Supply
Jun 20, 2007 - 05:57 PM GMT

"...The central bank in New Zealand now presents the absurd spectacle of raising its lending rates while trying to depress its own currency by selling it in the open market..."
IF YOU WORRY that the US Fed might be caught between a rock and a hard place – squeezed between inflation on one side and plunging house prices on the other – then pity the poor central bankers in London and Auckland .
Every time they raise their interest rates, house prices increase!
The Bank of England has hiked its lending rate seven times in the last four years. At the June policy meeting, the governor – Mervyn King – tried to raise rates again, but was out-voted by the government-appointed hawks on his team.
Now the currency markets reckon a hike in July is a shoo-in. The Pound has jumped towards $2.00 again. It's flirting with a two-decade high versus the Yen, too.
After jumping off a half-century floor way ahead of the four other major world currencies, Pound Sterling interest rates have already reached 5.50%. The gilt market puts the cost of money a year from now well above 6%.
But besides an interest-rate premium, there's little to love in the Pound today. A truly historic real-estate bubble – plus a surging trade gap and yawning government deficit – is matched by the fastest growth in the Money Supply since the late '80s.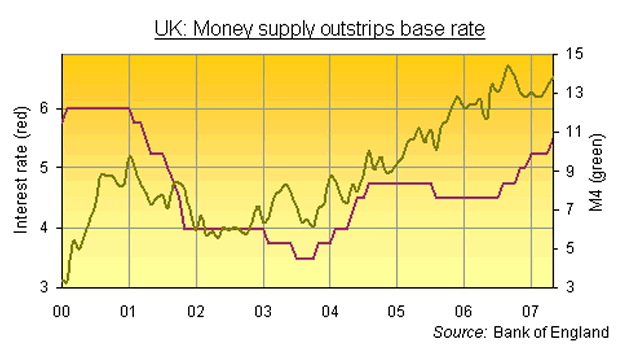 How come? Every time the Bank of England hikes base rates, fresh funds flood into London , seeking out yield and accounting Sterling a better place to sit than Dollars, Euros, Yen or Swiss Francs.
This flood of cash from global investors gets picked up by London 's brokers and banks, but their job is to lend money – not simply to pay interest on it. Nor can they neglect to work their assets, not without angering their shareholders. So they lend it out into the domestic economy. Hence broad money growth (M4) rising at double-digits year-on-year ever since the Bank of England began this hiking cycle.
The upshot inside the United Kingdom ? House prices in Northern Ireland rose 54% in the last year alone. The average home in London now costs £320,000 according to the government's own data, equivalent to more than $630,000.
Right on the opposite side of the world, meantime, we find the same problem – only in spades. Higher rates keep working against the Reserve Bank of New Zealand 's anti-inflationary aims. Every time they hike the cost of money, more cash floods in the New Zealand Dollar – and the more new lending results.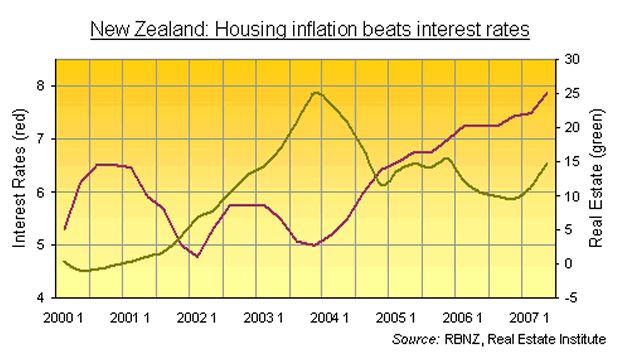 Fully convertible for 22 years, the New Zealand Dollar this week touched an all-time record high versus the Dollar. Indeed, the Reserve Bank now presents the world with a truly absurd spectacle – raising its overnight lending rate to 8% to quash inflation, but also selling New Zealand Dollars on the forex markets to quash the surging currency.
"What determines what happens with the currency is ultimately what the Reserve Bank does with interest rates," says Nick Tuffley, chief economist at ASB Bank in Auckland .
"That will keep the kiwi supported," he adds – and until the rest of the world stops giving money away at less than inflation, the Pound and the Kiwi will only attract fresh monetary inflation the higher their interest rates go.
By Adrian Ash
BullionVault.com
Gold price chart, no delay | Gold prices live | Latest gold market news
City correspondent for The Daily Reckoning in London and a regular contributor to MoneyWeek magazine, Adrian Ash is the editor of Gold News and head of research at www.BullionVault.com , giving you direct access to investment gold, vaulted in Zurich , on $3 spreads and 0.8% dealing fees.
(c) BullionVault 2007
Please Note: This article is to inform your thinking, not lead it. Only you can decide the best place for your money, and any decision you make will put your money at risk. Information or data included here may have already been overtaken by events – and must be verified elsewhere – should you choose to act on it.
© 2005-2019 http://www.MarketOracle.co.uk - The Market Oracle is a FREE Daily Financial Markets Analysis & Forecasting online publication.

Only logged in users are allowed to post comments.
Register/ Log in