Which Investments? as America Shifts Towards Thrift
Stock-Markets
/
Sector Analysis
Jul 18, 2009 - 06:26 AM GMT

Mike Larson writes: Sometimes when we're analyzing market trends … figuring out which investments to buy … or just trying to live our daily lives, we miss the forest for the trees.
We focus too much on the short-term trends and lose sight of the big picture. And we don't think about what's likely to happen over the next five or ten years because we're just trying to make it through the next five or ten DAYS.
So in this Money and Markets column, I want to do something different. Rather than talk about what the S&P 500 or 10-year Treasury Notes did this week, I'm going to tell you about a major, LONG-TERM economic trend that you should be aware of. I believe it's one that should frame your investing decisions for years, rather than days, weeks, or even months.
I'm talking about …
America's Newfound Embrace of Thrift
I know what you're thinking: Using the word "thrifty" in the same sentence as "American" seems like a crazy thing to do. If there's anything we're good at as a country, it's spending like mad — and running up the credit card (or mortgage) to do it!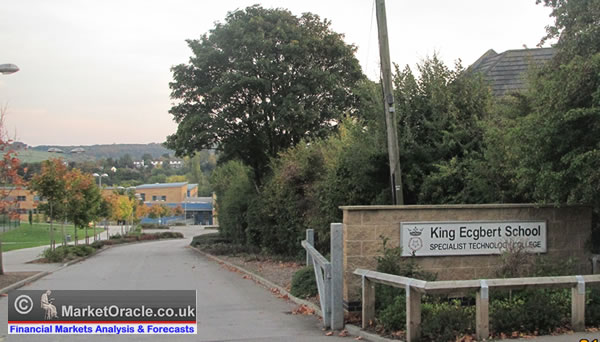 According to the National Retail Federation, retailers should brace for a 7.7 percent drop in back-to-school shopping this year.
But that's changing. Really changing. And I think that the shift toward thrift is going to last for a long time. The evidence is everywhere:
In a Wednesday story called "Restaurants Burned By Deep Discounts," The Wall Street Journal noted that several fast-food and casual dining chains are slashing prices and offering all kinds of come-ons. Yet consumers aren't biting. They're spending less time and money eating out regardless of the deals. In the Journal's words:

"Despite heavy discounts across the retail industry — prices have been slashed on everything from food to clothing — consumers have been stubbornly reluctant to open their wallets."

The same thing is happening at the nation's shopping malls. While overall retail spending rose 0.6 percent in June, the gains were largely driven by higher fuel prices. Core sales in discretionary categories like furniture (down 0.2 percent), general merchandise (down 0.4 percent), and clothing (unchanged) were weak. The National Retail Federation just forecast a 7.7 percent drop in back-to-school shopping this year ― something we haven't seen in years.
This newfound culture of thrift cuts across socioeconomic lines, too. Every year, American Express Publishing and the Harrison Group publish their "Survey of Affluence and Wealth in America." The responses on the economy, on savings, and on spending come in from more than 1,500 people who make anywhere from $100,000 to $5 million a year.

This year, the survey showed that wealthy Americans are saving a whopping 16 percent more of their income. They're raising their retirement plan contributions by 6 percent, and most (77 percent) are purchasing fewer big-ticket items.

Nationwide, the personal savings rate soared to 6.9 percent in May. That's the highest level going all the way back to 1993.
Bottom line: We're spending less and saving more, from one end of the country to the other. Just about the only group of Americans that haven't gotten the message are our elected officials in Washington. They're blowing every last penny of taxpayer resources, then borrowing trillions more and blowing that money, too!
What the New World of Less Spending, More Saving, Will Look Like …
"It's time to return from Oz to Kansas, to become fully reality-based again." — March 26, TIME Magazine
So what will it mean for America going forward? TIME Magazine took a crack at envisioning it in its March 26 cover story called "The End of Excess. Why this crisis is good for America." The author said:
"It's time to ratchet back our wild and crazy grasshopper side and get in touch with our inner ant, to be more artisan-enterpriser and less prospector-speculator, more heroic Greatest Generation and less self-indulgent baby boomer, to return from Oz to Kansas, to become fully reality-based again."
Bill Gross, managing director at the giant bond investment firm Pimco, used his own colorful language to describe the recent past — and provide a vision of the future:
"U.S. and many global consumers gorged themselves on Big Macs of all varieties: burgers to be sure, but also McHouses, McHummers, and McFlatscreens, all financed with excessive amounts of McCredit created under the mistaken assumption that the asset prices securitizing them could never go down. What a colossal McStake that turned out to be …

The fact is that American consumers have suffered a collapse in wealth of at least $15 trillion since early 2007. Global estimates are less reliable, but certainly in multiples of that figure. And when potential spenders feel less rich by that much, the only model one can use to forecast the future is a commonsensical one that predicts higher savings, lower consumption, and an economic growth rate that staggers forward at a new normal closer to 2 as opposed to 3½%."
Me? I think this is a healthy development that's been a long time coming …
The "borrow and spend, then borrow and spend some more" approach has done nothing but hollow out our economy. We borrowed trillions of dollars to chase asset values ever higher. Now we're left holding a steaming pile of deflating assets (commercial real estate, housing, etc.) — and a gigantic mountain of debt that we'll be paying off for years and years.
We NEED to get back to an economy built on a healthy foundation. We NEED to save more and spend less. And if the government doesn't get in the way of this healthy, corrective process, we'll find ourselves in a much better place for the long run.
Until next time,
Mike
This investment news is brought to you by Money and Markets . Money and Markets is a free daily investment newsletter from Martin D. Weiss and Weiss Research analysts offering the latest investing news and financial insights for the stock market, including tips and advice on investing in gold, energy and oil. Dr. Weiss is a leader in the fields of investing, interest rates, financial safety and economic forecasting. To view archives or subscribe, visit http://www.moneyandmarkets.com .
© 2005-2019 http://www.MarketOracle.co.uk - The Market Oracle is a FREE Daily Financial Markets Analysis & Forecasting online publication.

Only logged in users are allowed to post comments.
Register/ Log in